Index price target: a useless exercise?
The more one studies the market, the more one realizes that emotions and opinions should be our enemies and facts/observations our best friends.
Most of the market strategists out there give us their S&P 500 target at the beginning of the year using an aggregate EPS for the index from their in-house analysts and applying a totally arbitrary P/E multiple. Even if one tries to adjust it for the current low yield environment using history, or a P/E Shiller index to smooth the corporate profits through a cycle, the result varies so much that it is useless. See this link.
If you look back at some of the most famous investors like Jeremy Grantham (GMO), reading his letters is a good intellectual journey, but again, the predictions based on tons of subjective assumptions like expected inflation, equity risk premium, equilibrium P/E do not help us (at best) and would have put you out of the US equities with an S&P 50% below where we are.
Even more recently, the election of Donald Trump gives us a good example of how wrong the strategists were to predict its impact with some talking about 30% collapse of the main indexes in case he was elected - a bit weird given his intention of halving the US corporate tax rates and applying a tax holiday on foreign profits brought back home. How can one come to such a conclusion? Again, it is based on opinions or number games that are too big to assess and based on too many assumptions (USD impact, yield curve, inflation expectation changes, savings rates decreasing, animal spirits behaviour impact on investments…).
Stick to facts - what is the market telling us?
I like the analogy of an athlete running an Iron Man. No one knows how far and how fast he can run, so instead of trying to guess, would it not be better to use all the tools at hand to assess his heartbeat, body temperature, blood pressure, V02 Max, hip stability.… this is what market breadth and "other" market indicators are about.
I include here: main index price vs. moving averages (17,20,50,200d), advance/decline line, new highs/new lows, volumes studies, put/call ratio, AAII Sentiment Index, Bollinger Bands "positioning" (%B) in the bandwidth, VIX level, CDS Spreads,…
I do not pretend to predict what no one can predict, but to apply a methodology to check the health of the market and to be able to assess the risk you are ready to take given the context.
Not perfect but better than guessing!
The model and indicators I use are NOT proprietary and are available for anyone who spends the time to learn and study the market. There is no need to create new quantitative tools as clever people have done all this. The trick is to learn and spend time understanding the mechanics.
One could do a checklist and update it on a regular basis (weekly/daily/monthly) depending on the remits of your fund, targeted returns, volatility requirements, investment horizon etc…
What does the market tell us currently?
Here is a non-exhaustive list of indicators that should be used/updated on a daily or weekly basis. There are many more data that can be used and help you to assess in which context you are investing, what market environment we are dealing with.
Here are some of the many variables I collect and update regularly…
1. Weekly charts of main index vs Moving Averages
The Canaries Index include Tesla (NASDAQ:TSLA), Facebook (NASDAQ:FB), Priceline (NASDAQ:PCLN), Netflix (NASDAQ:NFLX), Microsoft (NASDAQ:MSFT), Apple (NASDAQ:AAPL), Alphabet (NASDAQ:GOOGL), Amazon (NASDAQ:AMZN).
The index sits nicely above the 20, 50, 200 MAs with positive Forces signal on 2/13 days (which is a calculation of exponential MA of price & volume progression), positive Bongo weekly (close above 9 MA and RSI 8>14>19). This jargon is from the database I use, built over the years by highly sophisticated investors.
Many of those individual stocks are still in a good uptrend and do not violate key MAs.
This is a positive signal for the leadership. You want to check this regularly.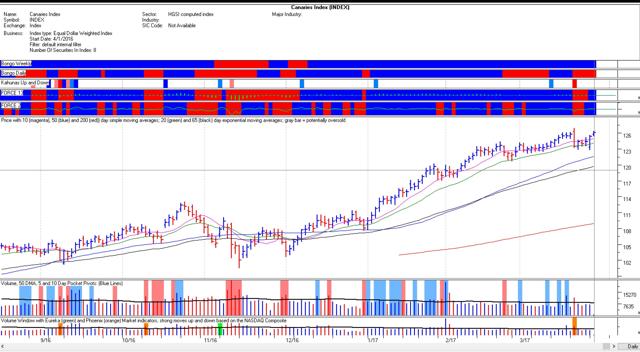 Same work on main indexes tells us that the market is currently driven by the Nasdaq 100. The Russell 2000 is the weakest index; it currently sits below its 50 DMA. Only 43% of the stocks are above the 50 DMA within that index.
Another chart to watch is the daily S&P 500 sitting on the 50 DMA, but at the lower part of the Bollinger band and with slight more negative signal on forces/bongos recently.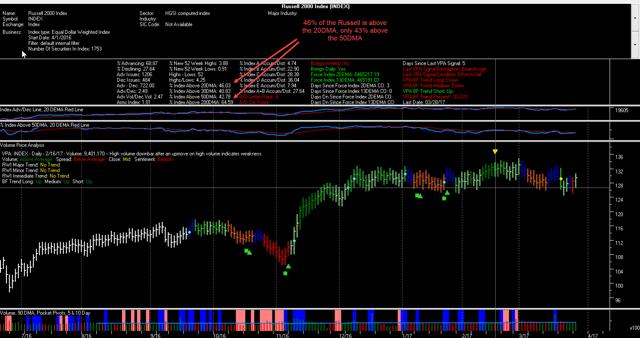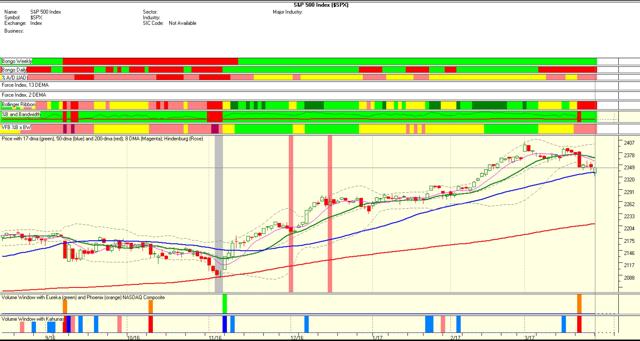 If you consider the entire 176 industry groups in the US markets (on more than 8,000 stocks), 54% sit above the 50 DMA, which means we are still in an uptrend.
The market is currently lead by the Technology complex (more specifically semis), healthcare, financials, utilities and by larger caps vs. mid. Any weakness in those leading areas could be problematic.
2. Accumulation and Distribution… still good on the Nasdaq, less so on other indexes
This indicator can be applied to indexes/sectors/stocks. It measures the money flow in/out of an index or stock. The formulas are proprietary to the database I use and measure changes in price and volume over several time periods to arrive at a score for the particular security or index.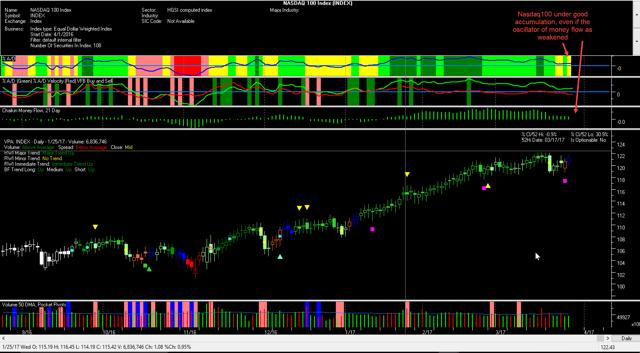 Using the A/D indicator, the Nasdaq looks the index under the most accumulation and the RTY the weakest (under distribution).
3. Where are the main indexes within the Bollinger band?
The %B index is very important as you can measure where you stand in sectors/index within the Bollinger Band. The BB gives you an indication of highness/lowness of a price relative to previous trades. Ideally, you want to be above 0.5 (midpoint of the band) to 0.8 as not too overbought and trending higher nicely.
This is what you see on the SOX, Nasdaq 100, DJ Utility index on this example... and more sub-sectors not included here.

4. Advance/Decline Line - good action
Constructive action of the A/D line at the NYSE as you can see it is catching up with the Index.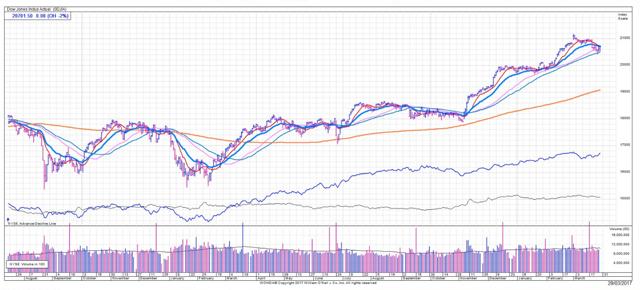 5. Market psychology is still positive (still quite bearish) but less so…

…same on put/call ratio at 0.85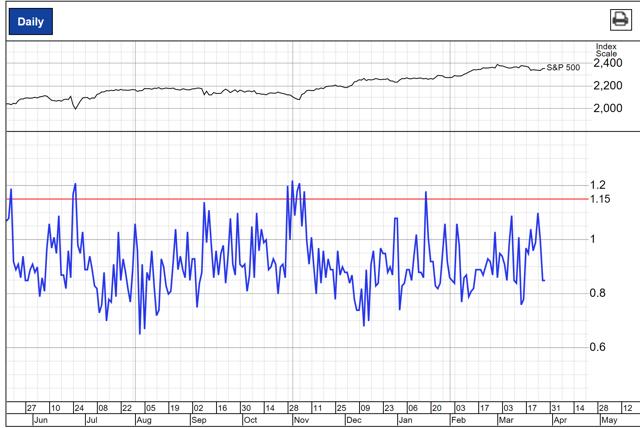 6. Leading industry groups to focus on…
This is a list of leading sectors on fundamental/quantitative and technical factors. It is key to follow those leading industry groups to source ideas (30% to 50% of a stock return depends on its sector), but also to check if their relative strength starts to deteriorate, which could be a sign of bearishness.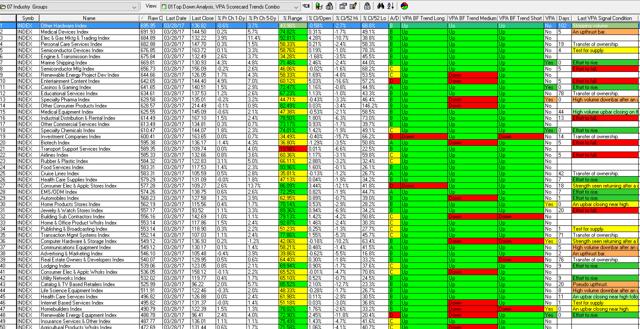 Conclusions
The use of such filtering/quantitative tools is a HUGE additional skillset to manage risk and gauge when to increase/decrease the beta. It also helps anticipating a market bottom (number of new lows, jump in the Bollinger band at index/sub index levels..) or a market top.
You might be a bit late following such a process, but it is better than guessing, trying to reconcile the market with macro data (rarely correlated), or using an opinion-based process like the use of the "right" multiple or risk premium for the present environment.
The list of market breadth and market depth indicators to use could be extended (McClellan, VIX, 3-month new highs/lows, ARMS/TRIN INDEX, CDS moves…) and one could use with certain weighting to each factor.
Applied to the current market, one could conclude that we are in a well-advanced uptrend showing some fatigue but still strong, not overbought (no extreme new highs/lows), led by large cap technology/healthcare/utilities/gold/silver sectors, positive advance/decline, so not too narrow, with weaknesses at the smaller cap level. Bullish, but more cautious, so could be 70% long instead of 90/100% for instance a few weeks back.
This cycle has been dominated by very little investor confidence and belief in the bull market.
The high level of the AAII bearish index could explain the fast up squeeze reaction to any "small correction."
So many value funds (and Hedge Funds) are waiting for the big drop to outperform again. Market psychology is consequently very supportive even if valuations (on PE Shiller or many other metrics) remain high versus historical standard, it could be so for a very long time. One could wait for the big fall but many funds are scrutinized on a weekly/monthly basis, so the cost of staying on the sideline could be too damaging. Those market indicators could help to add more risk in a confirmed uptrend market as long as the boxes are still checked.
Supporting Documents
Disclosure: I am/we are long GOOGL, FB, AMZN, AAPL, PCLN.
I wrote this article myself, and it expresses my own opinions. I am not receiving compensation for it (other than from Seeking Alpha). I have no business relationship with any company whose stock is mentioned in this article.