The group of seven domestic retailers (below) discussed or referred to in this report operate in different segments of domestic retail yet have key, common characteristics, the main one being that each sells food for home consumption. In addition to offering this or another staple (e.g., pharmaceuticals, fuel) each also derives a fair amount of growth from discretionary offerings - from electronics at Ahold (OTCQX:ADRNY), to organic and prepared foods at Kroger (NYSE:KR), to dietary supplements at Natural Grocers (NYSE:NGVC). Though the seven companies I look at in this series of reports come from disparate industries, only two names (Casey's (NASDAQ:CASY) and Walgreens Boots (NASDAQ:WBA)) have no direct peers in the list, and all generate revenues by competing primarily for mostly US, weekly purchases of small-ticket staples.
Stock Price

Up- /

EV / EBITDA

Price / Earnings

EBITDA CAGR

Mkt

Target

D'nside

18E

17E

16

18E

17E

16

15-18E

12-15

Casey's General Store

$111

$137

23%

7.7x

8.6x

10x

25x

20x

25x

7%

20%

Whole Foods Market (NASDAQ:WFM)

29

34

17%

7.1x

7.8x

8x

20x

22x

20x

2%

4%

Sprouts Farmers Market (NASDAQ:SFM)

23

26

11%

11x

12x

11x

23x

26x

23x

7%

41%

Ahold Delhaize

20

22

11%

6.4x

6.7x

8x

19x

16x

19x

4%

19%

Walgreens Boots Alliance

84

85

2%

10x

10x

10x

18x

17x

18x

5%

19%

Kroger

29

28

-5%

7.6x

7.4x

8x

17x

14x

17x

-1%

8%

Natural Grocers V. Cot.

10

7

-35%

7.5x

6.9x

7x

24x

28x

24x

-7%

32%

Group Average

8.1x

8.5x

9x

21x

20x

21x
* Buy, Sell, Hold/Wait to Buy
Source: Company SEC filings (10-K, 10-Q) and press releases 2008-17.
Kroger (KR $29, Mkt. Cap. $28 billion)
Kroger is the largest independent supermarket in the US with about 2,800 stores operating from numerous different banners in addition to the Kroger flagship.
Summary
I value Kroger at $28 by applying an enterprise value to EBITDA multiple of about 7.2 times this year's forecast. Relatively steep recent deterioration in Kroger's once steady same-store comparisons will challenge profits over the forecast period to 2018. Though cash flows should remain solid, the shrinking profit component of those cash flows merits a relatively low valuation for the company.
Kroger's streak of more than 50 straight quarters of positive comparable sales growth was broken in 2016, amid heavy competition and deflationary forces, which show little sign of lessening. Indeed, even after some hits to the shares of Kroger, the market may be underestimating the possibility of comps stagnating - at around the current pace of flat to +1% vs. its 4%-plus average during 2011-15.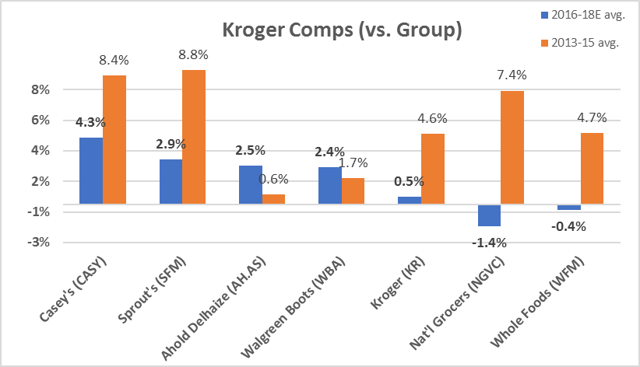 Source: Company SEC filings (10-K, 10-Q) and press releases 2008-17
At Kroger, the crux of the issue is around much slower profit growth over the next two to three years than any span of that time over the past decade. In my base case status-quo scenario, profit margins will fall modestly but steadily through 2018. A worst-case scenario - which I consider only a one-in-four probability would look something like the grocery market share leaders in the UK (Tesco (OTCPK:TSCDF)) and France (Carrefour (OTCPK:CRRFY)) as they battled (near-) recessionary economies, deflationary food prices, and stepped-up competition for shoppers.
Cautionary Note on Food Deflation for Kroger from Peers Across the Atlantic
Tesco, the UK's largest grocer with more than a 30% share, enjoyed a similar growth streak that abruptly ended in 2012, as deflationary forces and a series of 'price wars' began to take hold among UK grocers. Only now, five years later, are food prices at the UK's #1 grocer (with >30% market share) only approaching those past levels, yet operating profit margins are off by more than 60% vs. any of the 10 years prior to deflation's full impact there in 2014. Similarly, Carrefour, though it still leads in France grocery share at more than 22%, current profitability is more than 20% below crises levels of 2008-09.
But neither of these top grocers' same-store sales performances suffered as sharp a slowdown from prior levels as Kroger, nor had either of them established as strong of a comp sales growth track record leading up to their fall-offs as Kroger. These factors and that KR has much lower share of its main market than Tesco or Carrefour suggest if food deflation and price competition are as pervasive at KR through FY17 and FY18 as it was in Europe 2012-16 than the modest 15 basis point annual EBIT margin declines I expect could be far worse.
Weaker Profits to Come at Kroger
These moderately lower margin levels, in the context of negligible (<1%) growth in store count and flattish comp sales ahead, will cause profits per store to approach 2012 levels.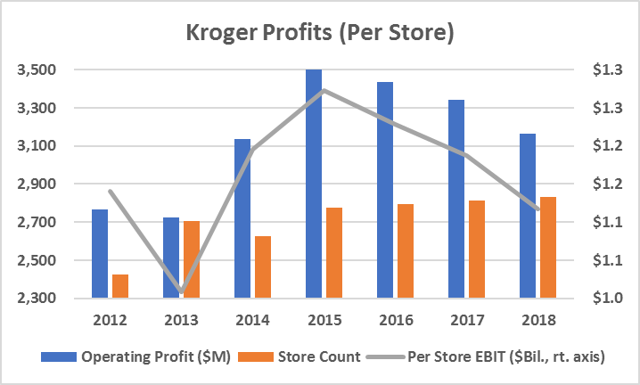 Source: Company SEC filings (10-K, 10-Q) and press releases 2008-17
Declines in profits per store (above), expected to worsen, speaks to the deterioration of Kroger's operating cash flows. That these events occurred ahead of the recent fall-off in comparable sales should give investors pause.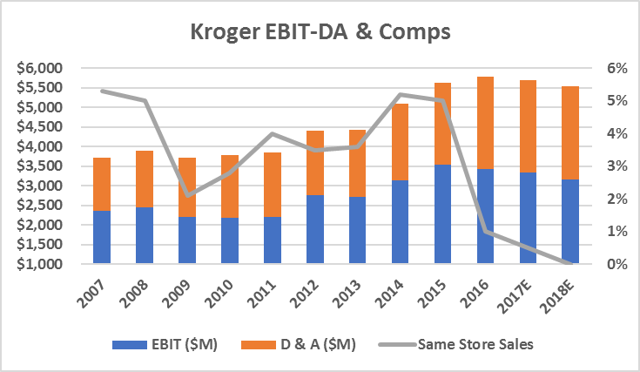 Source: Company SEC filings (10-K, 10-Q) and press releases 2008-17
Since the prior economic cycle peaked in 2007, Kroger grew its same-store sales 3.8% annually through 2016. While impressive, that growth resulted in just a 4.3% CAGR in operating profit over that nine-year span and 6.3% annual increases in depreciation and amortization through last year. By 2018, operating profits will account for just 57% of EBITDA, down sharply from 62-63% in 2012-15, and further justification for (EBITDA) valuation multiple discounts to past levels.
Though profitability over the next 12 to 15 months is unattractive, Kroger is a resilient, top-quality grocer whose cash flows will remain strong even under mostly stagnant demand. The company should deliver another $2 billion in free cash flows this year. That better than 6% yield should be used to reduce share count by another 3-4% and pay a dividend whose yield will approach 2%.
Kroger Shifts From Growth in Sales and Profit to Growth in Cash Flows
After 2018 though, Kroger must reconcile its own relatively rapid store growth with the overall grocery store industry's mature levels. That should be a good thing - as relates to free cash flows. At that time, I expect a moderated capital spending program that swings to contributing $500 million-$1 billion in free cash flows from D&A exceeding CapEx - versus the approximately $1.5 billion yearly drag from its growing capital base. (KR spends about $1.5 billion a year more cash on stores (new, existing, acquired) than it gets back in non-cash depreciation of its store base.)
In the coming years, as these cash outlays on Kroger's properties moderate toward 'maintenance' levels - where CapEx = D&A - return of the additional free cash of $1-$1.50 a share annually. The negative impact on KR's valuation, as management shifts focus from growth in cash flows to just steadiness in those cash flows, is being worked out now, though we are not quite there yet.
Finally, on the balance sheet side, Kroger's 2.4 times FY17E net debt to EBITDA is high - and in a highly leveraged industry. However, the consistency of the company's cash flows makes this debt load manageable, and would be no hindrance in any reasonably sized (<$10 billion) acquisition.
Natural Grocers (NGVC $10.5, Mkt. Cap. $240 million)
Natural Grocers sells organic and natural foods, and a wide selection of vitamins and supplements. Operating over 130 small stores, all located in the western half of the US (but none in CA), NGVC's sales base has more than doubled since its 2012 IPO.
Summary
Natural Grocers' comparable sales are now trending negative for the first time in its short operating history (including pre-IPO). These stagnating unit sales volumes are the root of the widening problem at NGVC, whose 57-quarter streak of positive like for likes (including pre-IPO) exceeds even that of Kroger, before its own streak was also recently ended.
Fiscal 2017 (Sept.) operating cash flows (or EBITDA) for NGVC that I estimate at about $44 million (down from $45 million-$50 million in FY15-16) will cause free cash flows to swing solidly negative for the first time at the company, coincident with the continuing drop in same-store sales.
The company has plenty of capacity via its existing revolver or via potential lease payment deferrals with landlords to cover this year's cash shortfall. However, in FY18 (starts Oct. 2017), the company will begin to burn $10 million-15 million in cash (including interest) annually, or more than 5% of its current value.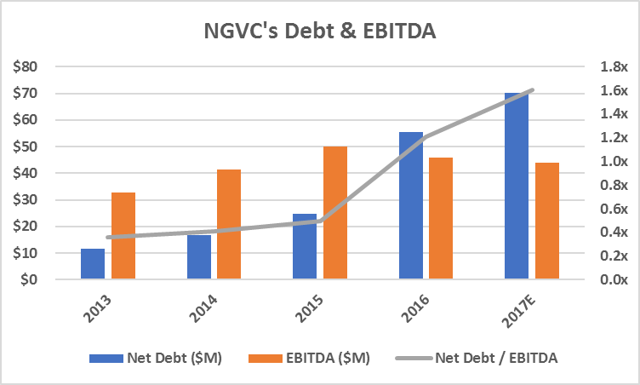 Source: Company SEC filings (10-K, 10-Q) and press releases 2008-17
Much larger Kroger, by comparison, though it has its own demand issues, also generates highly stable cash flows. Closer peers with firmer profit growth (e.g., Sprouts, SFM) and better balance sheets (e.g., Whole Foods, WFM), are also better prepared to weather the cycle ahead.
Natural Grocers, though, is unique among this group of retailers, whose demand levels are all materially below 2014-15, in that its slowing comparable sales growth makes its already tenuous balance sheet and aggressive growth plans highly subject to demand trends at established units.
NGVC's 'mature' stores (in operation >5 years) is placing about a 2.5% drag on the overall comparable sales result, swinging the overall figure to a shortfall.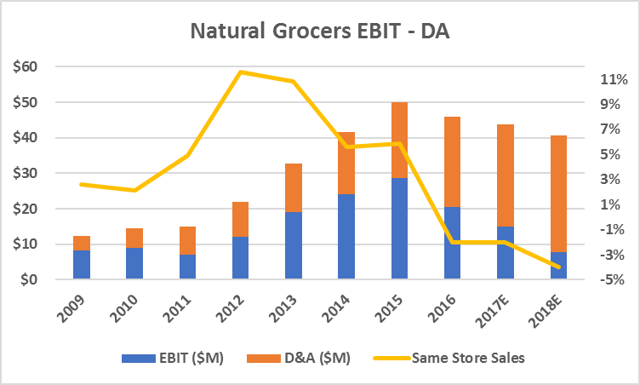 Source: Company SEC filings (10-K, 10-Q) and press releases 2008-17
The sharp declines in operating profits at Natural Grocers correspond with steadily weakening comparable sales growth. By FY18, operating profits at (<$10 million) NGVC will account for less than 20% of overall operating cash flows (EBITDA), less than half the level of just three years ago.
In its Q1 2017 (Dec.) results, management partly blamed its first ever negative quarterly comparisons (-0.6%) on the impact from lower oil prices. However, crude prices in that Dec. '16 quarter (avg. ~$50/bbl) were about 20% above the prior year's period - for which it reported same-store sales comparisons of 3.6%. Moreover, oil's price action since NGVC's early Feb. 17 call suggests at best, no sustainable bump in demand at NGVC from oil.
Beyond the near-term variability in oil's price, though, a fundamental lack of unique product offering puts this regional brand with national aspirations in increasingly close competition with much larger companies amid a deflationary retail environment.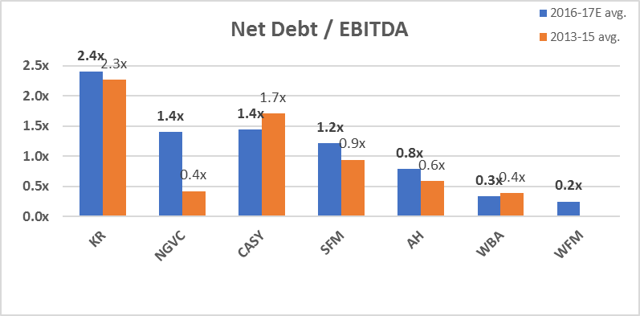 Source: Company SEC filings (10-K, 10-Q) and press releases 2008-17
All Downhill After 100
NGVC crossed the 100-store milestone in late 2015 - around the time organic food margins and growth rates peaked, and with each of the industry leaders (WFM, SFM, Fresh Market) beginning to cut estimates. Then last year (2016), just as industry fundamentals were softening further with demand, the company accelerated its opening pace, to 23 stores (or 22%, up from 18% in the prior year).
Though at just over 10,000 square feet, Natural Grocers' much smaller stores (vs. WFM >40k sf, SFM >30k sf) allows it to be nimble in its development plans (partly explaining the lumpiness in the annual pace of store growth). However, in virtually all other respects relative to store profitability, NGVC's size (avg. store, corporate) plays to its disadvantages. In terms of merchandise mix, with roughly two-thirds of sales from grocery, over 20% from diet supplements, and more than 10% from personal care, where each is surrounded by massive brick and mortar as well as online competitors, lacks both the scale and private label products of these rivals. On the operations side, NGVC's high-touch and learning programs imply incremental fixed costs, where achieving measurable return is no small challenge.
Management now says it is focusing on in-store costs, which will only become more challenging to pare on further sales deleveraging. The company also recently curtailed its real estate plan for the current fiscal year, with openings loaded toward the back end.
Net debt will approach 2.0 times EBITDA in FY18, even if NGVC is able to meet its own forecasted SSS target of 'about flat' for this year. However, by the time the 17-18 net additions (+12-13% y/y) are opened, in the absence of (unforeseen) recovery in demand at NGVC, the FY17 burn in cash flows and the weaker balance sheet that I expect to result are likely to force deep cuts in management's still robust store growth plans.
Disclosure: I am/we are long WFM.
I wrote this article myself, and it expresses my own opinions. I am not receiving compensation for it (other than from Seeking Alpha). I have no business relationship with any company whose stock is mentioned in this article.