Well, this is fun.
So two days ago in "I'm Tired Of Regular Investors Getting Hung Out To Dry," I noted how important monetary policy divergence is in terms of driving rate differentials, the dollar, and in turn, stocks (NYSEARCA:SPY).
A couple of readers didn't agree. Or at least it seemed that way.
My point was simple: rates and the dollar are part of the reflation trinity or, more colloquially, the "Trump trade." In the simplest possible terms, the Trump trade is: higher yields, stronger dollar, higher stocks.
Well, exactly 41 hours after that post was published, we got this from Reuters (note that the time stamp on the article isn't accurate -it hit at 7:34 EST on Wednesday morning):
ECB policy makers wary of changing their message before June, Reuters reports citing unnamed officials.
Do you know why the "unnamed official" leaked that to Reuters? Let me show you:

(SocGen)
On the right is EURUSD plotted with the spread between the 10Y US Treasury and the 10Y German bund. That spread (rate differential) had collapsed to YTD lows as a dovish Fed message clashed with an ECB that seemed inclined to start normalizing policy in the face of rising inflation and dissipating political risk (i.e. we were seeing policy convergence).
The narrower that spread, the more pressure on the dollar which was already inclined to fall following last week's turmoil in D.C.
With the dollar and Treasury yields under pressure, two parts of the reflation trinity that's supported stocks were moving in the "wrong" direction (down). Guess what happened after that Reuters story hit?

Do you know why that happened? Here's SocGen to explain:
The 10-year yield spread had narrowed from a wide position of 235bp in late December to as little as 196bp last week and is back above 200bp this morning.
If that's to Wall Street-ish for you, here's the chart Bloomberg featured front and center on the public website first thing Thursday: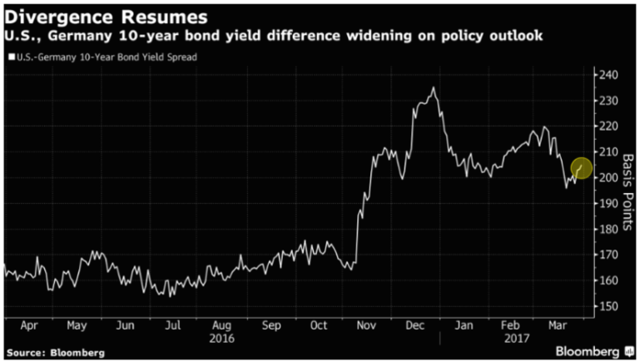 And this is what I said in the HR overnight recap:
Well, I suppose the overarching narrative here for retail investors is pretty simple: buy the dip. Every time. Don't even think about it. Just do it - like a Nike check. But as usual, there are other things going on behind the scenes. Things like the ECB covertly bailing out the dollar on Wednesday by dropping a "little" hint about the market having "bigly" misinterpreted Draghi's signaling.
Now look at what US stocks did today. Do you see why I tried my best to draw your attention to the policy divergence theme and what it meant for the dollar and rate differentials on Tuesday?
This isn't a coincidence. It was painfully obvious that someone, somewhere, was going to say something to bail out the dollar. And that's exactly what happened less than 48 hours after I all but guaranteed you it would. The result: rising stocks.
Don't believe me? Here's RBC's Charlie McElligott:
As anticipated, the Fed's doves are rolling-out 'hawkish,' with 4 hikes in '17 a real option.
Juxtapose this with ECB 'source' story yesterday ('taken aback' by mkt hawkishness and thus looking to reiterate 'easy' policy), while today we saw a massive messaging campaign from Nowotny, Praet and Knot all 'walking-back' hike expectations with dovish language.
Add-in the weak German March Inflation print (1.5% vs est 1.9% and Feb's 2.2%) and we see Bunds rallying today.
This "hawkish Fed, dovish ECB" dynamic is a complete "round-trip" back to where we were just prior to the Fed-a return to "policy divergence" and away from the two-week old "policy convergence" narrative which has been driving the USD-unwind / weakness.
As a reminder, "Fed / R.O.W. policy divergence" has been "the" driver of higher USD regime over the past 2.5 years, over which the DXY has appreciated 25%.
With this 'hawkish Fed / dovish ECB' scenario, the USD is experiencing 'signs of life.' In turn, this could in fact reinvigorate 'US domestic reflation' trades.
Right. A stronger dollar thanks to increased policy divergence (wider rate differentials) could "reinvigorate US domestic reflation trades."
US domestic reflation trades like, oh, I don't know... stocks.
Which is exactly what happened on Thursday.
Disclosure: I/we have no positions in any stocks mentioned, and no plans to initiate any positions within the next 72 hours.
I wrote this article myself, and it expresses my own opinions. I am not receiving compensation for it (other than from Seeking Alpha). I have no business relationship with any company whose stock is mentioned in this article.