The last-twelve-months performance for Consumer Discretionary Select Sector SPDR ETF (NYSEARCA:XLY) and Consumer Staples Select Sector SPDR ETF (NYSEARCA:XLP) was somewhat disappointing when compared to the SPDR S&P ETF (NYSEARCA:SPY). Much of the disappointment has been attributed to consumers continued shift away from brick-and-mortar stores to online shopping. The concern is reasonable, as shown by the past performance of US retail sales, e-commerce sales and Amazon (NASDAQ:AMZN) sales growth over the past five years.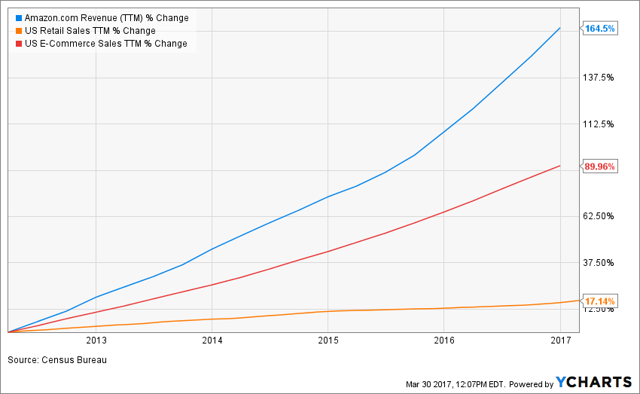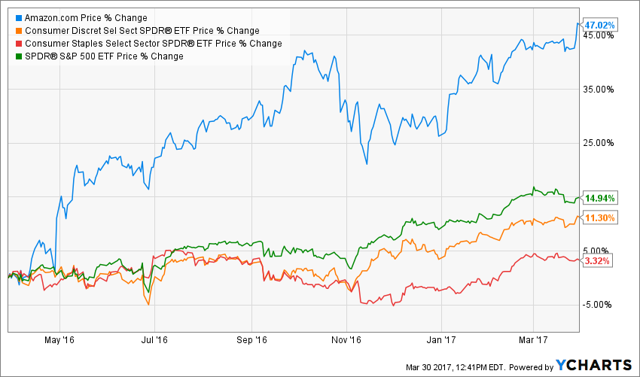 The chart confirms the common-sense view that online sales are outpacing dramatically traditional retail sales, but it also shows that Amazon has been quickly gaining market share in the online world, showing that its dominance in retail is only increasing. More importantly, the company seems to have reached a large-enough scale that enables it to improve its profitability even as it keeps growing at very high rates.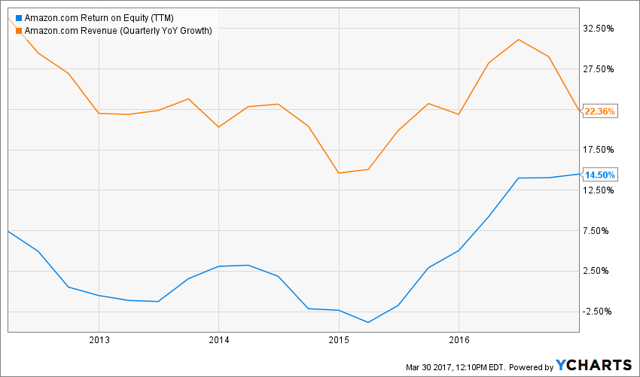 But what is the guarantee that Amazon will continue to deliver such a solid performance, not only in terms of its share price but also operationally? Well, nothing is for sure, but the company's ability to improve customer's experience is fantastic. There are a few breakthrough examples to illustrate that, such as Amazon Go, the company's experiments with deliveries through drones, and so on. Management always seem to be one step ahead everyone.
Focusing on the numbers, consensus estimates (source is YCharts with data from S&P Global) indicate a CAGR (compounded annual growth rate) of 20% for Amazon's revenues between 2012 and 2019, when it would total US$235 billion. Regarding EPS, consensus forecast US$19.53 for 2019, a 40% CAGR. The discrepancy between top-line and bottom-line growth can be attributed to an approximately 200bps expansion in net margin, which sounds reasonable taking into account our earlier discussion of improved returns.



Now what would be a reasonable valuation for AMZN in light of this scenario? Isn't it too expensive already? The problem with growth stocks is that looking at valuation for the next twelve months or so could be highly misleading, as growth tends to override short-term analysis. Let's use potential sustainable growth rates as a basis for our estimates here, but we are using 2019 as the base year. Assuming the company can deliver a sustainable ROE of 35% in the long run, with a long-term growth rate of 5.5% and assuming a 8.7% cost of equity (also in the long run), its fair P/E would be ~78x (vs. 119x currently). We are using a two-stage growth model here, with an intermediary 10-year period in which the growth rate would be 20%, the ROE 25% and the cost of equity of 8.1%.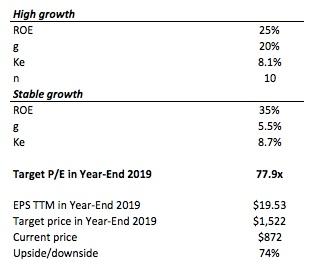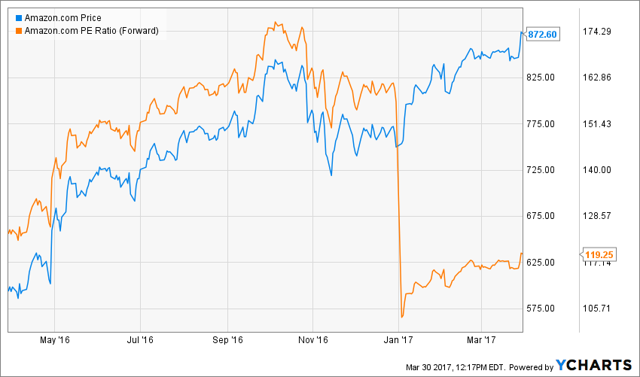 Those assumptions would yield a target price of US$1,522/share for 2019, which means a 74% upside in less than three years. The stock has rallied almost 160% over the past three years, but even decelerating to less than half for the next three years, the potential upside still yields a robust 20% compounded return for a stock of an already large and diversified company. For investors looking at the long term, buying and holding AMZN can still be a very profitable strategy.
If you agree that the assumptions are reasonable enough, it looks like a pretty attractive return. But more important than all these assumptions and forecasts is the fact that the company has been tremendously consistent in delivering solid growth through a highly-value added service to consumers. The outlook looks very favorable as Amazon has already established a winning platform and seems ready to plug enhancements into it, such as innovative brick-and-mortar stores and delivery solutions. Traditional retail is not dead, but Amazon looks determined to reinvent it.
Disclosure: I/we have no positions in any stocks mentioned, and no plans to initiate any positions within the next 72 hours.
I wrote this article myself, and it expresses my own opinions. I am not receiving compensation for it (other than from Seeking Alpha). I have no business relationship with any company whose stock is mentioned in this article.