In January, I posted an article on Deep Value Investing. I discussed Guggenheim S&P 500 Pure Value ETF (NYSEARCA:RPV) and pointed out some of its benefits and flaws. Deep Value Investing is a long-term strategy that has produced superior returns over time. However, it can have extended periods of underperformance and has shown 40-50% higher volatility than S&P 500. In other words, this is a strategy for investors with a high-risk tolerance and appetite for risk.
For those who do not have the stomach to bear the high volatility, I offer an alternative.
Combining two of my favorite ETFs - Guggenheim S&P 500 Pure Value ETF and iShares Edge MSCI Min Vol USA ETF (NYSEARCA:USMV) - produces a strategy that matches the volatility of S&P 500 with consistently higher returns.
USMV offers a smoother ride for investors who want to avoid the volatility of the traditional market cap weighted indices. The low vol investing is not designed to outperform the market but to provide stable and less volatile returns. You can check out my recent article on Low Vol ETFs.
Putting these two together brings the best of both worlds of pure value and low vol investing. Both are factor-based strategies that have proven their benefits over time through academic research and in practice. Combined RPV and USMV offsets each other flaws without sacrificing returns.
This is essentially a value strategy that seeks to invest in companies with strong value characteristics and lower volatility. Unsurprisingly, both ETFs share many of their top constituents - Berkshire Hathaway Inc. B (NYSE:BRK.B), Anthem Inc. (NYSE:ANTM), AT&T Inc. (NYSE:T), Duke Energy Corp (NYSE:DUK), Allstate Corp (NYSE:ALL), Consolidated Edison Inc. (NYSE:ED), Chubb (NYSE:CB), and Wal-Mart (NYSE:WMT). Other prominent names in the line-up include Arconic (NYSE:ARNC), General Motors (NYSE:GM), Valero Energy (NYSE:VLO), Centene (NYSE:CNC).
Compared to a traditional market-cap weighted value ETF like iShares S&P 500 Value ETF (NYSEARCA:IVE), this strategy aims to filter out the stocks with higher valuations and above-average volatility. Because IVE puts greater weight on the market cap, it will overweight stocks like Exxon Mobil (NYSE:XOM) and JPMorgan (NYSE:JPM), while in our new combined RPV / UMSV strategy, these giant corporations will have a much smaller weight based on their factor weight.
Value Metrics
The combined RPV / USMV strategy brings a less extreme value approach compared to RPV alone.
RPV invests in stocks that have recently gotten out-of-favor and have shown strong value metrics. USMV, on the other hand, holds stocks with a history of low volatility, which traditionally have high-value scores.

Source: Morningstar
The forward P/E ratio is 17.69, which is just a notch above IVE's 17.28, and well under SPY's 19.64. The remaining value metrics are also well positioned relative to the market-cap weighted indices.
Performance
Between November 2011 and February 2017, the RPV / USMV combo strategy has delivered 16.03% return with annual rebalancing, while SPY reported 14.93% and IVE posted 14.78%. Not only that, the strategy has produced these returns with the same level of risk as S&P 500. Their standard deviations are basically the same.

Source: Portfoliovisualizer.com
Risk
Adding USMV and RPV together solves one of the main issues of the pure value investing - the high volatility.
The combo has superior risk-adjusted returns in every single category relative to RPV alone; market cap weighted large value index and S&P 500. The investor in this strategy would have gotten a 1.49% alpha with a beta of 0.96 and, as shown earlier, the same standard deviation as S&P 500.

Source: Portfoliovisualizer.com
A primary driver of the high risk-adjusted returns for our combined strategy is the low correlation between the two ETFs. USMV and RPV have a correlation of 0.6 between each other, while the combined strategy has a correlation of 0.96 to S&P 500.
Portfolio breakdown
RPV alone has a huge tilt towards mid-cap stocks and certain sectors. Adding USMV creates a more core large cap strategy with fewer extremes in each market cap category.

Source: Morningstar
The combined pure value and managed volatility strategy brings a more balanced sector exposure. The most underweighted sector is Technology while the remaining ones have more even representation. Utilities and Real Estate are the only two sectors with heavier weight compared to the market cap weighted indices.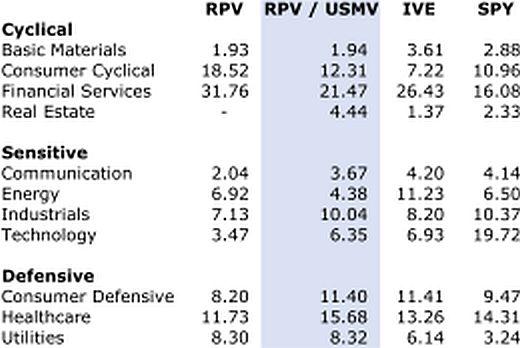 Source: Morningstar
Final thoughts
· The combined RPV / USMV strategy is suitable for value investors willing to sacrifice some of the returns of the pure value investing for lower risk
· The strategy offers above average risk-adjusted returns. It has a stellar 5-year record. Unfortunately, this combination has not been tested through a major bear market.
· The combined RPV / USMV delivers a more balanced exposure to sectors and market-cap segments with attractive valuations.
· Like all factor-based strategies, there is always a risk that the strategy can underperform the market over long periods of time.
Disclosure: I/we have no positions in any stocks mentioned, but may initiate a long position in RPV, USMV over the next 72 hours.
I wrote this article myself, and it expresses my own opinions. I am not receiving compensation for it (other than from Seeking Alpha). I have no business relationship with any company whose stock is mentioned in this article.