The "knowledge engine" software company YEXT (Pending:YEXT) has filed for an IPO to raise proceeds of up to $105 million and over $120 million if the underwriters exercise their option. YEXT's platform allows business to manage their public information in the cloud and syncs it to over 100 services. Here are some details worth noting about this IPO:
This Is Solely A Growth Play
The YEXT IPO will only attract growth investors looking to take on some risk. They are still young and have been focused on boosting revenue YoY. Growth strategy will be focused largely on new customer acquisitions, expanding existing relationships, developing new products and features, expand internationally, etc. For fiscal year 2017, revenue was up over 38% from the year prior. Since 2015, they have a CAGR of about 44%. Eyes are going to be on YEXT's ability to grow their top-line, and whether they will be able to scale at a rate which will justify their valuation.
While the company is growing, they are also absorbing large losses. Although their CAGR is 44%, the CAGR of their net losses is 59%. This is something investors will be keeping an eye on because 2017 was the largest net loss for YEXT in terms of dollars and percentage of revenue. This can present an issue as fiscal 2017 was their slowest year of growth.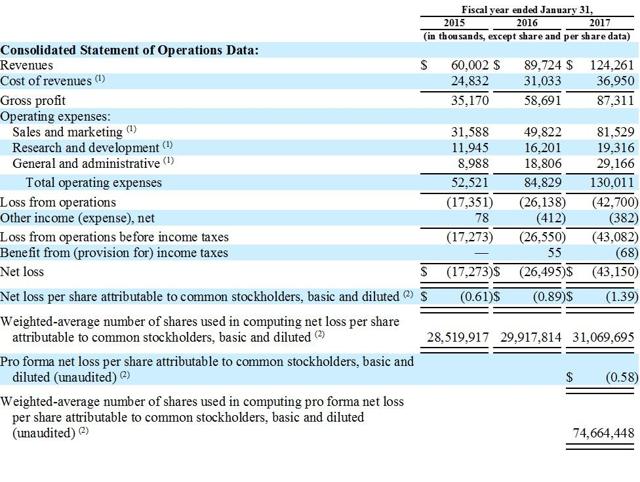 Source: YEXT's S-1
They Are Going To Need The IPO Proceeds
YEXT hasn't overleveraged themselves with debt, but that would certainly be on the horizon if not for the IPO proceeds. They already have an upside-down balance sheet, which the IPO proceeds will give some relief to. But nevertheless, it is unknown how much cash they will continue to burn through. With net losses on the rise, I am not confident that they won't burn through the proceeds within 18 months, solely on working capital and general expenses, excluding capital expenditures. Their cash ratio of 0.29 would be fine if they didn't burn through that amount of cash in 7 months, however that is not the case. I would expect significant losses to continue and a need for more funding within 2 years' time.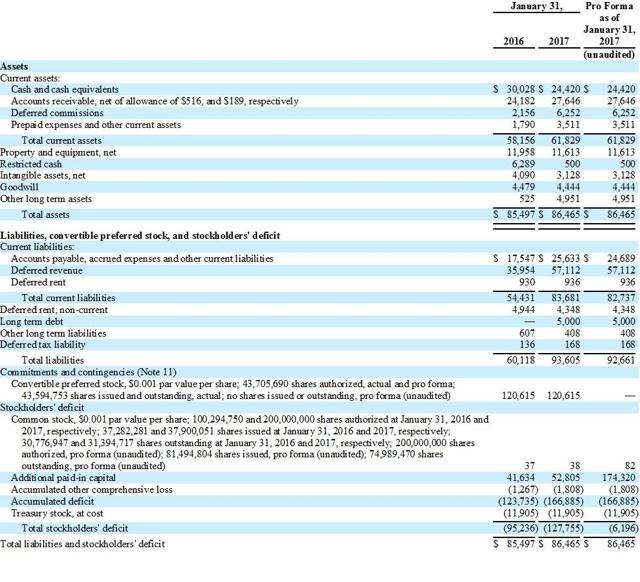 Source: YEXT's S-1
Valuation Is Too Much For The Risk
At $8-10 per share, that would place YEXT's equity between $684-855 million, with a midpoint of $769 million. That midpoint places YEXT's valuation at about 9X sales. That is a pricey valuation given the risk, but it is not absurd. It is not uncommon to see these young unicorn companies get valued at double digit sales, but that doesn't make them a good investment. There is not enough operating history for me to pay 9X sales for YEXT. I am not confident that the company will be able to sustain and manage their future growth. Currently, their growth is expensive with sales and marketing costs equaling 67% of revenue. Whether they can approach profitability is a concern given their high costs, slower growth for 2017, and limited history.
Conclusion
Personally, I don't think the YEXT IPO is going to be treated warmly like a software unicorn company. To invest at this stage, investors would need to have a whole lot of confidence in this company and their product. I think this might be coming to the market a little too early and it may pay a price for that. I'll probably skip this IPO and wait for the next software unicorn company that is more promising.
Disclosure: I/we have no positions in any stocks mentioned, and no plans to initiate any positions within the next 72 hours.
I wrote this article myself, and it expresses my own opinions. I am not receiving compensation for it (other than from Seeking Alpha). I have no business relationship with any company whose stock is mentioned in this article.