Amid the considerable coverage and negative sentiment we are seeing from traditional retailers continuing to lose out to the growth of e-commerce and the juggernaut that is Amazon (NASDAQ:AMZN), recent earnings reports have shown that discount retailers have remained unscathed from the consumer transition from brick and mortar to online.
Discount retailers have emerged as one of the few appealing investments in the retail space. The number of traditional retailers that investors should be considering are sparse. We eventually will get to a point where we will see a healthy consolidation in the future, but we are not there yet. J.C. Penney, Macy's (NYSE:M) and Sears (NASDAQ:SHLD) are all under a constant state of threat from the market. J.C. Penney (NYSE:JCP) has already seen shares fall 27% in 2017, with Macy's shedding 18%. Sears has actually increased 24% year to date, but shares could ultimately be rendered worthless if it files for bankruptcy.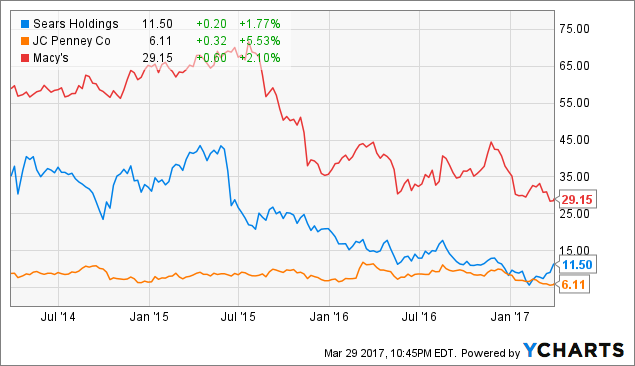 During this same time frame, TJ Maxx (NYSE:TJX), Ross Stores (NASDAQ:ROST), Five Below (NASDAQ:FIVE) and Burlington (NYSE:BURL) have all been well received by the market, at a time when their higher priced competitors are under serious threat if they don't make significant changes and quickly. All three brands have delivered gains in 2017 thus far.
Another less covered discount retailer has emerged as one of the most compelling investment opportunities in discount retail however, and analysts and investors alike are beginning to take notice.

Ollie's Bargain Outlet Holdings, Inc. (NASDAQ:OLLI) is an American chain of retail stores founded in 1982, with over 235 stores in 19 states. The company offers surplus merchandise obtained from various retailers and manufacturers, capitalizing on bankruptcies and closeouts to deliver products at less than wholesale costs.
This type of shopping can't be done online to the same effect, therefore consumers still enjoy the thrill and excitement of the treasure hunt that is bargain hunting. There is still the thrill of getting a great deal in a physical location if consumers search through these kinds of stores, and shares have accurately displayed this phenomenon. The company's loyalty program grew an impressive 31.2% from FY2015 to FY2016, a key indicator of the response they are seeing from consumers.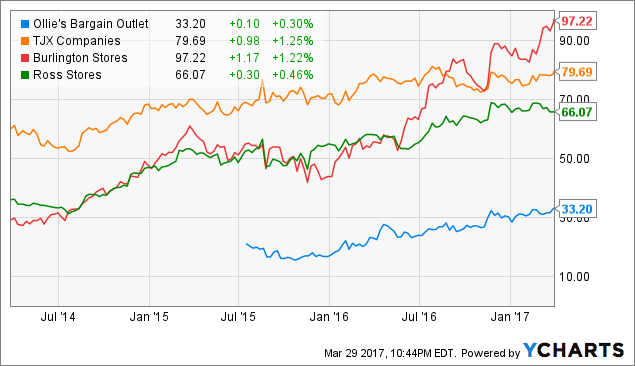 Ollie's stock has doubled in the past 18 months and is nearing its 52 week highs. The company's fourth quarter earnings report has shown that the retailer has significantly outperformed other retailers in the quarter with solid same store growth numbers; comps were up 1-2%. Ollie's beat earnings estimates on both the top and bottom line, delivering EPS of $0.39, ahead of estimates by $0.04. For FY18, the company is predicting EPS of $1.12-$1.15, against consensus estimates of $1.09. With encouraging metrics, the company could see a significant growth footprint across the country.
Despite the stock's significant run up, we believe that there is still more room to grow given the expansion potential that persists. Currently, all the company's 235 stores are east of the Mississippi. The company has stated they continue to target healthy markets in the South, and expansion is very likely. An expansion out west could be a huge growth opportunity for the business. Another Pennsylvania based discount retailer, Five Below has recently announced that it was aggressively entering the Southern California market. We would not be surprised to see Ollie's follow suit.
A key differentiator that Ollie's provides is the in-store shopping experience, delivering something you just can't get from e-commerce. The no frills stores are presented as "semi-lovely", according to the company, to position themselves as different than a traditional retailer. It kills two birds with one stone, it minimizes operating costs, but at the same time makes for a unique shopping experience that aligns with the target demographic of the discount consumer.
It is Ollie's strategy to entertain the customer with signage alluding to current events as well as poking fun at itself. The brand also utilizes a fast fashion shopping dynamic, with its store layout encouraging a shop now strategy and promoting repeat business because you never know what will be in the stores next and if products will stick around for long. We conservatively believe that the company can achieve a $2.5 billion valuation, similar to that of Five Below, given the current infrastructure of the company that can already sustain 350-400 stores. The company did indicate on its 10K filing that it intends to open 950 stores nationwide. Current sales $4 million per store would add $2.85 billion to the top line and could give the company far north of a $8 billion valuation. By comparison, Ross Stores has a market cap of $26 billion, with a 1,533 store count.
Following the earnings beat, the brand is starting to pick up significant coverage, with CNBC recently stating the company is positioned as the most cushioned from the proposed border tax, due to the little direct importing the company currently does. Ollie's managed to deliver an earnings beat that came amid a considerably difficult compare, providing even more positive sentiment for the growth thesis moving forward. Expect the company to continue to deliver sustained mid-20% EPS growth.
The beauty of Ollie's is that the story is still not well covered, but that may not be for long, the company has emerged as a compelling long-term growth story. If the company can get anywhere near its 950 store goal, shares will undoubtedly be in a different place than where they are currently. The company has only been public for less than two years, but has performed exceptionally well in the market where many IPOs have struggled.
Ollie's is positioned well in the market. With a lower store count the company can respond well to trends and the current state of the market, as opposed to big box department stores that have to backtrack, close stores, and sell of important segments. Look for this story to gain traction in the future.
Disclosure: I/we have no positions in any stocks mentioned, but may initiate a long position in OLLI over the next 72 hours.
I wrote this article myself, and it expresses my own opinions. I am not receiving compensation for it (other than from Seeking Alpha). I have no business relationship with any company whose stock is mentioned in this article.