Myaln (MYL) is sitting at critical support that offers bulls an opportunity for a low risk buy. That's a far cry form the warning I outlined in my article on March 6th, "Avoid Mylan". In that writeup I noted that Mylan was trading up against strong resistance and it was a poor time to buy. The key chart I used to illustrate my point was this one: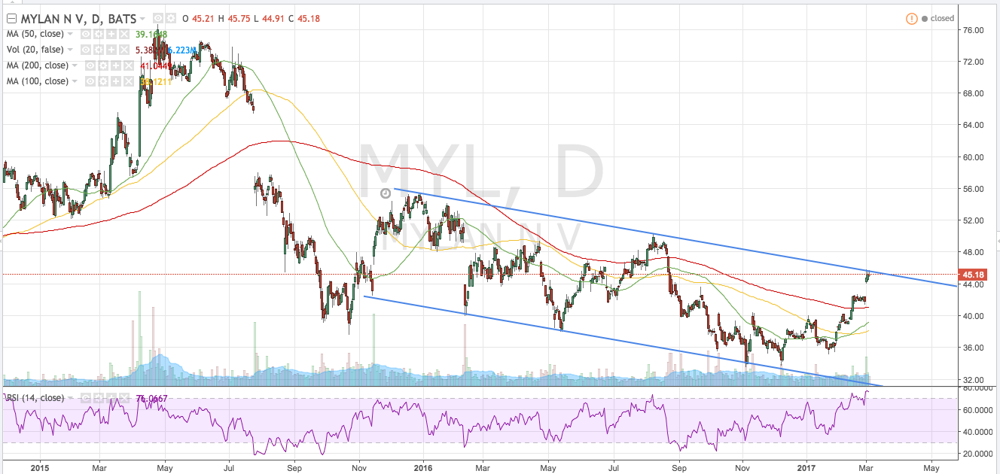 The stock was trading just over $45 per share. So if you took my advice, you managed to avoid an approximate 12% decline. Congrats!
Later in the article I outlined three scenarios for the future of Mylan's stock price. The first, the stock breaks higher through the trend line resistance (spoiler: that hasn't happened).
My other two scenarios involved a decline in share price which would then either see the stock continue lower in our trend channel, or build steam to push higher.
Here are the key levels I outlined in my previous article: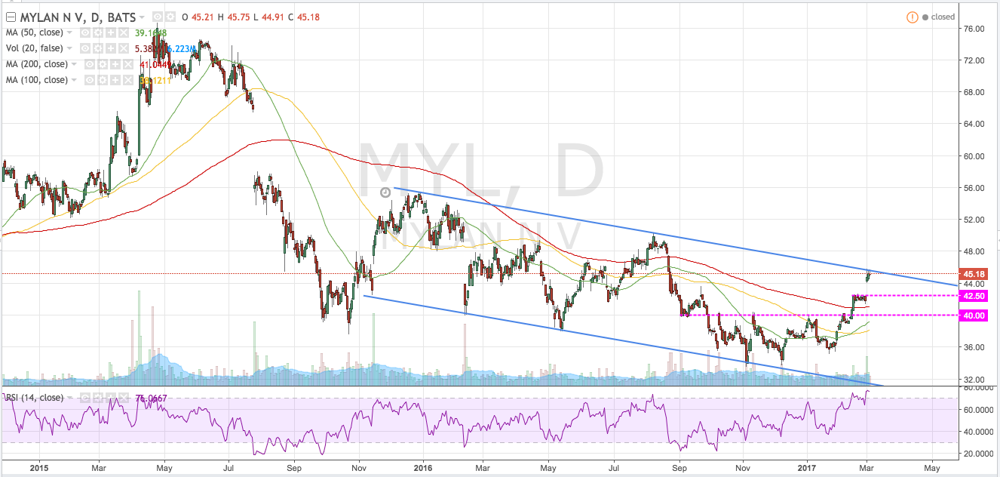 And here's where we sit today, March 30th after market close:

As you can see, the $42.50 level was key on the way down. Mylan stalled initially before pushing through this price point. It then came back up and tested it as resistance, falling to our next key level at $40 per share.
The $40 level has been a key area for Mylan since September, and arguably even back to February 2016. Bluntly put, we can either expect a bounce from current levels or continuation of the main downtrend if Mylan pushes much lower.
Stepping Down to the 4-Hour Chart
I generally don't like trading against the trend. That said, I'm a big fan of situations that provide exceptional risk/reward. I think we're seeing that here with Mylan. The $40 level is one reason to argue for buying the stock, but when I look at the 4-hour chart I see more reasons: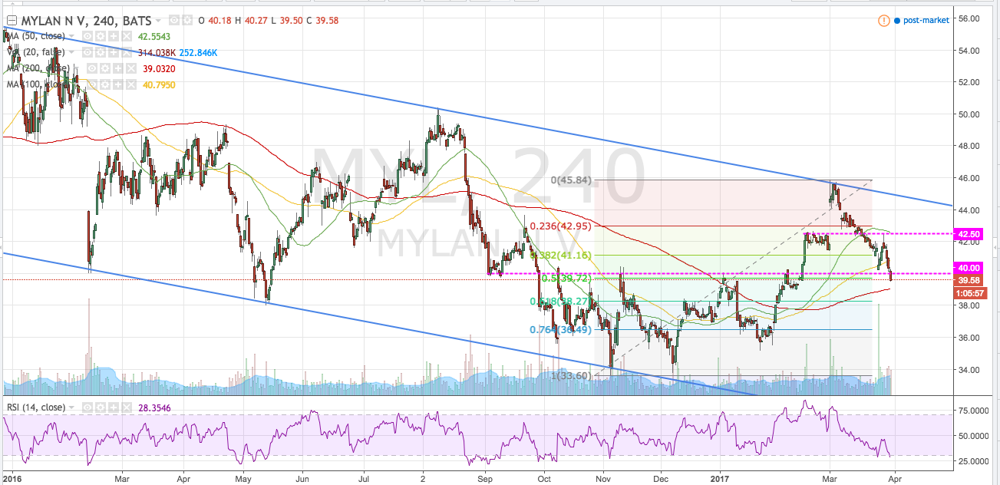 The 50% fib retracement level of the most recent move higher sits at $39.72, offering more support for the $40 price zone.
But beyond that, notice the moving averages are all pointing higher in what I like to call a "purely aligned" formation. In other words, the 50 SMA is trading above the 100 which is trading above the 200. That's generally bullish. Furthermore, we're coming up on the 200-bar SMA which should offer support.
I actually like being long Mylan from current levels, but if the 200-bar SMA on the 4-hour chart should break significantly it'd be time to head for the exits.
How To Play It
Today I purchase April 21st calls with a $42.50 strike price. I like taking a stab here with calls because it defines me maximum risk but gives me leverage. I'll be watching Mylan carefully for a move higher.
If the stock moves back toward $42.50 in short order and stalls, I'll likely close my calls for a decent profit. But if Mylan can push through $42.50 we'll likely see another test of the trend channel resistance. If it can go even further, moving through that trend channel resistance convincingly, I'll be quite happy sitting on my calls for as long as possible.
Of course, the stock could continue to fall which is a scenario I'll be monitoring for. Again, a close below the 4-hour 200SMA would indicate that my timing is poor and I could exit my calls. Obviously, those that are bullish Mylan could simply buy the stock outright.
Conclusion
Mylan is currently offering a very good risk/reward for longs, sitting on key technical support. Technical analysis with the stock has served us well in the past, and the hope is that it continues to do so with this trade. Those leaning bullish on Mylan definitely have the argument to take a long position slightly under or around $40 per share.
Disclosure: I/we have no positions in any stocks mentioned, and no plans to initiate any positions within the next 72 hours.
I wrote this article myself, and it expresses my own opinions. I am not receiving compensation for it (other than from Seeking Alpha). I have no business relationship with any company whose stock is mentioned in this article.
Additional disclosure: I am currently long Mylan calls