This article is the second in a two-part series. In the first segment published on March 27 2017, titled "Why are Many of the U.S. Majors Returning to U.S. Exploration?", we examined why many of the U.S. Majors have returned to U.S. exploration and production. In this second segment we discuss the sustainability of high levels of U.S. shale oil production. Particularly the issue of cost inflation and the U.S. environmental lobby implications for U.S. shale growth.
U.S. Shale Oil Drilling is a Relatively Young Phenomena
When we think about the history of the U.S. unconventional shale oil phenomena, we have to remember that it is a short one. U.S. shale oil drilling burst on the scene roughly ten years ago. This was soon after advances were being made in applying horizontal drilling and reservoir rock fracking to predominately natural gas deposits. We still have much to learn about shale reservoir behavior compared to conventional drilling that rests upon over a hundred years of drilling experimentation and learning. Consequently, we must think the U.S. shale process through from a deeper more encompassing long-term perspective.
Additionally, we need to view U.S. shale oil production from a global production perspective and in relation to overall U.S. oil demand. While the world produces roughly 96 M b/d, U.S. shale oil production is only 5% of global production. U.S. oil demand is roughly 19 M b/d, of which U.S. shale oil production is only 26%. Despite the rapid increase in U.S. shale oil production to nearly 5 M b/d in to date in 2017, the U.S. is still under-supplied by roughly 9 M b/d.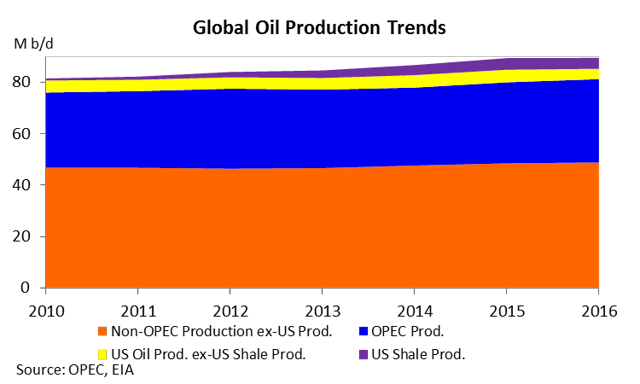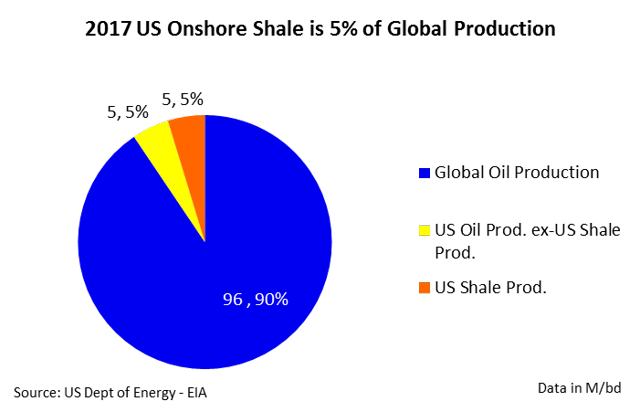 Explosion of U.S. Shale Oil Production
In a short period of time, U.S. unconventional shale oil production has rocketed from 800,000 b/d to over 4.3 M b/d by 2016, a 5-fold increase in six years at a 32% per annum growth rate.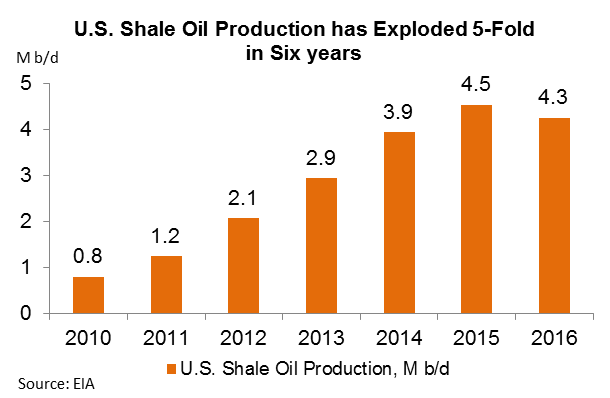 But is U.S. Double Digit Production Growth Sustainable.?
Can we sustain such rapid shale oil production growth and the unintended consequences to such accelerating growth? The U.S. Energy Information Agency's (NYSEMKT:EIA) "Annual Energy Outlook 2017" calls for shale oil, also known as tight oil production to flatten out by roughly 2020.
* Tight Oil is Shale production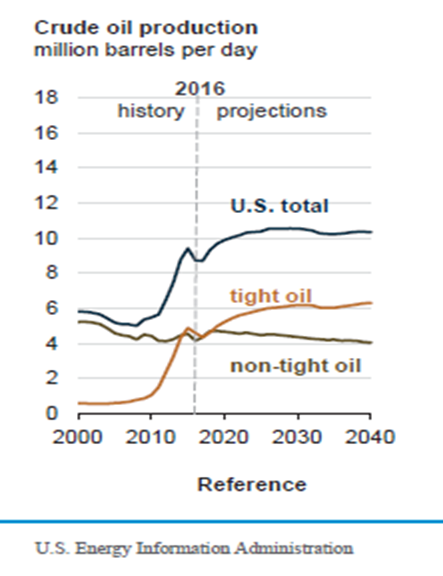 The underlying question is can U.S. shale oil production continue to grow at 32% per annum? We have seen a recent surge in U.S. shale oil production, most of that is attributable to connecting many DUC wells, drilled but uncompleted wells to pipelines to transport oil to storage or refiners. When prices collapsed many producers chose to keep the oil in the wells until prices recovered. Additionally, in this low oil price environment, producers chose to high grade their production: producing only from their best low cost wells to maximize positive cash flow. However, to sustain production growth, producers will have to move to less productive fields, to marginal wells with higher costs to produce and lower flow rates. The eventual move to marginal fields will decelerate production growth.
Some commentators have called for U.S. shale oil production to reach 10 M b/d within the next several years. U.S. shale oil production would have to grow at a per annum rate of 15% to achieve 10 M b/d within the next six years. Such a growth rate would be a formidable growth projection.
Cost Inflation
To grow production at such an unrelenting rate, besides facing significant infrastructure and capital constraints, the inevitable cost pressures would be difficult to overcome. You would need prices to increase at a faster rate to maintain current margins. Are we talking about $100/bbl oil? Throughout the 155 year history of the oil industry we have seen this cycle of rapid production growth followed by rising prices and costs over and over again. History does repeat itself in varying forms. Costs always chases price.
Additionally, there are the unintended consequences of such unbridled growth. For the U.S. shale movement, there are two major roadblocks along the way to production nirvana among others, cost inflation and the U.S. environmental lobby. A continued rapid production growth will inevitably lead to quick and intense cost pressures, oil oversupply and lower prices that will erode margins and cash flow.
As Oil Services giant Schlumberger's CEO Kibsgaard highlighted at a recent conference, "Oilfield service costs will increase significantly in the coming year, hurting the margins of US onshore producers". Although, U.S. shale producers have pointed out that break-even costs have dropped considerably over the last few years, "there is an impending cost inflation avalanche coming from the service industry, which continues to operate at unsustainable pricing levels," Kibsgaard warned.
Drilling deeper into Schlumberger's Kibsgaard warnings, noted shale petroleum geologist Arthur Berman pointed out that the recent cost deflation has more to do with the oil price activity collapse and less to do with technological improvements as drilling and production efficiencies. Technological advances to date have focused more on resource capture and less on cost improvement. As Berman stated in a recent report, "The savings are real but only about 10% is from advances in technology. About 90% is because the oil industry is in a depression and oil field service companies have slashed prices to survive". History indicates once oil field activity picks up, the industry will face rapid cost inflation and margin tightening that in turn will limit onshore production growth.
U.S. Environmental Lobby
As to the environmental lobby in the U.S. they are not to be underestimated. The environmental issues are real and not relegated to just CO2 emissions, but encompass water, food and overall climate change issues. In Royal Dutch Shell - RDS.A "New lens Scenarios, they highlighted the "Stress Nexus" of interdependent resources: water, energy and food. The point is that you need all three elements to sustain each one individually. Water is used to provide energy and power generation cooling. Energy is used to purify and supply, transport water. According to the IEA, energy water demands accounts for roughly 15% of global water withdrawals. Food requires water and energy to grow agriculture that accounts for 70% of global water usage. According to a UN and Shell analysis by 2030, the world will need between 40% and 50% more water, food, and energy.
To maintain onshore shale oil production growth water usage for fracking will require even greater demands for water. Alone, this may not seem as an issue, but when you couple greater water demand with greater population growth that in turn creates a greater call on food, you then have a serious environmental issue. Couple the Stress Nexus issues with climate warming - CO2 emissions and you increase the obstacles to continued shale fracking. One can argue the precise amount of water used for fracking until doomsday. The argument rests upon perception, and the perception is not favorable to using water for fracking.
Conclusion:
Current indications point to the unsustainability of double digit shale oil production growth. There are too little shale reservoir history, too many technical and environment impediments, and the history of production economics are not supportive to U.S. shale oil growth continuing at high rates. The U.S. may achieve energy independence in the far off future, but only by combining natural gas with oil and natural gas liquids - NGLs and some clean coal production. U.S. oil independence driven by shale oil is not likely. Particularly, if you consider the demand side of the energy equation emerging over the horizon, then you need to add non-fossil fuels like renewable energy and electric battery powered vehicles into the debate. But that discussion is better left to another report down the road for our readers.
Note from author: Thank you for reading. If you like this article, then please follow me by clicking the "Follow" button at the top of this page.
Disclaimer: Please do your own research on the company's SEC filings, press releases and any relevant information to determine whether this company is suitable for your investment risk profile. The reader should contact a qualified investment advisor. I am not a registered investment advisor, and this article is not an advice to buy or sell stock in any company. I am not responsible for investment decisions you make.
Disclosure: I/we have no positions in any stocks mentioned, and no plans to initiate any positions within the next 72 hours.
I wrote this article myself, and it expresses my own opinions. I am not receiving compensation for it (other than from Seeking Alpha). I have no business relationship with any company whose stock is mentioned in this article.