Day ago, news broke that Transocean (NYSE:RIG) had reached an agreement to sell some meaningful assets on its books. Seeing as how Transocean is a firm I have followed for a bit and have actually had a stake in as recently as this past January (long call options), I figured it would be interesting to look at the news surrounding these developments and give my thoughts on what it all means for the company in the months and years to come. This also gives me the opportunity to relay a warning to shareholders about the news that came out relating to this topic previously.
A look at Transocean and its high-specification jackups
At this point in time, Transocean is a major player in the offshore drilling rig space and management has done pretty well to adjust to the energy price downturn over the past couple of years. Even so, one bad thing about the business is that, while it has an untouched borrowing capacity under its credit facility of $3 billion that it can use if need be, it does have total debt of $8.55 billion. Thankfully, management has saved up cash and cash equivalents of $3.05 billion (excluding $466 million of restricted cash), but with future capital expenditure commitments between 2017 and 2020 of $2.68 billion for newbuilds, it's not hard to imagine a scenario where the company could run into liquidity concerns sometime in 2019 if the market fails to recover.
In an effort to address its problems, news broke that it had agreed to sell 15 of its high-specification jackups to another firm called Borr Drilling. Before I get into the terms of that deal, I should tell you a little about the kind of rig that Transocean is parting with. Unlike its other rigs, high-specification jackups specialize in drilling in shallower bodies of water. Their units, in particular, have a water depth of between 350 and 400 feet but, even so, they have the capacity to drill down quite a bit, with capacity of 35,000 feet. The idea here is that they are able to drill far more wells and in niche areas than Midwater, Deepwater, or Ultra-Deepwater units.
What's interesting about these types of units is that they were among the hard-hit ones during the downturn. As you can see in the image below, which allows you to see the rig utilization rates over a three-year period for all types that Transocean owns, the utilization rate for high-specification jackups dropped from an attractive 93% down to 55%. This is unfavorable compared to the full fleet, which saw its utilization rate drop from a more modest 76% to 48%. This suggests that, when times are good in the oil space, demand for these types of units runs high because of their ability to drill quickly but it also suggests that they are some of the first rigs cut from operation when times get tough.

*Taken from Transocean
Unfortunately, the management team at Transocean does not disclose profit margins associated with its jackups so it's hard to tell just how profitable these types of units are. We do know, however, that, in terms of sales, only the company's Midwater rigs generate less than its jackups. In the image below, you can see that the daily average revenue per unit last year came out to $143,800 per rig, which is down considerably compared to many of the others on its books, especially its Ultra-Deepwater units.

*Taken from Transocean
What does this sale mean for Transocean?
The fact that Borr Drilling is willing to buy these 15 units, then, suggests that they are certainly bullish on this space long-term. This is especially true when you consider that the aggregate reported purchase price of the units is $1.35 billion. One way to look at this is to break apart the old units from the new ones. If, for instance, you look at the table below, you can see that, of its newbuilds, which have seen their deliveries delayed, management has only allocated $280 million in capital of the nearly $1.42 billion they must spend on the units. This leaves about $1.14 billion in capital that Transocean should be free of since these commitments should not be included in its deal.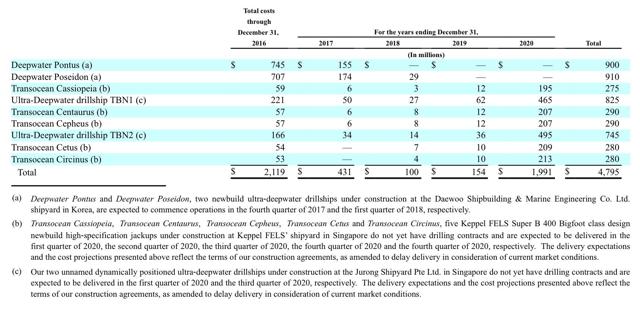 *Taken from Transocean
What this means is that management is selling off $280 million worth of work on five newbuilds, plus 10 older units, all in exchange for $1.35 billion. This is where the matter gets tricky in my opinion. According to the news release by Borr, the $1.35 billion is the "value" of the deal. I spoke with the investor relations department at Transocean and they said they cannot give too much in the way of details but they, too, stressed the value of the transaction. What this means is that it's possible a large portion of this deal will simply be freeing the rig operator of its future capital commitments plus get it some extra cash. Then again, until more information comes out, it's impossible to tell which scenario is which. This is because it's possible there could be another way that the deal will be transacted.
You see, depending on the final terms, there's a chance that Transocean will be given a sizable chunk of cash and be set free of future commitments. If the latter turns out to be correctg, it's hard to tell where management will allocate this capital, but even if they pay off debt with a weighted-average rate of 6%, that would save them $81 million in interest annually. It would also save them future payments due, thereby decreasing how much cash it must find or extra borrowings it must take on in order to meet all of its obligations between now and 2020.
Irrespective of which way the contract goes, there is an undeniable benefit of the deal that investors need to consider. Whether management will net a hefty amount of cash and be freed of the future commitments or whether they will net a little and be freed of said commitments, the hit to its backlog will be almost non-existent. As you can see in the image below, backlog associated with its high-specification jackups came out, at the end of last year, to $172 million, down from $467 million a year earlier. This means total future sales, if management's estimates are correct, that has been more or less locked up, accounts for just 1.5% of total future sales.

*Taken from Transocean
An explanation about the process
You may be wondering why I am writing about this topic right now since it happened a few days ago and I generally write about fresh topics. The answer, quite simply, is that the deal is still ongoing as we speak. Over the course of a couple days, I went back and forth with investor relations, hoping for some additional clarity. You see, what was reported by the media as a sale of Transocean's rigs was no such thing. What the company merely received was a letter of intent from Borr.
As of the time of this writing, Transocean has not signed the letter of intent (or if they have, they haven't had the opportunity to relay that to shareholders). Given the size of the deal, management said that they would make a press release if (and it is if, not when) the sale is agreed upon. The fact that they haven't yet suggests that it's still up in limbo but the recent announcement from Borr that the firm has locked down $800 million in financing to allocate toward the deal suggests that there's a very high probability the deal will be completed sometime soon.
Takeaway
Truth be told, I have a hard time figuring out just how good this sale is for Transocean if it's completed at all. Under the worst-case scenario, where the deal is more of a release of their future commitments, I still see it as a reasonable transaction since it will free up capital and the cost to management, based on backlog data, is small. If we find, however, that the deal is actually the more generous of the two options and shareholders receive a large chunk of cash plus a release on future commitments, I would probably consider bumping the firm up on my list of stocks to consider buying in the near future.
Disclosure: I/we have no positions in any stocks mentioned, and no plans to initiate any positions within the next 72 hours.
I wrote this article myself, and it expresses my own opinions. I am not receiving compensation for it (other than from Seeking Alpha). I have no business relationship with any company whose stock is mentioned in this article.