If timing is everything, it may appear I'm in a pinch. Because of life challenges, it had taken several weeks to draft an article chronicling my investment club's 2017 first quarter journey to DGI wealth (yes, our target is wealth). The March installment introduced our latest approach to a DGI strategy of sniffing for GRAVY. It documented our decision-making on an investment in Dividend Champion, V.F. Corporation (VFC).
The analysis was based on the company's recent headwinds and performance against its 2013 goals dubbed 17X17. While we are buyers of the company's products, we had determined we'd not be investing in its stock. The primary reason deterring our commitment was based on the "GR"owth "A"bility of its dividend.
The company has increased its dividend annually for 44 years. The last increase to $1.68 per share equated to dividend growth of 13.5%. The five year and ten year averages for dividend growth were 18.6% and 12.2% respectively. Though the growth trends are hearty, the club was wary about the sustainability of those trends. We've little doubt V.F. Corporation will continue to increase its dividend but we determined it may not be at a double-digit pace.
Sometimes life has a way of jabbing us. I submitted my article late Wednesday night knowing V.F. Corporation had an Investor's Day planned for Thursday, March 30th. With one year remaining on the prior plan, we expected the theme to be a rally cry for the final push toward the 17X17 targets.
Instead, V.F. Corporation announced new five-year targets for 2021 appropriately named the 2021 Plan. Was our analysis now suspect?
V.F. Corporation was missing those 17X17 targets across the board. When 2016 ended, V.F. Corporation's annual revenue totaled $12 billion compared to its target of $17 billion. Adjusted gross margin had actually shown the most progress improving from 46.5% to 48.6%. But, that performance was still shy of the target of 49.5%. Adjusted operating margin equated to 14% compared to the 16% target. Cash flow from operations tallied $1.48 billion bringing the four-year total to approximately $6 billion, well short of the $9.5 billion. A four-for-one stock split in December 2013 shifted the five-year goal for earnings to $4.50 per share. In 2016, adjusted earnings were $3.11 per share and GAAP earnings were just $2.78 per share.
The company's projections for 2017 reflected little indication the company would rally to hit those five-year targets:
a revenue increase at a low single-digit percentage rate

a flat gross margin of about 48.6 percent
a flat operating margin of approximately 14 percent

a decrease in earnings per share at a low single-digit percentage rate and

a slight increase of cash flow from operations of $1.5 billion for a five-year total of $7.5 billion.
Based on the initial projections for 2017, it's difficult to see how V.F. Corporation could possibly maintain its dividend growth track record. In 2013, the company had stated its target payout ratio was 40%. The payout ratio in 2016 was 55.1%. At a dividend rate of $1.68, the 2017 payout ratio would likely be higher considering the company had projected a low single-digit decrease in earnings.
Also, based on the company's 2013 EPS target at $4.50 per share and a 40% payout ratio, the computed dividend target must be $1.80. The last increase to $1.68 puts the rate just 7% shy of the implied 2017 goal. In the most recent four-year period, V.F. Corporation's dividend growth has markedly outpaced its EPS growth.
The company introduced a new five-year plan on March 30, 2017. It. runs through 2021 and is appropriately named the 2021 Plan. The plan is, for the most part, equally aggressive to the 17X17 goals. When taking into consideration the company's recent challenges and performance, the targets are dubious.
The 17X17 strategy would have required V.F. Corporation's revenue to increase at a 10% compound annual growth rate (CAGR). Of the 10%, 8% was expected from organic growth and 2% from acquisitions. Earnings were projected to grow at a CAGR of 13.3%. For the bottom line to improve at a faster pace than the top line, gross margin and operating margin improvements were imperative.
The 2021 plan targets V.F. Corporation's revenue increasing in a range of 4% to 6% CAGR. Organic growth, international expansion and direct-to-consumer sales increases will be the primary contributors to the top line. Earnings are projected to grow at a range of 10% to 12% CAGR. Once again, with the bottom line improving at a faster pace than the top line, gross margin and operating margin improvements are imperative. Gross margin is targeted at 51.5% and the operating margin target remains at 16%.
Target

2012 Year-end

17X17 Plan

Four-Year High

2016 Year-end

2021 Plan

Revenue

$10.9 billion

$17 billion at

10% CAGR

$12.03 billion

$12.02 billion

$15.34 billion at

4%-6% CAGR midpoint

Gross Margin

46.50%

49.50%

48.60%

48.40%

51.50%

Operating Margin

13.50%

16.00%

15.1%

14.00%

16.00%

Cash Flow from Operations

$1.32 billion

Cumulative

$9.5 billion

$1.76 billion

4-year cumulative $6 billion

Cumulative

$9 billion

Adjusted EPS

$2.33 on split-adjusted basis

$4.50 adjusted for 2013 split

$3.04

$2.78 GAAP

adjusted $3.11

$5.24 at 10%-12% CAGR midpoint

Dividend Rate

$0.87 on split-adjusted basis

$1.80 based on 40% payout

$1.68

$1.68

$2.83 based on

10%-12% midpoint

Dividend Payout Ratio

36.14%

40%

55.1%

55.1%

54% based on calculated EPS and dividend rate
Source: Author-created
Specific to my investment club's concerns, V.F. Corporation is projecting 10% to 12% dividend growth annually for the next five years. This is a slight depreciation from the company's dividend growth averages of the past 5 and 10 years. But, it is a significant multiple compared to the club's projections. We had esimated dividend growth would have to decline to the 2% to 3% range.
Is that the smell of GRAVY?
V.F. Corporation has obviously modified its dividend payout target. It expects to maintain a dividend yield over 3%. The company also authorized another $5 billion share repurchase program. Its plans are to repurchase approximately 20% of its current market capitalization. When all is said and done, V.F. Corporation is targeting shareholder return in a range of 13% to 15% on the 2021 Plan.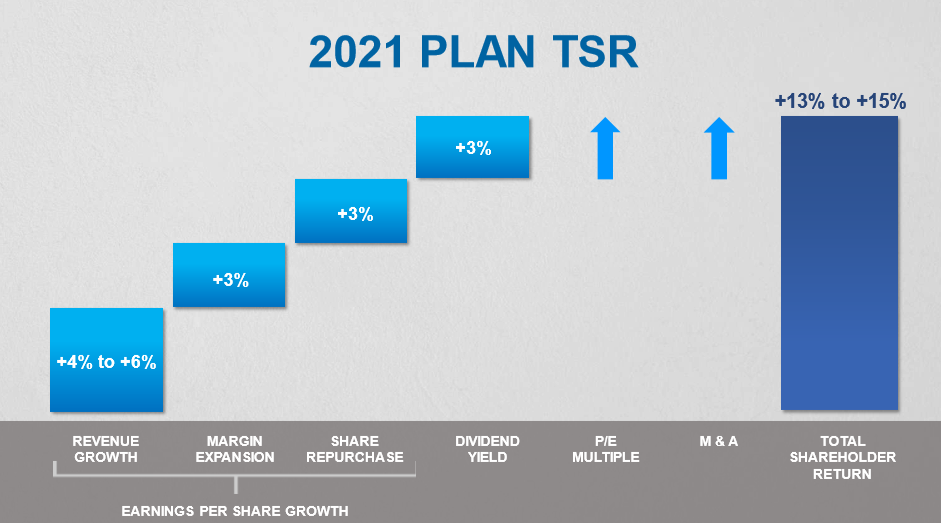 Both the revenue growth and margin expansion are critical to V.F. Corporation's shareholder return projection for 2021. It will be relying heavily on international expansion and further growth in its direct-to-consumer business as the catalysts for revenue growth.
Brand

International Expansion

DTC Increase

Van's

7% at

6% - 19% CAGR

9% at

28% - 30% CAGR

The North Face

3% at

7% - 10% CAGR

8% at

18% - 20% CAGR

Timberland

3% at

4% - 10% CAGR

6% at

23% - 25% CAGR

Jeanswear (Lee & Wrangler)

1% at 1% - 7% CAGR

Workwear (Bulwark, Red Kap, Timberland & Wrangler)

1% at

34% - 36% CAGR

Summarized Projections

5% at 4% - 6% CAGR

7% at

4% - 6% CAGR overall

24% - 26% CAGR digital
Source: Author-created
International and DTC growth must also fuel the gross margin expansion by over 300 basis points to reach the 2021 goal. Because V.F. Corporation manufactures and distributes merchandise globally, international growth could possibly boost margins. Likewise, an increase in direct-to-consumer business should also boost gross margins as the middle man is cut out of the transaction model.
Revenue could grow without margins improving. Margins could improve without revenue growing. But, both scenarios combined with the company's share repurchase intentions must transpire to support the EPS growth. And, the EPS growth must materialize to achieve the dividend growth. There is little wiggle room for ongoing industry headwinds or new challenges.
Should I have waited to update the first article knowing V.F. Corporation's Investor Day was on the horizon? Possibly. But, I'm actually okay with documenting our decisions from early March which were based on the information we had at the time.
Will the club rethink their position on V.F. Corporation? It should certainly be a topic of discussion at the April meeting. But, I sincerely doubt our analysis will be swayed based on the investor day presentation. The company's plans are defined but they don't appear as stormproof as a North Face jacket, as resilient as Timberland boots or as tough as Wrangler jeans.
Disclosure: I/we have no positions in any stocks mentioned, and no plans to initiate any positions within the next 72 hours.
I wrote this article myself, and it expresses my own opinions. I am not receiving compensation for it (other than from Seeking Alpha). I have no business relationship with any company whose stock is mentioned in this article.