Gilead Sciences (NASDAQ:GILD) has had a terrific run after acquiring the famous HCV drugs Harvoni and Sovaldi in 2014 but has seen its results deteriorate severely in the past year. Despite of the contraction of its financial results, Gilead is spending loads of cash on share buybacks and dividends. This is not the right path as the company is struggling to drive growth. As a result, Gilead's balance sheet is deteriorating. If management does not change its mind soon, the company will suffer more in the future.
Declining results because of HCV difficulties
The most recent fiscal year has been a difficult one for Gilead. Its revenue declined by 7%, while FCF declined 19% and net income saw a decline of 25%.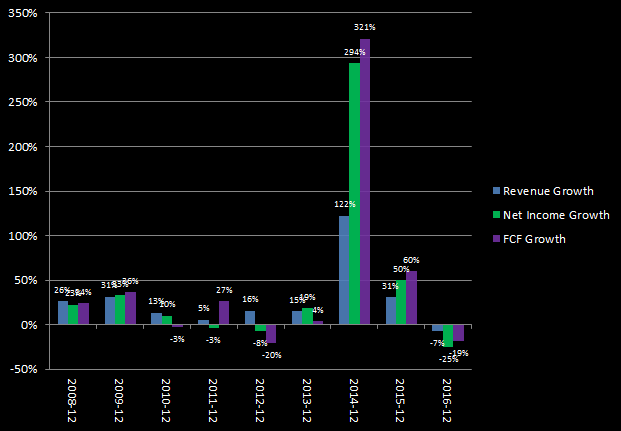 These deteriorating results were thanks to difficulties that the company faced with its leading brands: Harvoni and Sovaldi, which caused the growth rate spikes in 2014. At first there was no real competition and no one to get in their way. Because of this, management was able to ask absurd prices for its drugs. Unfortunately for Gilead, it cannot proceed in the same way. The HCV drugs of Gilead are seeing increasing competition from other companies such as Merck (NYSE:MRK) and Abbvie (NYSE:ABBV).
Other than difficulties from new drugs entering the market, the company has been dealt blows by US politicians as well. Senator Bernie Sanders for example, has been vocal more than once on fighting big pharma companies and the need to lower absurdly high prices for medicine. President Donald Trump has also been quite outspoken on these matters.
The same sentiment is currently brewing in Japan, the world's third largest drug market. In April last year, Sovaldi's price was cut by 32% with more possibly coming.
" Japan has said in recent months that it would overhaul the 2010 rule and introduce a new pricing system that evaluates innovation and how cost effective drugs are. Some pharmaceutical companies are already seeing the hit to their profits."
We can already see the results this all has on Gilead's HCV product sales: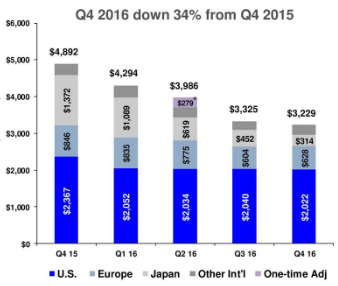 Yoy the HCV product sales were down 34%. Even Gilead's relatively new HCV drug Epclusa is not able to offset the decline of Harvoni and Sovaldi. This became more than clear as management guided for HCV product sales in fiscal year 2017 of just $7.5 to $9 bln dollars, a further decline of 39 to 40%.
While management also has plenty of other drugs, not one of them is successful enough to offset these hard declines. The way things are going now, Gilead's revenue decline will only accelerate.
Buybacks instead of acquisitions
In order to replace the lost HCV revenue, management has to be on the lookout for acquisitions. If it finds and acquires the right company (as it did back in 2014) then it could grow by entering new markets or by gaining market share in existing markets. The only problem is that management does not seem to think of this as a priority.
Instead of looking for good drugs and companies to acquire, management spends most of its earned cash on buying back shares and increasing dividend. Now do not get me wrong, I am usually a fan of companies that reward their shareholders by way of dividends and share buybacks, but in Gilead's case I do not think this is the right choice.
While Gilead's cash flow has seen a significant boost since acquiring Harvoni and Sovaldi, most of this money was given to investors instead of building up its business in case of worsening conditions in the HCV market. In 2016 alone, management spent over $13 bln on dividends and share buybacks.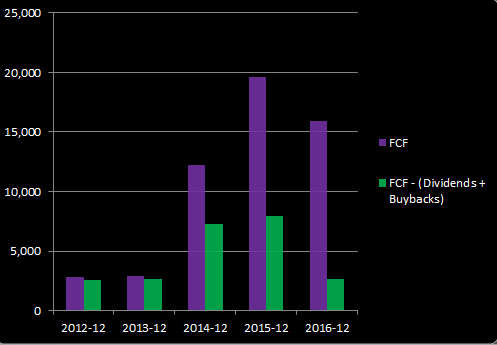 Now that the HCV product sales are expected to decline another 39% to 49%, FCF will go down sharply. This means that if management does not change the amount of money it spends on dividends and buybacks, Gilead will start to lose a lot of money. But it does not look like management will do this as a dividend increase for 2017 has already been announced.
Growing debt
During this same time Gilead even had to take on additional debt in order to finance everything. Over the past two years, Gilead's debt has more than doubled. The Debt/Equity ratio has also been steadily creeping upwards.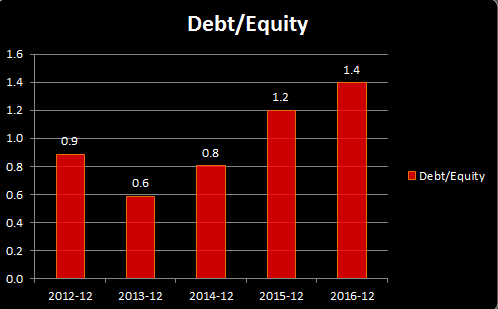 So management did not only fail to look for solutions for its HCV problem, but it also deteriorated the health of Gilead's balance sheet. This higher debt load on Gilead's balance sheet will result in increasing interest payments now that interest rates are rising. And because of management's apparent inability to acquire new drugs to offset the declining HCV profits along with their high dividends and share buybacks, the debt problem will only worsen.
Concluding remarks
I believe Gilead's management is hurting the company by spending that much money on its shareholders while its results are worsening. Returning money to shareholders does not mean much when the stock only goes down. The consequence of these actions are that the health of Gilead's balance sheet will only deteriorate further. Because of the worsening of the balance sheet and a turnaround of its results for the worse, I suggest investors stay away from Gilead and take their money somewhere else.
That being said, I do not believe investors would be wise to short this stock, since a sudden shift in management's plan might result in a turnaround of the stock. Because of the low valuation as a result of the declining share price, a pause of the share buybacks along with an announcement of a new acquisition could result in a strong upward movement.
Disclosure: I/we have no positions in any stocks mentioned, and no plans to initiate any positions within the next 72 hours.
I wrote this article myself, and it expresses my own opinions. I am not receiving compensation for it (other than from Seeking Alpha). I have no business relationship with any company whose stock is mentioned in this article.