Golden Arrow Resources Corporation ("Golden Arrow") (TSX.V: GRG) (OTCQB:GARWF) is a Vancouver, B.C.-based junior mineral exploration company, which owns the rights to more than 214,000 hectares of valuable natural resource properties located in Argentina. Most of the shares are traded on the TSX Venture (symbol: GRG). Golden Arrow's flagship property, the Chinchillas Silver Project, contains more than 240 million oz. (equivalent) of high-grade silver, with massive amounts of lead and zinc as byproducts. Only a relatively small portion of the property has been drilled to date, so there is still an enormous amount of exploration potential remaining.
Back in October 2015, Golden Arrow announced a conditional business combination (joint venture) agreement, which it entered into, with Silver Standard Resources Inc. (referred to as Silver Standard or SSRI (NASDAQ:SSRI) which owns and operates the Pirquitas silver/zinc mine located approximately 35 km away from Golden Arrow's Chinchillas Silver Project in Argentina, which is subject to a court ordered option that has not yet been exercised by Silver Standard. There was apparently some confusion as to whether the option expired yesterday or today, March 31, 2017. Last night, there was a press release issued that the parties have agreed to extend the deadline to today, March 31. Otherwise, there is no indication (publicly) whether or not the option will be exercised.
I set out the details of the Plan of Arrangement in my November 28, 2016, article found here.
In summary, Silver Standard's Pirquitas mine is running out of silver ore and now using its remaining existing stockpiles of ore, which will run out later this year or early 2018 (according to its March 23, 2017, Form 40-F filed with the SEC).
As Silver Standard already owns the entire infrastructure necessary to produce silver, zinc, and lead, having access to Golden Arrow's Chinchillas Silver Project will produce a lot of attractive synergies for both companies at relatively little cost and relatively low risk. The Chinchillas Silver Project will effectively be a satellite mine for the Pirquitas mine.
From Golden Arrow's perspective, a joint venture with Silver Standard's Pirquitas silver mine and production facilities gives Golden Arrow a near immediate ability to get into production without the costs and time required to build out its own production facility.
The business combination agreement would combine Silver Standard's producing Pirquitas mine and Golden Arrow's Chinchillas Silver Project into a single operation. A court order was obtained in British Columbia, Canada, for a Plan of Arrangement (approved by shareholders), which gives Silver Standard an option until March 31, 2017, to exercise its rights to trigger the joint venture. Golden Arrow would also receive 25% of the net profits of the Pirquitas mining operation (less certain expenses) for the 18-month period commencing October 1, 2015, to March 31, 2017, which, I understand, would now provide Golden Arrow with somewhere in the vicinity of $15 million to $20 million (my guesstimate only).
Under the terms of this Plan of Arrangement, Golden Arrow will become a 25% owner of the new joint venture company, and each Golden Arrow common share will be exchanged for a single common share of the new joint venture company, which presumably would also be a publicly traded company. Silver Standard would be the beneficial owner of the remaining 75%.
The Pirquitas producing silver mine is located approximately 35 km from Chinchillas; the operation includes a 4,000 tpd mill and processing plant on site. Pirquitas produced 10.3 million oz of silver and 9.5 million oz of zinc in 2015.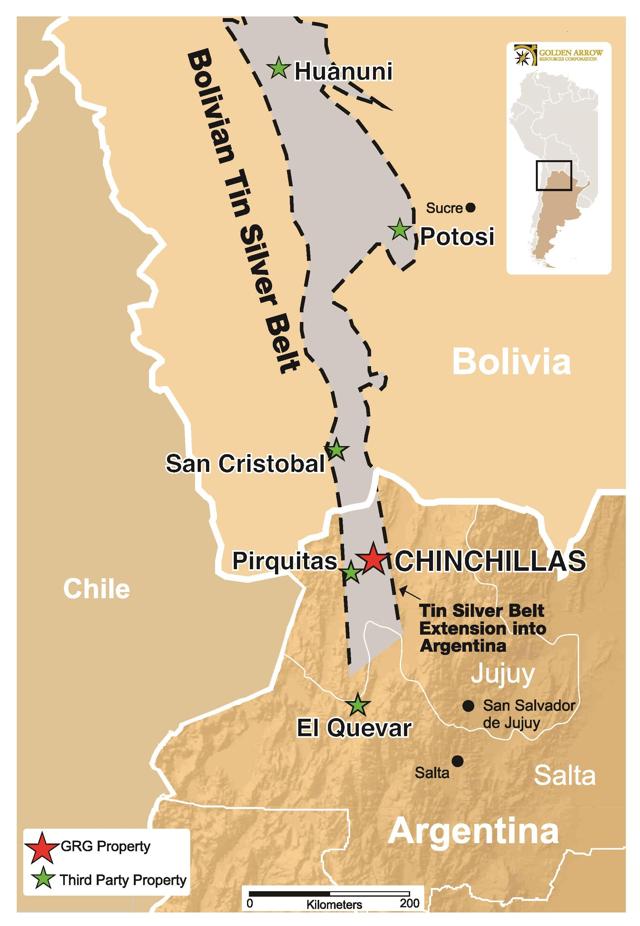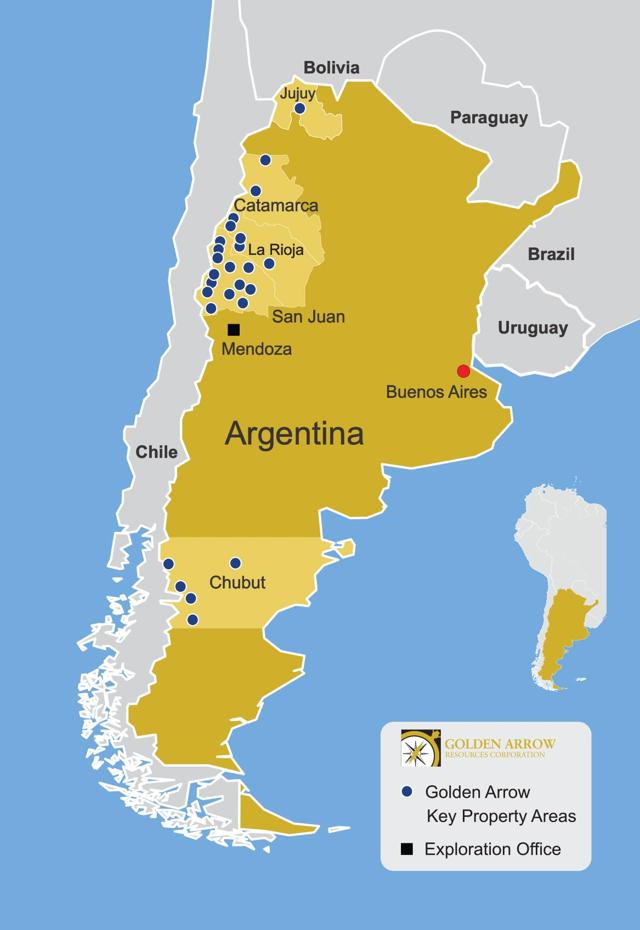 Silver Standard is under no obligation to exercise its option (technically called an Election to Proceed) and, accordingly, the arrangement may not be completed.
When I wrote my article on the topic on November 28, 2016, Silver Standard confirmed that it has nearly completed all of the technical work on the Chinchillas Silver Project (at a cost of $10.5 million) in its due diligence and pre-development activities, which it wanted to do prior to formally exercising its Election to Proceed. In fact, it indicated that it may exercise it Election to Proceed by the end of December 2016 (or perhaps shortly thereafter).
Since those very assuring statements that Silver Standard would be exercising its option, the tone and statements being made by Silver Standard have changed considerably such that there is currently no indication as to whether or not Silver Standard will exercise its option that expires tomorrow.
I called Golden Arrow's IR person earlier today and they still don't know Silver Standard's decision on the matter either. There are some recent statements and interviews with Golden Arrow's chairman suggesting that Golden Arrow would be happy with either outcome (joint venture or not) and, in fact, there is some suggestion that Golden Arrow might actually prefer that Silver Standard not exercise the option so that Golden Arrow would retain 100% ownership of its mine (although it would then take over the responsibility of obtaining financing and would have additional execution risks of bringing the mine into production).
It should also be noted that Silver Standard already owns close to 7% of the outstanding shares in Golden Arrow.
Silver Standard's Outstanding Export Duty Litigation with Argentina: $140 million at Stake
As recently as March 23, 2017, in Silver Standard Form 40-F, annual report filing with the SEC, at page 11, Silver Standard stated:
"... We continue to evaluate our right to exercise our option to form a joint venture on the Chinchillas project as an opportunity to extend the mine life at Pirquitas. The completion of our technical evaluation combined with the assessment of market conditions and country risk factors, including the status of our export duty litigation, will determine our decision on exercising the option in advance of its expiry on March 30, 2017. See "Mineral Properties - Projects - Chinchillas Project, Argentina" for further details. ..."
A copy of the Form 40-F filed with the SEC on March 23, 2017, is available on Silver Standard's website.
In my view, the biggest problem facing Silver Standard in determining whether to exercise its option is the resolution of the export duty litigation with Argentina. I didn't appreciate how big a problem that is (or was) for Silver Standard until after I started trying to understand why Silver Standard had not already exercised its option (as it indicated it would do back in November 2016).
The potential outstanding export duty is so large for the company, the failure to resolve the issue could negatively impact its financial statements, which has not fully recorded the 3% per month (more than 36% per year) interest liability on the outstanding $67.1 million outstanding principal amount. That's a lot of interest!!
In its March 22, 2017, Form 40-F (pages 58 and 59), Silver Standard states:
"We may be subject to a 10% export duty on past production and sales of silver concentrate from the Pirquitas mine.

We entered into a fiscal stability agreement (the "Fiscal Agreement") with the Federal Government of Argentina in 1998 for production from the Pirquitas mine. In December 2007, the National Customs Authority of Argentina (Dirección Nacional de Aduanas) ("Customs") levied an export duty of approximately 10% from concentrate for projects with fiscal stability agreements pre-dating 2002, and Customs has asserted that the Pirquitas mine is subject to this duty. We have challenged the legality of the export duty applied to silver concentrate, and the matter is currently under review by the Federal Court (Jujuy) in Argentina.

The Federal Court (Jujuy) granted an injunction in our favor effective September 29, 2010, that prohibited Customs from withholding the 10% export duty on silver concentrate (the "Injunction"), pending the decision of the courts with respect to our challenge of the legality of the application of the export duty. On June 21, 2016, the Federal Court (Jujuy) ruled that the Injunction would remain in place subject to certain conditions, including the provision by August 5, 2016, of a guarantee by Silver Standard against liabilities arising from export duties and applicable interest as well as security from Mina Pirquitas, LLC on certain assets at the Pirquitas mine. We appealed the condition to provide the parent guarantee. On November 17, 2016, the Appeal Court in Salta ruled in favor of the Federal Tax Authority and lifted the Injunction. Our subsequent request for appeal of this ruling to the Supreme Court was approved by the Appeal Court in Salta on December 27, 2016, and the suspension of payment under the Injunction remains in effect. We are also continuing discussions with the Federal Tax Authority and other government officials for potential resolution of the claim. We cannot predict the outcome of the court proceedings and those discussions. If we do not reach a successful resolution of the matter, the Federal Tax Authority may make further application to the court to have the Injunction lifted and initiate proceedings to collect the accrued export duties and its claimed interest. See "Legal Proceedings - Export Duties" for further details.

As of December 31, 2016, we have paid $6.6 million in export duties, for which we have filed for recovery. In accordance with the Injunction, we did not pay export duties on silver concentrate but continued to accrue export duties until February 12, 2016, when the Federal Government of Argentina announced the removal of export duties on mineral concentrates. At December 31, 2016, we have accrued a liability totaling $67.1 million, for export duties with no accrual for interest charges, and have recorded a corresponding increase in cost of sales in the relevant periods. The Federal Tax Authority has claimed that interest penalties at the prescribed rate applicable to general Argentine peso-based tax liabilities of 3% per month should be applied to the U.S. dollar export duty from the dates that each duty was accrued. The application of this rate results in a material interest claim of an amount approximately equivalent to the underlying duties that we have not accrued due to its uncertainty. The final amount of export duties and interest, if any, to be paid or refunded depends on a number of factors including the outcome of our litigation. A negative outcome of this litigation could have a material adverse impact on our financial position ..."
In other words, Silver Standard has been losing its court battle with Argentina relating to this outstanding export duty tax (which I understand may have been unfairly imposed). Nevertheless, the courts and taxing authority have ruled against it and unless it makes a deal (or win in court at some unknown future date) it has a tax liability of $67.1 million PLUS interest that has been accruing at 3% per MONTH or many years could be a total $140 million liability. Of course, this might only be a liability for the subsidiary which owns the Pirquitas mine but this is a serious problem for Silver Standard.
I assume that there has been a lot of last-minute negotiations between Silver Standard and Argentina. Silver Standard's parent company does not appear to be on the hook for the tax liability (based on what I have read to date). So Argentina risks getting very little if it doesn't settle, not to mention the loss of a substantial number of jobs.
On the other hand, Silver Standard stands to lose the benefit of a very lucrative 75% interest in this mine if a deal isn't made unless it is prepared to pay the outstanding taxes or risk going to the Argentinean appeals court.
In the meantime, Golden Arrow has little control over whether or not the option gets exercised.
At this point, I think both Argentina and Silver Standard have great incentive to settle and are likely taking this to the wire in a game of chicken.
When I first wrote this article earlier in the day yesterday, I gave it a 60% to 70% probability that Silver Standard would exercise its option. Now that a one-day extension was negotiated and announced last night, I'm more optimistic and am giving it an 80% plus probability. The parties have a tremendous upside, provided the Argentinean government is reasonable and some resolution reached (which probably involves waiving all interest etc.) My view is that it would be a win-win for all parties.
I also give it a 60% to 80% probability that a deal is or will be made between Argentina and Silver Standard with respect to the outstanding tax issue.
In other words, I'm now cautiously optimistic, but I could be wrong.
We'll know later today.
If Silver Standard exercises its option today, it will be very positive for Golden Arrow, and I expect the share price to have a nice pop.
However, if the option is not exercised by Silver Standard, I anticipate that the market will find uncertainty created as a result, and Golden Arrow's share price may decline (at least in the short term). Longer term, Golden Arrow could well be better off without the option be exercised by Silver Standard, but I am speculating on that issue.
I assume that Golden Arrow has been working on both its Plan A (if Silver Standard exercises its option) and Plan B (the option is not exercised, and Golden Arrow goes it alone). We'll hear more about that soon as well.
Additional disclosure: I am on the board of directors of Comstock Metals (TSX.V CSL.V), a junior exploration company based in Vancouver, B.C. Dr. David Terry is the president & CEO of Comstock Metal. Dr. David Terry is also on the board of directors of Golden Arrow Resources and first told me about Golden Arrow.
Disclosure: I am/we are long GARWF.
I wrote this article myself, and it expresses my own opinions. I am not receiving compensation for it (other than from Seeking Alpha). I have no business relationship with any company whose stock is mentioned in this article.
Editor's Note: This article covers one or more stocks trading at less than $1 per share and/or with less than a $100 million market cap. Please be aware of the risks associated with these stocks.