Welcome to the March 2017 edition of the lithium miner news. The past two months have seen many of the lithium miners sell off, perhaps due to the January EV sales slowdown in China spooking the market, and also perhaps due to some reports suggesting a lithium oversupply is coming. Meanwhile lithium demand and the lithium spot price have been strong.
Lithium spot and contract price news
During March, 99.5% lithium carbonate China spot prices rose 2.25% for the month. Of note Chinese lithium cobalt oxide spot prices rose 0.4% for the month.
Lithium carbonate China 99.5% prices - one-year chart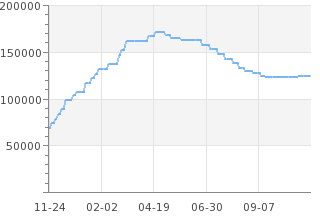 (Source)
Note: The above chart is about three months out of date, so I am working on a new source. Benchmark Mineral Intelligence recently reported February 2017 China LCE spot prices at $18-21/kg, and contract prices ranging between $10 and $16/kg. Joe Lowry's recent reports from Japan were "lithium carbonate prices up to $15/kg. Hydroxide contracts in a broader range up to $22/kg."
Lithium demand versus supply outlook
On March 17, Financial Post ran an article "Lithium is the latest hot metal commodity, but investor fever could be cooling." The article discusses the issue of too much lithium supply could be coming.
My response is that most of the lithium juniors won't bring new supply to the market for the next five years plus. My model suggests we may get some short-term oversupply around late 2018 and 2019 if many of the spodumene juniors make it to production by then, and then a possible deficit again by 2020 or 2021. The key issue most people miss is just how quickly lithium batteries are growing due to enormous demand from electric vehicles (EVs) and energy storage. For example, CATL plans to grow its battery capacity six-fold by 2020, and there are 14 new megafactories currently under construction. Added to this is the strong possibility of new supply being delayed. My model suggests from now to 2020, the new demand will be around 40,000 tons pa, assuming EVs continue to grow to reach 5% share by 2020. That should support 1-2 new lithium mines coming online per year adding to existing producers ramping up. Off course some may not make it or be delayed.
The Fuse recently reported:
"Lithium demand is set to rise by 16 percent per year over the course of the next decade, quadrupling by 2025 to 750,000 tons, according to Morningstar. That is the fastest growth rate out of any major commodity over the past century."
My model suggests that by 2025, lithium demand will reach 1,140,000 tons, based on electric cars having reached a market share of 20%. A key in my assumption is that the average electric car will have a 50kWh battery (most analysts assume less than this). Also my model accounts for lithium use from e-buses, e-bikes, and energy storage, as well as the conventional areas.
Energy storage is another huge potential driver of future lithium demand, and the area is growing rapidly. PV magazine reported in March that "U.S. energy storage MWhs double in 2016 to 336 MWh." And "GTM Research forecasts that the energy storage market will grow more than 20-fold to 7.3 gigawatt-hours (GWh) in 2022, and despite falling prices for the value of the market to still rise more than 10-fold to over $3.3 billion." 97% of the US energy storage market is using lithium ion batteries.
Lithium battery news
Solid-state (or polymer) lithium ion battery
On March 9, Tires & Parts reported:
"BMW (OTCPK:BMWYY) has revealed that it expects to debut breakthrough battery technology by 2026. By that year, the company hopes to use solid-state batteries in its production models. The batteries will still be using lithium ion technology, but instead of liquid electrolytes will be having solid ones. Initially, this is expected to increase the capacity of the batteries by 15-20 per cent. Other benefits of using solid electrolytes are that the batteries will weigh less and there will be less risk of fire. Hence, they will need less safety protection and their packaging and housing will need a fresh approach. Currently, the batteries are in development but it is expected that another 10 years will be needed for using them on a production basis, with the delay mainly being due to the need for long-term durability testing."
Note the solid-state battery can use any combination of electrodes found in lithium-ion batteries, it is simply the electrolyte that differs.
Lithium miner news
Albemarle (NYSE:ALB)
On March 16, 2017, ALB announced, "Albemarle positioned to double lithium concentrate production at Greenbushes facility." Off course, Albemarle has been overstating its expansion plans for several years now and not achieving these lofty goals, hence Joe Lowry's main criticism of the company. My view is the doubling of Greenbushes may eventually come, but it may take a decade to get there. Albemarle says by "early in the next decade," which shows me it will be at least five years away if not longer. By then the market will need a lot more lithium if EVs continue to gain market share. Also Albemarle is understandably trying to cull some of the one hundred or so juniors, which is not so bad really as there are too many.
Sociedad Quimica y Minera S.A. (NYSE:SQM)
On March 1, SQM reported in 2016 "our net income reached US$278.3 million, an increase of 30% when compared to the last year." With regards to Argentina, it said, "our continued commitment to the lithium market and our joint venture in Argentina is strong. We will be completing the feasibility study and expect to break ground in the coming months."
The company also mentioned plans to spend "US$100m" in its Argentine JV with Lithium Americas (OTCQX:LACDF) in 2017, and "we should be operating in 2019, with a cost that will be at the low end of the cost curve." Also "we are working on more than doubling our lithium hydroxide capacity in Chile; this project will have a total investment of about US$30 million, and it should be in operation by the end of year."
Investors can view all the details of the SQM Q4 2016 earnings call here.
FMC Corp. (NYSE:FMC)
No significant news from FMC for the month.
Chengdu Tianqi Lithium (SHE:002466)
After a great 2016 which saw net profit rise 532%, Tianqi reported on its plan with Albemarle to expand production from Greenbushes from Q2 2019.
Jiangxi Ganfeng Lithium (SHE:002460), Neometals (OTC:RRSSF) [ASX:NMT], International Lithium Corp. [TSXV:ILC] (ILHMF)
On March 8, International Lithium announced "a maiden resource estimate for the Mariana lithium brine project in Salta Argentina." The "indicated resource for Resource Area 1 contains an estimated 747,000 tonnes of lithium carbonate equivalent (LCE), grading 306 mg/L lithium (Li) and 9,457 mg/L potassium (K)."
On March 14, Neometals announced "that the second shipment of lithium concentrates from the Mt Marion Lithium Project ('Mt Marion') has departed from the Port of Kwinana." It was carrying "16,662 tonne shipment containing concentrate at +6% and +4% Li2O."
I have decided to group the above together as Ganfeng Lithium has major partnerships with both Neometals and International Lithium.
You can read my very recent article on International Lithium here.
Orocobre (OTCPK:OROCF) [ASX:ORE] [TSX:ORL]
Orocobre lowered FY17 production guidance to 12-12,500 tonnes (from 15,000) due to production issues ("pond inventory management requirements"). Also FY18 guidance (albeit significantly higher) included selling some lower quality (technical grade) lithium (that sells at lower price), and its planned hydroxide plant.
You can read the Orocobre November 2016 investors presentation here. You can read more on my latest article on Orocobre here.
Galaxy Resources (ASX:GXY) (OTCPK:GALXF)
On March 2, the company announced "Galaxy completes second shipment of spodumene concentrate." The amount shipped was 14,000wmt. The company also stated "the re-design of the Mt Cattlin processing plant, focused on improving historical lithium oxide grades and removing mica, has been successful in producing a product specification that is exceeding expectations in both areas."
Hartleys recently published a broker report on Galaxy with a buy recommendation and a one-year price target of AUD 0.70. It put a value of 0.35cps on Mt Cattlin, 0.30cps on Sal de Vida (SDV), and 0.07cps on James Bay. By comparison, my one-year price target is AUD 0.69, and my end 2020 target (with SDV producing 15ktpa) is AUD 1.43.
You can read more on my latest article on Galaxy Resources here, a recent InvestorIntel article here, and the February 2017 company presentation here.
Upcoming catalysts include:
Early 2017 - An upgrade to the Mt Cattlin mineral resource.
H1 2017 - Project financing evaluation and discussions for Sal de Vida. Noting Galaxy already raised around $60m in January 2017.
Mid 2017 - Earnings announcements from Mt Cattlin.
H1 2017 - Work on DFS for James Bay, Canada.
2017 - Mt Cattlin production ramp up to at least 160ktpa. This will significantly increase earnings. Also, Galaxy has AUD 214 million in unused tax losses, so it is unlikely to pay any income tax for a few years.
Altura Mining (ASX:AJM) (OTC:ALTAF)
On March 14, Altura announced "that its mining contractor NRW has commenced bulk earthworks on site at its 100% owned Pilgangoora Lithium Project located in the Pilbara region of Western Australia."
You can read more on my latest article on Altura Mining here, or read its November 2016 company presentation here.
Upcoming catalysts include:
Q1 2017 - Construction of the mine planned to start and expected to take just 11 months.
1H 2017 - Announcements regarding the balance of funding, with ~$AU50m already raised (total mine CapEx is AU$140m).
Late 2017/Early 2018 - Production is forecast to commence.
Pilbara Minerals (ASX:PLS) (OTC:PILBF)
On March 1, Pilbara Minerals announced "the HMS pilot plant has generated increased yields and recoveries for the course spodumene concentrates - recoveries range from 51.9% to 67.7% Li2O compared with 41.9% to 44.6% used in the DFS." Also "major site works are underway, the Mining Proposal is expected by end of March." And "the Company is engaged with multiple industry participants, including advanced discussions and documentation for both Lithium and Tantalum concentrate offtake. In parallel, potential funding streams are being progressed to the support the balance of the Pilgangoora project funding, including offtake-linked and non-bank debt facilities."
On March 27, Pilbara Minerals announced "that it has received the first of two key environmental approvals for its 100%-owned Pilgangoora Lithium-Tantalum Project in Western Australia, marking another important milestone towards the start of construction."
You can read more on my latest article on Pilbara Minerals here, and its company presentation here.
Upcoming catalysts include:
Early 2017 - Environmental approval (half achieved), grant of mining proposal (mine lease and native title already granted), and project financing announcements. Noting Pilbara has already raised about AUD 95m of the estimated AUD 214m CapEx.
1H 2017 - Mine construction to begin.
Late 2017/Early 2018 - Commence lithium production.
Kidman Resources (ASX:KDR)
On March 20, the company announced "Kidman continues to expand WA lithium project with farm-in deal over neighbouring ground."
On March 28, Kidman reported "Metallurgical test work returns outstanding results at Earl Grey."
Upcoming catalysts include:
May 29, 2017 - Court case with Marindi Metals.
Q2 2017 - Resource upgrade.
Mid-2017 - FS release expected.
2018 - Commence lithium production.
Lithium Americas (TSX:LAC)
In a recent March company presentation (linked below), Lithium Americas stated the following regarding its Cauchari-Olaroz JV project:
"A feasibility study on the first stage of the Cauchari-Olaroz project is expected shortly.
Construction on track to start in H1, 2017.
Capital cost in line with SQM's estimates (Stage 1- US$210-US$215 million for Lithium Americas' interest).
Operating costs (forecast) at low end of the cost curve.
Production expected to start in 2019."
Investors are also reminded that Gangfeng Lithium and Bangchak Petroleum are now equity partners in Lithium Americas, and Gangfeng has an offtake right to take 80% of the lithium carbonate production of stage 1. SQM is a 50% project JV partner.
My view is that Lithium Americas is currently exceptional value for a highly de-risked junior, with brilliant equity and JV partners, and only two years away from production.
You can read more on my latest article on Lithium Americas here, and its March company presentation here.
Upcoming catalysts include:
Early 2017 - PFS for Lithium Nevada.
1H 2017 - FS for the Cauchari-Olaroz project, construction commencing at Cauchari-Olaroz. The first production stage will be 25,000 tons per year, with stage 2 adding an additional 25,000 tons per year.
2019 - Stage 1 Cauchari-Olaroz lithium production of 25ktpa.
NB: LAC previously sold 50% of the Cauchari-Olaroz project to SQM.
Nemaska Lithium [TSX:NMX] (OTCQX:NMKEF)
On March 14, the company announced "Nemaska Lithium Produces up to 6.65% Li2O Concentrate from DMS Modular Mill at Whabouchi."
On March 22, Nemaska announced "that FMC Corporation ("FMC") will pay a lump sum of US$10,000,000 to Nemaska Lithium (the Payment) by April 7, 2017, in accordance with the Supply Agreement announced on October 31, 2016, and has agreed to amend the Supply Agreement to extend the timeline for the supply of product there under."
You can read more on my latest article on Nemaska Lithium here.
Upcoming catalysts include:
Early 2017 - Updated feasibility study.
2017/2018 - Off-take agreements and project financing announcements. Mine and plant construction.
Critical Elements [TSXV:CRE] (OTCQX:CRECF)
InvestorIntel published a recent very positive article on Critical Elements which you can read here. The section discussing tantalum was interesting.
You can read more on my latest article on Critical Elements here.
Upcoming catalysts include:
H1 2017 - Feasibility study (FS) results. Helm AG has agreed (subject to a positive FS) to take 100% off-take, and with an option to take a 25% equity stake in Critical Elements.
2019 - Stage 1 production is expected to begin.
2022 - Stage 2 production is expected to begin.
Lithium X (TSXV:LIX) (ROCEF) (OTCQB:LIXXF)
Last month, I reported on Lithium X's acquisition of mining permits in the Salar de Arizaro in Argentina. Currently it is only at the exploration stage, so hard to say the potential there. Lithium Exploration Group (OTCPK:LEXG) has also previously held permits there and it states on its website that "the Arizaro Salar is ranked #4 in the list of lithium-rich salars in the Andean."
Lithium X states:
"District-scale 33,846 hectares Arizaro project is located in one of the world's largest and least explored salars thought to contain elevated lithium brine values.
Potential to increase and enhance brine processing at Sal de Los Angeles, Lithium X's flagship project, by combining with brine products from Arizaro.
The entire salar is staked with other current land holders in Arizaro including Eramet, Sentient and REMSA (Salta Government)."
I would be interested to hear from any commentators who have knowledge on the Arizaro salar, regarding its lithium grades and impurities (magnesium:lithium ratios).
You can read more on my latest article on Lithium X here, and a recent investor presentation here.
Upcoming catalysts include:
Q1 2017 - PFS for Sal de Los Angeles, and construction of further pilot pond facilities at Sal de Los Angeles.
1H 2017 - Drill results at Clayton Valley.
Q3 2017 - FS for Sal de Los Angeles (concentrate). Full scale production facility construction to begin.
Q1 2018 - FS for Sal de Los Angeles (lithium carbonate facility).
Q2 2019 - Sal de Los Angeles - Full scale lithium production to begin at 15ktpa.
Bacanora Minerals (OTC:BCRMF) (TSXV:BCN)
No news this month from Bacanora.
You can read the latest corporate presentation here.
Upcoming catalysts include:
Summer of 2017 - Feasibility study.
Neo Lithium (OTC:NTTHF) [TSXV:NLC]
On March 20, the company announced:
"Neo Lithium continues drilling high grade lithium at significant depths with positive porosity results, and materially expands high grade lithium footprint beyond the northern target. New drill results to the very south of the salar suggest the target area with high grade lithium brine extends far beyond the northern target over virtually the entire salar, encompassing an area of approximately 6,897 ha, and is deep - down to 200 metres in certain areas."
Chairman Constantine Karayannopoulos said:
"All of this is very good news and should have a significant positive impact on the resource estimation expected to be released in the second quarter of this year."
Excellent news, and the stock should start to rise as investors see the huge potential. To remind investors, Neo Lithium has an excellent chemistry salar the Tres Quebradas lithium brine project ("3Q Project") in Catamarca Province, Argentina. I rate Neo Lithium as one of the best value junior lithium plays.
You can read more on my latest article on Neo Lithium here.
Upcoming catalysts include:
H1 2017 - Drill results.
Q2 2017 - Resource estimate.
Enirgi (private)
On March 24, Mining Weekly reported:
"According to the government's statement, the investment from Enirgi to create an advanced materials division in Argentina will help the company increase its production to more than 50 000 tonnes of lithium carbonate annually."
No date was given for this target. Enirgi plans to work with its subsidiary ADY Resources and LSC Lithium Corporation [TSXV:LSC] and Lithea, Inc. Enirgi says it can "produce high quality lithium products in less than 24 hours." We will see, but I have my doubts it will be cost competitive. If it is, it will certainly shake up the industry.
Eramet (EN Paris:ERA) (ERMAY)
Eramet has plans to produce 20,000 tonnes of lithium carbonate pa from 2020 from its Argentine salar. Eramet is a large French company also producing/refining nickel and manganese. Makes it a good fit for the EV boom.
Other promising juniors include Advantage Lithium (OTCQB:AVLIF) [TSXV:AAL], AIS Resources [TSXV:AIS.H], American Lithium Corp. (OTCQB:LIACF) [TSX-V: LI], Dajin Resources (OTCPK:DJIFF) [TSXV:DJI], European Metals (OTCPK:MNTCF) [ASX:EMH] [AIM:EMH], Latin Resources Ltd. (OTCPK:LNRDY) [ASX:LRS], Lithium Australia (OTC:LMMFF) [ASX:LIT], LSC Lithium [TSXV:LSC], MetalsTech [ASX:MTC], Millennial Lithium Corp. (OTCQB:MLNLF) [TSXV:ML], Pure Energy Minerals (OTCQB:PEMIF) [TSXVE:PE], Sayona Mining (OTC:DMNXF) [ASX:SYA], and Tawana Resources [ASX:TAW].
Global X Lithium ETF (NYSEARCA:LIT) - Price = US$27.35
The LIT fund rose slightly for the month of March. The current PE is 19.8.
LIT chart - 2011 to March 2017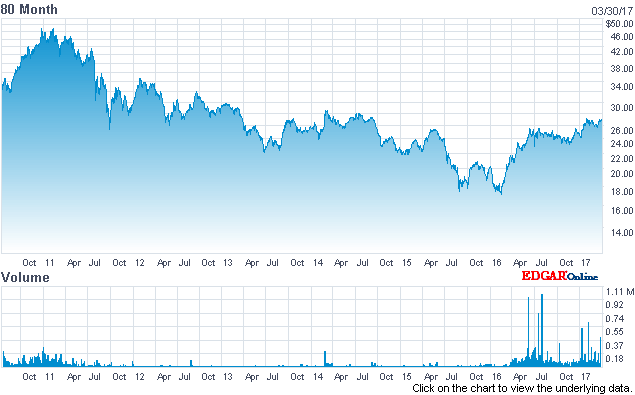 (Source: Nasdaq)
Conclusion
Lithium spot and contract prices remain strong rising slightly in March 2017.
Most investors will be surprised at the rate of change and strength of the lithium demand wave coming. I see it as a triple demand wave:
1) Rapid growth in the number of EVs (e-cars, e-buses, e-trucks, e-bikes).
2) EVs significantly increasing battery size each year.
3) Energy storage using Li-ion batteries rising rapidly.
Therefore, I don't have any concerns about severe lithium oversupply, and nor does Joe Lowry. My caveat assumes EVs can steadily grow market share each year reaching around 5% by 2020.
My highlight for March was the Neo Lithium drill results, and the Fuse report stating "lithium demand is set to rise by 16 percent per year over the course of the next decade, quadrupling by 2025 to 750,000 tons, according to Morningstar. That is the fastest growth rate out of any major commodity over the past century."
As usual all comments are welcome.
Trend Investing
My latest article "My current top 5 lithium miners to buy" is now available to my subscribers on Seeking Alpha's Marketplace. For as little as US$40pm (on a one-year membership), serious investors can access my very best ideas, and join an elite chat group of trend investors. To find out more, you can go here.
Disclosure: I am/we are long ALBERMARLE (ALB), OROCOBRE (ASX:ORE), GALAXY RESOURCES (ASX:GXY), PILBARA MINERALS (ASX:PLS), LITHIUM AMERICAS (TSX:LAC), LITHIUM X (TSXV:LIX), ALTURA MINING (ASX:AJM), CRITICAL ELEMENTS (TSXV:CRE), INTERNATIONAL LITHIUM CORP (TSXV:ILC), SAYONA MINING (ASX:SYA), NEO LITHIUM CORP (TSXV:NLC).
I wrote this article myself, and it expresses my own opinions. I am not receiving compensation for it (other than from Seeking Alpha). I have no business relationship with any company whose stock is mentioned in this article.
Additional disclosure: The information in this article is general in nature and should not be relied upon as personal financial advice.
Editor's Note: This article covers one or more stocks trading at less than $1 per share and/or with less than a $100 million market cap. Please be aware of the risks associated with these stocks.