On March 29, 2017, Tonix Pharmaceuticals (NASDAQ:TNXP) rose by about 125% after the company announced in the pre-market that they will provide a corporate update and an overview of Tonix's post-traumatic stress disorder (PTSD) clinical program. TNX-102 SL was recently granted Breakthrough Therapy designation by the U.S. Food and Drug Administration (FDA) for the treatment of PTSD.
On the same day, after the market closed, the company also announced that they intend to offer shares of common stock for sale in an underwritten public offering; the stock was down by about 16% in the after hours of trading. There was a serious fight between bulls and bears following the good and bad news from the company in the same day. In my perspective, a secondary offering won't be a bad thing if the company has potential to offer.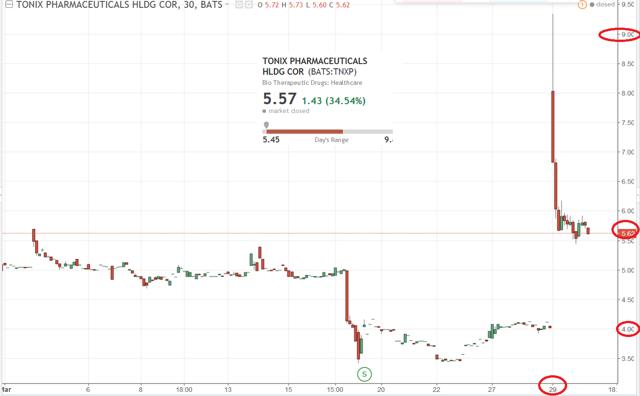 Source: Tradingview
FDA Approval
On December 29, 2016, Tonix's lead drug candidate (TNX-102 SL) was granted Breakthrough Therapy designation by the FDA for the treatment of posttraumatic stress disorder (PTSD). This designation refers to a process designed to expedite the development and review of a drug which may demonstrate substantial improvement over available therapy.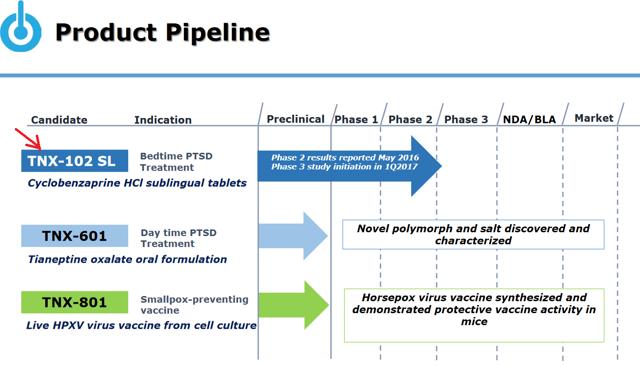 Source: Tonix
PTSD is a serious condition, and incidences of combat related PTSD are on the rise, as per the company. PTSD is characterized by chronic disability, inadequate treatment options, high utilization of healthcare services, and significant economic burden. Two selective serotonin reuptake inhibitors (SSRIs) are approved for PTSD, but have not shown efficacy in military - related PTSD.
As per the company, a majority of people will experience a traumatic event at some point in their lifetime; 20% of women and 8% of men in the U.S. who experience significant trauma develops PTSD (about 17 million adults in the U.S.)
U.S. veterans are most in need of a medicine that works for this serious condition. Breakthrough Therapy Designation, the company is eligible for priority review of the New Drug Application (NDA) within 6 months instead of the customary 10 months.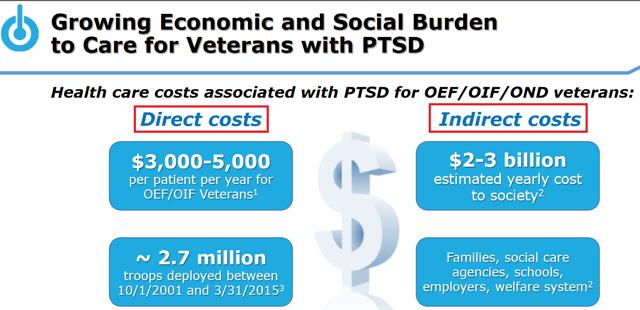 Source: Tonix
Ae per the company, Tonix is exploring a variety of options to commercialize TNX -102 SL, including commercializing on their own, or partnering with all or some interests in specific regions of the world. The company anticipates having topline results of Phase 3 HONOR study in 550 participants by the second half of 2018.

Source: Tonix
Numerous reports suggest that the market size of PTSD is about $3 billion. CBO data shows that four years of PTSD treatment would cost $10,000, according to MarketWatch.
Treatment Cost (rough calculation)
= 8,000,000 patients x $10,000 treatment cost
= $80,000,000,000
= $80 billion (treatment cost)
The good news for Tonix is that they are conducting Phase III trials now, so they are not far removed from gaining access to this market.
Secondary Offering
Tonix said in its SEC filings that the offering would take place on or about April 2017. The offering is expected to close on or about April 4, 2017, subject to customary closing conditions, according to the company.
As with any clinical stage pharmaceutical company, Tonix cannot generate revenue until commercialization of their products occurs. During the drug development stage, the only possible way they could generate revenue would be from license agreements or other options. To fund their operations, they reply on capital markets and/or private financing.
Whenever there is a secondary offering markets react very quickly, as investors are afraid the additional common shares will increase supply and push share prices down. Tonix has great potential; however they require money to fund their drug development.
Insider Sentiment
Based on insider buying activity, the insider sentiment is very positive as they acquired the company's common shares at the average price of about $17.50 a share. Insiders (company directors, officers) have a unique perspective from within the company. They know the progress of the company better than outsiders.

Source: Finviz
Downside Risks
All has not been wine and roses for Tonix. The company was forced to halt development of its fibromyalgia drug after it failed in a late-stage trial. After that failure, the company shifted its focus towards TNX-102 SL, and patients suffering from PTSD.
There is no doubt the company is highly dependent on the success of TNX-102 SL, and there is always the risk that it may not be able to successfully commercialize the product.
Conclusion
By using the proceeds from the upcoming secondary offering, Tonix will be conducting trials on TNX-102 SL which bodes very well for the company - particularly with Breakthrough Therapy designation. PTSD is a very large market; for the longs, it is worth the wait. It is very common nowadays for companies at the clinical stage to be bought out. We have seen many biotech companies recently bought out, including Tobira (TBRA) and Celator (CPXX). I believe that the company is moving in the right direction as per their plan. The share price drop cause by the secondary offering will be temporary only.
On balance however, the combination of its recently acquired Breakthrough Therapy designation along with the potential within the PTSD treatment market leads me to believe that Tonix has learned its lesson and is moving in the right direction, despite the downside risks.
Based on my analysis, I recommend Tonix as a buy (long positions with put option).
Author's note: Get my articles as soon as they are published by clicking the big orange "follow" button at the top of this page.
Editor's Note: This article covers one or more microcap stocks. Please be aware of the risks associated with these stocks.