Axalta (NYSE:AXTA), an American company, is rapidly buying into international markets including China, South America and soon to be India. Currently, the biggest issues with this stock are the accumulating debt and Axalta's habit to refinance that debt to make its current financial statements more attractive. Buying this stock long term would be valueless, considering that investors' rate of return will be less than the rate of inflation. The graphs below support my in-depth ratio analysis of Axalta.
Ratio Analysis
(Note: The graphs provided below were created myself using data attained from the sites linked to throughout the article.)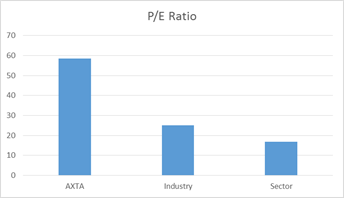 As seen in the graph above, Axalta has a P/E ratio that is more than twice as high as the industry and sector. Since Axalta is an aggressively growing company, a lot of payables are able to grow at the rate they desire. When a P/E ratio is high like Axalta's, it is safe to say that the company is anticipating growth in the future.
A higher dollar per share will insure the company's ability to expand if investors are confident that the company will grow. However, a stock split might be a good move for this company to reduce the price per share, allowing more shares to be sold to a wider range of investors.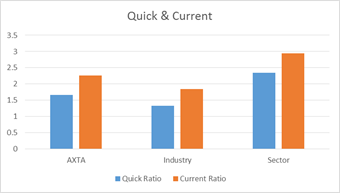 There is currently no talk of a stock split within Axalta. So, for now the P/E ratio will stay higher than its industry and sector.
The liquidity ratios put the company's liquid assets up against the liabilities of the company. Axalta's current ratio is higher than the industry, but lower than the sector. This is because of their current liabilities. The debt Axalta accumulated is quite large, but refinancing their debt put their current liabilities into long-term liabilities, driving down the denominator of their current ratio. That makes the firm look more favorable compared to its industry.
It is important to know that Axalta has no intention of easing up on taking on new debt in order to continue to expand. But they will refinance again in the near future to push their liabilities further out. This will also reduce their interest payments.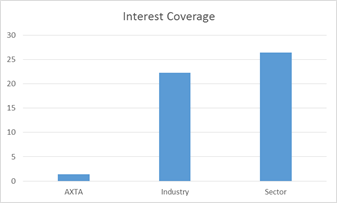 This interest coverage graph shows how well Axalta can pay off their interest with the liquid assets they have at the moment. Due to the large amount of borrowing, Axalta can barely pay off its interest compared to the industry and sector. This is to be expected from a fast-growing company. However, even with the consistent financing that will reduce interest payments in the current period, Axalta's interest coverage ratio is something to take into consideration when determining how much risk an investor will want to take on.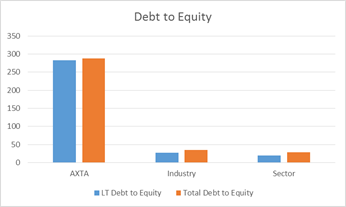 The debt/equity ratio is a good indicator of how much debt is Axalta has compared to stockholders' equity. As you can see, Axalta accumulated a large amount of debt during the few years it has existed to grow and wash out some of its smaller competitors. Because of refinancing and the nature of the debt agreements, the majority of the debt is long term -- like the industry and sector. So Axalta looks as if it will be able to keep up with its current liabilities, although it looks close when looking at their interest coverage. That is a part of the risk when investing in a growing company.
Price/cash flow compares the price of the company's stock to how much cash flow it is generating. Axalta's stock price is lower than some of its big competitors, like PPG (NYSE:PPG). If Axalta is keeping up with the industry's price/cash flow, that means Axalta does have sufficient cash flow compared to its stock price. But, compared to other companies, its cash flow is not as significant. If Axalta showed a decrease in the price/cash flow ratio, that would be a good indicator of the health of the company. A lot of Axalta's assets are tied up in debt obligations, an indication of potential growth.
Debt/EBITDA is important to look at as well, since a majority of its net income is tied up in the depreciation of assets and amortization of leased buildings and equipment. This ratio is a great indicator of how the company is doing compared to others in the industry or sector, when taking out the factor of Axalta's intention of expanding quickly. Axalta's debt/EBITDA is 3.307. Among its competitors, Axalta has a fairly low EBITDA at $880.40 million, while PPG and Sherwin-Williams (NYSE:SHW) are both over $2 billion. The closest competitor to Axalta at the moment concerning its earnings before interest, tax, depreciation and amortization is at $973 million.
It's to be expected, since PPG is a larger company, that it has accumulated more debt over its life at $4.4 billion. But SHW only has $2.21 billion in debt and earns only $7 million less EBITDA. Axalta, whose EBITDA is way less than SHW, shows a way higher debt at almost $3.4 billion. If Axalta's earning were higher in the range of SHW and PPG, then it would be a safer bet to invest in it. But for now there is a larger risk of default.
Sales Growth
I forecast 3% growth in revenue in the year ending 2017. In 2016, Axalta showed both negative and positive sales growths ranging from -8.57% to 11.46% in the past three quarters. Using this data, we predict another round of negative sales growth of about -2.5% to 4.0%. It look as if Axalta showed sales of just over $4,000,000 in 2016, and I forecast Axalta to earn around $4,100,000 in sales during 2017 (revenue in thousands).
Axalta currently has plans to raise its prices without showing a huge impact on sales. If this is true, the company can increase the cost of goods sold while maintaining a consistent revenue growth. Since Axalta is trying to grow quickly and knock out its competitors, it would be wise to use the extra cash from sales to invest in research and development.
Debt and Interest
Axalta is growing very aggressively to knock out smaller competition. Over the past two years, Axalta acquired several other companies in the same industry. With the acquisition of these companies Axalta now has new data, hardware, and goodwill. However, Axalta has quite a bit of debt. Because Axalta accumulated all of this debt to grow and is currently not making the sales to pay it off easily, Axalta decided to refinance and move more of their short-term debt to long-term debt. In doing this, Axalta has driven their interest payments down. However, when looking at their interest coverage ratio, it's clear that Axalta is still cutting it close compared to the industry.
Currently, Axalta has no intention of easing up on the accumulation of payables, although they do have plans to refinance again. It is very possible Axalta will show growth in revenue in the long run to pay off all of its outstanding debt. But that won't happen until the aggressive expansion slows down and the company hits a stage of maturity.
Investors also should not expect the payment of dividends until the maturity phase as well. Right now, the company is a grower. And perhaps it's a riskier investment than others with a low return. It looks as if investors' returns might stay consistent with the rate of inflation.
Supporting Documents
Disclosure: I/we have no positions in any stocks mentioned, and no plans to initiate any positions within the next 72 hours.
I wrote this article myself, and it expresses my own opinions. I am not receiving compensation for it (other than from Seeking Alpha). I have no business relationship with any company whose stock is mentioned in this article.