Two years ago, I managed to wrangle an invitation to the Goldman Sachs Tech Conference in San Francisco, the highlight for me of which was getting to see the CFO of Corning's presentation. What struck me about Corning (NYSE:GLW) at the time was that the company was a key supplier of Gorilla Glass to Apple (NASDAQ:AAPL), and the manufacturer of some new and innovative glass products that had big growth potential - e.g. the automotive market, but was comparatively cheap. Even though glass manufacturing is centuries old and seems like it would be a low margin commodity, Corning's products were at the forefront of some major high tech industries.
Investors are always looking for the shiny new thing, which sometimes blinds them to the opaque companies that just make money and pay dividends year after year. You know - those boring, low-tech companies that only an investor such as, well, Warren Buffett would like. Perhaps Buffett looked at Corning a while ago and concluded it wasn't boring enough. If so, based on his recent purchases of Apple, he might want to take another look.
Being a key supplier to Apple is, of course, a double-edged sword. On the one hand, you must appreciate that Apple is a phenomenon. On the other hand, Apple has a history of grinding suppliers down on price, constantly seeking out lower cost alternatives, and moving on from key supplier relationships on short notice. Fortunately for Corning, however, display glass isn't the only product it makes, and Apple, as great as it is, is not its only customer. Corning products are used in fiber optics, life sciences and pharmaceuticals, to name just a few.
Fast forward to this year, it came as a surprise to me on March 14th that Goldman Sachs analyst Doug Clark cut his Buy rating on Corning to Neutral with a price target of $29. What's not to like about Corning? According to Clark, "Corning's premium multiple of 16x NTM P/E (vs/ 5-year average of 13x)" made the stock fully valued. Ironically, two days later, Clark's colleague at Goldman, Simona Jankowski, reiterated her Buy rating on Apple with a price target of $150 based on supply chain sales statistics from Taiwan.
If you dig in to the performance of both Apple and Corning over the past year, you will discover that they trade in a near perfect unison. Here are the two charts: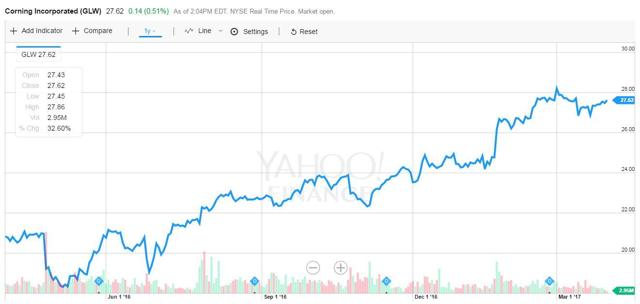 Source: Yahoo Charts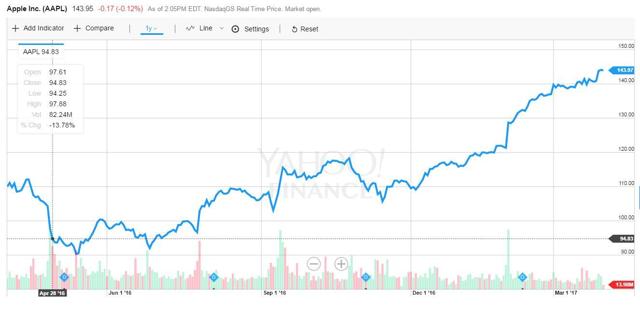 Source: Yahoo Charts
The math on correlation coefficients can be difficult, but fortunately there is a handy online tool from buyupside.com that makes it simple. Between 3/30/2016 and 3/29/2017, the correlation coefficient between AAPL and GLW is 0.9455. Just for reference, note that 1 would be a perfect positive correlation, meaning that prices for both companies move in the same direction all the time. The two companies have not always been so perfectly correlated. In fact, if you make the same comparison over the past two years the correlation is only 0.5666.
What the correlation coefficient seems to be telling us is that even though Apple and Corning are two separate companies, both of which are managed independently, for the past year the market has viewed them as being tied together. If you buy Apple, you are buying Corning, and vice versa. While Corning has been trading as a proxy for Apple shares, Corning is valued at a discount: 8.5x TTM PE, versus Apple at 17.3x TTM PE. By the way, Corning also has a lower Beta (1.23 versus 1.45).
So why wouldn't Warren Buffett love Corning even more than Apple? If I had to speculate, I would say it's because Apple has more control over its destiny than Corning. While the supplier relationship between the two companies appears to be going well right now, there's nothing to say that Apple can't terminate the relationship and find another glass manufacturer as a replacement. On its side of the ledger, Corning has a customer concentration risk. Couldn't Apple find a substitute, or a way to make sapphire crystal inexpensively? Oh yes, they tried that, didn't they?
Maybe I'm just looking at the world through rose-colored gorilla glass, but it certainly looks to me that Corning would be a difficult vendor to replace. I also believe that Corning has growth upside from some of the other industries it supplies.
With all due respect to Goldman Sachs, maybe their analysts should think about trading notes and getting on the same page.
Disclosure: I/we have no positions in any stocks mentioned, and no plans to initiate any positions within the next 72 hours.
I wrote this article myself, and it expresses my own opinions. I am not receiving compensation for it (other than from Seeking Alpha). I have no business relationship with any company whose stock is mentioned in this article.