High-yield MLP income investments are more attractive, now that the price of crude oil dropped.
The income opportunity backdrop
The income opportunity has presented itself in the form of a fallback in crude oil pricing. Investors and traders have feared oil markets are oversupplied by gathering data from the weekly U.S. petroleum supply reports, which has caused a fallback in the price of WTI crude oil.
Basically, traders have associated the increase in U.S. commercial crude inventories and increasing shale oil production with a future oversupplied global market. However, the International Energy Agency (NASDAQ:IEA), U.S. Energy Information Agency (EIA), Goldman Sachs (NYSE:GS) and others expect global supply and demand for oil to balance in the second half of 2017.
Moreover, the U.S. is producing about 9.1 million barrels a day of oil and may be able to increase production to 9.5 million barrels a day by year-end; but the world is demanding about 96 to 98 million barrels of oil a day for 2017. It does not make sense to me to overweight the data from the weekly crude oil inventory report.
Currently, U.S. crude inventories are high, and this is causing the oil sell-off. However, I expect U.S. inventories to begin falling in April as refinery inputs and decreasing imports draw down inventory. AB Bernstein agrees in its latest note to clients, saying OPEC cuts are going to draw down global inventories.
Investors erroneously perceive that MLPs have high commodity price exposure and sell midstream pipeline companies in response to the lower price of oil; that selling is what creates the buying opportunity. Notably, most midstream pipeline companies have minimal exposure to the price of commodities, because they do not take ownership of the product that moves through the pipes. I penned an article regarding the correlation between oil and MLPs in a previous post.
The income generating assets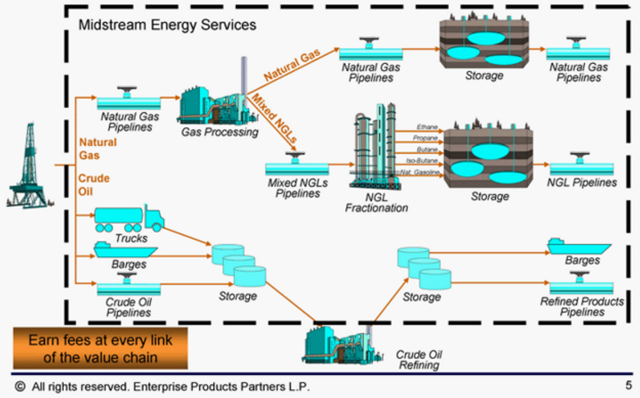 Midstream MLP companies provide energy infrastructure hard assets and thrive during economic growth and activity. The U.S. consumes large quantities of crude oil products, natural gas, natural gas liquids, petroleum liquids and transportation fuels everyday; when economic activity increases, demand increases for pipelines, processing plants and storage facilities to facilitate the increased consumption of those commodities.
MLP valuations
The oil price drop has improved valuations for the midstream MLP sector as represented by the ALPS Alerian MLP ETF (NYSEARCA:AMLP) - yield 7.12%. I consider a 350 to 450 basis points premium over the 10-year Treasury note yield (2.42%) as my required return for a MLP investment. Currently, the spread is 470 basis points, above my requirement for investment. Data and opinion from Goldman Sachs (below) show undervaluation from both a yield perspective and an EV/NTM EBITDA basis.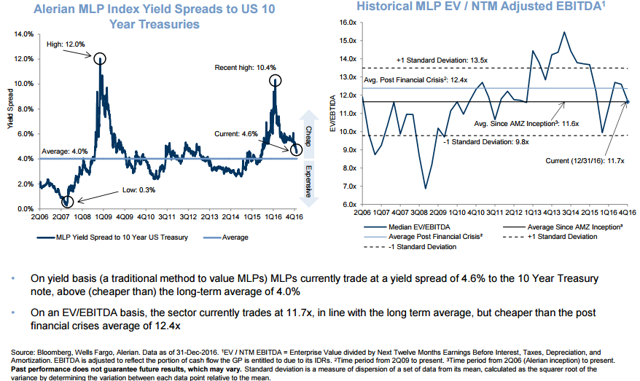 Source: Goldman Sachs
MLP valuations improved on the drop in oil prices, giving investors an opportunity to consider investments at a reasonable price.
The Technical Picture
The one-year price chart (below) for the ALPS Alerian MLP ETF is bullish as the regression line (middle yellow) is sloping upwards from left to right; the current price $12.64 is above the 200-day moving average. Price is likely to be contained within the two-standard-deviation channel (upper line and lower line) unless a major trend change is imminent. For a more detailed explanation on the usage of the two-standard-deviation channel study, see my previous post.
Additionally, the moving average convergence/divergence (MACD) shown in the bottom panel of the graph shows the oversold condition of the ETF's constituents; notably, the blue-line is crossing above the yellow line indicating a momentum change to the upside.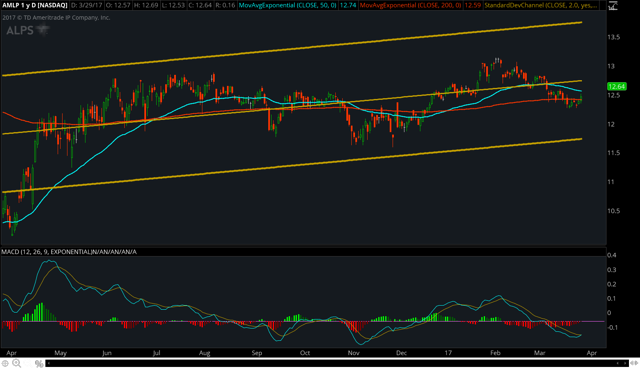 Source: Td Ameritrade
The technical picture suggests a short-term price pullback in a longer-term uptrend for the ETF.
The income investments
The ALPS Alerian MLP ETF is a useful instrument for those looking for MLP exposure without single company ownership which mostly involves a k-1 tax statement. An investor purchasing the fund's shares mitigates the risk of single-company ownership as the fund is well diversified. The fund has a 7.12% yield as of this writing.
More aggressive investors can utilize closed-end funds (CEF) which typically use leverage to boost gains and yields, do not involve a k-1 statement, but are more volatile price-wise because of the leverage.
Investors in master limited partnership ETFs and CEFs, do not receive as many tax benefits as do single company unit holders since they are organized as regular corporations and pay tax accordingly.
What are the risks
As with any equity investment there are certain risks, namely: sharp interest rate increases; broad equity market decline; limited capital markets; more specific to MLPs: tax law changes; perceived commodity price exposure; environmental law changes; contracting risk.
Dollar-cost-averaging and a broad time horizon mitigate risks for MLP investments. Accumulating shares across the time variable while collecting a premium dividend is smart investing.
I will be following my MLP investments closely along with the oil markets. If you would like to see my future articles with real-time and email alerts, please hit the "Follow" button at the top of the page.
Disclosure: I am/we are long AMLP.
I wrote this article myself, and it expresses my own opinions. I am not receiving compensation for it (other than from Seeking Alpha). I have no business relationship with any company whose stock is mentioned in this article.
Additional disclosure: This article is intended to provide information to interested parties. As I have no knowledge of individual investor circumstances, goals, portfolio asset mix, diversification. Readers are expected to complete their own due diligence before purchasing any stocks or funds mentioned or recommended in this article. I am not a certified market technician or registered / certified financial planner. Investing in public securities is speculative and involves risk, including possible loss of principle. The reader of this article must determine whether or not any investments mentioned in this article are suitable for their portfolio, risk tolerance and accepts responsibility for their decisions. Neither information nor any opinion expressed in this article constitutes a solicitation, an offer or a recommendation to buy, sell, or dispose of any investment or to provide any investment advice or service. An opinion in this article can change anytime without notice.