One of the newest positions in my portfolio is AEterna Zentaris (NASDAQ:AEZS). AEZS is a small cap biotech stock with a market cap of only $40 M dollars. AEZS has an incredibly interesting and revolutionary pipeline. Because of it's incredibly small size however, it is highly volatile, manipulated, and tends to fly under the radar of investors. However, AEZS may not be flying under everyone's radar for long.
The Pipeline
AEZS has an incredibly robust and revolutionary pipeline for a company its size: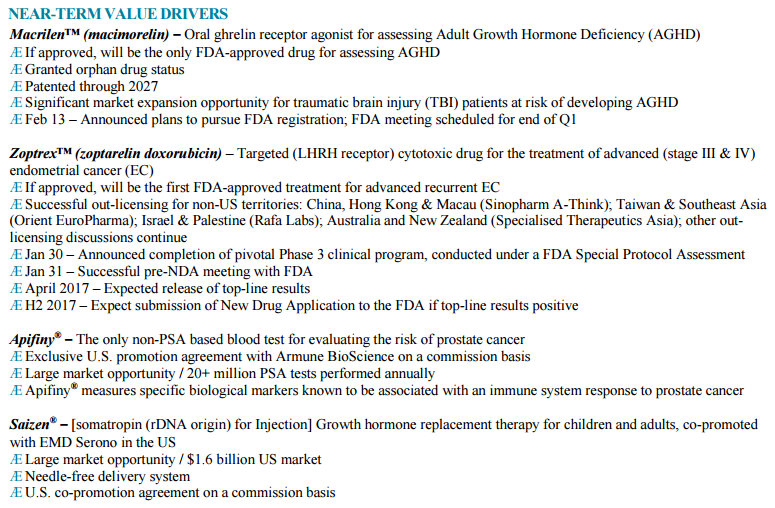 Source: Investor Fact Sheet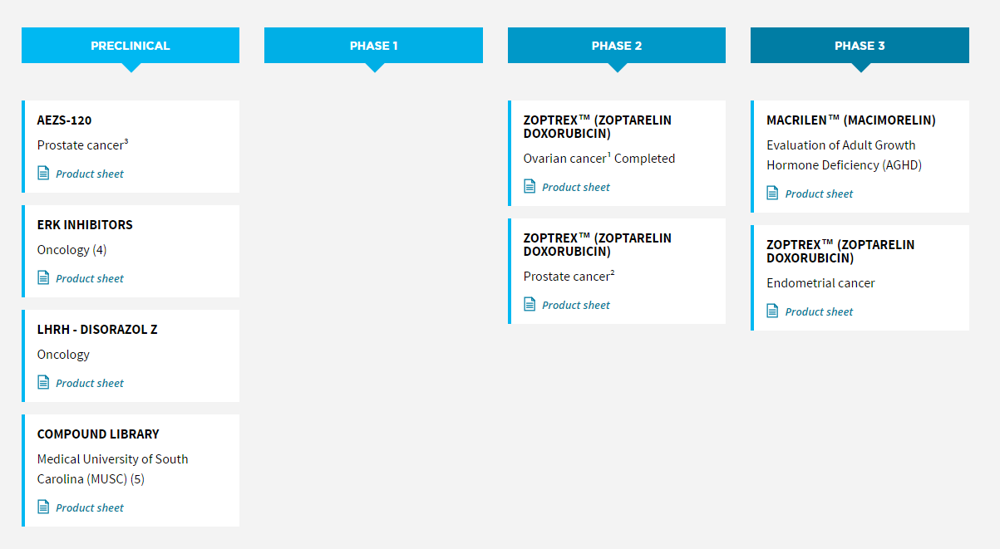 Source: AEterna Zentaris
As you can see there is a lot of promise in both early and late development for AEZS. Let's take a deeper dive into the late stage drugs that are larger catalysts:
Macrilen
Macrilen will perhaps be the first drug in the pipeline that AEZS will be able to bring to market. Macrilen is an indicator designed to detect the presence of AGHD in adult subject. On September 21, 2015, AEZS began the P3 study of Macrilen's ability to detect AGHD. The Phase 3 trial failed to meet the primary objective:
On January 4, 2017, Aeterna Zentaris announced that the confirmatory Phase 3 clinical trial of Macrilen™ (macimorelin) failed to achieve its objective of validating a single oral dose of macimorelin for the evaluation of growth hormone deficiency in adults ("AGHD"), using the insulin tolerance test (the "ITT") as a comparator. [Source: AEterna Zentaris]
More detailed information about the construction of the study can be found here. However following a more thorough analysis AEZS surmised that there was still positive conclusive results of the study.

Even though it failed to meet one of its primary endpoints, Macrilen still performed much better than the ITT control on many endpoint metrics. After drawing these conclusions AEZS decided to push on and seek a further conversation with the FDA in regards to moving forward with filing for approval anyway.
The meeting went very well according to Dr. Richard Sachse
During our meeting with the FDA, the Agency stated that the clinical studies we performed with respect to Macrilen™ address the prior deficiencies mentioned in the November 2014 complete response letter. This conclusion paves the way for our re-submission of an NDA for Macrilen. [Source: AEterna Zentaris]
It is very likely now that Macrilen will get approves despite missing one of it's Phase 3 objectives.
As far as projections to the bottom line, analyst Swayampakula expects that Macrilen could garner "Risk-adjusted revenues of $50M by 2025". However, I believe that this estimate is incredibly conservative and that if AEZS found the right partner, revenues could be higher in the $55-60M range considering strong growing numbers of people with growth hormone issues and rising popularity in hormone therapy. According to the Q3 2016 earnings call, AEZS projects that there is a $30 – 50M market in for Macrilen in the US alone. With such a high market potential, Macrilen approval alone make AEZS a compelling investment at current price levels.
Zoptrex
While positive results for Macrilen are great, the real catalyst investors are waiting for is Zoptrex. Also called zoptarelin doxorubicin, Zoptrex if approved will become he only FDA approved drug for metastatic endometrial cancer. Zoptrex also shows promise in the treatment of ovarian and prostate cancer if it passes Phase 3 for endometrial cancer. Unlike traditional doxorubicin treatments,
Zoptrex links doxorubicin to a small peptide agonist that binds to the LHRH receptor. According to compiled sources on Wikipedia, Approximately 80% of endometrial and ovarian cancers, 86% of prostate cancers and about 50% of breast cancer cells exhibit LHRH receptors on their cell surface. The idea is to target and concentrate the toxic doxorubicin to kill just the cancer cells that exhibit the LHRH receptors and leave the rest of the body as unharmed as possible.
Lets delve into some of the results of the Zoptrex clinical trials so far.
Study 1: Internalization of cytotoxic analog AN-152 of luteinizing hormone-releasing hormone induces apoptosis in human endometrial and ovarian cancer cell lines independent of multidrug resistance-1 (MDR-1) system. [Source]
Summary: Apotosis (Death of Cells) of Cancer Cells was significantly higher in AN-152 (Zoptrex) than in the use of doxorubicin alone. Apotosis of non-LHRH exhibiting cells was decreased
Study 2: Induction of apoptosis by AN-152, a cytotoxic analog of luteinizing hormone-releasing hormone (LHRH), in LHRH-R positive human breast cancer cells is independent of multidrug resistance-1 (MDR-1) system. LINK
Summary: Zoptrex induced apotosis of positive breast cancer cells.
Study 3: Effective targeted chemotherapy using AEZS-108 (AN-152) for LHRH receptor-positive pancreatic cancers [Source - downloadable PDF]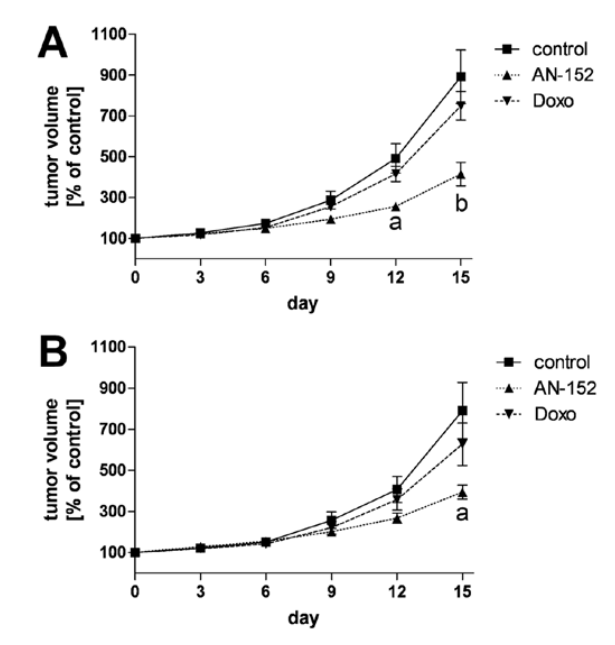 Summary: An experiment in nude mice bearing xenografted pancreatic tumors with LHRH receptors showed greater apotosis of cancer cells and reduction of tumor size than both a control group and doxorubicin alone.
Phase 2: Efficacy and safety of AEZS-108 (LHRH agonist linked to doxorubicin) in women with advanced or recurrent endometrial cancer expressing LHRH receptors: a multicenter phase 2 trial (AGO-GYN5).[Source]
Summary: "Two (5%) patients had a complete remission, and 8 (18%) achieved a partial remission. Stable disease for at least 6 weeks was observed in 44%. The median time to progression was 7 months, and the median overall survival was 15 months. The most frequently reported grade 3 or 4 adverse effects were neutropenia (12%) and leukopenia (9%)."
The side effects of neutropenia and leukopenia are directly related to the level of white blood cell toxicity caused by Doxorubicin in these studies.
This trial showed significant promise because when used as a control in other studies, doxorubicin alone had higher toxicity levels, higher apotosis of white blood cells as indicated by higher leucopenia rates, and a lower overall median survival rate.
I came to this conclusion reviewing numerous studies listed here: Toxnet
A few standout examples were
This Phase III trial showed incredibly high numbers for Neutropenia. (Mind you other drugs were used and it was not a pure control). 89% of patients experienced neutropenia.
Doxorubicin and Cisplatin Versus Doxorubicin – Doxorubicin white blood cell toxicity was grade 3 and 4 was 30%.
Similar liposomal doxorubicin studies have been shown to also decrease toxicity and improve quality of life and survival rate.
I predict that Zoptrex will show statistically significant reduction in toxicity and a reduction of apoptosis of white blood cells than the control.
Phase 3 Trial: I am fairly confident we will see positive results in Phase 3.
Based on the total number of events that occurred in the timing of the Phase 3 trial that correlate with PR released by AEZS, it the timing of the enrollment can be estimated. Sheerly based on the length of the trial and the progression of events, in comparison to historical data we can estimate based on survival rates using extrapolated data from enrollment number releases, event updates, and control data from other Doxorubicin studies that the median survival rate has been higher in this study than in past studies of Doxorubicin alone.
A great estimation analysis can actually be found here (of all places!) if you are willing to scroll through the comments on the Yahoo Finance Board

The fact that the study was extended was also a bullish sign in my opinion. Studies of this magnitude can be extremely costly and if the study shows a lack of initial statistical significance or effectiveness they can often be called off early as was the case with
Phase III randomized trial of second-line ixabepilone versus paclitaxel or doxorubicin in women with advanced endometrial cancer.
Hints from the earnings call may show some promise as well (source: Q4 Earnings Transcript):
Jason Kolbert - Maxim Group, LLC
And then second question, obviously very excited on Zoptrex, can you help me understand, when you look at the data and the time to events that have occurred, how that compares to what would be expected versus standard of care, meaning that it took a little bit longer to get the time to event suggesting that there is maybe some additional efficacy associated with Zoptrex? Thank you.
David Dodd - CEO
…Regarding Zoptrex, certainly as we have announced over the - generally past year, the closing of the trial was long - it took longer than what we had originally anticipated, that original anticipation was generated when we started talking about it based upon initially just general assumptions and then what we were observing as the rate of events on a monthly basis.

And one might - you may recall, I previously noted that in January of 2016 we were receiving between 20 and 25 events per month. And then we saw it go down to as low as 3 to 5 per month, and that resulted in it taking longer to get to the requisite minimum number of 384 events in all.

Now, given that the data that is published out in the marketplace is not current data, it's historical data, studies are historical, we caution ourselves and others on trying to overly interpret what this timing means. Clearly, it means that for many individuals that there were patients that seem to be surviving and living longer than what one might have anticipated based on a knowledge of survival of women in this situation now.

However, recall that the protocol of having half the patients on Zoptrex and half the patients on doxorubicin and half the patients on doxorubicin, it excludes any other anthracyclines. But it certainly allows their oncologist, their physician to provide what they feel as the best care for the patients. And over the last several years, we've seen new therapies come into the marketplace, perhaps not for specific related indication, but as we all know in oncology it is not uncommon for an oncologist to utilize of whatever tools they feel might benefit that particular patient.

And so, it would be wrong for people to think that in the study that 512 patients, half were only on Zoptrex and half were only on doxorubicin, half were randomized to receive Zoptrex, the other half doxorubicin. But that was in addition to whatever care their oncologist was providing. And so, ultimately, as much as we would like to try and interpret what might be going on, we'll just have to wait until the end of April to see to the extent that there is a difference in the median overall survival between the two treatment arms and all.

But I do want to point out that the process and the trial was not as some people have asked me before, not yourself, but others have, so half were only on Zoptrex and half were only on doxorubicin. That is incorrect, because half - because all of them are managed by well-attended physicians. And they're going to do the best job they can, but they will follow the protocol not to incorporate any other anthracyclines into the trial.
Zoptrex shows extreme promise. Results are due sometime in late April.
Financial Health:
As for the financial health of the company, numbers look good. The company had about $22 million in cash and cash equivalents on hand last quarter. That's over half of the market cap of the company backed in cash. Average monthly spend for the company in 2016 was $2.4 million so the company has nearly enough cash to fund its operation for fiscal 2017. The company projected an R&D cost of $19-20M for fiscal 2017 and also expects G&A expenses to increase slightly. Using the Income Statement for 2016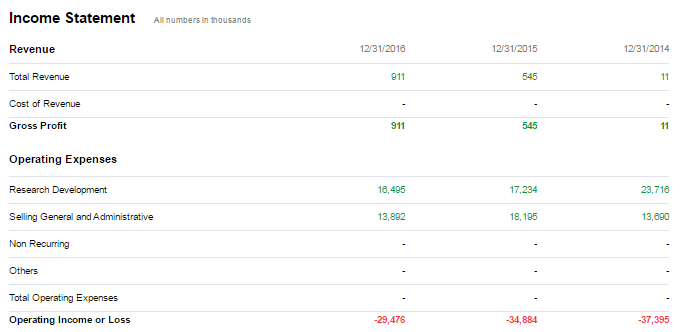 I would expect that AEZS would need to have around $15M for G&A and $20M leaving them with a net total of $35M in expenses. AEZS projects Operating expenses to be within $30-32M but I tend to be more conservative. AEZS will have to raise capital somehow to continue to fund their operation. However, given the fact that AEZS currently has no debt, achieving financing through either a secondary offering or financing given successful results for Zoptrex should be no problem.
Notable Risks:
Volatility on Zoptrex Results – This stock is going to make a big move in April either up or Down depending on the results of the data, proceed with caution.
Market Issuance Program – AEZS can at any time issue up to 3M common shares at any time resulting in a dilution of around 22% in the worst case scenario. However, the offering is also capped at $9M so if the price continues to appreciate or stays at current levels the dilution would be more significant. Max Dilution occurs at a price of under $3.
| | | |
| --- | --- | --- |
| Diluted Current: 13.47M | Offering: 3M | Max Percent Dilution: 22% |
Scenarios:
Zoptrex Passes (73%): Upside is huge. $10 price target by the end of the year but potentially much higher. Potential buyout and European parteners will be future catalysts.
Zoptrex Fails (25%): Short Term spike in volatility and new financing round will depress price. Long term holders will benefit from success of Macrilen.
Macrilen Fails NDA and Zoptrex Fails (2%): Serious Downside risk here.
Conclusion:
I would suggest taking a small position in AEZS with a mandatory stop loss to guard your downside. Options as of now are on extremely low volume and look unappealing but puts could be used as a guard to the downside:

Maximum loss would result in about a 40% downside with the put protection though which is much less appealing than simply setting a stop loss at around $2.60 and look for another entry point after resultant financial issues were resolved.
Disclosure: I am/we are long AEZS.
I wrote this article myself, and it expresses my own opinions. I am not receiving compensation for it (other than from Seeking Alpha). I have no business relationship with any company whose stock is mentioned in this article.
Editor's Note: This article covers one or more stocks trading at less than $1 per share and/or with less than a $100 million market cap. Please be aware of the risks associated with these stocks.