Mizuho at a glance
Mizuho (NYSE:MFG) is the second largest financial conglomerate in Japan and the 12th largest world financial institution by assets - ¥193tn at the end of 2015. The Japanese financial giant is mainly a corporate lender and financial advisor to Japanese industrial corporations in Japan and overseas. Mizuho owns an important retail bank in Japan serving households and SMEs as well.
The business strategy of Mizuho is creative but nevertheless rooted in Japanese values - long-term relationship with customers, positive impact on stakeholders and the community-. The new phase of the "One Mizuho" Strategy Plan implemented in 2016 defines the conglomerate as a financial consultant and conceives the bank as a financial and managerial adviser that follows the client in all of its development steps optimizing the customer's wealth creation process.
The Japanese lender is therefore designed to support Japanese corporations in Japan and to follow them wherever they conduct their businesses, with emphasis in East Asia and the United States.
Consequently, Mizuho offers in Japan, the US and the rest of the globe the whole range of financial services designed for institutional clients, SMEs and individuals organized into five Business Units: Retail & Business banking, Corporate & Institutional banking, Global Corporate banking, Global Markets and Asset Management. Two transversal units complement the structure: Global Product and Research & Consulting.
Mizuho in Japanese means "Harvest" and was established with its current design in 2005 as the outcome of a chain of mergers that took place in the framework of the Japanese banking reorganization after the gigantic bubble bust in the mid 1990s. In 2006, its shares were listed in the New York Stock Exchange.
The lender is the result of the amalgamation of some of the older Japanese banks, including Yasuda Bank, the first modern lending operation in Japan, created in 1864; The Dai-Ichi Bank, created in 1883 as the first Japanese bank; and the Nippon Kangyo Bank and Industrial Bank of Japan, established as a government institution in 1897.
Just after its creation, Mizuho suffered the consequences of a late entry in some of the most esoteric financial businesses in Wall Street - i.e. securitizations - posting significant losses in 2008 and 2009.
At the end of 2015, Mizuho Financial Group was the holding company of three major subsidiaries: Mizuho Bank - the core of the organization containing most of the fixed capital, infrastructure and personnel of the bank, Mizuho Trust & Banking - the pensions, savings advisor and custodian for households and institutions, and Mizuho Securities - the broker-dealer.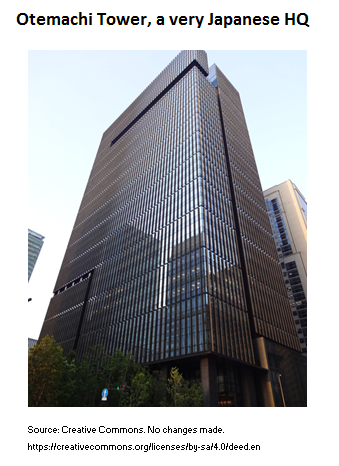 A creative business strategy rooted in traditional values
The business strategy of Mizuho conceives the conglomerate as an advisor - financier of its clients with a long-term horizon, providing the right type of financing and consulting advice at each development stage of the underlying company and generating shared value for both the bank and its customer.
This strategy, if implemented properly, should maximize the value of the client in the long term and tie an increasing and stable flow of revenues to the lender. The final translation of this design should be a reasonable ROE - around 8% - and a beneficial impact on stakeholders and the whole society.
After the success of the first steps of the "One Mizuho" Strategy Plan, focused on integrating the different services and units of the conglomerate into a coherent and tailored offer for each kind of clients across banking, trust banking and securities services, the Japanese lender implemented in 2016 a new Medium-Term Business Plan aimed at deepening the concept and enhancing its consultancy component.
In terms of revenues, the bank is deeply skewed towards institutional banking. Retail banking activities are a small part of Mizuho's business - 9% of net profits in 2015 - while Corporate and Institutional Banking added 27% bottom line during the period, Global Corporate Banking 19% and Global Markets, the biggest net profit contributor, put in 43% of net profits for the year. The Japanese Asset Management subsidiary contributed with 2% of net revenues during the same time.
Even if the Retail and Corporate Banking Unit contributes little to Mizuho's P&L, it is one of the biggest individuals and SME lenders in Japan: Mizuho is the only retail bank with branches in all 47 prefectures - around 800 - and an extensive network of ATMs - approx. 6,700; the lender serves circa 24 million individual customers and around 100,000 SMEs.
In terms of institutional banking in Japan - Corporate & Institutional Unit - and overseas - Global Corporate Unit - Mizuho is one of the most important lenders and advisors for Japanese corporations by market share: Mizuho covers circa 70% of listed companies in Japan and 80% of those listed at Fortune 200 worldwide.
Under the aegis of the "One Mizuho" Plan for institutional clients, the lender combines a wide range of services offered in Japan through an extensive infrastructure with a broad global network of branches focused on Asia and the United States. Mizuho has 117 offices worldwide covering 38 countries and regions.
The Global Markets Unit is key for the performance of the conglomerate, adding 43% of net profits. Mizuho has a very strong position in Japan in IPOs of debt and equity - Yen 8.6tn syndicated loans, Yen 1.8tn in Asset Backed Securities issuance and 169 M&A deals announced during the period March 2015 to April 2016, sales and trading and investment research - number 1 Japan's Top Corporate Access provider and Number 1 Research team, and has created sizeable capital markets subsidiaries in New York and London.
Finally, Mizuho Asset Management is the number one Wealth Manager in Japan, with assets under management of ¥52tn, of which ¥15tn are from Investment Trusts, ¥27tn are public pensions, ¥9tn are corporate pensions and ¥3tn are deposits from corporate investors.
In terms of geographic distribution, Mizuho serves to a major extent Japanese corporations around the world; 64% of its income in 2015 came from domestic customers operating globally and 36% from overseas-based customers. Consistent with this state of affairs, the majority of the loan book is locally deployed in Japan - 74.5% Japanese loans against 25.5% of overall credit granted on an international basis at the end of 2015.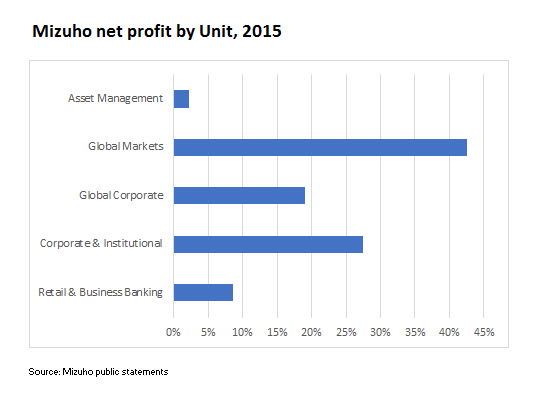 Stock prices, financial targets and the future
Mizuho's financial plans for 2018 are prudent: A ROE (Return on Equity) around 8%, cost income ratio of 60% and disposal of shareholdings in Japanese corporations for ¥550bn. This should be combined with a reasonable capital strength, with CET1 ratio at around 10% on a Basel III fully-effective basis and excluding unrealized gains on Other Securities line.
The plan seems feasible, looking at the history and structure of the lender.
In terms of ROE, Mizuho follows to a higher extent the pattern of a pure investment bank instead of that of a traditional lender. This makes sense taking into account its dependence of the Global Markets Unit in terms of earnings.
According to historic data - Datastream, Bloomberg - from very high ROEs during the boom, at around 20% or more, earnings collapsed during the crisis; during the period 2010-2015, ROE stabilized at circa 7%.
Revenues followed a similar pattern: A huge increase took place till 2008 followed by a steep fall and a slow recovery afterwards, posting a 1.32% YoY revenues growth during the period 2010-2016.
Assuming cost income ratio stays at current levels - close to 55% - an 8% ROE is perfectly feasible.
In terms of valuation, Mizuho is cheap. Its P/E (Price Earnings Ratio) is 8 times, and its Price Book Value is around 0.64 times, very reasonable for a stable franchise with limited downside, at least in the short term. Finally, Mizuho is a big yielder, with a dividend return of 3.58%.
From maximums at around ¥1,000 at the peak of the boom and a market cap of ¥11.6tn in 2006, Mizuho's stock price collapsed to a minimum around ¥102 in 2011 and a market cap of ¥2.4tn, or down 84% from the valuation at the maximum of the peak.
From this depressed level, the lender's stock price has oscillated around the ¥200 area, with a correction during the Banking Panic of early 2016 that has fully reverted.
Summarizing, we could describe Mizuho as a prudent but creative Japanese financial institution with a strong institutional banking profile quoted at a relatively low price and offering an attractive dividend yield.
What is the downside? The worsening of the East Asia crisis that could have a significant impact on its stock price, linked with the fall of commodities prices. As we have seen, Mizuho is a stable franchise with limited - but very real nevertheless - exposure to East Asia ex-Japan. Therefore, investors should be prudent: A major disruption of the Chinese economy would for sure have a significant impact on stock price, and in a worst-case scenario, damage Mizuho's P&L and franchise temporarily.
Nevertheless, these headwinds seem to be negligible in a one-year horizon (See article "Sumitomo Mitsui Trust: are Japanese megabanks back?"). As a consequence, a lucrative strategy involving Mizuho common stock could be the sale of downside volatility within this time horizon in the context of a widely diversified portfolio. At the end of the period, the strategy may be rolled over, all else equal.
Disclosure: I/we have no positions in any stocks mentioned, and no plans to initiate any positions within the next 72 hours. I wrote this article myself, and it expresses my own opinions. I am not receiving compensation for it (other than from Seeking Alpha). I have no business relationship with any company whose stock is mentioned in this article.