Verizon (NYSE:VZ) is a dividend champion, has an ~$200 billion market cap, is a member of the Dow 30, and is currently trading at a favorable P/E ratio. But I still just can't pull the trigger on buying it. Usually, I am a sucker for a high-yielding mega-cap trading at a low P/E (especially considering some of the valuations out there now), but Verizon just has too many red flags to buy at the moment.
Current Metrics
While I was writing "Resisting The Urge To Sell," Verizon's current P/E and seven-year average P/E caught my eye. At first glance, everything looks great: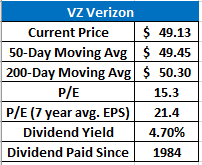 Source: Yahoo Finance (as of March 29)
Current P/E <20? Check. P/E of seven-year average EPS <25? Check. Solid dividend yield? Check. But, I then realized the current price looked familiar. I had considered buying Verizon in 2014 as well, and at that time the price was also near $50. Has it really been trading that flat for the last few years?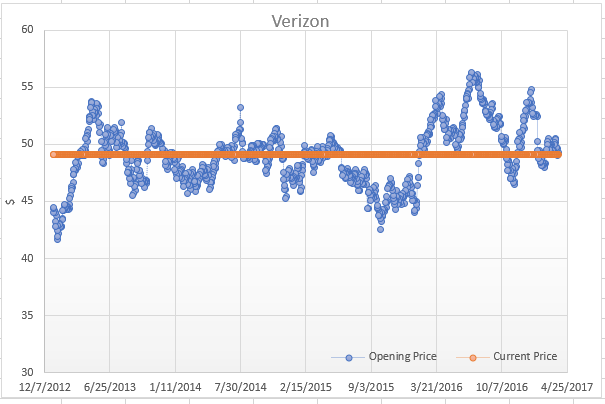 This was red flag No. 1. It has been trading incredibly flat while the overall market has been charging ahead. The Vodafone buyout in 2014 added 1,274,764,121 shares to an already high dividend payout. While you would expect an increase in the number of shares of this magnitude to naturally lower the book value per share, Verizon's took a nosedive.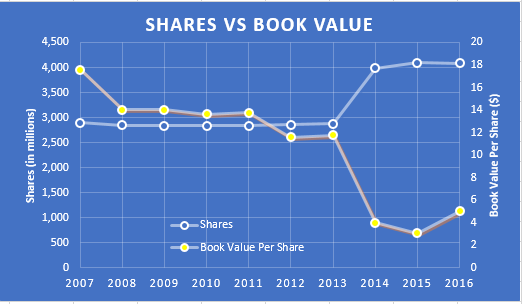 Source: Morningstar
Let's look at how the averages of the years prior to 2014 compare to after:

While Verizon's price/earnings ratio appears strong, its price/book value is horrible. Another red flag is while EPS has increased substantially, the free cash flow has actually decreased. I will not go into too much detail here about the risk to the dividend as another article was just written about this -- see "Verizon Could Cut Its Dividend."
Already strapped for cash and with a large amount of debt, Verizon goes and buys Yahoo for $4.48 billion. Long term, this seems like a good diversification play to continue growth in an oversaturated wireless market. But for the short term, it appears investors must suffer.
AT&T Comparison
Verizon is not the only wireless provider going on a spending spree. AT&T (NYSE:T) has purchased Leap Wireless for $1.2 billion and DirecTV for $49 billion over the last few years and is in the process of acquiring Time Warner for $85 billion. How have their acquisitions affected their performance compared to Verizon?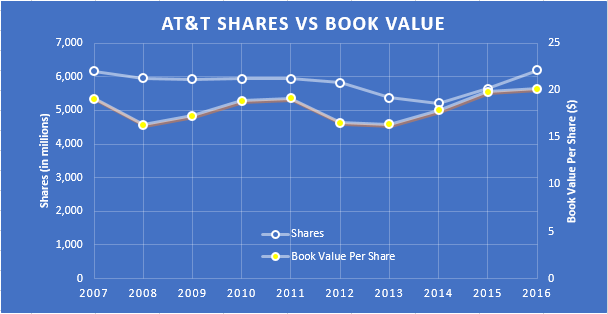 AT&T has managed to maintain its book value and decrease its shares outstanding while making these acquisitions. The stock price has also shot up about 25% over the last year and a half, while maintaining an almost 5% dividend yield. This is another red flag for Verizon as AT&T has been making expensive purchases as well, but without significant decreases to its metrics.
Conclusion
While I like Verizon's history and high yield, I will not be purchasing any shares at this time. Based on the debt and cash flow issues, it appears as if it will remain trading flat to slightly declining for the near future. The chances of a dividend cut seem fairly high, but if Verizon is able to at least maintain a dividend near its current rate, it will still be a good income play. My outlook is not as negative as some, though, because even with all of the above-mentioned issues, I would still be tempted to purchase it for the yield if I did not already own AT&T.
Disclosure: I am/we are long T.
I wrote this article myself, and it expresses my own opinions. I am not receiving compensation for it (other than from Seeking Alpha). I have no business relationship with any company whose stock is mentioned in this article.