Corporate profits are released by the BEA (Bureau of Economic Analysis) on a quarterly basis, together with the second revision of GDP. Intuitively, they should drive the level of the S&P 500, and on a factual basis the correlation is good.
Here's a chart: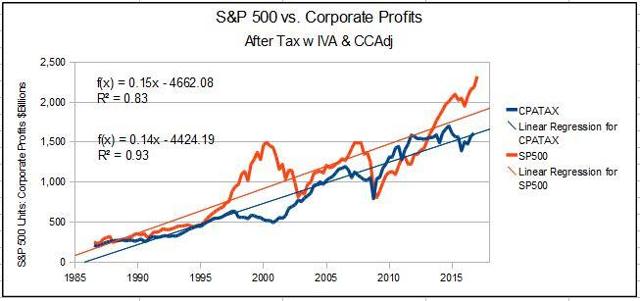 The linear regressions run more or less parallel, and both have satisfactory values of R2. The S&P 500 (NYSEARCA:SPY) has a tendency to get ahead of corporate earnings, and then fall back during recessions. Just eyeballing the chart, profits start falling back several quarters before the index follows suit.
All values are quarterly. The index is an average for the quarter.
Deriving a Relationship
Using a scatter chart, the relationship between corporate profits and the S&P 500 can be reduced to a formula: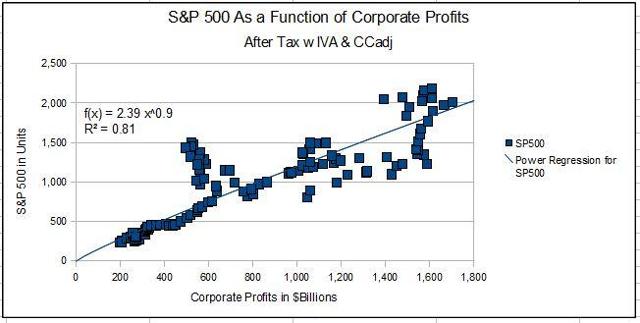 The power regression shown here sports an R2 of 0.80: the linear regression, not shown, has an R2 of 0.72. Applying the formula shown, the S&P 500 would be normally valued at 1,687. The linear regression calls for 1,779.
Investment Implications
Unfortunately corporate profits come out with about a three month delay: we are just now getting a figure for Q4 2016. If and when they decline two quarters in a row I would become extremely cautious.
The 500 stocks underlying the index are overvalued, in the aggregate. If profits continue to rise, they may well drive the index higher. It's a market of stocks, and I don't think the information developed here should prevent investors from buying individual stocks where they are comfortable with the valuation.
I'm positioned cautiously in my discretionary portfolio, with an objective of finding better entry points for DGI and CCC type stocks. The bulk of my investments have been indexed to the S&P 500 for over a decade, and nothing shown here motivates me to take action on that portion of my holdings.
Disclosure: I am/we are long SPY.
I wrote this article myself, and it expresses my own opinions. I am not receiving compensation for it. I have no business relationship with any company whose stock is mentioned in this article.
Additional disclosure: I'm long the S&P 500 by means of a Vanguard index fund. I have a small hedge using puts on SPY.