I wrote a couple of articles on Groupon (NASDAQ:GRPN) a few weeks back highlighting some of the risks in the name. You can find them here and here. I have since been on vacation and haven't paid much attention to the company till an ad today in my email inbox brought me back to this name. In this article, I will share some parting thoughts before I close out my position.
First of all, if you followed me through my previous articles, you know that I had not hedged my profits before the Q4 earnings announcements. I never understood why bulls took the results as a vindication of the bull case, but nevertheless the stock rallied over 22% on the day - so congratulations to everyone who was long the stock through earnings.
Fast forward a month though and the stock is now heading back below $4 per share. Barclays also recently went underweight the name with a target of $3.60. So what should you do here if you are invested?
Keeping the growth story alive
Here is the ad that brought me back to this name.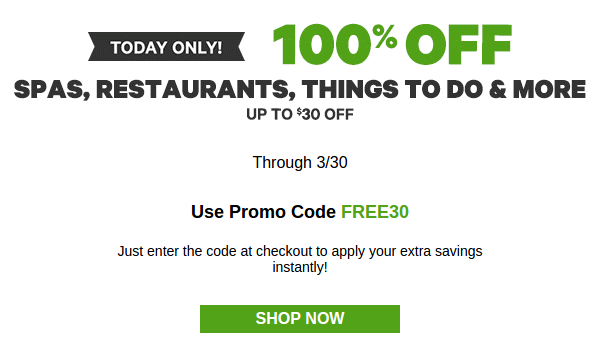 Just in time to close out the quarter, you can now get stuff at a 100% discount! It is not a small amount either, they are allowing you to make any purchase up to $30 dollars on what would be considered a "local" deal.
I can understand promotions when a company is starting out trying to build a brand. However, when you are having to make your services available for free 6 years after establishing a nationwide presence in order to attract customers, something does not look right. Could it just be that the story Groupon has been selling the past few quarters has been of growth and traction in the US market and it has a lot to lose if this narrative breaks down?
The story of buybacks
This brings me to one final topic I want to cover - Buybacks. I have always been baffled by why a money-losing company would want to buy back their stock. So let's go over some of the typical reasons companies buy back stock and see if any of these apply to Groupon.
Return money to shareholders: This is one of the traditional reasons to do a buyback. You are making a lot of profits and are generating more money than you need to finance your growth and capital expenditures - why not return some money to your shareholders? Now you can issue a dividend but a buyback would be an efficient way to increase shareholder value without tax consequences. So does this case apply to Groupon? Of course not! They have not had an annual profit ever in their years of existence so far! What value can they be creating? If anything, this will only increase the loss per share reported. So let's move on.
Attract/retain talent and prevent dilution: Now this is another significant reason for buybacks. Traditionally, it has been hard to get management interests aligned with shareholders and to get them to always look to create value for the shareholder. One way to achieve this is through stock options. Give your employees a stake in the company so they benefit when the share price goes up. This gives them more motivation to take actions that will increase the price of the stock, which is after all the primary interest of the shareholder. It is win-win for the management as well because if they really believe they can create value for the company, it now gives them a chance to participate in the potential windfall. The downside though is that it dilutes the existing shareholders. To counter this, most companies have a stock buyback program that tries to offset this dilution and maintain the float. So how does this apply to Groupon? As per their 10-K, the consolidated stock-based compensation for 2016 was $118.1MM. During the year, they also spent $162.4MM including fees and commissions on buybacks. This is certainly offsetting the dilution the stock-based comp would have caused. It seems reasonable. However, is this the real motivation? Let me suggest a different theory next.
Non-GAAP metrics: For a while now, I have been upset with more and more companies quoting non-GAAP metrics in their communications. Groupon likes to report earnings as "Adjusted" EBITDA. Here is how they define it in their 10-K (emphasis is mine).

"Adjusted EBITDA is a non-GAAP performance measure that we define as net income (loss) from continuing operations excluding income taxes, interest and other non-operating items, depreciation and amortization, stock-based compensation, acquisition-related expense (benefit), net and other special charges and credits, including items that are unusual in nature or infrequently occurring. For further information and a reconciliation to the most applicable financial measure under U.S. GAAP, refer to our discussion under Non-GAAP Financial Measures in the Results of Operations section."

Let's consider a hypothetical case. Say you have an employee that expects a salary of $X per annum for his position. Let's say this happens to be the industry standard for the role and is reasonable. Now you could pay the employee $X but then it would need to be expensed and will hit your bottom line reducing your earnings per share. Now let's say you offer to pay the employee $X-$Y and give him $Y worth of stock-based compensation. The employee is still getting what he wanted originally - sure, he/she has the downside risk of the stock, but on the other hand, he/she has the upside potential too. Now however you are only expensing $X-$Y, and since you are reporting the non-GAAP measure (the "Adjusted" EBITDA), this expense is hidden one layer below the surface. Think about this for a minute - which one of the following do you think sounds better:

a) A loss of $183.3MM for the year.

b) A non-GAAP profit of $178.1MM for the year with a $162.4MM buyback to boot!

When your annual stock-based comp is over 5% of your market cap, it is something to think about.
Concluding Thoughts
I have written a few articles now on Groupon highlighting some of the red flags. I encourage you to read them whether you are long or short the stock. As for me, I have been short the stock since before last year's Q3 earnings and while it has had a significant percentage return, my small position has meant it is not much profit in dollar terms. Unless something very interesting happens in the name, I do not expect to cover it going forward. I will be closing my position before the end of April. The volatility in the name is keeping me away from taking a larger stake. Good luck with your trade/investments in Groupon, long or short.
Supporting Documents
Disclosure: I am/we are short GRPN.
I wrote this article myself, and it expresses my own opinions. I am not receiving compensation for it (other than from Seeking Alpha). I have no business relationship with any company whose stock is mentioned in this article.