The retail sector has been a rough place to invest lately. Most companies have been closing stores, while massively investing to build out an online sales marketplace in time to keep up with Amazon (NYSE:AMZN). Target (NYSE:TGT) is ~33% off of its highs as the market was not impressed with their declining in-store sales, despite large growth online. Even the 500-pound gorilla, Wal-Mart (NYSE:WMT), has closed locations over the last couple of years as it attempts to pivot and drive more traffic online. However, with this as a backdrop, it was refreshing to see that one of the strongest operators in the sector, Dollar General (NYSE:DG), has continued to grow.
Dollar General now has over 13,200 stores across 44 states, with plans to open many more and to continue driving sales growth in existing locations. Headwinds persist, but this company is a best-in-class operator with a strong management team that has driven meaningful returns to shareholders. The valuation the company trades at today does not factor in the excellent growth the company has been able to achieve, and will continue to achieve even through its recent issues.
Recent Results
Recent results were not outstanding on an absolute basis, but considering the issues facing the company, which I laid out in my last article here, the results were better than expected.
Sales grew 7.9% for the full year, with same-store sales growth of 0.9%. This small growth in same-store sales allowed DG to cling on to its 27-year streak. Traffic overall was relatively unchanged, with average basket size driving the growth.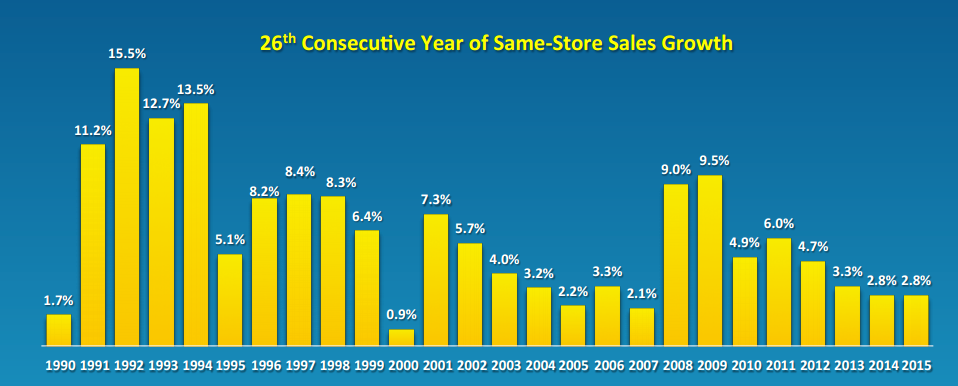 Food price deflation has been a concern this last year for the grocers. The issue is largely cyclical, with many expecting the trend to reverse later this year. This has led to a highly promotional environment, and difficult operating conditions for the smaller companies in the space. DG has managed to hold on to its market share, although competition with the likes of Wal-Mart going forward has likely dampened the share price. It is noteworthy that this competition didn't just start. Wal-Mart is not a new company, and Dollar General has been competing and succeeding for years. The dollar stores occupy a niche, and continue to maintain customer loyalty despite competition from the big box stores.
In keeping with the promotional environment, DG drove 200% digital coupon enrollment this last year. Sales are becoming more and more influenced by the company's digital experience, especially as smartphone penetration has continued to grow with the low-income segments of the population. It is interesting to see how DG has been leveraging its online presence, and the digital coupons have continued to have an impact.

Source: Company Website
Another issue dampening results for the dollar stores has been the cuts to the SNAP (Supplemental Nutrition Assistance Program). Dollar stores drive a significant portion of their revenue from the lower income brackets, and these customers tend to be among those utilizing SNAP. Many states have been cutting benefits as employment levels have reached their highs. However, these benefits will likely be reinstated when employment falls during the next economic downturn. The new Republican administration could very well change the benefits program, though. Many have called for years to overhaul the entire program, but it has so far remained safe on the first budget. Looking forward, this is not make-or-break for DG, but if benefits are cut further, it would dampen results more than has happened already.
In total, management expects that SNAP reductions and food price deflation negatively impacted same store sales growth by about 115-125 bps. With these issues being mostly transitory in nature, the patient investor can wait for growth to normalize which will likely cause valuation expansion. Looking forward, margins have been negatively impacted by the promotional activities and inventory clearance to the tune of 19 basis points. Margins should normalize as the price deflation abates. Management is looking at 4-6% net sales growth on the year, with 0-2% same store sales growth. Where the company falls out in that range will likely give a clearer picture of how long the environment is going to remain difficult.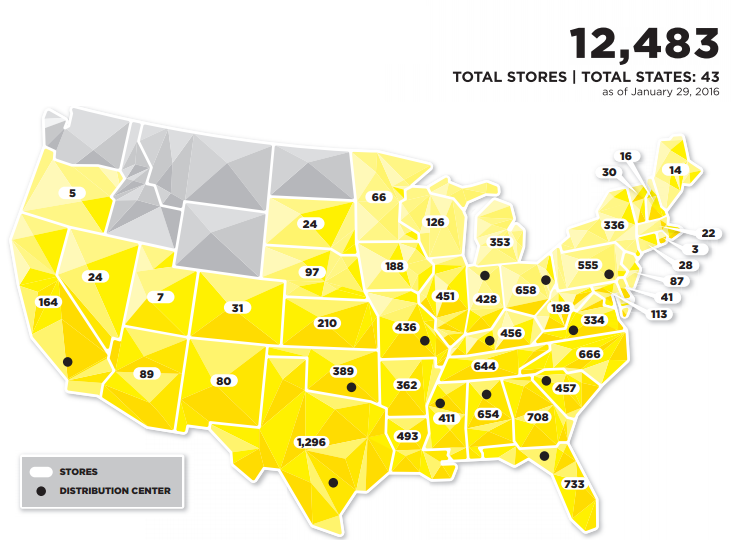 DG is continuing to blanket America in stores. 2016 saw 900 new store openings and the grand opening of the 13,000th store. 2017 is expected to have ~1,000 new store openings and 900 remodel/relocations. As DG continues to expand, it is very important to keep a finger on the pulse of its capital allocation strategy. The remodel schedule is likely one of the strengths DG has that maintains customer loyalty. As stores get older and more run-down, they are cycled through a renovation and potential relocation. The new stores have been yielding returns on capital of 20%, showing that the company is likely not overextending its reach.
When returns on capital for new stores starts to dip, saturation may be occurring. However, DG has a strong runway ahead of it yet before that happens. In order to fuel the strong store growth, the company invested in a brand new distribution center this last year. Store square footage growth is expected in the range of 7% on the year, which is largely in line with historical trends. Looking below, notice that DG has maintained a steady and best-in-class EBIT/square foot. This is especially impressive when looking at how quickly the square feet are growing.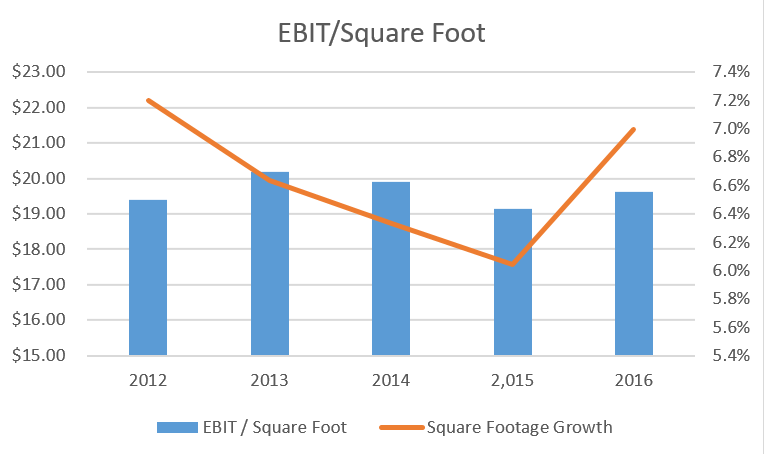 Source: Company Filings
DG is testing a smaller format store to attempt to break in to the metropolitan market. It is ~1/2 of the size of the traditional store, and is looking to target the millennial shoppers. At the moment, there are only 2 locations, and 2 more expected to open in 2017. If the company is successful in this endeavor, that could open significant opportunities in the larger cities across the country.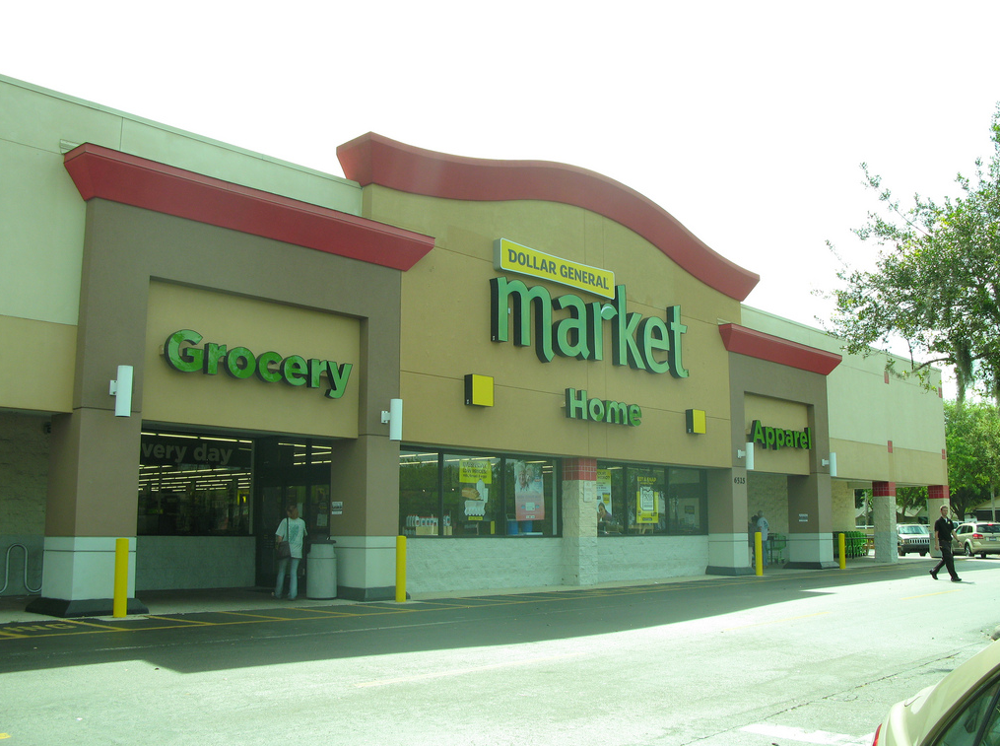 Additionally, as I discussed in my last article, DG moved in to some Wal-Mart Express locations last year. In keeping with that, the company is testing produce in these stores and has branded them Dollar General Market. Looking at the picture, it is starkly different than what I am used to seeing from the company. I wouldn't hold my breath on this initiative taking over as the new strategy for the company, but initial tests have been positive. Like everything with DG, management is approaching it methodically and dipping its toes in until there is enough data to support a larger roll-out. However, macro trends likely support offering some form of fresh food in the stores. As consumers move towards fresh alternatives and food that is healthier, it is likely that will include the customers that frequent DG.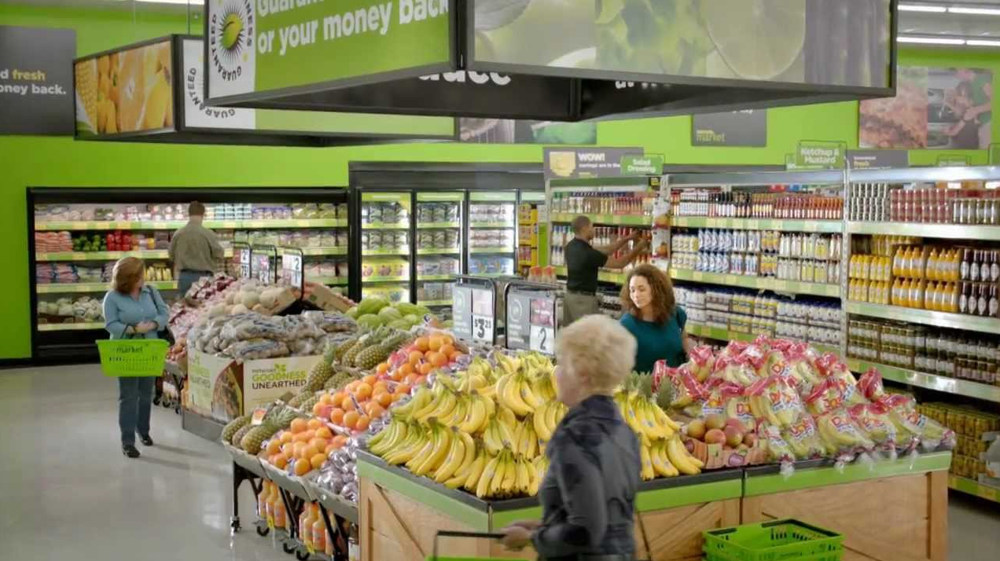 Financials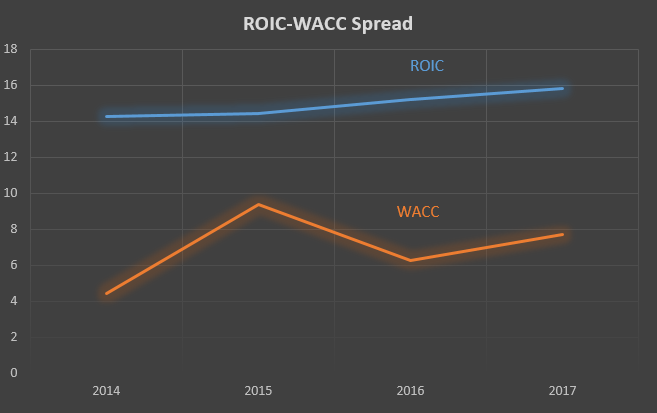 DG has generated strong ROIC over the last several years. It is very impressive, considering the rate of growth the company has been able to achieve. This is one of the more important metrics for shareholders to keep an eye on as DG continues to rollout new stores at a blistering pace.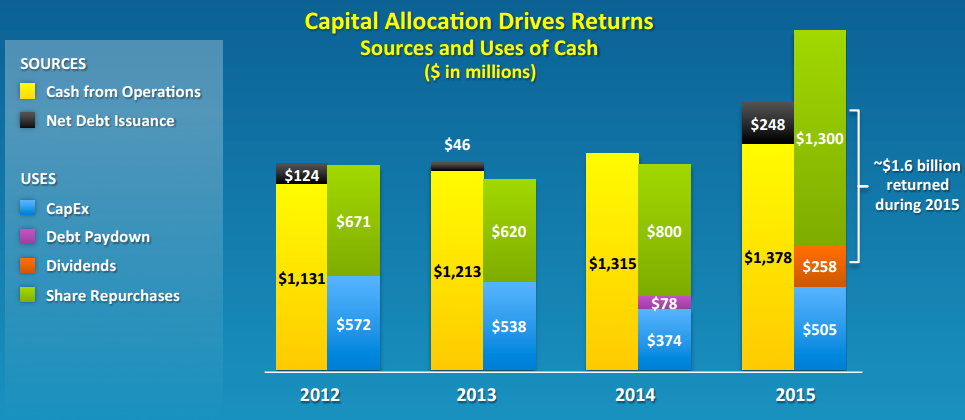 Operating cash flow increased 15% YOY, with capex coming in at $560M. This includes the new distribution center the company built. Capex for 2017 is expected to come in around $650M, with ~45% for store growth and remodels, ~35-40% for projects like distribution center infrastructure and ~15-20% supporting maintenance costs. As far as the capital allocation strategy goes, management is committed to continue growing the store base and infrastructure to support that growth. This maintains the healthy ROIC and continues to drive meaningful earnings growth for shareholders. Aside from that, management is shooting for a 3X debt to EBITDA ratio, with the excess cash funding the dividend and share repurchases. The company repurchased 4.2M shares in 2016, good for $311M. $930M remains on the current authorization.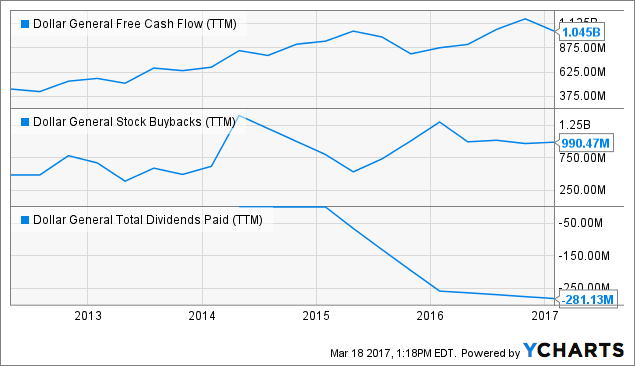 DG Free Cash Flow (NYSE:TTM) data by YCharts
Free cash flow has remained strong and growing, despite the capex requirements discussed above. The dividend was initiated in 2015 at $0.88 annually, which was hiked 13.6% to $1 for 2016. The most recent increase was only 4%, bringing the annual dividend for 2017 to $1.04. However, due to the recent headwinds, this is understandable. I expect dividend growth to pickup as growth slows down, and DG is a cash machine that will likely drive meaningful shareholder returns going forward.
Valuation and Estimated Returns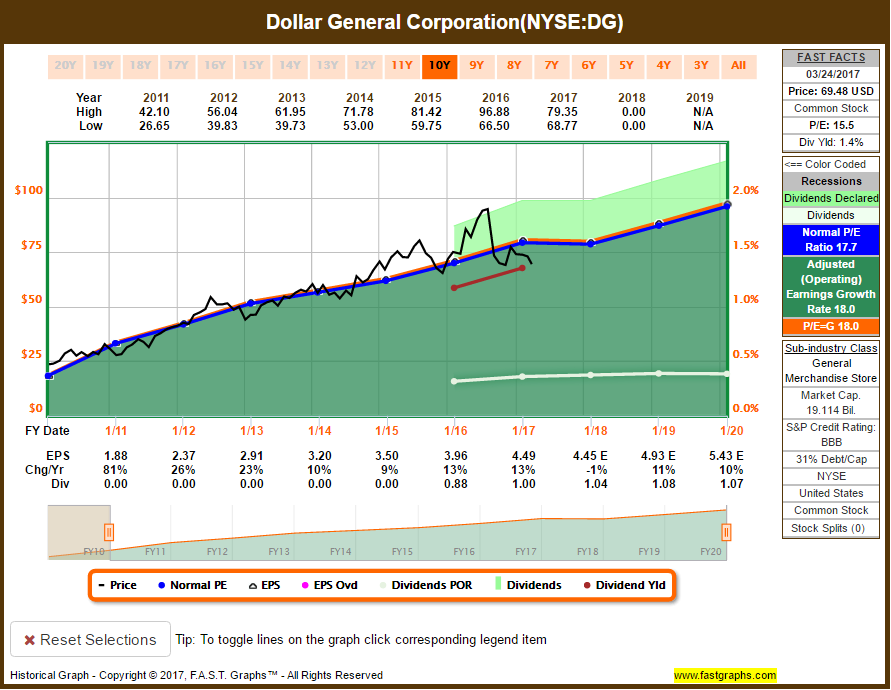 S&P Capital has a fair value calculation at $78.30, which would signal an undervaluation of ~10.5%. Looking at the long-term valuation trend above, DG looks to be trading well under its average valuation of ~18X. Earnings growth is not expected to be as robust going forward, but could easily be in the double digits.
A return to long-term valuation would yield an annualized total return of 12.3% for shareholders. DG's strong cash flows, returns on capital, and growth strategy should continue to drive meaningful shareholder returns going forward. This makes them my top pick in the brick and mortar retail sector today.
If you liked this article, and would like to read more like it, please click the "Follow" button next to my picture at the top and select Real-time alerts. Thanks for reading and please leave a comment below.
Financial statistics were sourced from Morningstar, with the charts and tables created by the author, unless otherwise stated. This article is for informational purposes only and represents the author's own opinions. It is not a formal recommendation to buy or sell any stock, as the author is not a registered investment advisor. Please do your own due diligence and/or consult a financial professional prior to making investment decisions. All investments carry risk, including loss of principal.