Sandstorm Gold: Thoughts on the Latest Deal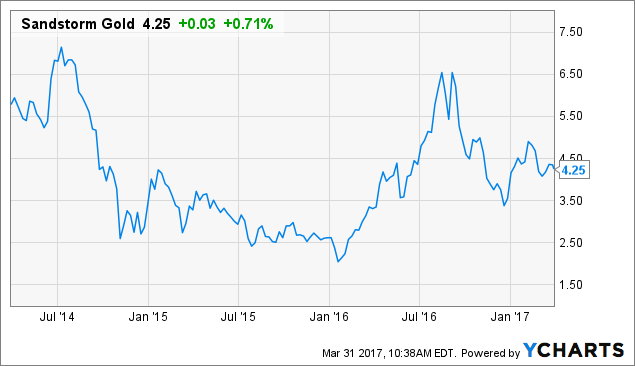 Not every deal made by streaming and royalty company Sandstorm Gold (NYSEMKT:SAND) will be as big as its blockbuster deal with Yamana Gold (NYSE:AUY). But that's not a bad thing.
The company is also focused on smaller, "optionality" type of deals that only cost a few hundred thousands to a few million dollars, but these deals give the company long-term upside to exploration and development-stage projects. These types of assets are typically several years away from production (at a minimum), while some may very well never get to production.
However, if just one of these types of royalties pays off, the returns could be huge. Sandstorm gets to enjoy 100% of the exploration upside on these deals, as it is only required to make a one-time upfront payment to purchase the royalty. So, in theory, Sandstorm could be purchasing a royalty on a project with zero current gold resources, and in five years, earn a royalty on a producing gold mine with a multi-million ounce resource. That is the gamble the company is willing to take, and it doesn't seem like a bad move, given the small upfront investment.
Sandstorm did not surprise me recently when it announced the acquisition of 22 of such royalties during the first quarter of 2017, at a total cost of $1.9 million. The royalties on assets in development-stage, advance exploration-stage and exploration-stage projects located in Canada, Mexico and Peru.
Readers should note that this announcement includes the purchase of 8 royalties from Condor Resources in January for $375,000, and the purchase of a royalty from Kivalliq Energy Corp. for $750,000 (both purchases have been listed on Sandstorm's corporate presentation for a few months now).
It is hard to evaluate these types of royalties for a few reasons. Mainly, many of these projects are very early stage and there is limited information available; there might not have been any exploration done at all yet. Second, there is a lot of time and work required to develop these types of projects and many things can happen during this time period; a company can lose its exploration permits or stop exploration work on a project, for example.
Still, I like this deal by Sandstorm. Two new royalties in particular stand out to me - a 2% royalty on the Schaft Creek North project, which is a joint-venture between Teck Resources (TCK) and Copper Fox Metals - and a 1.5% royalty on the Lucero project, owned by Condor Resources and Compania Minera Casapalca S.A.
Schaft Creek is a massive copper, silver gold and molybdemun development project in Canada; it contains 5.77 million ounces of gold, 51.89 million ounces of silver, and 5.63 billion pounds of copper, albeit at very low grades. The Feasibility Study estimates annual production of 105,000 tonnes of copper, 201,000 ounces gold, 1.2 million ounces silver and 10.2 million pounds of molybdenum.
Copper Fox is a tiny company and wisely partnered up with Teck, a $12+ billion miner, to develop this project. Teck will take a 75% stake in Schaft Creek and be the operator, in exchange for $60 million ($20 million on signing, $20 million upon a production decision and $20 million when it is built).
It's important to note that this royalty Sandstorm owns is on the north portion of this project and not the main resource. Royal Gold (NASDAQ:RGLD) is a competitor of Sandstorm's, and owns a 3.5% net profit interest on Schaft Creek. While the project is currently not economical at current metals prices, it does provide long-term upside for Teck, as well as Sandstorm, should Teck decide to develop the resource north of the current mine plan. More details can be found on Copper Fox's website.
The second interesting royalty purchased in this deal is the 1.5% royalty on the Lucero project, located in Peru. This is a very early stage project, but initial sampling results were very promising, with silver grades returning values as high as 3,500 g/t, and gold grades as high as 43.2 g/t. Condor believes the deposit hosts the potential for a bulk tonnage disseminated gold-silver deposit. While Sandstorm owns various .5% royalties on other projects owned by Condor, this one arguably gives Sandstorm the most upside given the higher royalty percentage. Sandstorm owns a 7% equity stake in Condor, according to Condor's corporate presentation.
Sandstorm can easily afford to make these types of deals, as the company is cash flowing at approximately $10 million per quarter (based on $1,250 gold prices) and ended last quarter with over $130 million in available capital and no debt. While you shouldn't expect any of these assets to pay off anytime soon, it gives the company long-term optionality on high-potential exploration and development projects.
As I pointed out in my last article on Sandstorm, some risks remain for the company, but the upside is huge. I think Sandstorm has some great development assets that will pay off big in the future, and I am expecting an active year from the company on the acquisition front. I think these small royalty acquisitions are a good move, but just the beginning.
Disclosure: I am/we are long SAND.
I wrote this article myself, and it expresses my own opinions. I am not receiving compensation for it (other than from Seeking Alpha). I have no business relationship with any company whose stock is mentioned in this article.