The History of Seadrill Partners
In 2012, Seadrill (NYSE:SDRL) - one of the world's largest owner-operators of offshore drilling rigs - was growing fast amidst rising oil prices and needed a way to deleverage its balance sheet in order to take on even more debt and gain market share. The solution was to spin off brand new drilling rigs with long-term drilling contracts attached to them into a partnership structure whose equity was securitized and sold on the NYSE. Thus, Seadrill Partners (NYSE:SDLP) was born.
Seadrill Partners was thus made to handle large amounts of debt and came into being leveraged about 6 times. This was deemed safe as the contracts were long term and cash flow was secured for many years to come. As a partnership structure, SDLP was never meant to grow its equity base, but was instead meant to have all after-tax earnings flow through to its owners, which consisted of Seadrill (46.6% in a combination of Common and Subordinated Units) and public unitholders (53.4% via Common Units). More on this later.
The situation today with Seadrill's restructuring
Seadrill is facing a default on its bank debt on April 30th and is currently battling for its life, seeking an agreement with its creditors (a consortium of 42 banks and a series of bondholders). It has declared Chapter 11 a possibility, which is a problem for SDLP because Seadrill stands as co-obligor on some of SDLP's loan agreements - and these agreements go into default if any of the obligators declare Chapter 11. Seadrill Partners thus faces the unappealing possibility of defaulting on its debt due to the financial situation of its major shareholder.
In the below, I will lay out the structural relationship between Seadrill and Seadrill Partners and argue why I think the risk of Seadrill Partners declaring a Chapter 11 is quite slim. I will also argue why I think it is unlikely for Seadrill to reabsorb SDLP as internet pundits have speculated.
Management, dividends, and what doesn't happen on September 30th
Seadrill Partners has no individual management and is being run out of the same offices as Seadrill by the same people but via a legal structure called Seadrill Member LLC (Let's call this MEMBR).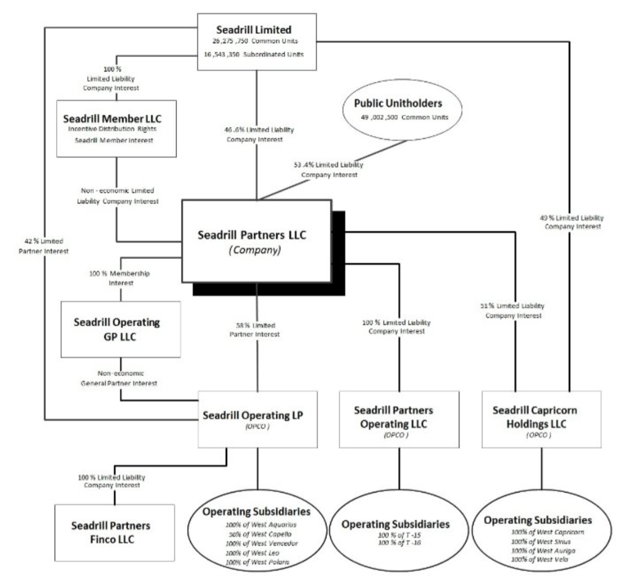 Source: 20-F (apologies for poor picture quality: this was what SDLP published)
There is a management contract in place between SDLP and MEMBR that governs (ok: tries to govern) conflicts of interest between SDRL and SDLP via a variety of tools, most important of which are the Subordination Period and the Incentive Distribution Rights:
The Five-year "Subordination Period"
After the 2012 IPO, there was a five-year grace period called the Subordination Period that restricted SDRL in a variety of ways in terms of favoring its own business over SDLP's. SDLP, conversely, was stuck with SDRL - via MEMBR as its de facto manager.
When the Subordination Period was to end (on September 30 this year) SDRL was to have much less obligation to deal fairly with SDLP and also gained a right to convert its subordinated units (think class B shares) into Common Units (think A shares) at a 1-to-X rate, depending on the amount of dividends distributed in the four quarters prior. The Subordinated Units are after the Common units when dividends are handed out (see below).
Even more importantly in light of the current debate on whether Seadrill will try to absorb SDLP as part of its restructuring:
"During the subordination period, with certain exceptions, the Company's operating agreement may not be amended without the approval of a majority of the units held by non-affiliated common unitholders. After the subordination period has ended, the Company's operating agreement can be amended with the approval of a majority of the outstanding common units, including those held by Seadrill."
In other words: Seadrill can't easily change its relationship to SDLP before September 30th, 2017, simply because it can't vote on changes in the contract that govern their relationship.
Even further, the Subordination Period mechanics has a catch-clause built in that states that:
"The subordination period will extend until the second business day following the distribution of available cash from operating surplus in respect of any quarter, ending on or after September 30, 2017, that each of the following tests are met:

distributions of available cash from operating surplus on each of the outstanding common units and subordinated units equaled or exceeded the minimum quarterly distribution for each of the three consecutive, non-overlapping four-quarter periods immediately preceding that date;
the "adjusted operating surplus" (as defined in the partnership agreement) generated during each of the three consecutive, non-overlapping four-quarter periods immediately preceding that date equaled or exceeded the sum of the minimum quarterly distributions on all of the outstanding common units and subordinated units during those periods on a fully diluted weighted average basis during those periods; and
there are no outstanding arrearages in payment of the minimum quarterly distribution on the common units." (page 78 of SDLP's latest 20-F)
So, in other words: if the minimum quarterly dividend of $0.3875 is in arrears, then the subordination period extends indefinitely until it has been paid.
As of today, there is a $1.48 dividend in arrears per Common Unit, which amounts to about $111 million.
Incentive Distribution Rights (IDRs)
The Incentive Distribution Rights is an incentive plan that consists of an increasing % amount of the distributions from SDLP to MEMBR the higher the dividend becomes:

Source: Seadrill Partners 2016 20-F
Further, note that the Subordinated Units (which is the majority of Seadrill's stake in SDLP) do not receive a dividend until the Common Units have been awarded the minimum $0.3875 quarterly.
Seadrill owns 26.3 million Common Units and 16.5 million Subordinated Units for a total 46.6% stake in the overall 92 million unit count.
Common is a kind of preferred
So what does all this mean? In essence, this dividend in arrears removes the 16.5 million Subordinated Units from the total unit count until the arrearage has been paid off and extends the (for SDLP) favourable Subordination Period that prevents SDRL from changing the management contract.
This means that you could, in a way, look at the Common Units as a preferred class of equity. Or, in a way, as a buffer or margin of safety that has to be paid off before merger shenanigans can commence.
Default and Chapter 11
When prediction is involved, I always try to look at the full range of things that can happen rather than forming a definite opinion of what will happen. To do this, I use a technique called probability analysis, which basically consists of asking a question of the form "Will X happen?" and then figuring out which conditionals need to be true for X to happen, which sub-conditionals need to be true for the conditionals to happen and so on for 4-5 steps.
Then, I evaluate, think about, and finally, estimate the % likelihood for each of these sub-sub-sub conditionals and then multiply them "back up" the chain to arrive at a % chance that X will happen.
The whole exercise ends up looking like this: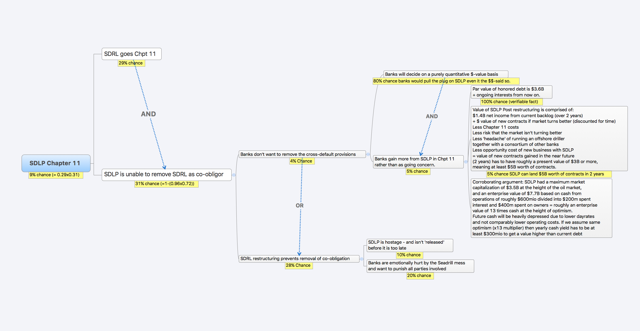 As you can see, I end up concluding that SDLP has a 9% chance of a Chapter 11 filing. If you are curious as to how I assign the 29% chance for Seadrill, take a look at my article on Seadrill's chance of Chapter 11.
The method isn't used to determine the probability with certainty, so the results should not be taken as gospel. Rather it is used as a way to systematically order the information and the estimates you have given a certain situation, as well as give a framework with which you can integrate new information and new arguments.
For the same reason, I fully expect your estimate of the situation to be different, but invite you to entertain the underlying idea that it is better to lay out a series of possible events and examine those rather than settling on one outcome and then deciding that this must happen.
What happens if there is no Chapter 11?
My guess is that the current $3.50 unit price of SDLP is heavily discounted due to an overblown fear of a Chapter 11 (and subsequent high likelihood of a total wipeout of equityholders) and that we will see a significant appreciation immediately after an announcement that an agreement has been made with creditors. My own price target here is a share price in the $7-9 range on the basis that we saw a $5+ valuation in February after the January 31 announcement by Seadrill that was widely interpreted as a signal that SDLP was not being dragged into the SDRL restructuring. This momentum was cut short by the Q4 earnings call that mentioned the two words "Chapter 11" which sent the share price tumbling.
At the current share price of $3.50, it makes for a gamble with a high expected value: 9% chance of losing everything but 91% chance of doubling your money. While this is obviously not something you should do with a large chunk of your portfolio (unlikely things happen all the time), it is worth considering a small position if you agree with my logic above. That is what I have done.
On a longer-term basis, Seadrill Partners has potential for some serious appreciation as well, simply due to the high leverage: equity value, even if appreciated to $750, is a "stub" compared to debt of $3.6B that makes up the majority of the $4.3B enterprise value. Thus, a 10% increase in enterprise value is easily a 50% increase in equity value.
You should, however, remember the Incentive Distribution Rights that effectively give Seadrill rights to 50% of dividends attributable to Common Units above a certain threshold. This means your potential upside is severely handicapped as a long-term unitholder and I would recommend getting out as soon as you see the dividends in arrears have been paid off. Simply pass it to some unknowing fool: 99% of SDLP investors are oblivious to the IDRs.
Further: any long-term scenario is of course highly dependent on supply and demand for offshore oil and is a topic for another article altogether. My own personal conviction is that good offshore drillers like Atwood Oceanics (NYSE:ATW) and Diamond Offshore (NYSE:DO) will do very well in 2017-2018. I don't think we'll see 2014 valuations again anytime soon, but you never know.
If you liked the article be sure to follow me. I plan to write a piece on "How to make money in the Seadrill mess" in the near future, laying out some possible positions in the various possible cases for Seadrill and Seadrill Partners, including Chapter 11, Schemes of Arrangement, an agreement with creditors involving heavy dilution and in the case of non-heavy dilution.
Disclosure: I/we have no positions in any stocks mentioned, but may initiate a long position in SDLP over the next 72 hours.
I wrote this article myself, and it expresses my own opinions. I am not receiving compensation for it (other than from Seeking Alpha). I have no business relationship with any company whose stock is mentioned in this article.