Overview of the Current Investment Environment
We have by now entered the 8th year of the U.S. equities bull market. Much of the recent expansion was driven by valuation/multiple expansion, as growing optimism in connection with the new administration took hold, pricing in anticipated pro-growth policies, which have yet to materialize.
As a result, I share the sentiment of many investment professionals that there are several meaningful catalysts to drive a correction, whether it may be domestic (e.g. continued sluggish growth, weakness in upcoming earnings seasons, or policy changes not seeing the light of day) or international (e.g. slowdown in China or more isolationist policies and administrations across European governments in upcoming elections).
At current valuation levels of U.S. indices, such as the S&P 500 (NYSEARCA:SPY), particularly after the run-up over the last 12 months (expansion from 22.5x to 26.8x on a normalized EPS basis; see chart below), individual investors are in a challenging position to find compelling investment opportunities.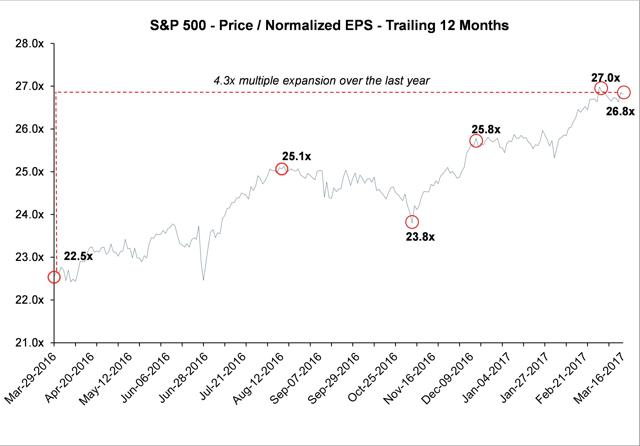 Source: Capital IQ (for data); Note: Normalized EPS refers to EPS where non-recurring items have been removed
More concerning, though, is the fact that the recent rise in valuations was nothing but a continuation of further distancing peak levels seen at the height of the prior bull market, as indicated by the chart below.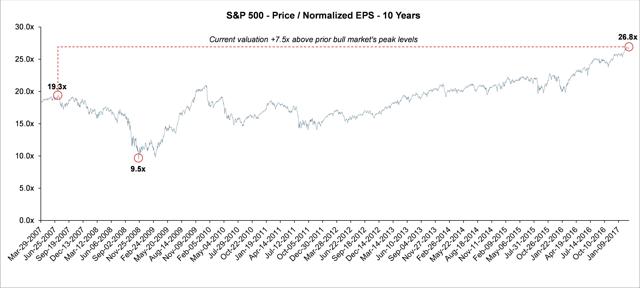 Source: Capital IQ (for data)
In light of (1) the mature state of the ongoing bull market, (2) plentiful events that may trigger a correction, and (3) valuation levels that are steep by historical standards, I am extremely cautious and selective - and believe any investor should be.
A Fundamentals-Driven Investment Model
Over the years working as an investment professional in private equity, I have come to learn that businesses with (1) inherently strong potential for free cash flow generation (i.e. an asset-light business with limited capital expenditure or working capital requirements) and (2) recession-resistant business models and demand characteristics, have frequently ended up as the most successful (and steadily performing) investments.
Realizing how well these features work to identify investment opportunities in my professional life, I decided to develop a more systematic screening system centered around these two characteristics for my personal investment decisions in public markets. To test my hypothesis, I screened all members of the Dow Jones (NYSEARCA:DIA) and the S&P 500 and back-tested portfolios that included all the names that passed the "character tests" against their respective benchmarks.
Before I delve deeper into each test, the rationale and the precise parameters, I first want to show the resulting portfolios out of each index and their performances vs. their indices - I guess I don't like to save the best for last.
DJIA
11 members of the DJIA passed my screening system. The portfolio included Apple (NASDAQ:AAPL), Coca-Cola (NYSE:KO), Johnson & Johnson (NYSE:JNJ), Merck (NYSE:MRK), Microsoft (NASDAQ:MSFT), Nike (NYSE:NKE), Pfizer (NYSE:PFE), Procter & Gamble (NYSE:PG), Travelers (NYSE:TRV), UnitedHealth (NYSE:UNH), and Visa (NYSE:V).

I thereafter back-tested the portfolio over various time frames against the DJIA, assuming that I would invest an equal dollar amount across all positions (I used $10,000 per position, resulting in a portfolio of $110,000; this number was arbitrary and has no impact on the analysis).
The results were promising as the portfolio consistently outperformed the DJIA (before dividends; due to a higher dividend yield of the portfolio over the DJIA, the outperformance would have been even larger than shown below), whether over a 3-, 5-, or 10-year time horizon. Also note that the 10-year return profile does not include Visa as it was not yet public at the time (end of March 2007) - which further understates the screened portfolio's outperformance as Visa is up 453% since its IPO.

Source: Capital IQ (for data); Note: Current stock prices were as of 3/30/17
Given my strong concern regarding a potential for a correction, I decided to backtest the portfolio on a running basis over the past 10 years as well, attempting to see how the trough of the portfolio would have compared to the overall market. Again, my screened portfolio held its ground nicely, showing to not only be more resistant during a downturn, but also outpacing the benchmark during the subsequent bull market.
I believe this is particularly noteworthy as many investors believe that they are sacrificing upside when selecting more defensive or less volatile names. Note that in the chart below, the starting dollar amount of the portfolio was $100,000 as it included 10 positions (again, Visa was not public yet).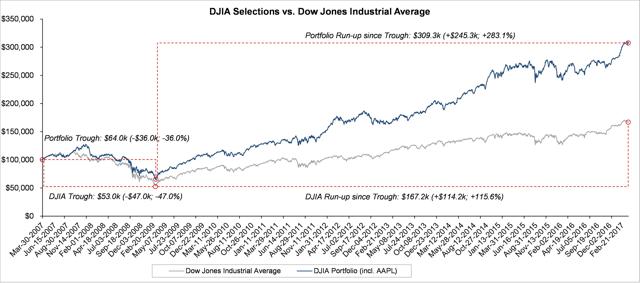 Source: Capital IQ (for data)
Now, I can already tell that many readers might argue "of course you would outperform, you had Apple in the portfolio which was not a member of the Dow until 2015 and experienced an exceptional run." This is absolutely true and I thought about this myself, which is why I re-ran the tests for the 10-year time frame excluding Apple.
The system continues to be extremely competitive, achieving nearly double the return of the DJIA over 10 years, while also still meaningfully outperforming the DJIA at the bottom of the market in 2009, as well as on the recovery thereafter. Remember that the portfolio starting point is $90,000 in the chart below as it now excludes Apple as well, reducing the portfolio to 9 names.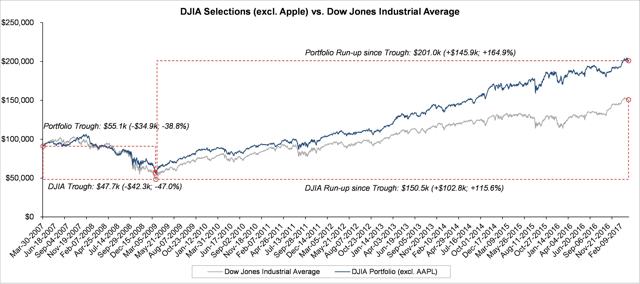 Source: Capital IQ (for data)
S&P 500
Out of the current S&P 500, 106 members qualified and "passed" my series of tests. For transparency, I include the full table from my excel spreadsheets below.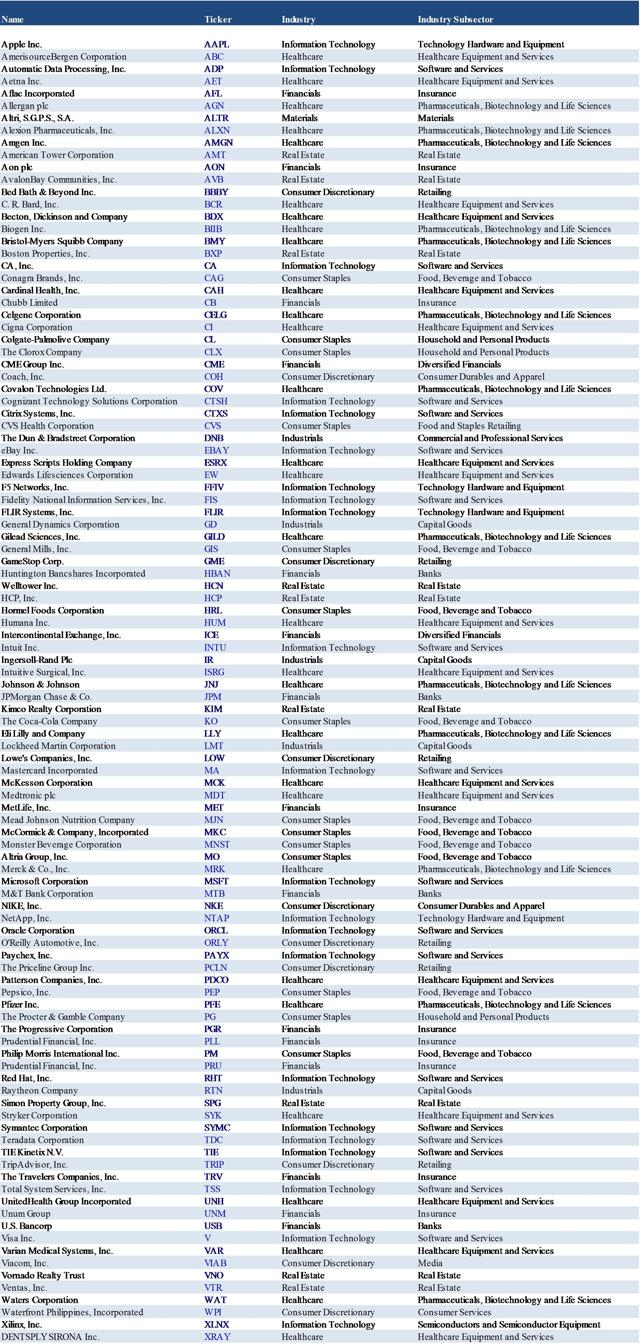 Given the amount of names in this portfolio, I was satisfied with only back-testing for the same 3-, 5-, 10-year horizons on the aggregate as opposed to recreating the price chart as well (again, this assumes all positions are of equal size at the beginning). If multiple readers would be interested and request it, I can provide the chart backtest separately in a follow-on. Again, you can see a consistent outperformance, achieving double the annualized return of the S&P 500 over the 10-year period.

Source: Capital IQ (for data)
Spotlight on the Screening Criteria - Recession Resistance and Free Cash Flow Generation
Having provided some support that my screening system is effective in identifying compelling investment opportunities, we will now discuss the two characteristics - and the exact quantified hurdles an investment opportunity had to pass - to make its way into the portfolio. Note that any investment opportunity has to pass all tests to be selected.
Recession Resistance
Over the years working as a private equity investor and prior as an investment banker, I have learned that many people love to call the business that is on the block to be sold as "recession resistant" or even "counter-cyclical" to increase the appeal amongst potential buyers.
While confidential information memoranda will fill pages upon pages trying to make you as the potential investor feel that the business is resilient and can weather an adverse economic environment without many challenges, my mentors in the industry have taught me that you can disregard all the wonderful prose from the M&A bankers running the sale process if actual performance does not back up their statements.
Therefore, the test that I devised required of companies to experience an aggregate peak to trough revenue decline of no more than 5% from 2007-2011. The reasoning here is that most companies will ultimately feel the impact of a recession to some degree - and I want to find the ones that through an inherently strong value proposition for customers, non-discretionary offerings, and competent management teams can manage a recession without having to seriously fear for its existence. Anything in the single-digit percentage range would be acceptable in my eyes.
Particularly right now, with the economic recovery ongoing for many years, unemployment rates at historically low levels, and rising interest rates, we are approaching the peak not only in terms of equity markets, but also in terms of the broader economy. Allocations in quality assets that can weather a downturn allowing the investor to sleep easier at night.
Free Cash Flow Generation
As a value investor, I firmly believe like many others that "cash is king." This is the underlying driver for this second characteristic, namely the company's ability to generate free cash flow available to service its capital structure, pay dividends to its owners, or reinvest in another accretive form.
The FCF test consists of two tests that are quite alike and operate in tandem, namely (1) EBITDA less capital expenditures divided by EBITDA and (2) Operating cash flow less capital expenditures divided by EBITDA. Note that I looked at the cumulative results for the last 6 years as everything I am doing as part of this screen is meant to be looking for long term, consistent performance.
(1) EBITDA less Capital Expenditures Divided by EBITDA
For this test, which is the traditional way of how M&A bankers like to show the cash flow generating power of a business, any company had to achieve a rate of at least 70% from 2011 through the 2016 or LTM period.
My rationale for a 70% minimum is that, while this rate is comparatively low to what I would consider "strong" when assessing companies professionally (I would look for at least 85% or more), since I do not know how much of capital expenditures are associated with growth-related expenditures vs. maintenance, I want to allow for the potential situation that the business is executing on actionable growth opportunities and it needs to invest accordingly.
However, a business that claims to be "transformational" but needs to reinvest most of its cash flow in the form of capex over a 6-year time frame is inherently a riskier, and in terms of return on capital (since capex does not seem to be quickly converted into EBITDA increases), less lucrative investment. Companies that require meaningful capex may not be able to sustain themselves during a recession, as they are likely to rely on an accommodative capital market environment to raise additional cash.
This is where many investors got burned in the last recession running after growth stories that stood on weak footing, were overlevered, and got the rug pulled from underneath them by the swift onset of the recession and dried up capital markets.
(2) Operating Cash Flow less Capital Expenditures Divided by EBITDA
To pass this test, a company had to achieve a rate of 50% or higher on aggregate over the last 6 years. The rationale for this separate test is that businesses can to some degree play around with EBITDA, but it is significantly harder to do the same with cash flow line items, therefore keeping companies honest on their first test.
The main reason why the mark to hit is only at 50% vs. the 70% in the prior cash flow test is that net working capital is likely to grow as a business grows in size, restricting free cash flow. I believe by utilizing these two tests in tandem over a wide historical period, it is possible to truly capture the free cash flow generating power of a business.
Conclusion
I am a firm believer in fundamental analysis of business models and rigorous diligence of financial performance to evaluate businesses as potential investments. Therefore, I am happy to see that across two relevant indices these two fundamental tests allowed for meaningful, and more importantly, consistent outperformance versus their underlying benchmarks.
However, while I believe that this screening system is a great start to filter through investment opportunities and weed out the masses, an investment approach solely focused on historical data is flawed. After all, we all know that "past performance does not guarantee future results." More distinct diligence around valuation, industry- and company-specific outlook needs to be done to build a compelling portfolio.
This is why I will continue my article series in the coming weeks and months providing individual names that not only pass the screening system discussed herein, but further check out as compelling opportunities in terms of future outlook and at an adequate valuation.
Disclosure: I am/we are long PG, AAPL, PFE.
I wrote this article myself, and it expresses my own opinions. I am not receiving compensation for it (other than from Seeking Alpha). I have no business relationship with any company whose stock is mentioned in this article.