As of this writing, Donald Trump is expected to sign two executive orders relating to trade (Trump executive orders to tackle trade deficit, tariff enforcement). These orders relate to campaign promises to tackle the trade deficit, and will pave the way to tariffs and other restrictions on imports. Over the past month I have written about how threats of protectionism could have a negative impact on gold. Now I will explain how such policies could have a more widespread effect on the market, by pointing out the need for imports by the tech industry.
Rare Earths
Rare earth metals are a class of metals which consists of 17 elements: the fifteen lanthanides, along with scandium and yttrium. While these elements are not actually all that rare, they are still difficult to access, and only found in certain locations. However, they are vitally important to the technology we use. These elements are used to create small, but powerful magnets, which are used in high grade speakers. They are used in TVs, to make types of glass, computer chips, and much more (Industrial Uses of Rare Earths: Namibia Rare Earths Inc).
Unfortunately, most of the world's reserves for these metals is in China. While the United States has an estimated 9% of the world's total reserves, China has roughly 40%. Furthermore, China is responsible for 90% of all production, while the US produces only about 3.8%. These figures are as of 2013, and can be found in "Scarce supply - the world's biggest rare earth metal producers."
Production, Imports, and Exports
A lot of data for rare earth production, imports, and exports is available through the USGS, and I have attached the 2016 report on the topic. As of the report, the estimated 2015 US production of rare earths was 4,100 metric tons, while consumption was 17,000 metric tons. The net import reliance as a percentage of estimated consumption was 76%, with 71% of all imports coming from China.
Clearly, the US relies on imports for its rare earths. And because the US has only a small fraction of the total reserves in the world, even if additional mines were opened, it would not satisfy demand.
Tariffs and Export Quotas
For years, China had restrictive export quotas on rare earths, which largely inflated prices. However, back in 2010, enough countries began to complain that the World Trade Organization decided to act. In 2015, after the WTO ruled that China did not have sufficient reason to implement the quotas, restrictions were lifted (China scraps decade-old rare earths export quotas | MINING.com).
However, if the US begins a trade war with China, it will then have a justification for reinstituting quotas.
Impact
Because the US will continue to need rare earths for all sorts of technology, additional tariffs, especially against China, will increase the price of an already expensive product. Furthermore, technology is no longer a luxury. Computers, tablets, cell phones, etc have all become essential parts of our lives. Therefore any measures which threaten access to rare earths will have far reaching consequences.
If US trade policy starts to target China, and China responds by restricting access to rare earths, tech companies will suffer greatly, and they could take the recent growth in the NASDAQ with them.
Trading Options
Unlike the case with gold and silver, it does not really make sense to hold physical assets in rare earth metals. However, there is an ETF which gives exposure to the rare earths: Market Vectors Rare Earth/Strategic Metals ETF (NYSEARCA:REMX), which has, at least in the past, moved along with rare earth prices. The ETF holds a combination of stocks, largely from China, which are related to the rare earth industry. Below is a price chart of REMX, created using ThinkorSwim.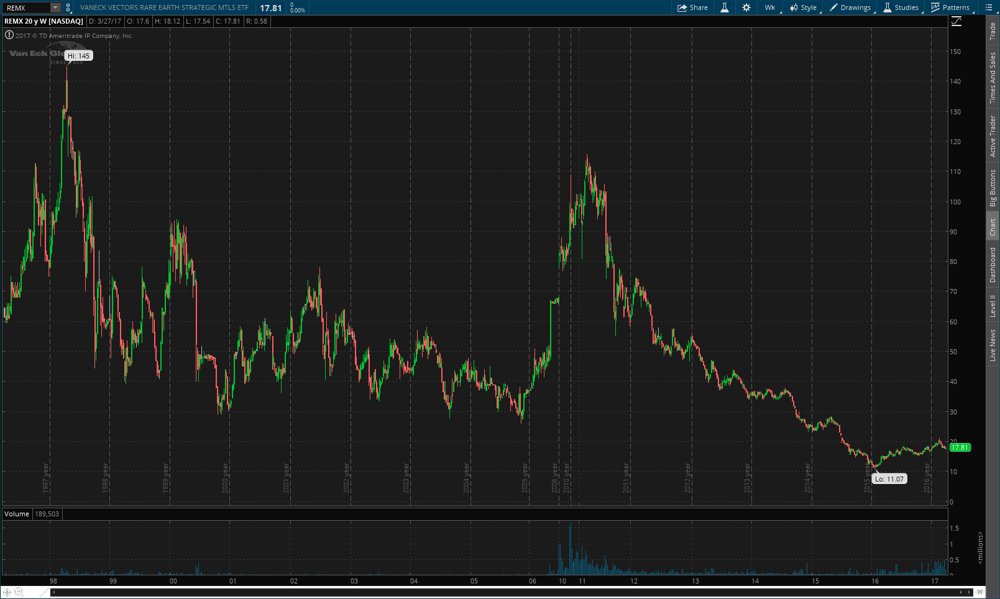 Supporting Material
Supporting Documents
Disclosure: I am/we are long PSQ.
I wrote this article myself, and it expresses my own opinions. I am not receiving compensation for it (other than from Seeking Alpha). I have no business relationship with any company whose stock is mentioned in this article.