Oil climbed above the US$50/barrel level yesterday, although still remained within the same range of the past few months of US$45-US$55. The key reason for yesterday move appears to have been data from the US showing declining gasoline inventories measured in days. Analyzing some supply and demand indicators for the commodity, as well as incorporating our assessments regarding geopolitics, there does not seem to be strong enough catalysts to boost oil prices in the near term to a level much different from this recent range. As a result, the rally in the United States Oil ETF (NYSEARCA:USO) and other oil ETFs may be short lived.

First, let us take a look at the world's crude oil production and how it relates to oil prices. The chart below shows that we are on a multi-year expansion in global oil production, despite all the noise regarding OPEC's supply cuts.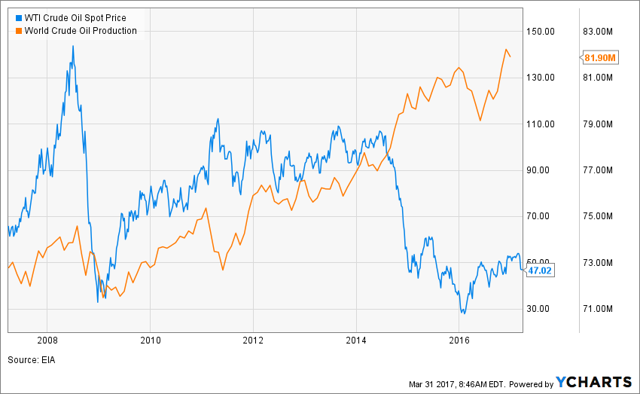 Now, the following chart shows gasoline inventories in the US and oil prices. The gap seems to have been widening recently. But what is cause and what is effect here? Do lower oil prices encourage building up larger stockpiles? Probably yes. But also, the larger the inventories, the lower the pressure on oil prices as any short-term shortage can be practically ruled out.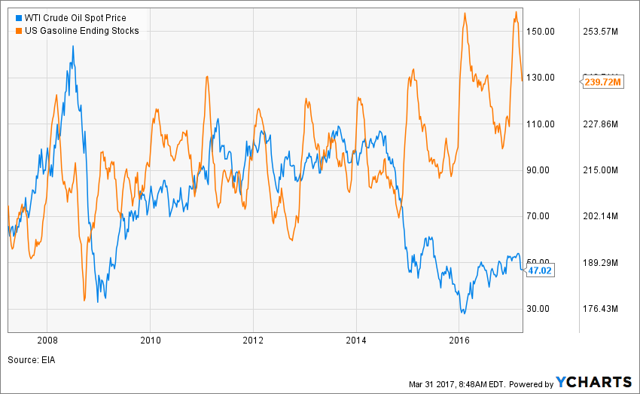 The continued decline in gasoline inventories highlighted below, coupled with renewed support from OPEC members to the entity's proposed production cuts, apparently paved the way for the current upward mode in oil price.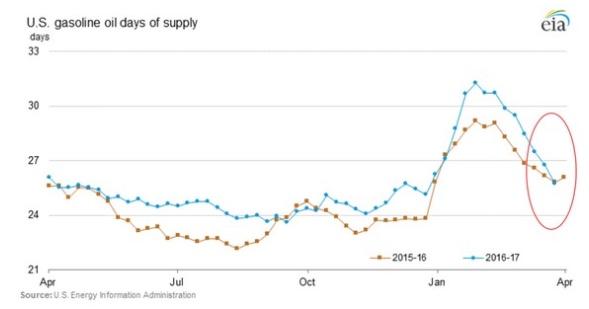 However, we do not see enough reason for a significant change in the outlook for oil prices. First, the decline in gasoline inventories does not seem too different from the usual seasonality. Moreover, OPEC's plan may not prove sustainable for too long, as we will discuss below.
After oil prices collapsed from the US$100 level in late 2014, we saw many US shale gas producers reduce supply, as exploration costs were running above their revenues. But after reaching the bottom in the second quarter of 2016, US oil rig count started to increase again. There is an interesting article in the Wall Street Journal here discussing how shale drillers found new ways to profit in a cheap-oil era. Now should other producing countries be more impacted? Apparently not on a global scale, although some countries such as Canada and Mexico seem to be suffering, also with increased competition from US oil.
OIL RIG COUNT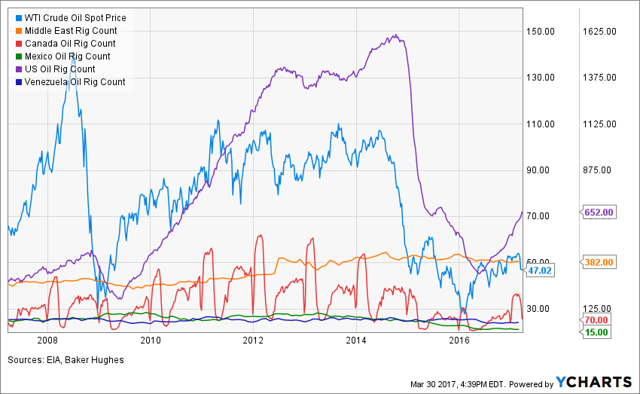 RUSSIA OIL PRODUCTION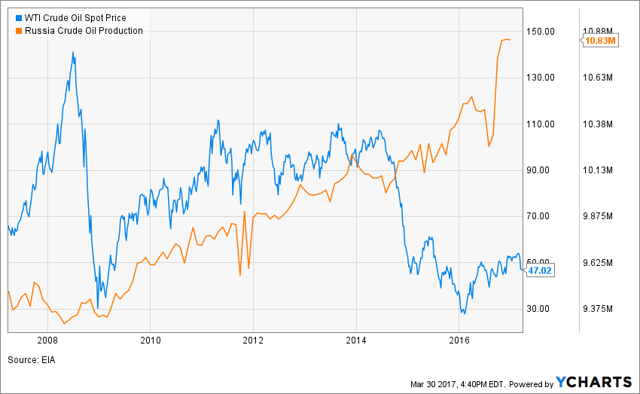 According to the Wall Street Journal, the Russian energy minister said that the country is cutting oil output in order to comply with OPEC's agreement. The problem with OPEC's deal is that the incentives for individual countries to increase (or avoid cutting) their own output as prices start to climb are huge. Most of them have their national finances hugely dependent on oil. If this actually happens, it would work as a barrier for oil prices to climb too much from the current level. So our reading is that the agreement is weak and investors should not rely too much on it in trying to forecast future oil prices. Moreover, growing US oil production could potentially undermine OPEC's intentions.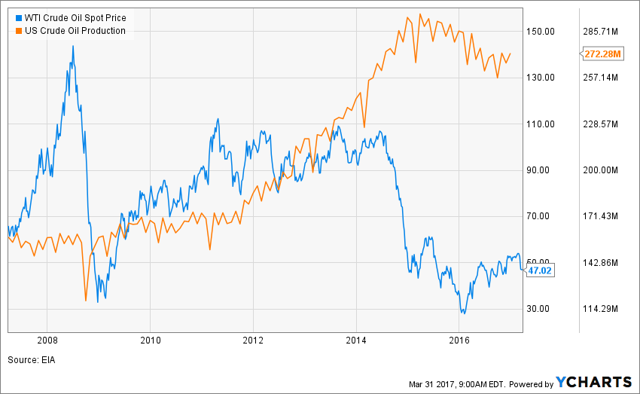 So our reading from the data above and recent developments is that global oil production does not show signs of a significant deceleration. As a result, demand could be met without major surprises, which should contribute to keep oil prices at around the current level of ~US$50 in the near term, possibly within a +/-10% range.
Disclosure: I/we have no positions in any stocks mentioned, and no plans to initiate any positions within the next 72 hours.
I wrote this article myself, and it expresses my own opinions. I am not receiving compensation for it (other than from Seeking Alpha). I have no business relationship with any company whose stock is mentioned in this article.