Convenience store operator Alimentation Couche-Tard, Inc. (OTCPK:ANCUF) is one of Canada's most successful stock market growth stories. With stocks like these, it is common for investors to wait on the sidelines for years for a "pullback" that never materializes while the stock soars higher and higher despite always being "expensive". In hindsight, the company often turns out to be a long-term wealth compounder. Couche-Tard is about 12% off its all-time high, and this article aims to answer two questions: 1) Has growth stalled, and 2) is there value starting to emerge in the stock after it has trended down since last August?
Incessant Growth Slowing Down
Long-term investors have done well with this stock because the company is a serial acquirer that manages to keep expanding without taking on an inordinate amount of debt. The company began a process of expanding out of Canada in the early 2000s to become one of the biggest convenience store/fuel station operators in the United States and Europe, becoming one of Canada's biggest multinationals in the process that now grosses over $35B per annum. Canada only contributes about 13% of those revenues. On a 10- year time frame, the company has managed to quadruple EBITDA while keeping its debt-to-equity ratio relatively flat.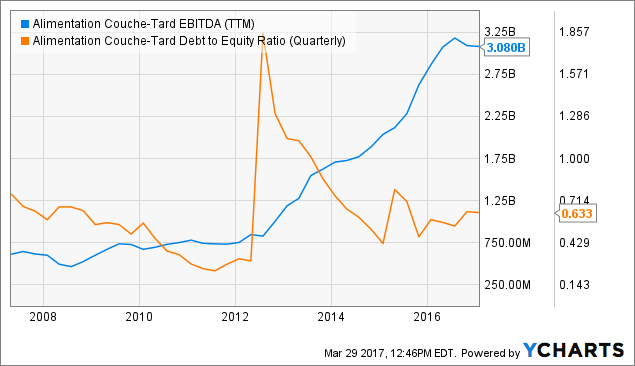 ATD.B EBITDA (TTM) data by YCharts
To provide further evidence of financial health, I show in the table below that after initially levering up in 2012 (the company only had about $2B total debt versus $4.4B of assets at the end of that year), Couche-Tard has increased its assets over an almost four-year period (from April 2013 to January 2017) by nearly 30% while keeping debt constant and growing cash flows with each successful acquisition integration. Today, the assets to liabilities ratio sits at 1.73 compared to 2 when the acquisitions started; less attractive, but definitely manageable, given the growth.
| | | | | | |
| --- | --- | --- | --- | --- | --- |
| Year | YoY Asset Growth | YoY Debt Growth | YoY Revenue Growth | YoY Operating Cash Flow Growth | YoY Dividend Growth |
| 2013 | +126% | +309% | +54% | +53.4% | - |
| 2014 | - | -10% | +6.7% | +22.2% | +66% |
| 2015 | +4.5% | +10% | -9% | +19.6% | +22% |
| 2016 | +11.4% | +1.1% | -1.1% | +10.1% | +41% |
Source: My calculations from Google Finance and the 2012 Annual Report
Company is well positioned to reward shareholders
Now that the company is bigger, it's that much harder for it to grow at the previous breakneck pace. This means that it can focus its efforts on paying down debt, and then either shareholder returns or more acquisitions. The dividend growth rate will slow because that, too, started from such a low base (it's easy to increase a dividend 66% when it is 3 cents!), but the company is well positioned to pass on increases for a long time.
Why? The company only paid $39M in dividends per quarter at the end 2016, or $107M on the year, representing just 8% of the $1.9B of operating cash flow. This metric is important when looking at a growth stock's future income potential. Couche-Tard trades at 16x 2017 projected earnings and has a lot of runway for future increases. Compare this to two better-known dividend aristocrats with a "defensive" nature that are much better known than Couche-Tard like P&G (NYSE:PG), which has a P/E of 26 and is paying out upwards of 55% of its operating cash flow in dividends, or Coca-Cola (NYSE:KO) with a P/E of 28 paying out upwards of 70% of its operating cash flow in dividends. I believe longer-term oriented investors, especially younger people, might want to look at a name like this instead of those blue-chip stalwarts if this is the strategy they wish to use to compound their money.
The company's overall revenues have declined every year since 2014, but earnings per share have doubled. It is not because of buybacks (the share count has actually expanded), but because of the vastly improved margins that come with the company's increased scale following all the acquisitions it has done. As you can see, gross margins were at an all-time high last year, but then declined in Q1 2017. The stock is down about 10% since November, and I chalk it up to the dips in ROE on the below chart as well as general fears that the growth narrative has sputtered.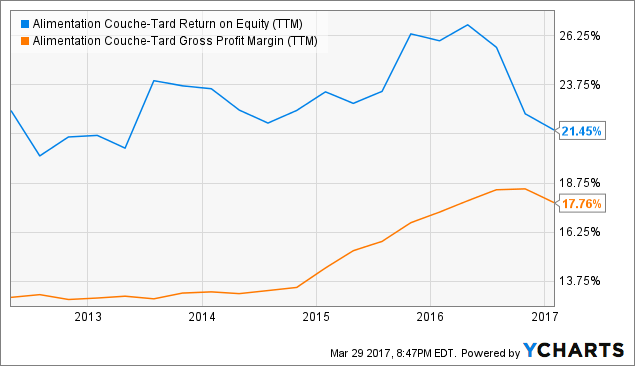 ATD.B Return on Equity (TTM) data by YCharts
Relative Valuation
The era of fast growth is over for Couche-Tard, and it is transitioning into a blue-chip defensive stock; it basically has been one for about two years range bound between $51 and $68 on the TSX listing. What you are buying into at this point is the long-term earning power of the company which has recently managed to double in size twice, between 2012 and 2014 and again between 2014 and 2016. Key valuation metrics like P/E and yield have come down and are now more in line with their historical long-term averages.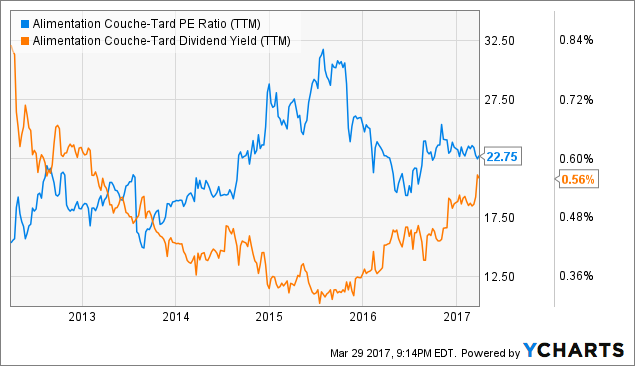 ATD.B PE Ratio (TTM) data by YCharts
International Exposure and Healthy Margins
Retailing is a low-margin business, and nowhere are margins lower than staples. Retail giants like Wal-Mart (NYSE:WMT) and Target (NYSE:TGT), and even Kroger (NYSE:KR) are the object of much scrutiny on Seeking Alpha these days. With revenues flat, dividend yields rising, and the heat on to keep long dividend increase streaks going, investors wonder if the value destruction will ever abate in the sector before Amazon (NASDAQ:AMZN) eats everyone's lunch entirely. But if there's one safe retail business to be in, this is it.
Like most residents of the Canadian province of Quebec, there is a Couche-Tard within a five-minute walk of my house. It sells five key items whose prices are in fact regulated by the province and on which it earns a pre-determined margin. The items are: 1) alcohol 2) cigarettes 3) milk 4) lottery tickets and 5) gasoline. These represent a nice "sin stock" aspect of the company because people will buy these things regularly in any market regardless of economic conditions. I don't care if Amazon Prime gets delivery down to 20 minutes, I think I speak for the majority when I say that I don't mind walking five minutes to the corner store for milk and a 12 pack. We all need some exercise at some point, Mr. Bezos!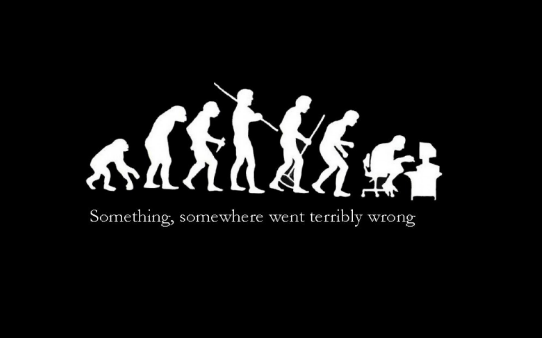 Source: Freshwallpaper.net
But the items are regulated by price controls. Milk, I believe, is 7% here. Lottery is 5%. But here's the fun part. Everything else in the store is grossly overpriced, and it's the only thing open late at night and on holidays. The combination of impulse purchases and late night raids (hence the name of the company, which means "night owl") is what gooses the margins and goes straight to the bottom line. The price of milk may be kept artificially high in Canada, but even in the United States where it is dirt cheap, it's an item that along with the sin products that drives traffic into the store and leads to purchases of high-margin coffee, pastries, junk food, etc.
The recent report shows some impressive growth numbers in European "other" segment as the US was somewhat flat.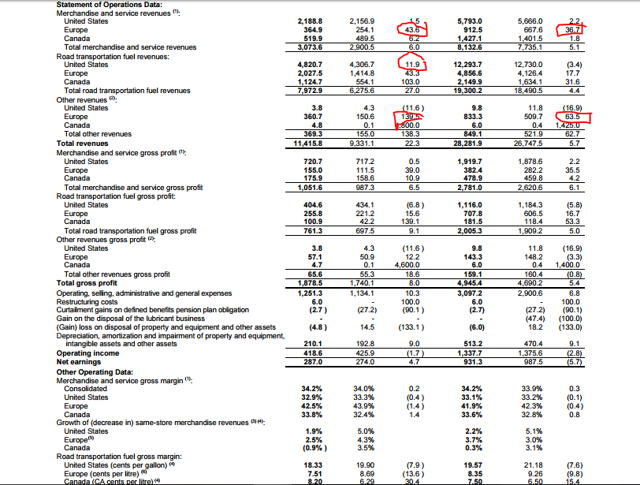 Source: 2016 Annual Report
Europe acts as a nice diversification buffer, as you can see by the revenue percentage jumps which I've highlighted, because fuel revenues are under the most pressure in the US. As shown in this table of historical prices from CST Brands' (NYSE:CST) website (a company which Couche-Tard is incidentally in the process of acquiring), fuel margins have been considerably less volatile in Canada during the low oil price environment of the last two years than they have in the US. Monthly fuel margins have been 12 cents per gallon or less, 13 times more since 2013 for CST in the US, while they have never dipped under 19 cents per gallon in Canada once over the same period.
The CST Acquisition
It's worth reminding readers that Couche-Tard's shares went soaring on the announcement of this deal, and no wonder. For $4.4B, it becomes the largest operator in the States by far, and significantly increases its presence in the still growing "sun belt". The company will add over $10B in annual revenue. CST's margins have also been pressured (as Couche-Tard's have in the US), but the deal, expected to close in 2018, means the company could be worth $45-50B in 2-3 years once the integration is complete and synergies are realized.
Risk Factors
The above breakdown of revenues shows that fuel represented 70% of total revenues in the most recent fiscal year, unchanged from 2015. Gasoline is, of course, made from a volatile commodity (oil) whose future you may be uncertain about. Nothing lasts forever.
According to the MarketLine database, tobacco products represented 41% of the "other revenue" category in 2015, including through the merchandising of brands that are licensed exclusively to Couche-Tard, and that is a risk factor given declining smoking rates across the board in developed countries, where Couche-Tard exclusively does business. I do think, however, as trends change, the need for convenience stores will remain. People will go to get different kinds of fixes as laws change and tastes evolve: vaporizers, marijuana, whatever. Nobody knew what energy drinks were 15 years ago and now my local Couche-Tard makes money hand over fist selling them.
Finally, the debt load will have to expand again to close this deal, as there is not $3.8 billion of cash on the balance sheet and it is all-cash. The good news is that existing shareholders will not be diluted, but sadly the money has to come from somewhere. Return on equity should remain high as the company should now have the best pricing power it has ever had. Keep an eye, however, on the current BBB credit rating S&P has assigned in case credit or business conditions deteriorate, although I would qualify this as medium-low risk over the next couple of years.
Conclusion
Investors might be wondering if Couche-Tard's growth story is over, and rightfully so given the stock's trajectory over the past few years. However, a Canadian company on the verge of completing the consolidation to become the largest operator in an industry stateside likely still has at least a leg of upside. Previous acquisitions created margin expansion which translated into huge value for shareholders. While risks remain present, including the tying of the stock's fortune to tobacco and fuel consumption, this could provide nice defence in a portfolio with high-margin staple bent if the years ahead are going to be more volatile than the ones we've just gone through.
Disclosure: I/we have no positions in any stocks mentioned, but may initiate a long position in ANCUF over the next 72 hours.
I wrote this article myself, and it expresses my own opinions. I am not receiving compensation for it (other than from Seeking Alpha). I have no business relationship with any company whose stock is mentioned in this article.