The coming death of the mall is conventional wisdom. Everybody has seen the pictures of empty malls all across America like this: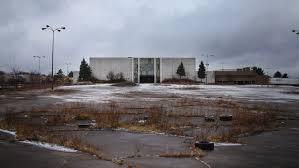 So why should someone invest in a newly-formed REIT heavily concentrated in malls? In this article, I will lay out why an investment in Seritage Growth Properties (NYSE:SRG) offers attractive returns despite the secular headwinds described above.
The company
Seritage was formed on June 3, 2015. Shareholders of Sears Holdings (NASDAQ:SHLD) could buy shares in the newly formed REIT via a rights offering.
Because of the REIT qualifications, the ownership structure is complex. What is important to know is that Seritage has a 60% interest in the operating partnership controlling the real estate.
Relationship with Sears Holdings
Before the rights offering, Sears Holdings and Seritage signed a master lease agreement.
Under the master lease Seritage has the right to:
Recapture 21 specific wholly-owned stores for a termination payment (the bigger number of 10 times EBITDA or a specified amount).
Recapture all automotive care centers, which are free standing or attached as "appendages" to the stores.
Recapture all outparcels and outlots.
Recapture 50% of all other stores.
The only limitation on those rights is that Seritage can recapture a maximum of 50 wholly owned stores per year.
According to the master lease agreement, Sears Holdings has the right to:
Terminate any property that is EBITDAR negative for Sears after rent. In this case, Sears will have to pay one year of rent.
Terminate up to 3 joint venture properties every year. As with wholly owned properties, Sears will have to pay one year of rent in case of termination.
These rights are also limited. Sears can't terminate more than 20% of rent amount due on all properties under the master lease agreement.
The lease is a triple net lease. So the tenant is responsible for maintenance, taxes, insurance and other costs and expenses.
Furthermore the master lease calls for annual rent increases of 2% for the first 20 years. Thereafter, market rent will be payable.
Currently, Sears Holdings represents 64% of all rent that is paid to Seritage. This amount is shrinking fast as Seritage signs up new tenants for recaptured property space. After CEO Benjamin Shall, rent payments made by Sears shall represent less than 50% of all rent payments by the end of 2017 Sears.
This claim is reasonable. In the past, Seritage made great progress in reducing the dependency from Sears. As seen by the rent distribution at the point in time of the rights offering compared to the rent distribution at the end of 2016: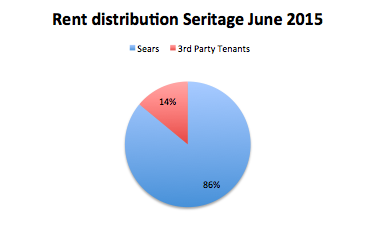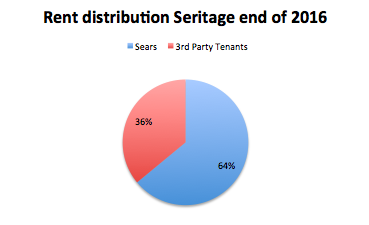 Fraudulent Conveyance
The master lease is a unitary lease. A unitary lease does not allow single property termination by default of the tenant. This is especially important in light of the recent disclosure regarding going concern language in the recently filed 10-K by Sears Holdings.
Most of the stores are likely EBITDA positive. A CMBS prospectus from JPMorgan Chase published in 2015 shows that this was the case right before the rights offering. If most stores are EBITDA positive, it is unlikely that Sears will terminate the unitary lease. Hence, the probability of a rent shortfall in case of chapter 11 of Sears are low.
The other big risk posed by a possible bankruptcy of Sears Holdings is the possibility of a successful fraudulent conveyance lawsuit.
Fraudulent conveyance is defined by Investopedia as: "The illegal transfer of property to another party in order to defer, hinder or defraud creditors, or to put such property out of the reach of a creditor. (...) Two types of fraudulent transfer exists: actual fraud occurs when a debtor intentionally donates or rids himself of assets as part of an asset protection scheme. Constructive fraud refers to fraud that occurred unintentionally or in a manner that was not intended to be fraudulent."
In a worst-case scenario, Seritage shareholders would receive the original IPO price of $29.58 per share. This represents a possible downside of 32%.
To eliminate this risk, Seritage had Duff & Phelps conduct an independent appraisal of all properties before the rights offering. The price Sears Holdings received for the transferred properties was equal to the appraised value of Duff & Phelps.
Further evidence that a successful lawsuit is highly unlikely comes from the special conference call held by Stanley Black & Decker (NYSE:SWK) to discuss the Craftsman deal.
I guess the last one would be, there's always a risk when you , when you do a transaction with another party that there could be some form of claim regarding fraudulent conveyance. (...) We don't believe that is the case based on everything we know at this point in time.
Because the Craftsman deal occurred after the rights offering, creditors would first have to claim the Craftsman assets before claiming assets from Seritage. Thus, the chance of a successful lawsuit become even more remote.
Quality of the real estate
Seritage has high-quality real estate space. Many properties are in markets like Florida, California, the Northeast and Mid-Atlantic corridors with average households income of over $70,000 and a density of over 600,000 people in a 10-mile radius.
Actions and comments made by its JV partners, Simon Property Group (NYSE:SPG), General Growth Properties (NYSE:GGP) and Macerich (NYSE:MAC), confirm the quality of Seritage properties.
General Growth Properties has already recaptured 4 properties, and in December 2016, gave notice to recapture 5 additional properties.
GGP sees strong demand for high-quality real estate. In the CEO's own words:
Let me talk a little bit about Sears. The strong demand for space leads to our anchor box acquisitions, including the 12 we have acquired with Seritage.
General Growth seems to also see value in the remaining Sears and Seritage assets. From the Q2 2016 GGP earnings call:
We have 60-plus Sears locations beyond that. Hopefully there'll be an opportunity to acquire some more once we're done leasing these 12.
Simon also plans to redevelop its properties in the JV with Seritage. From the Q4 2016 SPG earnings call:
Obviously, we do plan to redevelop a lot of the Seritage joint venture projects over time.
Lastly, Macerich sees value in the properties but wants to be patient. From the Q2 2015 MAC earnings call:
In particular, we could be seeing pretty significant reconfigurations and remerchandising and developments available to us at Cerritos and Washington Square (both are two Seritage locations).
Valuation
I did value the company in 3 different scenarios: base case, worst case and best case.
Base case
The main assumptions in my valuation are:
The assumptions don't assume a change, of course, in the current pace of the redevelopment activities. The end projections on space occupied by Sears Holdings and 3rd parties includes the terminated properties.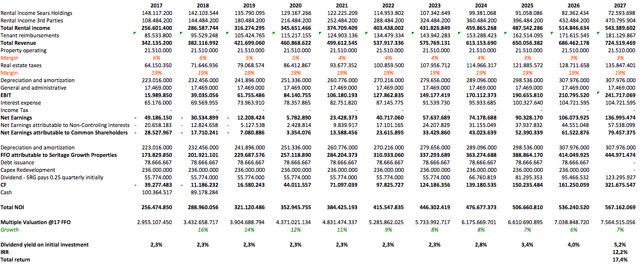 As seen above, Seritage has enough cash to finance the redevelopment without diluting shareholders by keeping the leverage ratio at 3:1 and tapping its cash reserves in the next two years.
At the current price of $42.79, an investment would yield a total return of 17.4% assuming a cap rate of 5.8% at the end of the redevelopment and a dividend yield of 5.2% on the initial investment.
Worst case
The important assumptions are: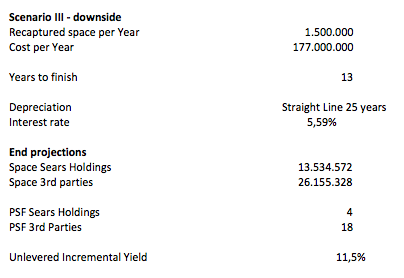 Now we assume a slower development pace of 1,500,000 square foot per year. In this scenario, it would take 13 years to finish all redevelopment activities.
Model part I: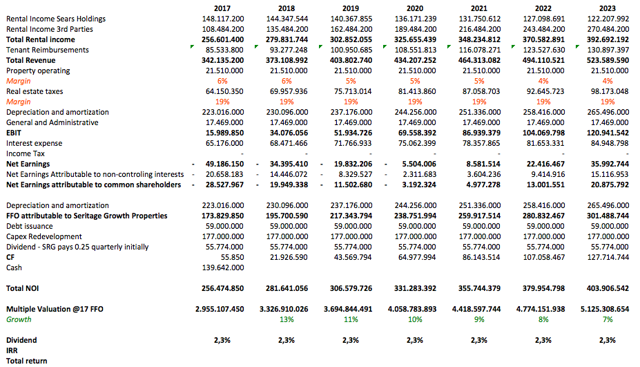 Model part II: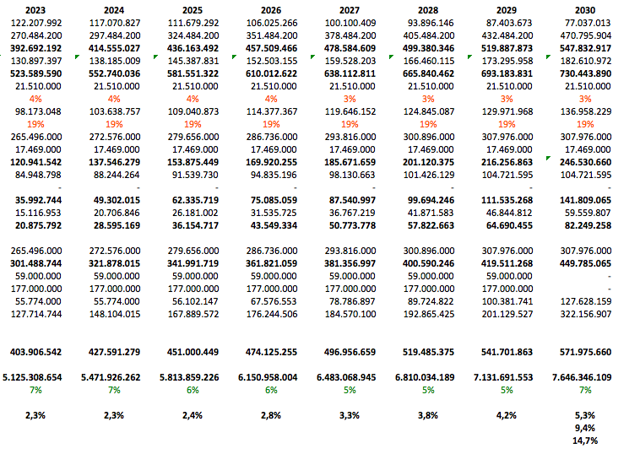 The total return falls to 14.7%.
Best case
Here are the important assumptions: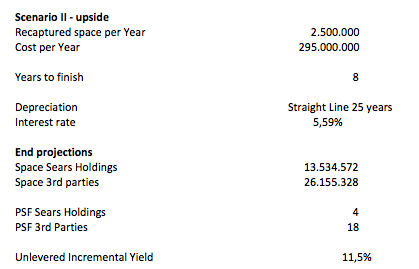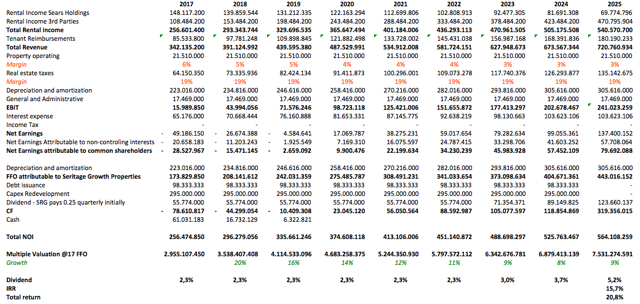 A faster redevelopment of 2.5 million square foot per year would let total return shoot up to over 20%. This pace would put Seritage at the limit of its financing capability without diluting shareholders.
If you would like to receive my excel model, just send me a message. I'm happy to share it.
The valuation leaves out the potential upside from any development opportunities of outparcels, outlots and further terminated properties.
A possible catalyst to revalue the company would be the sale of a joint venture, most likely the GGP JV due to its massive redevelopment activity. Seritage has the contractual right to sell its joint ventures in Q2 2018 to its partners for an appraised fair market value. This would provide Seritage with additional funds to speed up its redevelopment work.
This could materially heighten the rate of return shareholders can expect.
Conclusion
An investment in Seritage stock offers an attractive return with relative little risk. Investors are in good company as Warren Buffett holds 7.1% of the A shares in his personal account. Buffett is a seasoned REIT investor. In the 90s, he gave away an investment idea in a REIT, First Industrial Realty, for charity. This has turned out to be a good investment.
I myself want a higher return. Currently, Seritage does not fulfill my investment criteria. Therefore, I'm willing to wait for a lower price. I own one share to attend the annual meeting in New York on April 25th.
Disclosure: I am/we are long SRG, SHLD.
I wrote this article myself, and it expresses my own opinions. I am not receiving compensation for it (other than from Seeking Alpha). I have no business relationship with any company whose stock is mentioned in this article.