The international investment community has been hurled into a dire commotion recently given the increasing worries about pending changes in the global economy. Indeed, the US stock market has been pushed to an all-time high, while the P/E ratios of an overwhelming majority of American multinationals is on unprecedented levels, which explains the surge in the stock market. Taking into account the recent increase in the interest rates caused by Fed and the surprising reaction of the market (the US dollar appreciation and a vibrant demand for risky assets followed), it seems that the stock market overall is currently a dangerous place to invest one's money.
Notwithstanding the aforementioned circumstances, one can find financial instruments that will both provide capital gains and generate stable cash flow. We strongly believe that examples of these are shares of many energy Master Limited Partnerships. An MLP is a limited partnership that is publicly traded, also known as a publicly traded partnership. As per Wikipedia, "To obtain the tax benefits of a pass through, MLPs must generate at least 90% or more of their income from qualifying sources such as from production, processing, storage, and transportation of depletable natural resources and minerals. In addition, real property rents also qualify." MLPs match the tax benefits of limited partnerships with the liquidity of stock market instruments.
In this article, we stress two cogent arguments for opting for MLP stocks in the face of uncertainty.
The first reason is relatively high dividend yields averaging 7.5% (an average reading of the top 9 MLPs). In comparison, for the time being the T-bonds' annual yields are slightly below 2.5%.

(Source: Dividendinvestor.com)
In fact, in the case of MLPs dividends are called distributions, since they enable the holders to harness tax benefits. In other words, MLPs are tax-advantageous because taxes imposed on them are relatively modest and partially deferred. However, one should bear in mind that investments in MLPs' shares are long-term investments. Therefore, investors choosing these instruments must not be subdued to market volatility and go awry. The historical data in no uncertain terms show that investors who were not terrified by the market turmoil during a sudden plunge in oil prices in 2016 carried on receiving benefits in the form of distributions. To make this argument sound more judicious let us present the historical data on net operating cash flow-to-dividends ratios of the companies with major weights in the Alerian MLP Index (NYSEARCA:AMLP).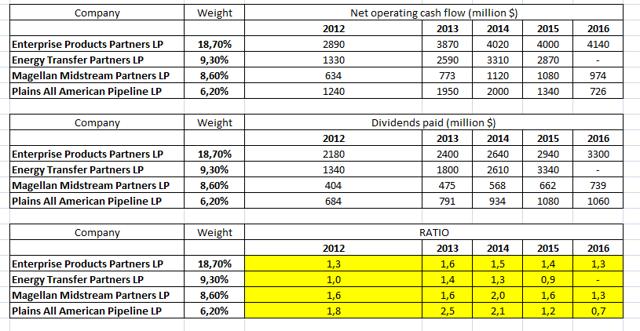 (Source: MarketWatch, calculations by author)
As the table shows, the aforementioned ratio has generally been above 1.0x during 2012-2016. This reflects the companies' ability to sustainably deliver their dividends to unit holders.
The second argument is tightly linked to the fact that Alerian MLP Index has a positive correlation with oil prices. This phenomenon in great part is attributed to the fact that the number of the contracts MLPs draw up and the amount of cash flows they generate hinge on the volumes of oil, gas, and petrochemicals transported in a time period.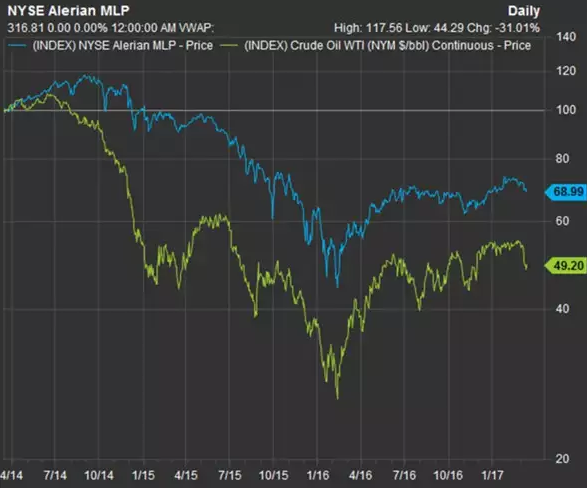 (Source: NYSE.com)
Many analysts predict that oil demand is going to prove robust soon and, if it is the case, it will be the third year in succession that we observe such a tendency. According to independent research centers, the market is likely to welcome an oil deficit of 500 thousand barrels per day in the first half of 2017, unless volumes in the global oil production suddenly pick up. No doubt it will push prices upwards. Moreover, it will be useful to look at the dynamics of U.S. oil production since American MLPs are of prior importance. As depicted on the chart, the US oil production demonstrates an evident upturn. The production per day figure is already above 9.1 million barrels and, since these volumes need transportation, MLPs will gain the upper hand.
Even now one can observe the tangibility of the oil effect with the growth of market capitalization in ONEOK Partners LP (NYSE:OKE), Cheniere Energy Partners LP (NYSEMKT:LNG) and Tallgrass Energy Partners LP (NYSE:TEP) by 21%, 10%, and 8% in February, respectively.
(Source: https://ycharts.com)
Per the current forecasts, the one-year Total Return Target for Alerian MLP Index is the price window between 1552 and 1643 points. That means that the index is expected to gain between 17% and 23% during this year, respectively.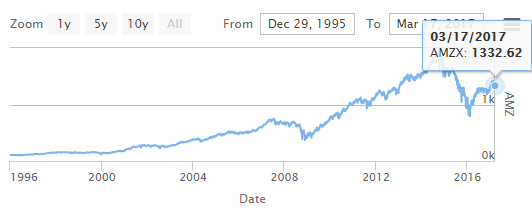 (Source: Alerian.com)
Conclusion
The wave of uncertainty and stampede has flooded the world markets, thus plunging investors into the reign of Keynesian "animal spirits." Despite that, there are relative safe harbors. One of them is the MLPs, which are characterized by high dividend yields and have catalysts for growth. Alerian MLP Index is a suitable vehicle for investors looking for exposure to MLPs.
Societe Financiers is an investment research team focused on long-term, long- and short-only ideas. Our research objective is to cover equities in various regions, such as North America, EMEA, Asia, Australia, and Emerging Markets.
Readers should consider whether any advice or recommendation in our research articles is suitable for their particular circumstances and, if appropriate, seek professional advice, including tax advice. The price and value of investments referred to in our research articles and the income from them may fluctuate. Past performance is not a guide to future performance, future returns are not guaranteed, and a loss of original capital may occur. Fluctuations in exchange rates could have adverse effects on the value or price of, or income derived from, certain investments.
Certain transactions, including those involving futures, options, and other derivatives, give rise to substantial risk and are not suitable for all investors. Transaction costs may be significant in option strategies calling for multiple purchase and sales of options such as spreads.
Disclosure: I/we have no positions in any stocks mentioned, and no plans to initiate any positions within the next 72 hours.
I wrote this article myself, and it expresses my own opinions. I am not receiving compensation for it (other than from Seeking Alpha). I have no business relationship with any company whose stock is mentioned in this article.