Freeport-McMoRan Inc. (NYSE: FCX) is rallying after a Reuters report of possible export deal with the Indonesian government. The development is especially encouraging given that the stock had taken a terrible beating due to the impasse and slumped to a low of $11.91 this week. But, I believe that we will need more meat in order to sustain this rally.
My cautionary stance should not be taken as bearish. I remember that I had recommended buying FCX near the support zone of $12.00-$12.50 and also said that the resistance of $13.20 needs to be taken out quickly in my March 16 article. It is delighting to see that the stock has proved my long call rewarding with a gain of 10 percent and is strongly sustaining at $13.52 at the time of writing this article. But, what we are reading or hearing now has yet to be confirmed by the management via an official release.
The weekly FCX price chart shows that the stock has reversed from the one-year uptrend that I had discussed in my previous articles and is attempting to trend higher.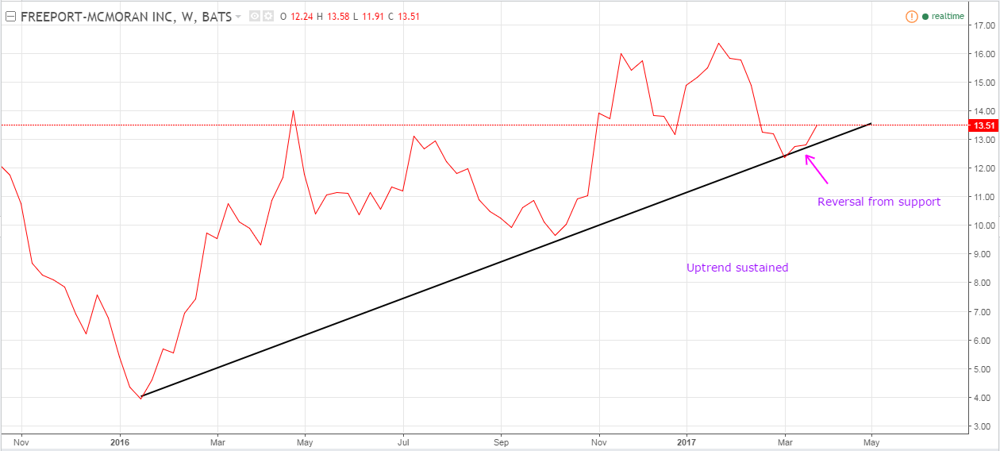 Source: TradingView
The stock has also managed to cross the 200-day SMA ($12.77) and the 30-day SMA ($13.00) very quickly and is looking at taking out the 50-day SMA at $14.22.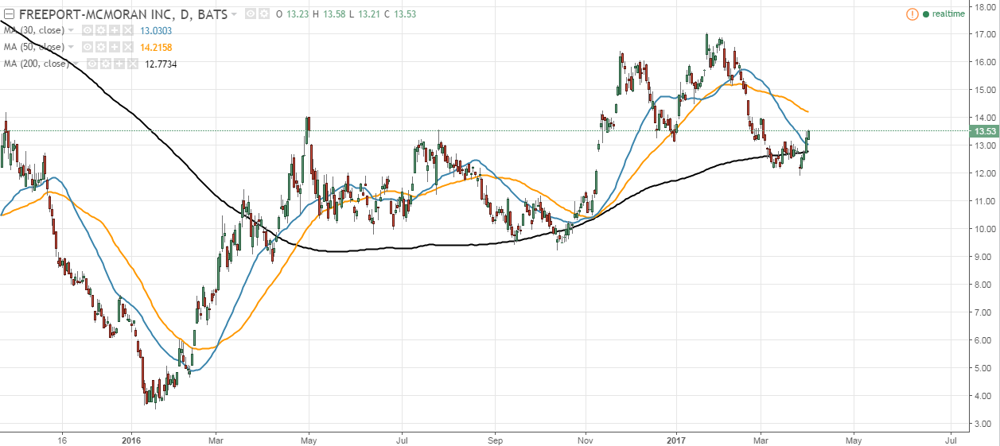 Source: TradingView
The momentum is clearly in bulls' favor but it is mostly fueled by a report which is not exactly 100 percent positive for the stock. There are certain caveats in play here. The Reuters article quotes Indonesia's mining minister Ignasius Jonan as saying that the company and the government are in the final stage of discussions. Here are the valuable points from the report.
Indonesia wants Freeport to switch from its long-term operating contract to a new special mining license that includes new provisions on taxes and mineral processing. Freeport has said it will only do this when the government provides it with an alternative with the same fiscal and legal guarantees.

"If they agree on the special mining permit, they can export, as long as they put forward a proposal to develop a smelter within five years," Jonan said, adding that Freeport has agreed to adopt the new permit in principle.

Indonesia also wants Freeport to divest a 51 percent stake in its Indonesian unit, up from 30 percent previously.
Although the minister said too much, Freeport Indonesia is holding back on making any comments or confirming any development. Their spokesperson only said that they continued to engage in a constructive dialogue with the government and that they hoped to reach a solution acceptable to both the parties.
So, we do not know if the company will agree to divest a 51 percent stake in its Indonesian unit or not, or if they would agree to develop a smelter or not. The current rally is basically a relief rally that has come on expectations of further clarity in the process. The management may choose to make a decisive announcement or give us a better idea when it releases its Q1'17 earnings on April 25.
So, what should investors do now? Investors who got in near the prescribed levels of $12.00-$12.50 are advised to hold on to their positions but they should also be prepared for a pullback if things don't pan out as favorably as the way they are being presented to us. It would also provide an opportunity to those investors who could not enter near lower levels due to fear or confusion. Participants are also advised to keep a long-term horizon in mind in this investment. A violation of the one-year uptrend on the weekly price chart can bring in more pain for the investors while sustenance above it will bring in hefty rewards. In the near term, I expect the stock to test $15-$16 range.
Note: I cover several stocks in different sectors as well as S&P 500, crude oil, gold and silver, U.S. dollar, etc. So, if you liked this update, and would like to read more of such informative articles, please consider hitting the "Follow" button above. Thank you for reading!
Disclosure: I/we have no positions in any stocks mentioned, and no plans to initiate any positions within the next 72 hours.
I wrote this article myself, and it expresses my own opinions. I am not receiving compensation for it (other than from Seeking Alpha). I have no business relationship with any company whose stock is mentioned in this article.