In a market where there is no competition on price, a device stands or falls on the quality of its clinical evidence. Data on Medtronic's (NYSE:MDT) transcatheter aortic valve CoreValve in intermediate-risk patients ought to position the device for approval in this setting by the end of the year - but how does it compare with data on its rival, Edwards Lifesciences' (NYSE:EW) Sapien?
A comparison of the two aortic valve franchises is problematic as there are no head-to-head outcomes studies. Still, the rates of death or stroke appear consistently lower with Medtronic's device (see table), which could position it to gain market share from the company that pioneered this technology.
Results of the Surtavi trial of CoreValve in intermediate-risk patients were chiefly remarkable for the low rates of death and stroke in both the transcatheter aortic valve replacement (TAVR) and surgical valve replacement groups, particularly compared with the results from Edwards' Partner II trial of Sapien in a roughly equivalent setting. Whether this means CoreValve is itself better than Sapien in this patient population is far from proven, however. All that can categorically be said is that both are as effective as surgery, and of course less traumatic.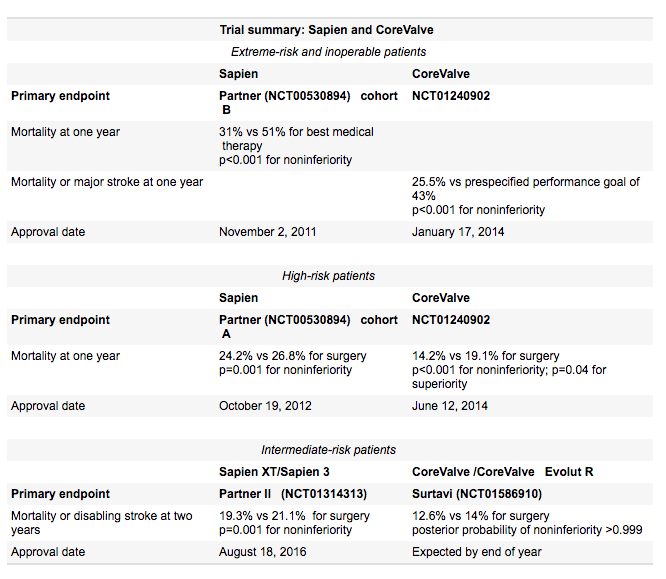 One worry with the Surtavi data was the rate of pacemaker implantation. More than a quarter of CoreValve recipients needed a pacemaker compared with 6.6% of surgical patients, a significantly higher rate. In the Partner II trial of Sapien in intermediate-risk patients, there was no difference in pacemaker implantation, at 8.5% versus 6.9% for surgical patients.
What this means for clinical practice is that younger patients are perhaps better treated with surgery. Older patients would generally be better served with a catheter-mounted valve, though, and in the intermediate-risk population this would likely mean Sapien so as to avoid the additional procedure to implant a pacemaker.
"The trials have been in different patient populations," says Mathew Williams, director of interventional cardiology at the NYU Langone Medical Center and one of the Surtavi investigators. He points out that Partner II and Surtavi were both intermediate risk trials, but the Surtavi patients were slightly less sick than those in the Edwards trial. "Both studies have provided, I'd say, equally encouraging data on TAVR to treat this population."
High-risk
Around a third of patients with aortic valve disease are considered at extreme risk from surgery, essentially meaning they cannot be treated surgically. Naturally this was the easiest population in which to obtain market approval for TAVR, with Edwards' Sapien getting the US nod in 2011.
So successful was Sapien in this segment that the design of the then-ongoing CoreValve trial was changed: it was considered unethical to deny patients TAVR. Instead a theoretical benchmark was used as a comparison. CoreValve reached the US for extreme-risk patients in 2014.
After the 33% of aortic disease patients at extreme risk, around a quarter are at high risk; around 20% at intermediate risk and another 20% or so at low risk.
The phenomenon of lower death rates in both arms was also seen in the high-risk CoreValve trial compared with the high-risk Sapien trial, Partner cohort A, but here there is an advantage for CoreValve . As well as proving non-inferiority to surgery, Medtronic 's valve just squeaked into significance for superiority too.
The next frontier will be the low-risk segment. Both Edwards and CoreValve have begun large trials versus surgery in this setting, but neither are even halfway enrolled, Dr Williams says. Should these also prove successful - and among the lowest-risk patients in Surtavi there was a numerical trend favouring CoreValve over surgery - almost all patients will be candidates for TAVR.
"There is some question over whether it will include patients who are bicuspid aortic stenosis, which tends to be the lowest age population - people born with abnormal valves. I would say it will cover the majority of aortic disease patients, but not all," says Dr Williams.
Which is better?
The question of whether CoreValve is better than Sapien or vice versa will never be truly answered until the two are pitted against each other directly - something the companies are unlikely to do for obvious commercial reasons. Michael Mussallem, chief executive of Edwards, has repeatedly ruled out head-to-head trials.
One small investigator-sponsored heads-up trial, called Choice, has been completed, but focused only on device implantation success at 30 days which is not likely to be a major factor in interventionalists' decision-making. Still, this endpoint was met by 95.9% of high-risk patients treated with Sapien and only 77.5% of CoreValve recipients.
In the absence of concrete proof of a clear clinical advantage for either valve, a third market entrant willing to compete on price could shake things up.
"Pricing is a big deal, and right now in the US we only have two commercial valves and they're both very expensive but similarly priced," says Dr Williams. "As I understand it, in Europe, where there are some valves [that are] less expensive, that is factoring into the decision."
Dr Williams refused to be drawn on whether he is more likely to use either CoreValve or Sapien in clinical practice, saying that both valves have a role. "For a good percentage of the population both valves will treat very well."
Disclosure: I/we have no positions in any stocks mentioned, and no plans to initiate any positions within the next 72 hours.
I wrote this article myself, and it expresses my own opinions. I am not receiving compensation for it. I have no business relationship with any company whose stock is mentioned in this article.