The EIA reported a -43 Bcf draw figure yesterday, which was 5 Bcf lower than our forecast of -48 Bcf. Be sure to read our summary of the storage figures here.
We anticipate a storage injection of +7 Bcf for the week ending March 31.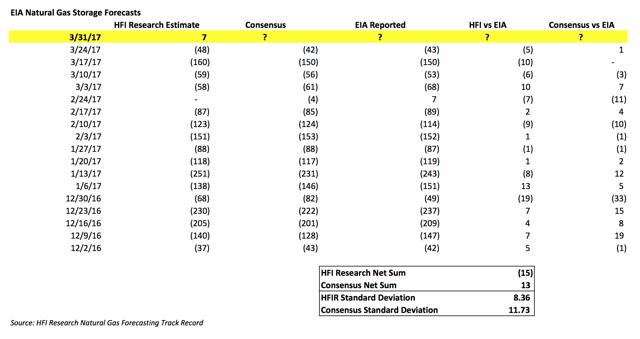 We will be resetting our track record of storage forecasts after this storage forecast. Current forecasting track record pins our net sum to EIA storage figures at -15 Bcf (indicating 15 Bcf lower than EIA estimates) and a standard deviation of 8.36 against EIA estimates.
Here are how fundamentals matched up to the previous week: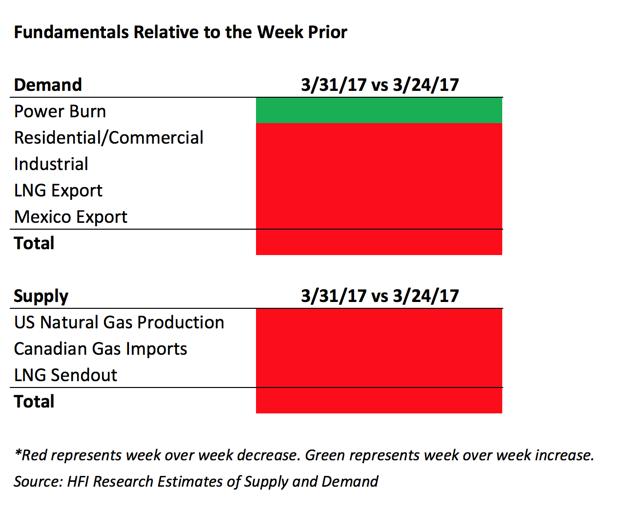 For the month of March, US gas production averaged 70.5 Bcf/d, and Canadian gas net imports averaged 5.7 Bcf/d. Total US gas supplies averaged 76.7 Bcf/d.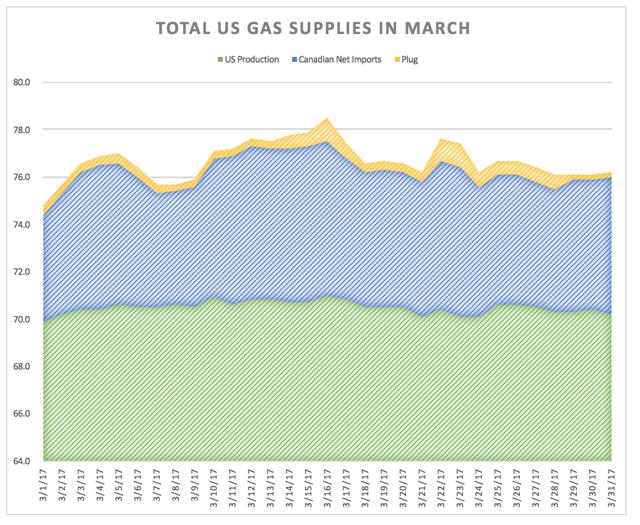 Source: HFI Research estimates
On the demand side, the monthly average for power burn was 21.9 Bcf/d. Residential/commercial averaged 36.1 Bcf/d. Industrial averaged 22.2 Bcf/d. LNG averaged 1.8 Bcf/d, and Mexico gas exports averaged 3.9 Bcf/d.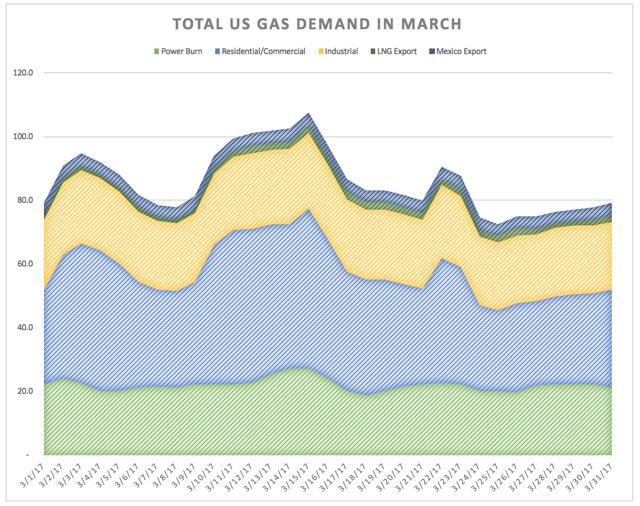 Source: HFI Research estimates
Current April EOS is 2.05 Tcf.
Current forecast for November 2017 EOS is 3.6 Tcf.
On a weekly basis, all demand drivers were down except for a slight increase in power burn. LNG flow dropped below 1.5 Bcf/d during the middle of the week before rebounding over 2 Bcf/d today. Mexico gas export was affected by seasonality and should start to rebound. We expect Mexico gas export to average at least 1 Bcf/d higher than last year. Residential/commercial saw the biggest drop in demand as weather moderated.
On the supply side, US gas production was weaker week over week. Canadian gas net imports were also lower, but the current wide AECO basis differential should keep the net imports high. Total US gas supplies were lower week over week.
Fundamentals now support a price above $3/MMBtu.
If the EIA storage report comes in around +7 Bcf, it would be compared to a -13 Bcf five-year average and +6 Bcf from last year.
If you find our natural gas articles insightful, we think you will find our premium natural gas dailies to be extremely useful. We include a daily supply and demand table, breaking out where the daily flows are. We also give subscribers advance look at our storage forecast revisions. If you are interested in our premium offering, please sign up here.
Disclosure: I/we have no positions in any stocks mentioned, and no plans to initiate any positions within the next 72 hours.
I wrote this article myself, and it expresses my own opinions. I am not receiving compensation for it (other than from Seeking Alpha). I have no business relationship with any company whose stock is mentioned in this article.