As we wrote back in December, "despite some attractive metrics, Gilead (NASDAQ:GILD) is a risky Hail Mary pass." Since that time, the shares have fallen another 8% and the company's dividend has been increased (it now yields 3.1%). Despite the lower price and higher yield, Gilead remains a hated stock by many investors largely because of its slowing growth, expiring patents, and an uncertain pipeline. Because of the negative sentiment, Gilead options premiums are relatively high, especially for a dividend stock, and herein lies the opportunity. In addition to Gilead, this article highlights two additional compelling high-income healthcare opportunities, Omega Healthcare (NYSE:OHI) and Welltower (HCN) (including selling Welltower puts) that we believe are attractive and worth considering.
Gilead's Future is Uncertain
Gilead is a research-based biopharmaceutical company with an uncertain future (the share price is down significantly because the market does not like uncertainty).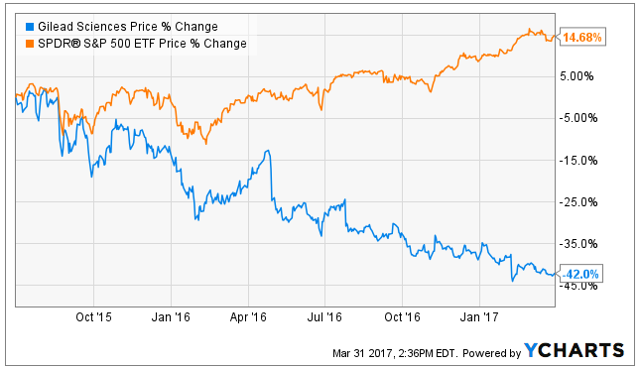 For example, Gilead's two largest product lines that treat hepatitis (Harvoni and Sovaldi) and HIV/AIDS (Truvada and Atripla) are facing growing competition. Specifically, some of Gilead's important HIV patents begin to expire in 2018, and Merck and AbbVie are becoming competitive in the hepatitis space. Further, Gilead's pipeline is highly uncertain, and the company may look to costly acquisitions to achieve any significant growth. To put things in perspective, Gilead's sales have already been declining (as shown in the following chart), and analysts expect the company's five year EPS growth rate to be negative (-4.8%), according to StockRover.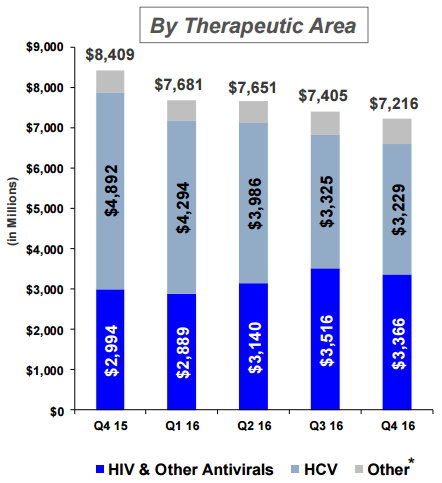 Despite the very big challenges facing Gilead, the company is still generating a lot of valuable free cash flow (+$15.9 billion in 2016), and we'd not be opposed to owning Gilead at an even lower price. And interestingly, the options market is currently offering an attractive opportunity to own the shares at even more discounted price, while also generating significant upfront income now.
Gilead Put Options are Attractive
Selling put options is like selling insurance, but in Gilead's case the insurance proposition is particularly sweet. As the following table shows, we can generate $0.49 in income now, for agreeing to purchase Gilead shares at $62.50 (below its 52-week low) if the price actually falls to $62.50 (or lower) between now and the options expiration date on May 19, 2017.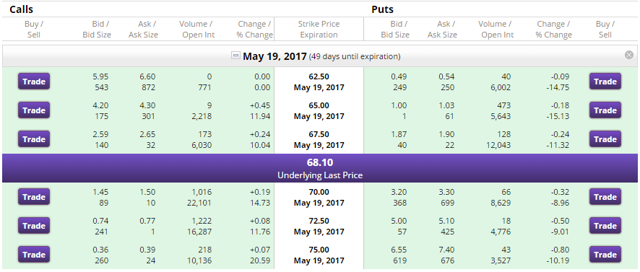 We like this opportunity for a couple reasons. First, this premium is relatively high, especially for a dividend stock like Gilead (for perspective, Gilead's dividend yield of 3.1% is roughly 60% higher than the S&P 500 dividend yield). Investors are fearful because Gilead's shares have already fallen so far, and we like this because selling Gilead puts is now a little like selling insurance after the hurricane has already hit (investors will pay more now because they're scared). The second reason we like these options is because it gives us a chance to own Gilead at an even lower price. Even though Gilead faces challenges, it's still a very profitable business that generates huge amounts of valuable free cash flow, and we wouldn't mind owning the shares at a significantly discounted price if the options get executed and the shares get put to us. In our view, selling Gilead puts is an attractive income opportunity for income-focused value investors.
Omega Healthcare's High Yield is Attractive
Sticking with our high income healthcare theme, Omega Healthcare Investors is a big-dividend (7.5%) healthcare REIT that currently presents an attractive contrarian opportunity. Omega has recently underperformed the market because of macroeconomic headwinds that caused REITs in general to pull back (i.e. rising interest rate expectations and fearful investors), but also because of heightened Affordable Care Act (ACA) uncertainty, particularly with regards to the skilled nursing facilities in which Omega invests.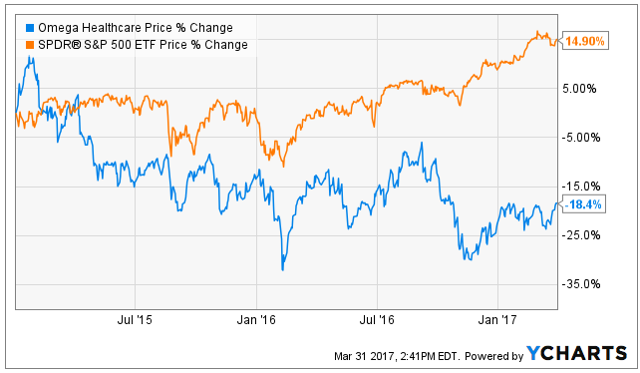 In our view, the market is overly fearful and has overreacted to both of these concerns thereby creating a very compelling high-income investment opportunity. We have written about Omega in the past (see: "Omega Healthcare: Big Dividend, 3 Big Risks), but basically we believe that demographics (such as an aging population and growing healthcare needs) are simply too strongly in favor of Omega, and the current low share price is unwarranted.
Of course, there are risks to investing in Omega. For example, if the so called "Freedom Caucus" within the US Congress gets its way, a significant portion of Omega's operators' revenues (which are derived from government reimbursement programs) could be cut off. However, we believe this fear is already fully baked into the price, and any compromise will work in Omega's favor. Plus when a revised healthcare bill eventually becomes law (whenever that may be) it will work in Omega's favor because it'll reduce uncertainly (the market hates uncertainty).
Also important, we own Omega within a diversified investment portfolio. We'd never put all our eggs in one basket, and we believe the total risk-reward profile of our diversified portfolio (including Omega) is far more attractive than investing in any single stand-alone opportunity (i.e. an appropriately diversified portfolio can keep returns high while simultaneously reducing risk significantly).
Worth noting, we also took a look at the Omega options market, and unlike Gilead, the premium on Omega put options is relatively low and unattractive in our view, as shown in the following table.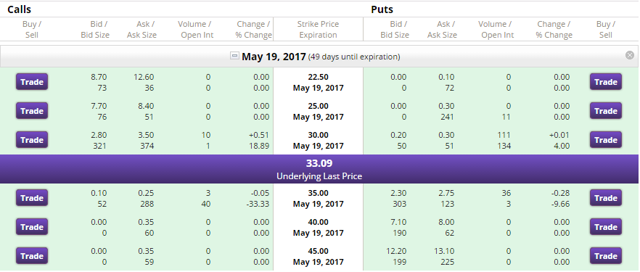 Welltower Offers Compelling High Income
If you like the high-yield and compelling story of the healthcare REIT space, but you're not totally comfortable with the risks of skilled nursing facilities, then you may want to consider Welltower. Like Omega, Welltower is a healthcare REIT, but it has much lower exposure to skilled nursing facilities. We like that Welltower has some exposure to skilled nursing facilities (because this is a compelling contrarian opportunity in our view), but we also appreciate that is has diversified into other healthcare facilities as well, such as senior housing (triple-net and operating) and outpatient medical facilities.
We don't currently own shares of Welltower, but we wrote about its attractiveness last August (see: "Welltower's Big Dividend: Weighing the Risks Ahead"). Since that time, its business has remained strong and its price to FFO ratio has dropped to a compelling 14.97x. We also like that Welltower rents properties under group leases, rather than separate per property leases, because this makes it harder for tenants to drop underperforming properties.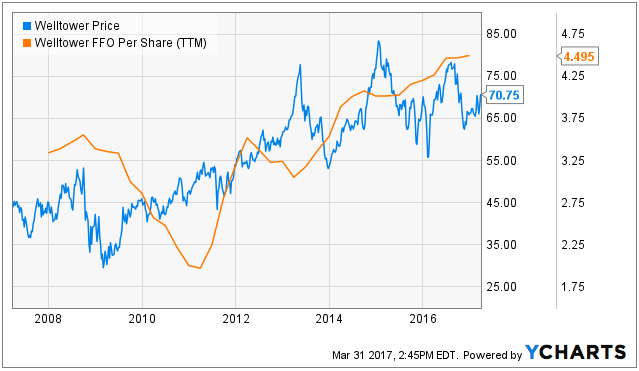 Also, like Omega, we'd be remiss not to point out the strong demographic tailwinds Welltower has at its back as shown in the following two charts about the growing healthcare demands of the aging population.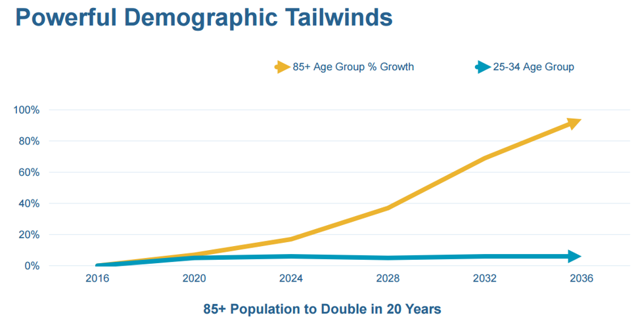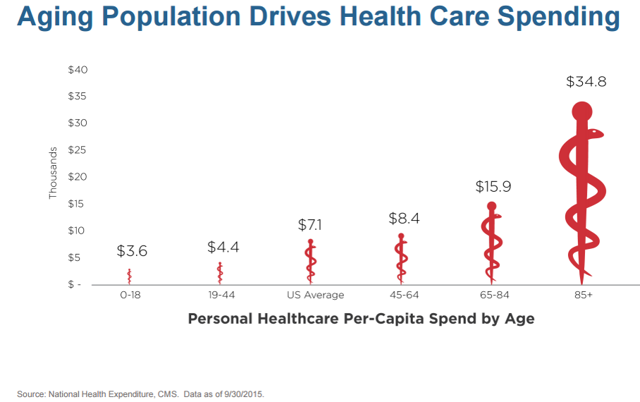 In addition to investing in Welltower outright, the options market offers another compelling opportunity. As shown in the following table, attractive income is available for selling insurance on Welltower.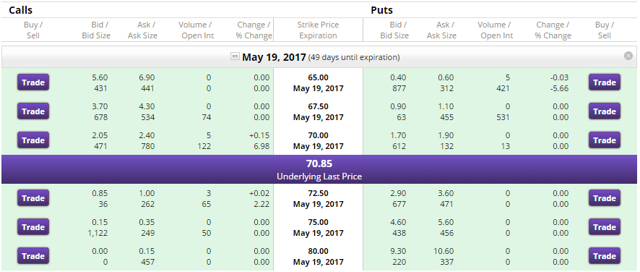 If you don't necessarily want to put up the cash to invest in Welltower now, you can instead generate income now by selling puts, and then you may get the opportunity to buy the shares at a later date at an even lower price. We believe this is an attractive opportunity because we like the income now, and we'd be happy to purchase the high-income shares at a lower price in the future. If you are a contrarian income-focused investor Welltower's stock and options (selling puts) are worth considering.
Conclusion
Healthcare-related companies continue to face uncertainly on both a sector-wide and company-specific basis. We believe this uncertainly has created some attractive high-income contrarian opportunities as highlighted in this article. And While we believe Gilead, Omega and Welltower offer interesting opportunities, we have highlighted three additional interesting high-income healthcare opportunities within our newly launched service, The Value and Income Forum. The objective of the service is to help investors identify exceptional high-income value opportunities, and to give them a forum to discuss them with other skilled investors.
And as a general rule, the best investment ideas are often contrarian in nature, they're held within an appropriately diversified portfolio (so as to reduce risk and keep returns high), and they meet the specific needs of each individual investor--in this case high income.
Disclosure: I am/we are long OHI.
I wrote this article myself, and it expresses my own opinions. I am not receiving compensation for it. I have no business relationship with any company whose stock is mentioned in this article.