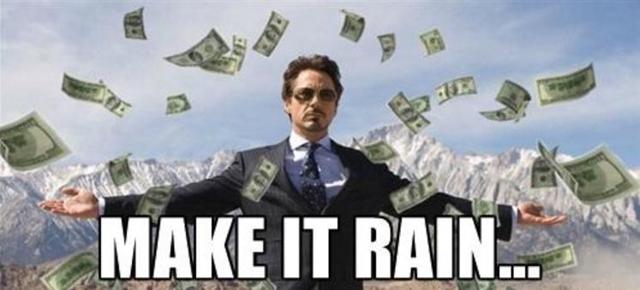 Microsoft's (NASDAQ:MSFT) shareholders had to endure nearly 13 years of terrible leadership when Bill Gates stepped down as CEO and was replaced with Steve Ballmer.
However, it appears that our time in the wilderness is at an end thanks to a return to strong growth for this blue-chip tech giant.
Let's take a closer look at the three main reasons why Microsoft is not just likely to return to growth in the years to come, but also likely to become one of the dominant tech companies in the world.
Most importantly, find out why this potentially means decades of excellent dividend growth that makes this a solid core holding for any income portfolio.
Microsoft Is Finally Starting To Turn The Corner
For years, Microsoft has struggled with weak top- and bottom-line growth; however, Nadella's "cloud and mobile" first strategy is finally starting to bear fruit.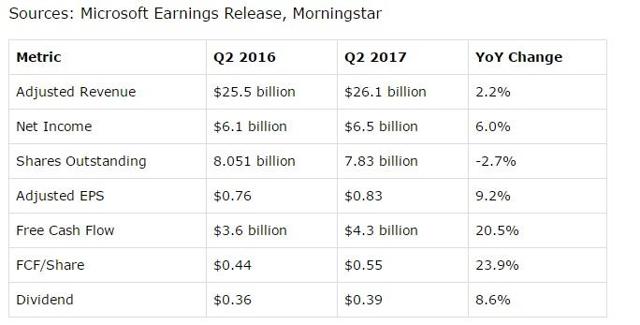 Specifically that's due to the company's focus on recurring revenue, including its Office 365 consumer and business suite of products, its Xbox Live subscription gaming service, and its largest growth engine, the Azure cloud computing platform.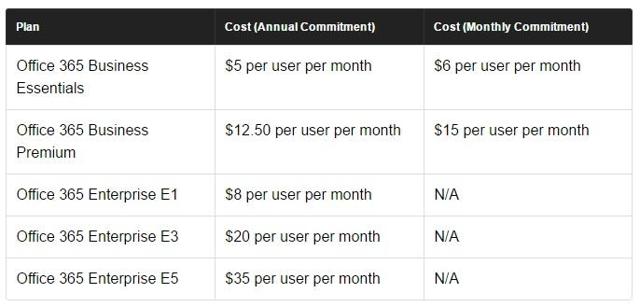 Sources: Microsoft, Motley Fool
And while last quarter's top-line growth was still basically flat, where it mattered most, FCF/share, the company delivered fantastic results.
That's largely due to a 95% constant currency growth in Azure revenue, and the 10th straight quarter of Azure premium sales growth of 100+%. In fact, Microsoft's cloud computing business is currently generating annual revenue of $14 billion, which management expects to surpass $20 billion by 2018.


Source: Microsoft Earnings Presentation
Meanwhile, thanks to a solid subscriber growth in Office 365 of 20% to 40%, Microsoft is well on its way to diversifying its business away from its legacy PC business, which faces a long-term secular decline as the world moves towards mobile computing.
Best of all? Because cloud-based software services is a highly scalable business, meaning that fixed costs are spread over a larger and larger subscriber base with marginal costs of zero. This means Microsoft can likely expect rising margins and returns on shareholder capital in the future.
That's fantastic news for a company that has struggled with falling profitability in recent years.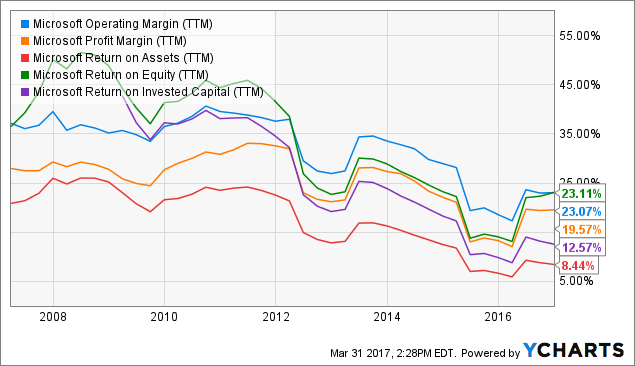 MSFT Operating Margin (TTM) data by YCharts
However, what should really get Microsoft investors excited is that the company is making all the right moves to become a dominant force in the technology that will dominate the future of the global economy.
Massive Growth Runway Created By Cloud Computing, AI, Data Analytics, And Security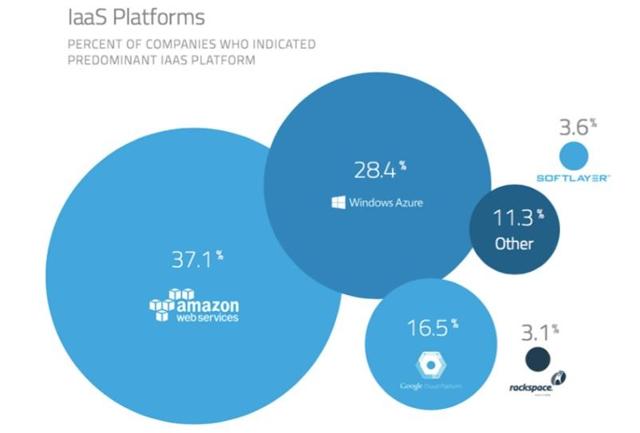 Source: Gartner Technology Research
As you can see, Microsoft currently has the second largest cloud computing platform in the world, within spitting distance of Amazon's (NASDAQ:AMZN) Web Services.
In order to not just maintain that market share, but also potentially grow it, as well as improve its operating margins to the 30% to 35% that analysts believe is possible in the next decade, the company is investing heavily into creating a highly sticky ecosystem.
That means its integrating all of its services across the business so that it can become a one-stop shop that can meet all of a corporation's cloud computing, enterprise, and productivity needs.
For example, Microsoft recently announced Skype Teams, its answer to Slack, which will be incorporated into its Office 365 subscription service. Given how much Slack is charging for its service, Microsoft's offering will only further increase the value of Office 365, which should drive further subscriber growth, improve retention rates, and lead to stronger free cash flow, or FCF, in the future.
In addition, Microsoft's controversial $26.2 billion acquisition of LinkedIn could become a massive cash cow, generating between $5 and $12 billion in annual FCF by 2025. That's because LinkedIn is the world's premium professional social media platform, and a favorite of HR departments around the world.
The company plans to allow LinkedIn to operate autonomously to retain the talent that created this fast growing industry leader, and also to incorporate its products into its own subscription suite of services.
That means that Microsoft is attempting to differentiate its services much like Amazon and Apple (NASDAQ:AAPL) have done with their own ecosystems. That is imperative if Microsoft hopes to maximize retention and grow its profitability over time.
What exactly is Microsoft doing to compete with such major rivals such as Amazon, and Alphabet (NASDAQ:GOOG) (NASDAQ:GOOGL)? Well, it's a three-pronged strategy.
First, Microsoft is investing heavily into artificial intelligence, or AI, as well as machine learning. That includes bolt-on acquisitions such as Canadian AI specialty firm Maluuba.
Next, the company recently announced it was planning to invest $1 billion per year into cybersecurity, which will become an increasingly important service to provide its customers; both commercial and business.
In fact, according to Brad Smith, Microsoft's chief legal officer, by 2020, hacking and cyber theft will be costing companies $3 trillion per year.
Part of this strategy involves the merger of AI and machine learning to create self-writing and auto-updating security code that can battle with the army of foreign bots (mainly from Russia), as well as foreign government sponsored hackers (such as those from North Korea and China).
Increased security and defense from hackers is also paramount to perhaps Microsoft's largest cloud-based growth potential, autonomous cars. You wouldn't think that Microsoft stands to benefit from the rise of driverless cars, but you'd be wrong.
That's because driverless cars have the potential to be one of the most disruptive mega-trends of the 21st century, vastly increasing car safety, and allowing an increasingly aging population to remain mobile and independent for longer.
In fact, analyst firm IHS estimates that by 2025 and 2035, the number of driverless cars will surge to 600,000 and 21 million, respectively.
And because each driverless car generates an estimated 10 GB of data per second, due to the need for almost two dozen sensors, and over 20 onboard computers, this means that driverless cars alone will soon be generating more data than the entire world creates from all other sources today.
In other words, the rise of driverless cars and other forms of the Internet of Things, or IOT, will create such a big data boom that demand for cloud computing and advanced AI-based data analysis will surge to almost unimaginable levels.
Dividend Growth Set To Drive Market-Beating Total Returns For Decades
Sources: GuruFocus, FastGraphs, Morningstar, FactSet Research, Multpl.com, Moneychimp.com
| | | | | |
| --- | --- | --- | --- | --- |
| Company | Yield | TTM FCF Payout Ratio | 10 Year Projected Dividend Growth | 10 Year Potential Annual Total Return |
| Microsoft | 2.4% | 41.7% | 10% to 13% | 12.4% to 15.4% |
| S&P 500 | 1.9% | 39.5% | 5.9% | 9.1% |
At the end of the day, the most important thing for any dividend growth investor to consider is the dividend profile of a company. That means not just looking at the current yield, but also considering the security of the dividend. That involves both a strong balance sheet and a sustainable payout ratio.
Microsoft has one of just two AAA credit ratings in America (the other being Johnson & Johnson (NYSE:JNJ)), which is stronger than the US Treasury's. In addition, it's currently paying out less than 50% of FCF as dividends, which means Microsoft's dividend is one of the safest in the country.
The final piece of the puzzle is long-term dividend growth prospects. Currently, analysts expect Microsoft's large and long growth runway to generate sales growth of 7% to 9% CAGR over the next decade.
Thanks to rising margins and steady share buybacks, EPS and FCF/share grew 9% to 12% CAGR. Combined with a gradual increase in payout ratio, that means Microsoft shareholders can likely expect 10% to 13% dividend growth over the next 10 years (in line with its historical track record), resulting in around 13.9% CAGR total returns.
That's far superior to the market's historical returns of 9.1% CAGR, and means that even at today's share prices, near all-time highs, Microsoft continues to make a great, long-term dividend growth investment.
Valuation: Record-High Share Price Is No Reason To Avoid The Stock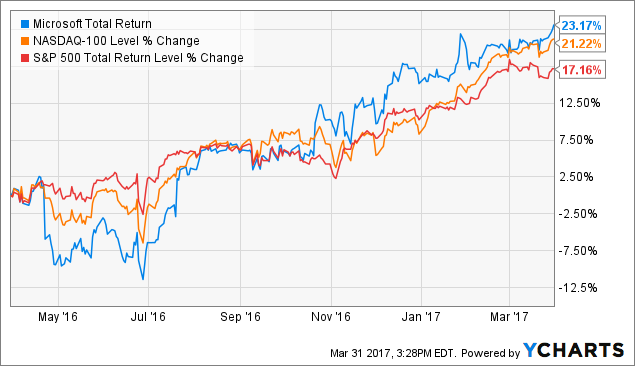 MSFT Total Return Price data by YCharts
Microsoft's shares have a great year and are now trading at all-time highs. So naturally many investors are worried about overvaluation. And while the market is certainly overdue for a correction, the fact is that shares are not necessarily overvalued today.
Source: GuruFocus
| | | | | |
| --- | --- | --- | --- | --- |
| Company | PE Ratio | 13 Year Median PE | Yield | 13 Year Median Yield |
| Microsoft | 31.0 | 15.9 | 2.4% | 2.3% |
| Industry Median | 24.8 | NA | 1.6% | NA |
And indeed when you just look at trailing PE, Microsoft does appear overvalued both compared to its rivals, as well as its historical norm.
However, the yield is trading at its historical median value, which means that as long as you have a long time frame (five-plus years), you shouldn't necessarily fear buying shares at today's levels.
Sources: Earnings Release, Morningstar, FastGraphs, GuruFocus
| | | | | |
| --- | --- | --- | --- | --- |
| TTM FCF/Share | 10 Year Growth Projection | Fair Value Estimate | Growth Baked Into Current Share Price | Margin Of Safety |
| $3.49 | 9% | $65.92 | 9.0% | 0% |
| | 10.5% | $74.42 | | 12% |
| | 12% | $82.29 | | 20% |
That's because, based on a long-term (20-year), two-staged discounted cash flow or DCF analysis, Microsoft is, at a worst case scenario, trading at exactly its fair value. However, depending on how well it manages to execute on its growth plans, it might be undervalued by as much as 12% to 20%.
Generally, I recommend investors pay no more than fair value in order to open an initial position. In order to justify adding to a position, I like to see a margin of safety of 15% or more.
So depending on how much confidence in Satya Nadella's vision for the future you have, Microsoft may actually be a great buy even at today's share price.
Risks To Consider
There are three major risks that could sink my bullish Microsoft thesis.
First is that it depends on ongoing strong execution on part of the management. Specifically that means returning the company to strong top-line growth in 2017, including making good on its guidance of 14.6% year-over-year growth in the next quarter.
What could threaten that? Well, that's the second risk; mainly the ferocious amount of competition that Microsoft faces from very large and well-capitalized competitors such as: Amazon, Facebook (NASDAQ:FB), Alphabet, Oracle (NYSE:ORCL), IBM (NYSE:IBM), and Cisco Systems (NASDAQ:CSCO). All of these companies are also racing to offer their own cloud, AI, and security based solutions to the world's coming big data needs. That could potentially trigger a price war that results in much lower than anticipated margins.
Finally, there are major risks that come with the M&A nature of the tech industry. For example, while I remain confident that the LinkedIn acquisition will work out great in the long term, at the same time, Microsoft's terrible history of wealth-destroying M&A, as well as $34.5 billion in goodwill on its balance sheet, means the company may end up taking large write-downs on its previous acquisitions.
And speaking of which, we can't forget that Microsoft, like all tech companies, pays its employees in stock options, which is the cost of doing business in this industry.
However, as it acquires smaller and faster growing companies, that means that the rate of stock-based compensation may accelerate and result in more and more buyback funds going to merely offsetting shareholder dilution.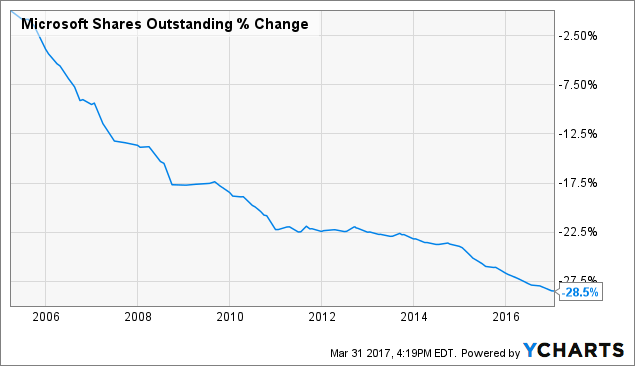 MSFT Shares Outstanding data by YCharts
Microsoft's ability to steadily decrease its share count by 1% to 2% CAGR is a vital component to help accelerate its FCF/share growth, keep its dividend growth strong, and achieve large market-beating potential returns.
Bottom Line: Microsoft's Future Under Nadella Looks Bright, And Dividend Growth Investors Have A Lot To Look Forward To
Don't get me wrong, I'm not saying that Microsoft shares may not fall over the next year or two. After all, after eight strong years of a bull run, the stock market has some of the highest valuations it's ever seen.
However, based on the company's strong growth oriented vision, incredibly long growth runway, world-class balance sheet, and the visionary leadership of Satya Nadella, I'm confident that long-term dividend growth investors in Microsoft will come out huge winners even buying at today's record high share prices.
Disclosure: I am/we are long MSFT, IBM, CSCO.
I wrote this article myself, and it expresses my own opinions. I am not receiving compensation for it (other than from Seeking Alpha). I have no business relationship with any company whose stock is mentioned in this article.