The Federal Reserve has the job of regulating the business cycle both to promote growth and control inflation by acting in an anti-cyclical fashion, tightening when the economy is running hot and easing when growth slows. Stock prices are intertwined in this process, rising as the economy grows and then falling as Fed Policy bites and rising interest rates slow the economy.
Stock prices lead the process as the market anticipates the change in conditions. Stock prices often start their rise from the depths of a recession and turn down well before the economy softens. We can see this relationship by plotting the change in the S&P 500 vs. the change in the Effective Fed Funds rates. In this case I have time shifted the change in the Fed Funds level forward by 8 months as this is about how anticipatory the stock market is and is borne out by having the highest correlation between the time series at 18%.
In this chart, we can see the S&P and Fed Funds rise as the economy strengthens until at some point the Fed Funds bites and stocks and the economy turn down, and the Fed reverses the process and begins to ease. The main time periods when the relationship broke down is in the early 80s as Volker moved to targeting money supply to break inflation and in the late 90s as the tech and productivity revolution allowed Greenspan to hold rates steady much longer than anticipated and led to the Nasdaq Tech bubble.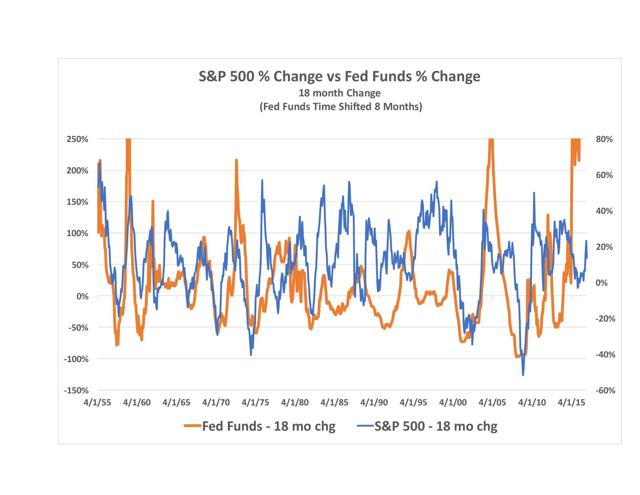 Source: Federal Reserve, Google Finance
As we see now there is a corresponding spike in the Fed Funds level, although since it is coming off a base of near zero, the question is does this move have significance or is it simply because of the base effects? While the natural tendency is to disregard the data since it is a small move going from a level of .12% in November of 2015 to the current level of .91% as of March 31st.
However, I believe this is a significant mistake. While the magnitude of changes is not as large as prior tightening cycles, we have never had as leveraged of an economy, or assets as aggressively priced as we currently do across all asset classes, leaving the margin of error extremely tight.
This also disregards the biggest risk factor I see in the world economy, a massively over leveraged China (to be touched on in future articles), which was the recipient and user of much of the credit created during the global quantitative easing programs. As over leveraged as China is, Fed tightening has a significant risk of creating a currency crisis like the 1997 Asian Emerging Markets Crisis, later this year.
Currently the impacts of Fed tightening are beginning to bite. 30 yr Fixed Mortgage rates are up by 80 bps (and it only took a rise of 125 bps to trigger the 2007 mortgage crisis - off a much higher rate structure).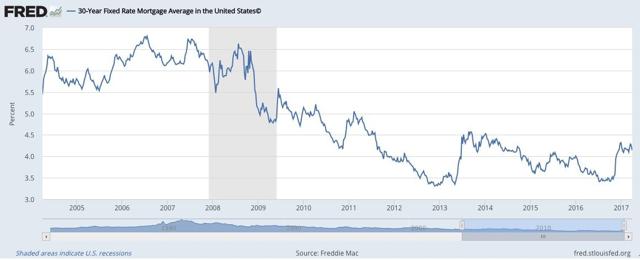 Other asset classes remain aggressively priced, with 10 year Treasuries still yielding a -25 bps real yield (even after rising 100 bps over the last 8 months). S&P PEs are near bubble highs at nearly 26 times trailing 12 month earnings. Real Estate Cap Rates are at multi-decade lows.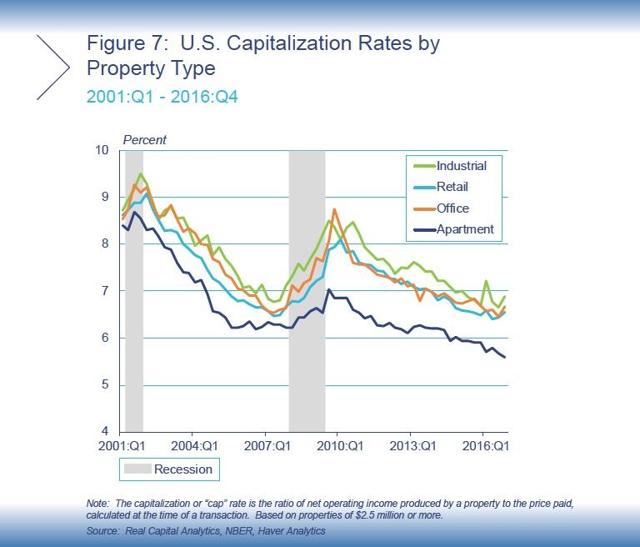 Source: Boston Federal Reserve
In addition, Money Supply Growth has turned negative, bank lending has been slowing and high yield spreads are beginning to widen. All signs that the impacts of the Fed tightening program is beginning to bite.
And the Fed tightening is just beginning to gain momentum, as recent speeches have indicated, the Fed is tightening at least 2 more times this year and possibly 3. Currently, according to the CME FedWatch Tool, the Fed Fund and Euro Dollar futures markets have a nearly 60% chance of a June 2017 tightening move, which should move to 100% over the next month barring some type of political or geopolitical shock.
Source: CME
In addition, a smaller amount of Fed tightening can have outsized impacts if coupled with additional fiscal or economic shocks. One of the most likely shocks is a major disruption of global trade given Trump's policy platform and the aggressive stance he has taken towards our largest trading partners of China, Germany and Mexico.
And as I mentioned in a prior article Stocks are Vulnerable As Corporate Tax Rate Cut Is Currently DOA, the likelihood of getting Corporate Tax Relief is less than the market has priced in.
Given all these reasons, I believe it is time to start lightening up or hedging equity positions including S&P 500 (NYSEARCA:SPY), Nasdaq 100 (NASDAQ:QQQ) and entering into short positions on a significant rally of 5% or more including UltraShort S&P 500 (NYSEARCA:SDS) and UltraShort Nasdaq (NYSEARCA:QID-OLD).
Disclosure: I/we have no positions in any stocks mentioned, and no plans to initiate any positions within the next 72 hours.
I wrote this article myself, and it expresses my own opinions. I am not receiving compensation for it (other than from Seeking Alpha). I have no business relationship with any company whose stock is mentioned in this article.