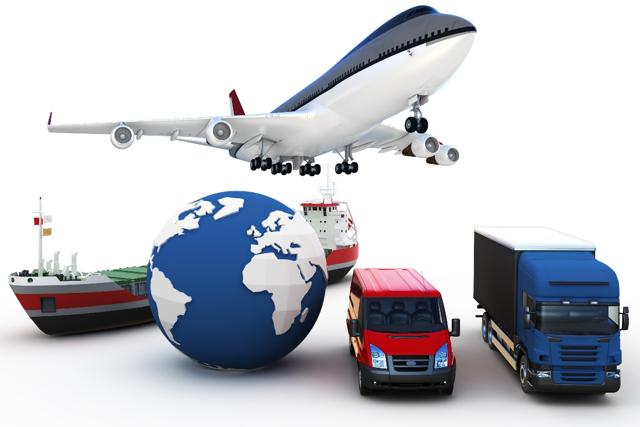 Source: Google Images
As we closed the week on March 31st, markets have continued to show a strong deviation from transports. Indices did show improving signs this past week.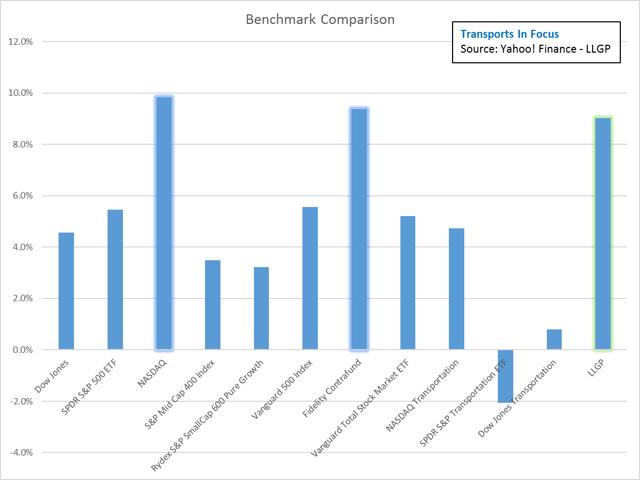 I manage the Lean Long-Term Growth Portfolio (LLGP). To date, performance has improved to nine percent, as highlighted in green. As transport indices remain weaker, the Nasdaq (IXIC) and Fidelity Contrafund (MUTF:FCNTX) remain atop all peers, up nearly 10 and 9.4 percent.
The Dow Jones (DJT), the SPDR S&P 500 Trust ETF (NYSEARCA:SPY), Vanguard 500 Index (MUTF:VFINX) and Vanguard Total Stock Market Index Fund (NYSEARCA:VTI) were all up above or close to five percent.
The key theme, which has been consistent over the past few years, is the greater volatility of transports versus broader indices. This was true last year, as transports were one of the top-performing sectors, and now this year, as this group has underperformed of late.
YTD 2017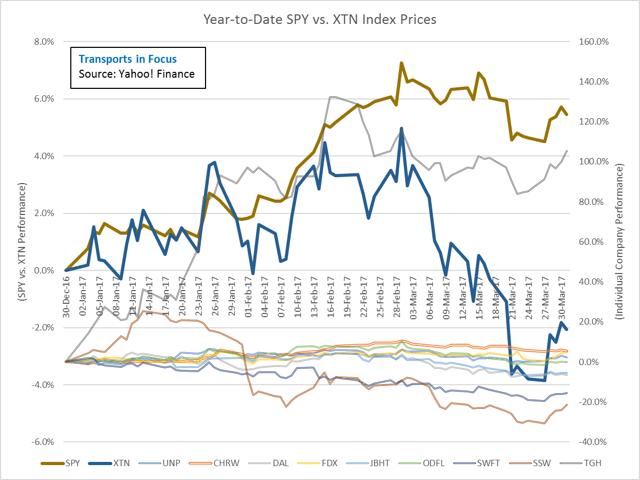 For the twelfth week of 2017, the spread between the SPY and the SPDR S&P Transportation ETF (NYSEARCA:XTN) declined, with the SPY up by 7.6 percentage points. The SPY improved by 90 basis points (bps) to 5.5 percent, while the S&P Transportation ETF improved by 170 bps to -2.1 percent for 2017.
Week twelve was a good one for markets, as they got back on track. Since March 20th, the transports index has mirrored the SPY, and performance has just been more volatile. This trend will likely continue through the balance of the year. If economic growth accelerates from last year, performance should end up positive.
Rail Operators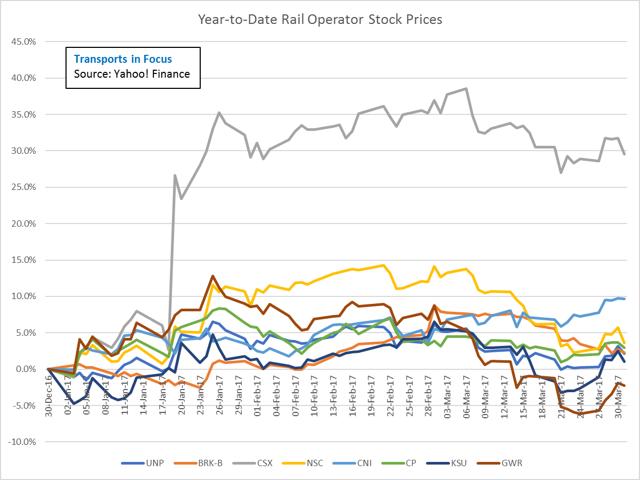 All rail operators were positive across the board this past week. Canadian National Railway (NYSE:CNI) has asserted itself now as the second-best performing stock, second only to CSX Corp. (NYSE:CSX). Genesee & Wyoming (NYSE:GWR) is the only peer that remains in the red. Investors should continue to track the Mexican Federal Competition Commission's (COFECE) review and final report over the next couple of months. There are strong accusations regarding excessive pricing power for Mexico's dominant Class I railroads, including Kansas City Southern (NYSE:KSU). Implications, if held in the final report, could have material effects.
Week twelve of 2017 saw robust improvement for some Class Is based on total traffic carried. All Class I railroads are now positive for the year, led by Canadian National's nine percent improvement. The return to growth thesis for 2017 remains well intact. My top picks continue to be Canadian National, Union Pacific Corp. (NYSE:UNP), Kansas City Southern and Canadian Pacific Railway (NYSE:CP).
Railcar Manufacturers and Lessors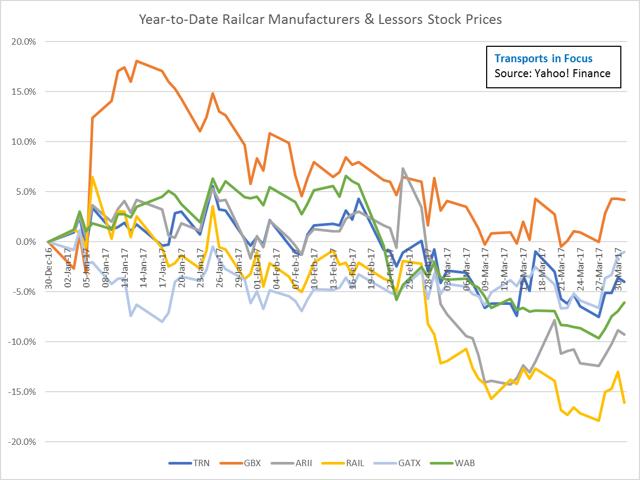 Railcar manufacturers and lessors were all up this past week. Despite the improved performance for the week, all peers remain negative for the year, with the sole exception being The Greenbrier Companies (NYSE:GBX). At current levels, I am not focusing to add any positions from this group, but if rail operators continue to witness strong demand, this stance could change.
I continue to exercise patience regarding the consideration of gaining exposure to this group. Estimates over the next couple of years are anticipating a challenging environment for railcar demand. I continue to view Greenbrier as the best-in-class rail manufacturer to own at the right price.
Truckload Carriers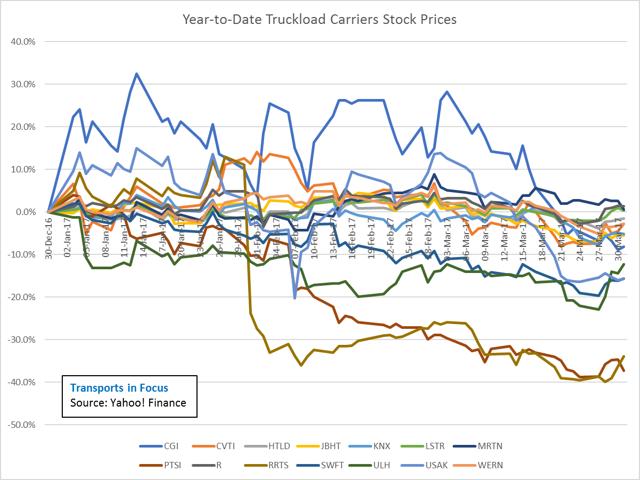 Truckload carriers were all up for the week, with the sole exception being Celadon Group (NYSE:CGI). Trucking peers have remained weak for the year, with the majority displaying negative performance. The best performers are only marginally up: Marten Transport (NASDAQ:MRTN), Ryder System (NYSE:R) and Landstar System (NASDAQ:LSTR).
Many peers in the trucking industry remain overvalued from the Trump rally. Expectations are for improved demand as the year progresses. Schneider National (NYSE:SNDR) will be considered once it hits the market; hopefully, Motif will offer an IPO price opportunity. Investors should continue to look for opportunities for strong players, as volatility may ensue.
Less-Than-Truckload Carriers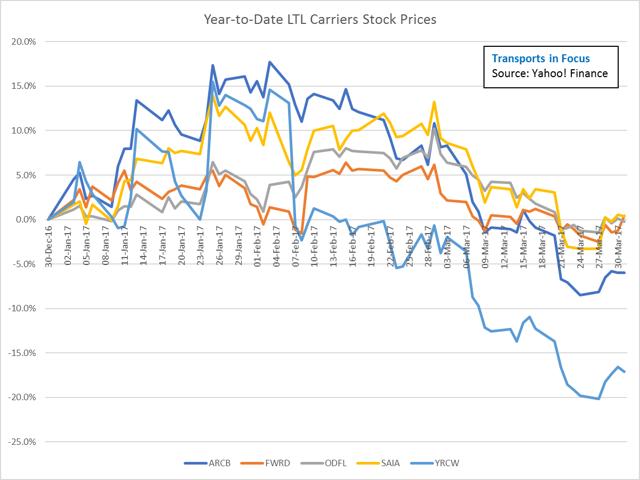 Like truckload peers, less-than-truckload (LTL) carriers were all up for the week. Unionized peers have weakened, as the trucking industry has been a weaker performer thus far. If pricing can remain stable, as it appears to be capable of, increasing demand should lead to a strong rise in stock prices for this group. We've been waiting for it for a while now, and it may not occur seamlessly on a quarterly basis.
I am looking for Old Dominion Freight Line (NASDAQ:ODFL) to lead this peer group in stock performance by year end. Both YRC Worldwide (NASDAQ:YRCW) and ArcBest Corporation (NASDAQ:ARCB) will never be able to generate equivalent margins as their non-union peers. Saia, Inc. (NASDAQ:SAIA) remains on the watch list as the company looks to build out its northeast territory capacity.
Air Freight, Package and Delivery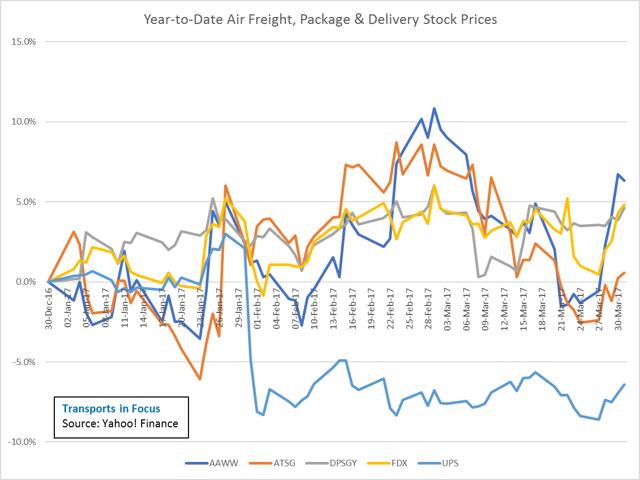 Air freight, package and delivery companies were all up for the week. Both Atlas Air Worldwide (NASDAQ:AAWW) and FedEx Corporation (NYSE:FDX) surpassed Deutsche Post DHL Group (OTCPK:DPSGY) for the year. Atlas Air has now substantially outperformed Air Transport Services Group (NASDAQ:ATSG), which has been my expectation due to the comparable growth projects over the near term and overvaluation of Air Transport.
My pick for 2017 remains FedEx. I would rather own a diversified business like FedEx than have exposure to air cargo lessors. Based on the current stock prices for DHL Group and United Parcel Service (NYSE:UPS), FedEx is poised to outperform during 2017.
Contract Logistics, Forwarding and Brokerage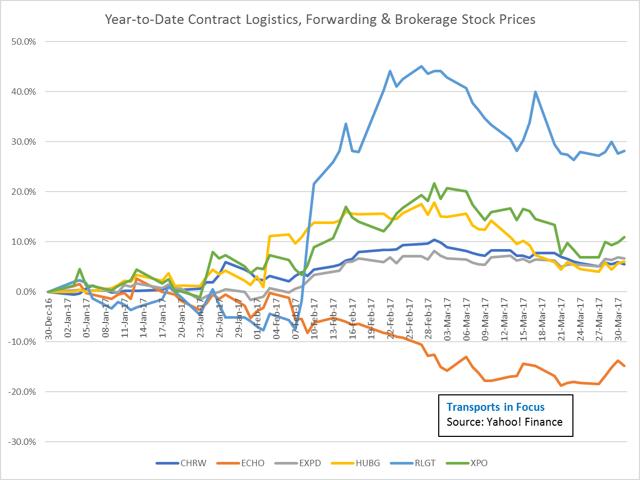 Contract logistics companies were up for the week, with the only exception being C.H. Robinson Worldwide (NASDAQ:CHRW). Echo Global Logistics (NASDAQ:ECHO) continues to lag its peers, while Radiant Logistics (NYSEMKT:RLGT) has led the way. I continue to like both XPO Logistics (NYSEMKT:XPO) and Hub Group (NASDAQ:HUBG). The latter, I feel, will inevitably become an acquisition target.
My key focus for XPO and Hub Group continues to be on long-term growth for intermodal services. Both companies have invested in new domestic container equipment, gaining greater asset-based exposure.
Container Shipping Lines, Charter Owners and Container Lessors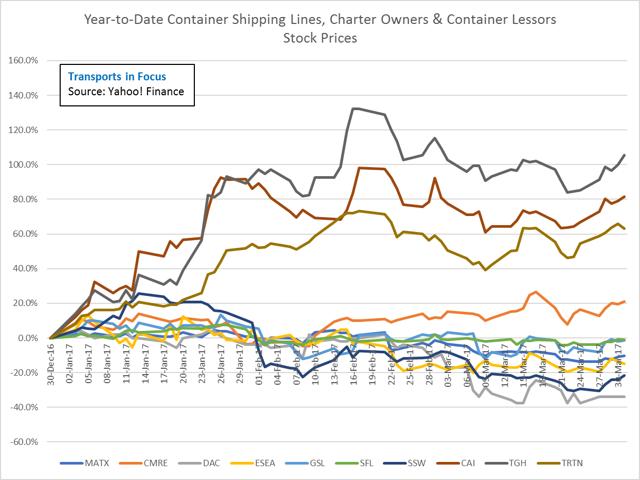 The container shipping industry remains highly volatile; all companies witnessed improvement this past week. Latest news regarding an increase in demand for container equipment has reignited container lessor stocks. Spot market freight rate activity also displayed an uptick towards the end of March.
Investors should expect to see a swirl of news now that the new vessel sharing alliances will be in effect. Thoughts have included topics such as a new price war in the Trans-Pacific trade lane, to improved transit times and higher rates, to impacts on port calls. Uncertainty has placed stock prices down to date, with exceptions being container lessors and Costamare (NYSE:CMRE).
Airlines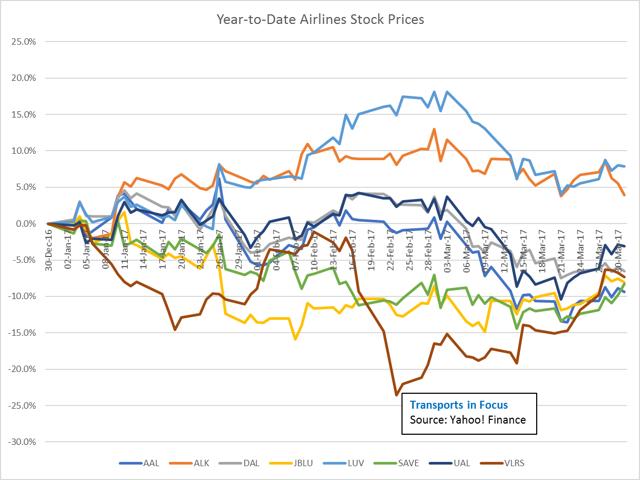 Airline stocks were mostly up for the week, with exceptions being Alaska Air Group (NYSE:ALK) and Delta Air Lines (NYSE:DAL). I will be building technical analysis trends for this peer group, as I now have exposure via Alaska Air Group. Databases and overall analysis will gradually be integrated.
I continue to take a measured approach at the potential for oil prices to increase. Timing of fare hikes, unionized labor and protests at airports remain other challenges.
Demand Trends
Key demand-based indicators that are monitored include Class I rail traffic, trucking industry tonnage, shipments and loads, air cargo tonnage, container shipping line twenty-foot equivalent units, TEUs, North America seaport TEUs, shipping lane port calls, North America cross-border trade and freight rates for most of these indicators.
U.S. and Canada Class I Rail Traffic - Carloads and Intermodal Units Carried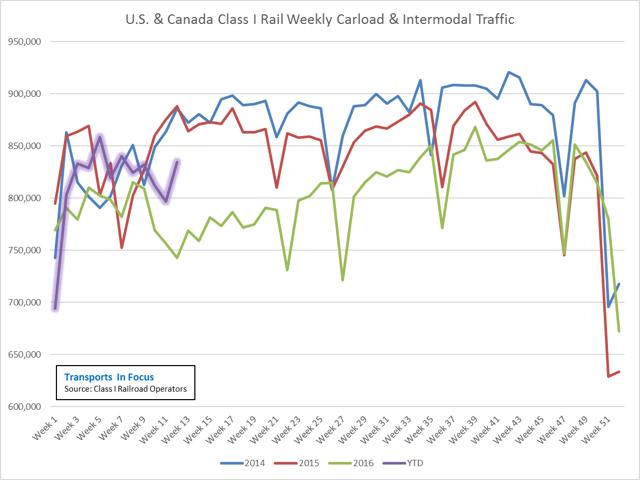 Through the twelfth week of 2017, total traffic was up 3.7 percent, with carload traffic up 5.3 percent, a 50 bps improvement; and intermodal traffic up 1.9 percent, a 90 bps improvement. Week twelve performance displayed very strong improvement versus last year.
These numbers continue to be not far off from the total traffic originated results of 4.1 percent for the first twelve weeks of 2017 for North America rail traffic, published by the Association of American Railroads (AAR) data. Investors should remember that total traffic carried includes both originated and received carloads and intermodal units. Additionally, U.S. traffic was up 3.2 percent and Canadian traffic was up 8.6 percent, closely tracking the carried rail traffic when combined.
Container traffic was up two percent, a 90 bps increase. Domestic intermodal pricing for both eastbound and westbound averages has remained flat week to week during March. Compared to last year, pricing has remained up five and 10 percent as of late March.
Week twelve witnessed weekly coal carload traffic at 103,000 carloads carried. This reflected a 19 percent increase versus last year. Coal is expected to be much stronger than in 2016. Grain performance was up 14.7 percent versus last year.
Motor vehicles and equipment carload traffic performance was up five percent versus last year. Chemicals were up 2.2 percent, petroleum products were up 6.1 percent (the first positive week of the year!) and crushed stone, gravel and sand remained on a roll, up 38 percent.
Trucking Industry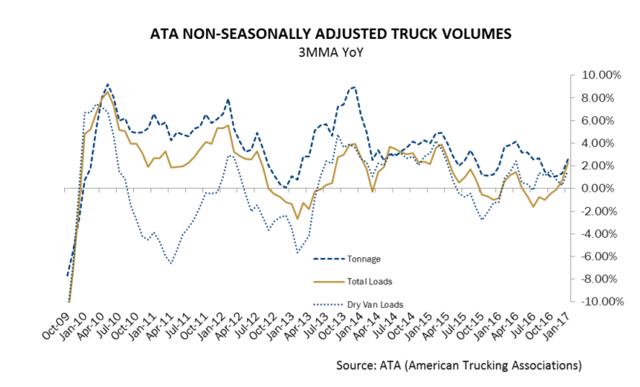 Source: Cass Information Systems, Cass Freight Index
Truck volume indicators have been on a positive trend since last fall. The ATA truck tonnage index for February declined by 2.8 percent versus last year. For the year, tonnage was down 0.1 percent. Additionally, driver turnover has declined by 10 percentage points to an annualized rate of 71 percent. This performance is indicative of trucking company statements regarding softer freight activity in the first quarter.
Dry van truckload pricing has remained down for the year, as demand has been tepid. The April through May period will be an opportunity for improved performance from the lows set last year.
On the positive side, monthly U.S. trailer orders have been on the rise during 2017. Orders in February were up 24 percent from last year. The commentary has still been that fleets have been cautious, but orders have remained solid. This has been consistent with Class 8 truck orders as well.
Air Cargo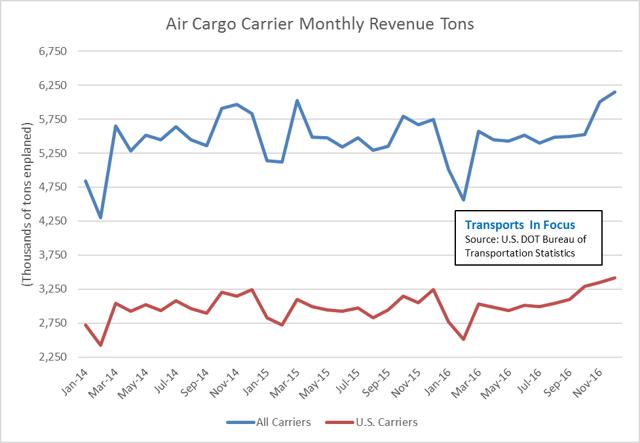 With multi-modal freight performance, investors will be looking towards the first quarter for a better read on air cargo. We know that demand has been strong through the first couple of months of the year, but other modes, including trucking and container traffic, have displayed mixed performance.
E-commerce growth is expected to continue to add to increased demand for air cargo. But recent performance has been attributed to high value and time-sensitive goods.
Container Shipping Lines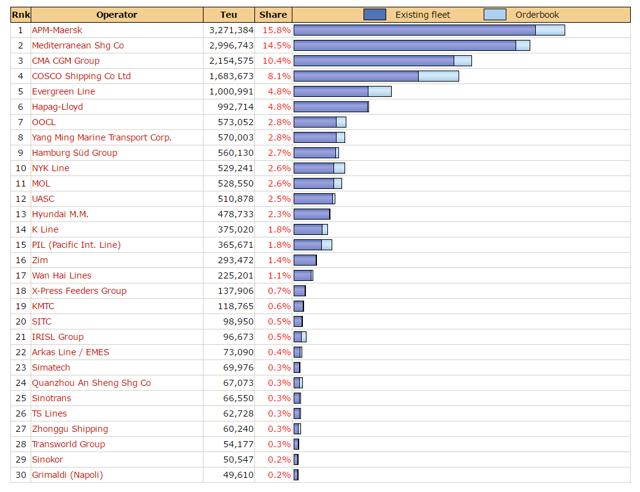 Source: Alphaliner - Top 100 Operated Fleets as Per April 2, 2017
April 1st is here, but now we must exercise some patience to see how things play out for the new vessel sharing alliances. Potential impacts range from spot market container pricing to impacts on ports of call and landside infrastructure, to container lease pricing, to existing supply issues.
Average spot market container pricing has continued its decline as of late March. YOY performance has remained up substantially. Rates were up from 60 to 90 percent versus last year for eastbound traffic in the Trans-Pacific lane, up around 230 percent for eastbound-westbound traffic in the Asia-Europe lane, and remained moderately negative for the Trans-Atlantic lane.
The last month of March did witness an uptick in spot market activity for the Trans-Pacific trade lane, but the eastbound service to the East Coast maintained its marginal decline.
North America Seaports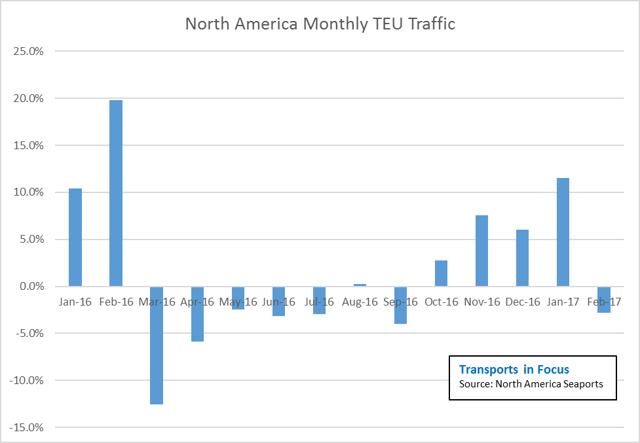 North America seaport TEU traffic for February was down nearly three percent versus last year. Last year's comparable was extremely high, so this is no cause for concern. The West Coast seaports did witness the substantial majority of the declines, whereas both East and Gulf Coasts remained up strongly. But West Coast seaports also witnessed much stronger gains last year.
March will offer the potential for robust performance, as last year's results were the lowest level of the year. Class I rail volumes also have displayed continued improvement for container traffic, suggesting that the recent positive performance of late can be sustained.
North America Cross-Border Trade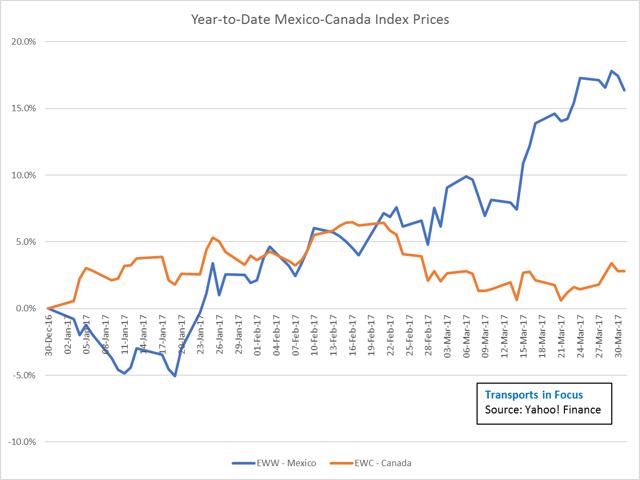 Source: Yahoo Finance
The iShares MSCI Mexico Capped ETF (NYSEARCA:EWW) declined marginally, bur remained up strongly versus the iShares MSCI Canada ETF (NYSEARCA:EWC). The Mexico index is now up 16.4 percent for the year, versus the 2.8 percent result for the Canadian index.
Mexico's economy continues to face a multitude of challenges stemming from lower energy costs and reform, trade policy issues with the U.S., and now, scrutiny regarding the country's Class I railroad operators pricing power. Despite this, the country continues to have strong investment potential. Canada's economy has been stable, similar to the U.S. of late.
Summary
Last week's performance has gotten back on track. The week before did offer some solid buying opportunities. Everyone will be looking to the first quarter's gross domestic product (GDP) performance as a read on the strength of the economy. Even if it comes in around one percent, this will be much stronger than that last year.
I expect transports to continue to trade with more volatility than broader indices. If the economic market expansion thesis remains intact, investors can expect to see solid returns by year end. We should remain mindful that quarterly growth expectations are expected to increase throughout the year.
Disclosure: I am/we are long ALK, CNI, FDX, HUBG, KSU, ODFL, XPO.
I wrote this article myself, and it expresses my own opinions. I am not receiving compensation for it (other than from Seeking Alpha). I have no business relationship with any company whose stock is mentioned in this article.
Editor's Note: This article discusses one or more securities that do not trade on a major U.S. exchange. Please be aware of the risks associated with these stocks.