By Parke Shall
If our predictions about the retail sector are correct, we are eventually going to see some activism, some mergers and acquisitions or some valuation expansion in the sector. Today, we wanted to write briefly about why retail may be the best hidden investment in the market today.
We all know the old adage that you should invest when others are fearful or when there is blood in the streets. In the case of retail, blood has been shed all over the streets and sentiment has never been worse for the sector. The overall sentiment for the sector is that online retailers are going to cripple brick and mortar retailers, sending many names to bankruptcy. This has caused robustly cash flow generative companies to trade with extremely small multiples and has, we believe, opened the door for opportunity in the retail sector.
Some of you may have noticed that Amazon (NASDAQ:AMZN) is starting to open up brick and mortar stores. Why could this be? It certainly seems to play into our thesis that the "death of retail" is actually going to be a landscape shift that pushes some business online but also allows for some retail names to stay in business. You can read two of our past articles in this series here:
As we have said in the past, names like TJ Maxx (NYSE:TJX) and Ross (NASDAQ:ROST) will remain in-store options because of the dynamic nature of their inventory. We also believe that there is going to be limited demand for all other types of brick-and-mortar retail shops. While simple companies may reduce store counts in order to simplify things and not overspend, we think that the right mix of things is going to be a recipe between brick-and-mortar stores and online.
While large corporations are reducing their store counts, we don't think that they will be moving their store count numbers to zero. We believe there is likely a happy medium where the most cash generative locations can stay open and additional resources can be diverted to online shopping. So it is the crux of our thesis that retail will eventually hit a bottom and stabilize. If we are not at that point now, we are certainly moving toward it quickly. Although companies have not made these adjustments, the stock market is already thinking years ahead and is pricing many brick-and-mortar retailers as though they are not going to be around for the next 5 to 10 years.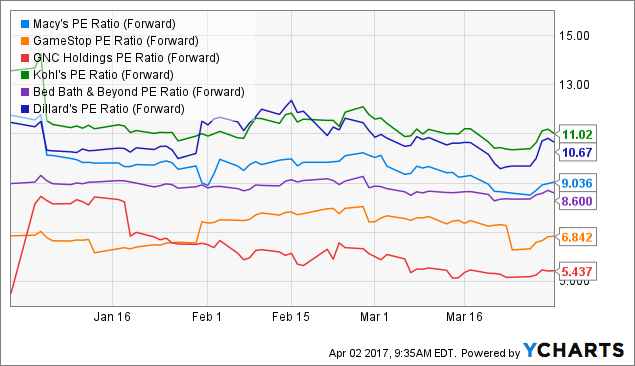 M PE Ratio (Forward) data by YCharts
This creates what we believe to be an opportunity for investors who may look upon these valuations as opportunities. The closer that companies like Kohl's (NYSE:KSS) and Macy's (NYSE:M) get to finding the secret recipe between how many stores they need open, the closer the companies can get to stabilizing the cash flow stream and the more investors will be able to see that the companies are not doomed for the long run as many people think.
Today, we wanted to offer up a look into what we think will happen next to the sector and why we think the sector as a whole is probably a good buy here. Rather than going out and buying the SPDR S&P Retail (NYSEARCA:XRT), which is certainly a way to invest in all of retail, we want to focus specifically on traditional department stores in traditional brick-and-mortar stores that are cash flow positive. These are names like GameStop (NYSE:GME), Kohl's, Nordstrom (NYSE:JWN), Macy's, and GNC (NYSE:GNC). All of these names generate free cash and all are working to make strategic moves in order to stabilize their businesses.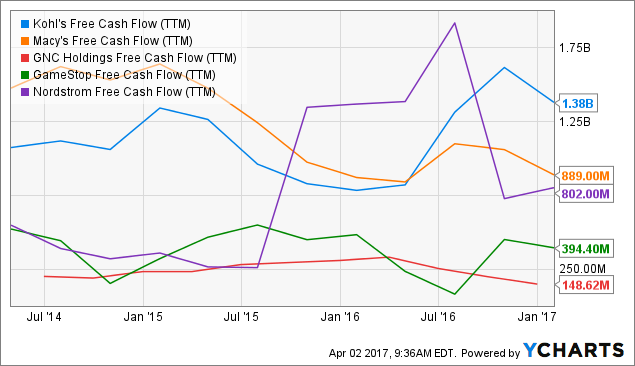 KSS Free Cash Flow (NYSE:TTM) data by YCharts
What we think is going to start to happen in the sector is either M&A or activism. Although we have said it many times in the past, we believe the companies like Macy's remain perfect targets for activists. Despite Starboard Value just exiting their position in the company, it doesn't mean that Macy's is not a great opportunity for another investor. The company owns billions of dollars in real estate, is still free cash flow generative and is in the midst of a strategic turnaround and in order to narrow down its store locations. Macy's is ripe for additional activism or a potential take over. We are not sure which of these stores is going to go first and whether they will go to competitors or to private equity, but we believe that once we start seeing some acquisition action in the sector that a rising tide will lift all boats.
Target (NYSE:TGT) is another example of a company whose valuation is simply getting too compressed. Once a favorite in the sector and now shunned by the market, CNBC spent time on Friday arguing whether or not Target's valuation should move even lower, to 10x the estimates for next year.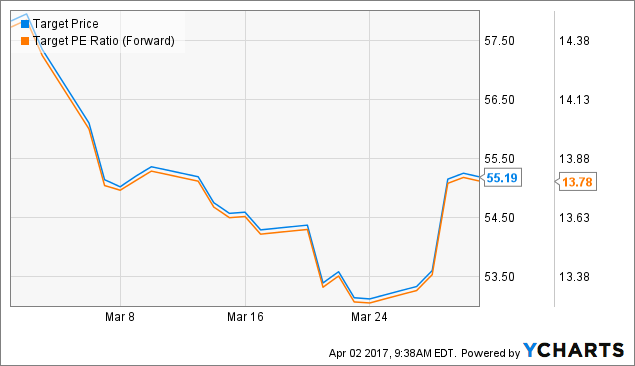 Target is a company that has been around since the 1970s and one that we still believe is in its prime in terms of branding and mass appeal to the millennial generation. We own a little Target because it pays a great dividend and because we believe in the brand, but we will look to add more in size if the stock, for some reason, winds up getting into the low $50 range or even the high $40 range.
We also scooped up some L Brands (NYSE:LB) on Friday to start a position. Same thesis: dividend, low PE, free cash and dwindling sentiment.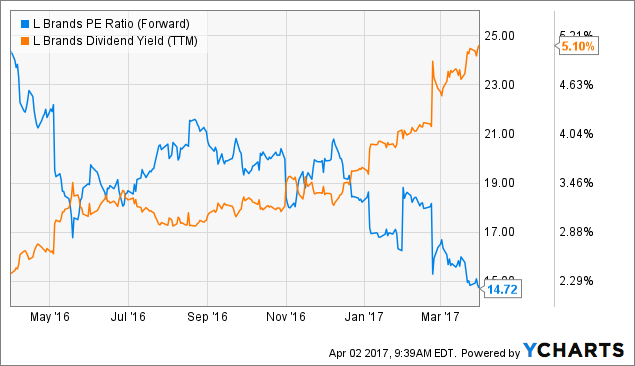 LB PE Ratio (Forward) data by YCharts
Not unlike pharmaceutical companies right now, the valuations in retail are simply far too depressed to be ignored. If you are of the school of thought that retail will survive, like we are, things have to be reaching an inflection point where they become too cheap to ignore. Certainly, for us, retail has been on our watch list for the last year.
We are selectively picking and choosing our spots in the sector. We are looking for companies with manageable debt loads and consistent cash flow streams that we believe have mastered or are in the process of mastering the online/in-store balance. Amazon is opening up bookstores right now because it is starting to create a balance between online and in store. Granted, these in-store locations will probably represent 1/1000 of a percent of the company's business, but it is the point that they are even opening retail stores to begin with that is worth noting. We expect Amazon to continue to strategically place brick-and-mortar locations worldwide, just as we suspect traditional brick-and-mortar retailers to continue to lower their store counts.
One thing is for sure, however, and that is we believe retail as a sector is not going anywhere anytime soon. Consumer credit continues to stay robust, interest rates continued to stay low and we believe that retail is going to be just fine going forward. We think that in a year or two, we will look back at this time and realize that valuations in retail had bottomed, just before what we believe to be a coming spurt of activism and mergers and acquisitions in the space.
Disclosure: I am/we are long M, TGT, BBBY, LB.
I wrote this article myself, and it expresses my own opinions. I am not receiving compensation for it (other than from Seeking Alpha). I have no business relationship with any company whose stock is mentioned in this article.