The Drinking Man's Drink
No living creature on earth survives without water. So why do we rush to invest in driverless car technology companies, entertainment industry stocks, and candy companies, when publicly traded share of companies ensuring the basic ingredient for survival of life on the planet are given relatively short shrift? The global water industry is projected to top $1T by 2020 affecting water utilities, bottled water, agriculture, water conservation and safety.
My last article on water company investments for Seeking Alpha garnered so much attention and insightful comments from talk backers; I decided to further investigate investment opportunities in the water industry. One Seeking Alpha subscriber referred me to a fabulously informative site I recommend for building background understanding of the international water crisis before investing.
I previously recommended and stick by my recommendation of buying water utility company, SJW (NYSE: SJW) that also holds property investments; prices are increasing in that sector too. However, one reader takes exception preferring to buy and hold for the long term, American Water Works (NYSE: AWK).
AWK investors benefited from a slow and steady share price increase from $45 in 2014 to nearly double it in 2017. AWK shares meander between $68 and $85 per share this year, and with its current dip maybe a good time to buy in. It offers a respectable near two percent dividend yield at the current $77 per share. AWK is up about three percent in the past five weeks, since releasing its earnings report:
· Earnings per share are 57 cents beating estimates
· Earnings up 3.6 % Y/Y and 7.6% higher than 2015 earnings
· Revenues for fiscal 2016 were up 2.4% Y/Y topping $3.3B and income rose
· AWK was holding $30M more in cash and equivalents in 2016 over 2015, but is budgeting about $7B through 2021 for necessary capital investment.
Going forward, I am certain AWK and other water utilities beset by aging infrastructure will benefit from Federal spending on expected infrastructure improvements. AWK recently announced plans for spending millions of dollars to replace old water mains serving New Jersey customers that will affect profits. Zacks Equity Research observed, "The overall water infrastructure in U.S. is quite old and almost near the end of its life. Some of the water mains are nearly a century old and require immediate replacement. In addition, the increase in customers calls for addition of new water mains. Hence, all big operators in this fragmented water utility space are investing on a regular basis to upgrade and improve the quality of their existing infrastructure." Now, they face opposition to raising prices from economically stressed municipalities and users.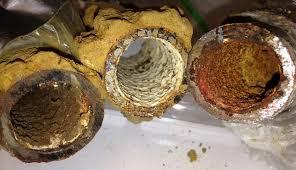 Flint, Mi. WaterStudy. org/tag
A company I recommend buying is Calgon Carbon Corp (NYSE: CCC). It is down from its 52-weeks high of $18.80 selling at $14.60 per share. CCC has a $741M market cap, and pays a dividend with a 1.37% yield. Through 2015 and 2016, more insiders bought more shares than they sold, and most of the selling was at prices when shares were in the $20s.
Calgon Carbon has cutting-edge purification systems for drinking water, wastewater, odor control, pollution abatement, and a variety of industrial and commercial manufacturing processes. Its carbon technologies are used in over 700 distinct market applications for purifying air and drinking water, purifying foods and pharmaceuticals, separating gas and removing mercury emissions from coal-fired power plants. CCC just landed a $13.2M water treatment contract with California for treating more than 30 contaminated drinking water wells using CCC's carbon absorption equipment.
CCC is diversified serving industries including
· Food and beverage where CCC removes impurities and contaminates as color and odor from sweeteners, liquids, syrups and more
· Municipal, environmental air and water treatments and energy storage
· Industrial metals recovery, mercury removal, ballast water treatment
· Personal protection equipment and residential services
· Supplying clinics, pharmaceutical and medical device companies with tech removing odors, colors, contaminates, and bacteria
Tax and other past management problems seem to be behind CCC that suppressed share price. Non-the-less, there are a lot of financial negatives investors must consider: Q4 revenues and earnings and margins missed estimates. Currency swings negatively affected 2016 reported sales. Core company business was down, because the industrial sector slowed in the U S and Europe. Most worrisome, cash and equivalents were down nearly 30% Y/Y, while long-term debt rose to $220M or 111% higher Y/Y. Three analysts have a strong buy and 2 have a hold on CCC.
CCC is a leader in the drinking water market, and diversified enough for all its services to make it a very attractive takeover or merger acquisition. If that happens, investors will realize share price increases well into the $20's. If management achieves its financial goals, the price target of $19 will easily be attained. Management is pinning its hopes on developing new business, and it might work with the looming water crisis growing more intensely.
Following are ways to invest in Israel's water wizards where like Plato said, "Necessity is the mother of invention."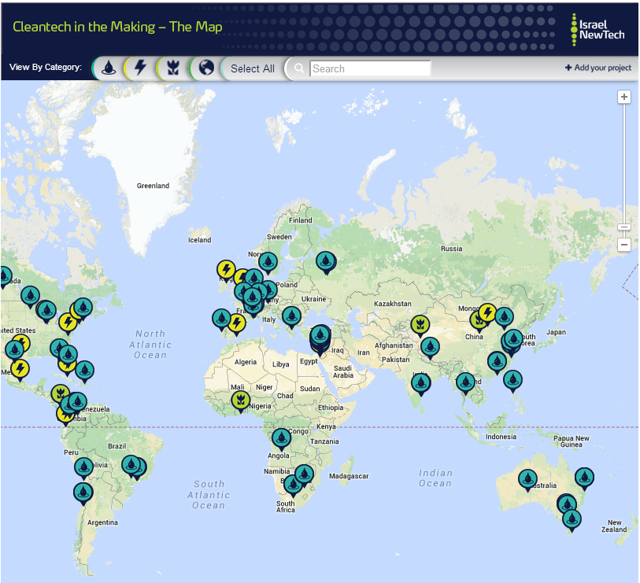 Water Companies Quenching Thirst in a Desert
Water deprivation is on par a threat to peace in the Middle East, as dangerous as political/religious divides and military campaigns. It also dragoons enemies to cooperate, e.g., Israel-Jordan-Syria, Israel-Palestinians-Hamas in Gaza share water resources and technology through written pacts and working arrangements.
Israel finds exporting its water technology is a boon to its economy, and a blessing she is sharing with impoverished countries. Innovative water technology is quickly rising to fore, and will be on par in importance with Israel's military and cybersecurity technology.
Israel is renown for its prize-winning start-up companies inventing potable water technologies, waster water treatment, conservation, and water for agriculture, known "To make the desert bloom." Nevertheless, there is a dearth of publicly traded Israel-based water companies offering investment safety and security I am able to recommend, since my 2014 article. Here are some start-up water innovators to watch for when they go public.
Meanwhile, conglomerates are gobbling-up Israel water companies. For example,
· GES, now part of the Azrielli Group (Grey Mkt: OTC:AZZRY), designs, builds and operates water and wastewater plants in industrial areas, cities and for agriculture.
· IDE bestows Israel with the status of 'world leader' in desalination with more than 400 plants worldwide. IDE is co-owned by Israel's Delek Group (Grey Mkt: DLKGF) and Israel Chemicals (NYSE: ICL). ICL suffers decreasing revenues from other operations like less demand for its potash and bromine, but ICL has a 4 percent dividend yield at current share price.
Overcoming Anxiousness
Two streams of Israel water investment opportunities for small investors can paddle to build an investment portfolio in Israel-based water tech are OurCrowd and BlueStar Israel Technology ETF (NASDAQ: ITEQ).
OurCrowd invests early, assists with business management, product development, and marketing. Investors reap benefits on exits when OurCrowd arranges multinational acquisitions of companies in their portfolio or an IPO. Currently OC is funding CropX that makes software driven smart irrigation system. Canadian GreenSoil Investments, Robert Bosch Venture Capital GmbH (RBVC) and the Flex technology accelerator, Lab IX-are invested in the company. The CropX irrigation platform is used on 20 farms in the U S to cost effectively automate the irrigation process, collect data, and increase sustainability, productivity and crop yields.
Two years old ITEQ ETF Partners focuses exclusively on investing in Israeli tech companies including sustainable agriculture and clean energy technology. Shares are trading at their 52-weeks high of about $28.54 from a low of $22.46. It pays a .09 dividend rate. ITEQ has almost $10M in assets 77% are in the technology sector. We can expect Israeli water technology companies will take a larger role in the ETF's future holdings for all the reasons cited previously. Here are ITEQ's top equity sector holdings:

Technology 77.38%
Healthcare 11.46%
Industrials 5.30%
Utilities 3.51%
Others 2.35%
In the meantime, investors ought keep an eye on opportunities to buy into Israeli water companies when they go public and that will start to happen sooner than later. They are working in countries from Eastern Europe to South America and Africa, from Massachusetts to California. Israeli companies are the experts in desalination, filtration, water management and tech solutions. The map shows where Israeli companies are working in cleantech energy, agriculture and water.
Sparkling Water Sparkling Stocks
I also recommended in the bottled water stock category, National Beverage (NASDAQ:FIZZ) "on a hot-hot streak. FIZZ is selling at around $76 near its 52-week high," and two-weeks later sells for about $84. Israel's alternative to FIZZ is renowned SodaStream (NASDAQ: SODA). So many words, thoughts, insights, and speculation are posted on financial web sites I have little more to add. However, the stock's recent recovery from a lackluster attempt to impact the US soda market (the stock dropped to about $14 to +$48 per share) is no doubt concomitant with the company's renewed advertising and marketing about SODA's environmentally friendly products and appeals to the health-conscious consumer.
SODA's vision is no longer to be the cheaper, homemade alternative to major soft drinks, but to be consumers' health and wellness sparkling water drink. The CEO explained recent record results: "At the same time, we are growing our business in a highly efficient manner following expense optimization efforts and the recent consolidation of our manufacturing, logistics and distribution activities in Israel," he said. "This has resulted in an all-time record operating and net income year, strong free cash flow and $57 million in cash and deposits with zero financial debt." SODA has not given up on the US market as it has a strategic planning committee in place to capture more US market share through expanding distribution and new products. SODA is reaching out to the 80,000 distributors building from the 10,000 now working with SODA. Also, it launched Aqua Fizz in the US as a gourmet sparking water new brand. Like FIZZ, SODA appears to be ready to takeoff as a compelling growth possibly doubling its share price.
Disclosure: I/we have no positions in any stocks mentioned, but may initiate a long position in CCC over the next 72 hours.
I wrote this article myself, and it expresses my own opinions. I am not receiving compensation for it (other than from Seeking Alpha). I have no business relationship with any company whose stock is mentioned in this article.