It's more than one month ago since I wrote my last articles about 'the market'.
The article was called 'The Market Is Overbought, But There Is Plenty Of Room In The Near Future'.
The title already reveals that I was bullish at the time but didn't expect a new rally. The market is currently equal to the value at the time of my article. The lowest point the market (SPDR S&P 500 Trust SPY) has seen since then, has been a 1.1% drop with a bottom on the 27th of March. In other words: both short sellers and highly leveraged long only traders had a hard time.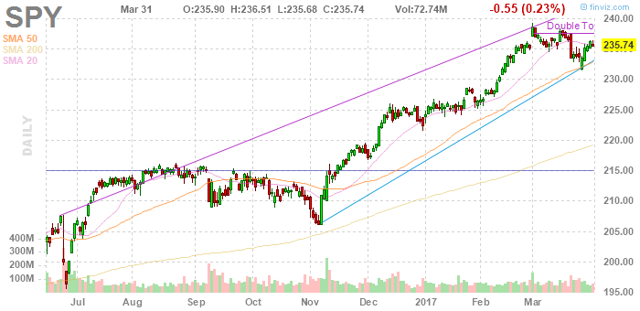 One of the charts I try to share as much as possible, is the comparison between the year-on-year performance of the S&P 500 and the leading ISM manufacturing index. The ISM index is a leading indicator because it tells us what we can expect in terms of economic growth. It precedes coincident numbers like industrial production and durable goods for example. Hence it is a solid indicator for stocks as well.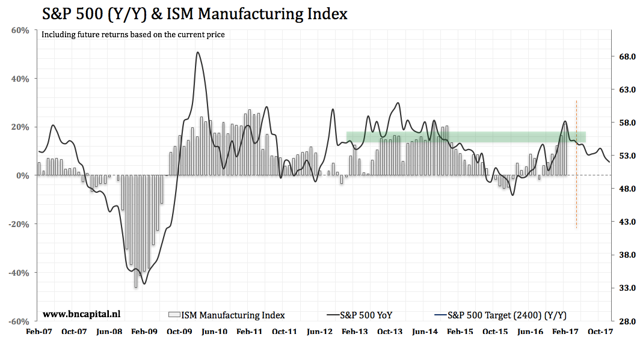 Note that values on the right side of the vertical line are future returns. Those are NOT predictions. They only show how high the year-on-year returns would be if the stock market didn't change at all. That way you can see how much future growth is already priced in. The thing that strikes, on top of the fact that the long term correlation is clearly visible, is the fact that the correlation between the S&P 500 returns and the ISM index is sky high since 2014.
That being said, it seems like the market is pricing in lower growth. This means two things: growth is going to be lower indeed, or this is a great entry point.
One of the reasons why I am not bearish on growth is the strong momentum from leading regional manufacturing indices. Although we saw a small drop in March we can conclude that economic sentiment is rock solid. Both new orders and shipments hit fresh 11-year highs.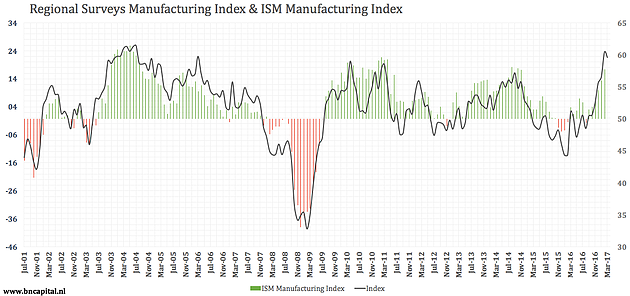 A full review of the regional data can be found on my new website.
Given strong fundamental data, we can say that the mid-term bull case remains stable as long as the leading ISM and regional indices remain solid.
That being said, we also see some small headwinds. One of my favorite sentiment indicators is declining rapidly. The ratio spread between transportation stocks and the Dow Jones shows the willingness to take risk among traders. Simply because transportation stocks are one of the most cyclical industries and more riskier than holding the Dow Jones Industrial index for example.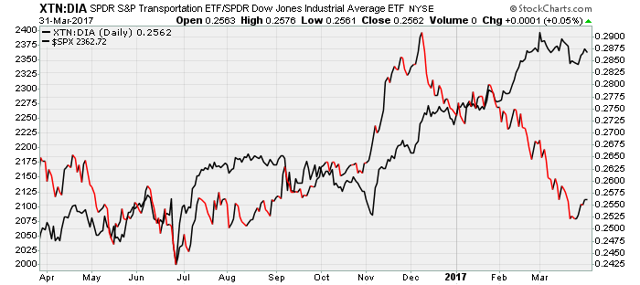 Not only are transportation stocks underperforming, we also see that steel and mining companies are doing poorly after an amazing performance after the election.
Companies like AK Steel are doing very poorly this year. This is especially interesting if you consider that they should be the biggest winners if Trump's 'America first' plans get implemented.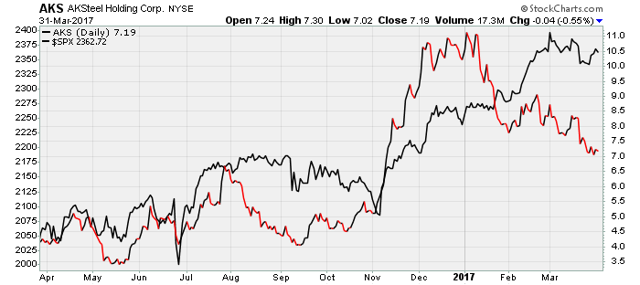 One of the reasons of the recent weakness is the fact that Trump's health care bill got into trouble. This means that there are less savings for Trump's tax cut plan and infrastructure spending.
In one of my previous articles about gold miners, I shared the following quote from Lawrence McDonald's Bear Traps Report.
Some Wall St. analysts say corporate tax reform is now a happy meal not a big mac. In other words, only a much smaller plan will be able to get through Congress now as revenue neutral ambitions are far more challenging. As Washington policy execution stumbles, there's an uneasy feeling creeping through in markets. The hole just got deeper, now up to $2T with the border adjustment tax BAT in trouble & ACHA savings gone. Bottom line, without key tax revenue offsets we're looking at a corporate tax cut near 30-28%, not 20-15%.

- The Bear Traps Report (03/25/17)
This would mean that tax savings would boost S&P 500 earnings about 3.5% versus 9.5% expected.
Of course we are talking about expectations, but one thing is clear: the amount of uncertainty regarding the plans from the Trump administration is higher than shortly after the election.
Not only is this visible when looking at cyclical indicators like the transportation/Dow Jones ratio, it is also clear when it comes to the performance of government bonds.
Traders are not buying the reflation trade anymore. It seems like we are getting a government bonds bottom.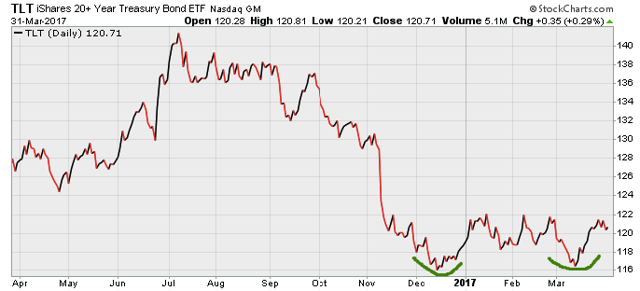 Conclusion
I am not changing my mid-term outlook. Economic sentiment is rock solid and supportive of higher stock prices in the near future. 2400 points for the S&P 500 shouldn't be a big problem.
However, risks are also increasing. The uncertainty regarding the extend of Trump's policies could impact the performance of stocks quite a bit. Especially when you are long cyclical traders like transportation stocks and basic materials.
The most important thing to do right now, it to evaluate if you can take a 2-3% stock market drop. I also mentioned the same thing in my previous market outlook. Make sure you don't get killed during a small sell-off.
And just to be clear, I am not calling for a correction. However, a smaller correction could be possible and wouldn't hurt the mid-term rally at all.
Many thanks for reading my article. Please leave a comment below if you have questions, remarks or a completely different opinion. You can also contact me by sending me a direct message or tweet me @LeoNelissen. Also make sure to visit my new website: bncapital.nl.
Disclosure: I am/we are long SPY. I wrote this article myself, and it expresses my own opinions. I am not receiving compensation for it (other than from Seeking Alpha). I have no business relationship with any company whose stock is mentioned in this article.