Dear readers and subscribers,
To begin with, I would like to thank you for your continued trust and interest in my research articles on various equity investment opportunities across the globe. During the first quarter of 2017, my Seeking Alpha profile has recorded a significant increase in the number of followers. This is a very encouraging feedback, which keeps me motivated to continue delivering on my promise from the beginning of the year.
My Investment philosophy
Continuously in the process of learning (currently preparing for the level II of the CFA exam and taking a replicated class of Aswath Damodaran's Corporate Finance & Valuation at PWS Club in Prague), I strive to develop an investment philosophy and establish processes that can last for decades. Although most of my research pieces and investments fall into the category growth at a reasonable price, my overall investment philosophy can currently be best described as multi-asset, multi-strategy, focus investing.
Q1/2017 summary statistics
As measured by Interactive Brokers Group, the cumulative gain in the net asset value of my model research portfolio has reached a little over 13 percent since the beginning of the year. To put this into perspective, the predefined benchmarks - S&P500 index, the iShares MSCI EAFE ETF (NYSEARCA:EFA) and the Vanguard Total World Stock ETF (NYSEARCA:VT) - added 6.31, 8.05 and 7.59 percent respectively. Despite the relative outperformance, one should be aware of the fact that on a risk-adjusted basis, the model research portfolio ended up as the loser. This is however not surprising as the portfolio's risk-return characteristics are significantly skewed in favor of maximum capital appreciation over the long term. The equity curve and precise portfolio risk statistics for the first quarter of 2017 are captured in the outputs below: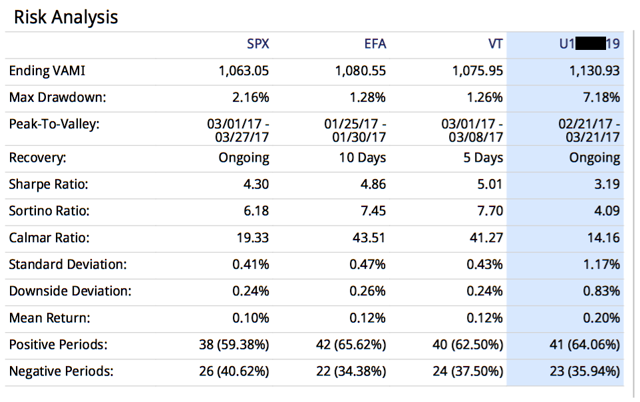 As of March 30, 2017, the largest proportion of the model research portfolio's funds has been allocated to shares of the companies domiciled in United States (68.5%) and Asia (25.3%). The allocation by sector has been led by Communications (~45%), Consumer Cyclicals and Non-Cyclicals (~29%) and Technology (~15%). The portfolio concluded the first quarter with 32 holdings.
Key portfolio highlights
Chinese internet giants - Tencent (OTCPK:TCEHY) and Alibaba (NYSE:BABA) boosted portfolio's performance considerably. Compared to the beginning of the year, shares of both companies trade roughly 20 percent higher and still seem to offer significant upside as I wrote earlier here and here. On the other hand, Baidu (NASDAQ:BIDU), also one of my top Chinese long-term picks, added barely 5 percent this year and lost one of its artificial intelligence experts, raising the question whether I should reassess my investment thesis or just be patient and wait.
FA[N]G stocks - Facebook (NASDAQ:FB), Amazon (NASDAQ:AMZN), Netflix (NASDAQ:NFLX) and Google - Alphabet (NASDAQ:GOOG) (NASDAQ:GOOGL) have been on a roll for a while. However, looking closely at the earnings, cash flows and multiples of the elite group, I found that Netflix's valuation has no legs to stand on.
Indian bad debt crisis - has hit the Indian banking industry hard. Even though the financial industry in India is far from being a safe harbor right now, there are material differences between individual companies. Based on the analysis of key financial ratios, the non-performing loans issues are a primary concern of public sector banks. Private sector banks, namely HDFC Bank (NYSE:HDB) and Yes Bank (OTC:YYBKY), remain my top picks for the upcoming years.
Lithium holdings - Galaxy Resources (OTCPK:GALXF) and Pilbara Minerals (OTCPK:PILBF) present high risk - high reward opportunities and therefore account only for a tiny fraction of the portfolio. Lithium prices and EV industry developments will be the key determinants of the future of these investments.
Semiconductors - Lastly, semiconductors including Skyworks Solutions (NASDAQ:SWKS) and Broadcom (NASDAQ:AVGO) have been also strong contributors to the portfolio's return. As new opportunities such as 5G networks and connected autonomous vehicles are just around the corner and multiple valuation from a historical point of view looks attractive, the initial investment theses stay intact.
As always, looking forward to your feedback and insights in the comments below!
Regards,
David
Author's note: If you have not subscribed to my SA feed yet, find the ''Follow'' button at the top of this page, or alternatively, connect with me on Twitter.
Additional disclaimer: Please note that this article has an informative purpose and do not constitute investment recommendation or advice. The author does not know individual investors' circumstances, portfolio constraints, etc. Readers are encouraged to do their own analysis prior to making any investment decisions.
Disclosure: I am/we are long GOOG, FB, AMZN, BABA, TCEHY, BIDU, SWKS, AVGO, HDB, GALXF, PILBF.
I wrote this article myself, and it expresses my own opinions. I am not receiving compensation for it (other than from Seeking Alpha). I have no business relationship with any company whose stock is mentioned in this article.
Editor's Note: This article covers one or more stocks trading at less than $1 per share and/or with less than a $100 million market cap. Please be aware of the risks associated with these stocks.