I don't know about you, but it seems to me as though things are, for the moment at least, booming in China. For quite some time I have been bearish about the country, in part due to its large housing bubble (which still exists) but also due to its terrible gambling market, which I viewed not only as a sign of the government's attack against corruption but as evidence that the economy was faring far worse than many expected. Now, however, some new data has come out that I believe shows the situation is, for the moment, getting better and, if this trend happens to continue, it could be a bullish sign for investors in companies like Melco Crown (MPEL), Las Vegas Sands (NYSE:LVS), MGM Resorts (NYSE:MGM), and Wynn Resorts (NASDAQ:WYNN).
Gambling revenue continues to rebound
Once per month, the Gaming, Inspection, and Coordination Bureau of Macau releases gambling revenue associated with the region. It had been a while since I last looked at the data for an article like this so I figured it would be interesting to check back and see how matters have progressed now that, last year, the data released by the Bureau began to show steady signs of improvement.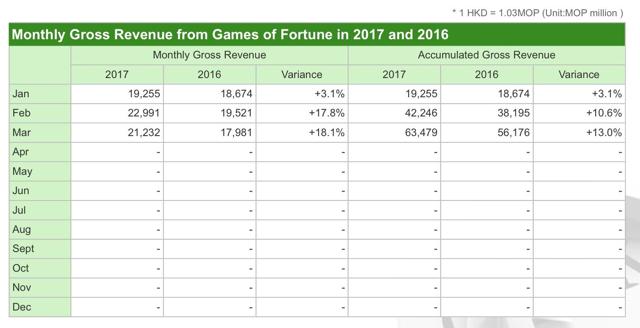 *Taken from the Gaming, Inspection, and Coordination Bureau of Macau
As you can see in the image above, we have gone from a modest uptick at the start of 2017 to fast-growing activity on a year-over-year basis. According to the Bureau, revenue in February of this year was up 17.8% year-over-year, while the growth figure came out to 18.1% in March with total revenue rising to $2.65 billion. For the full year so far, revenue stands at 63.48 billion patacas, an increase of 13% compared to the 56.18 billion patacas seen during the first quarter of 2016.
Signs of strength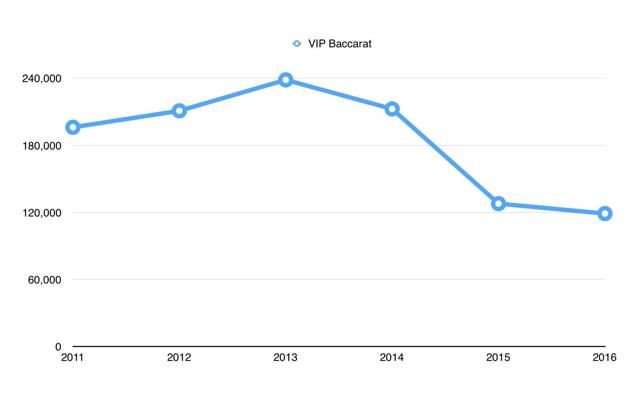 *Created by Author
For people who don't gamble (I don't), it may seem enough to guess that all gaming revenue acts the same but that would be a gross mischaracterization. Take, for instance, the graph above. In it, you can see total VIP Baccarat revenue in Macau dating from 2011 through 2016. This category is, more or less, the high-rollers in the market. In essence, it's the big money that comes to play in Macau. What we can see here is that even last year, the same year we saw five straight months of growth in the market as a whole compared to the prior year, revenue among the high-rollers continued to drop compared to 2015.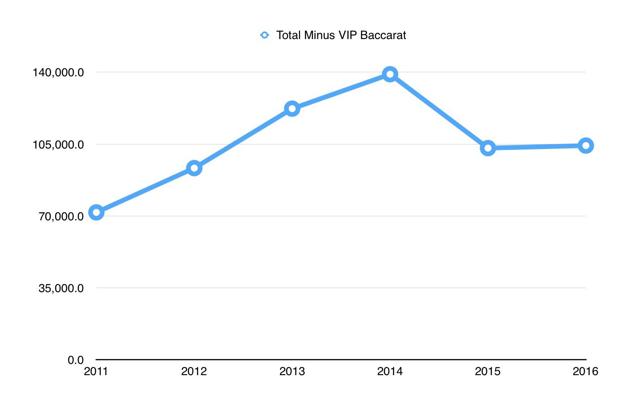 *Created by Author
If you remove VIP Baccarat revenue from the roster, total revenue in Macau managed to increase slightly for 2016, growing a modest 1.2% compared to 2015. This can be seen in the graph above, which shows total revenue, excluding VIP Baccarat, rising from 103.02 billion patacas to 104.25 billion. As a result of this, VIP Baccarat revenue has declined to just 53.3% of gaming revenue in the region. Although this is still a sizable chunk of activity in Macau, investors in companies in the region, especially Melco Crown (since it's the most exposed to Macau by revenue), should be wary of this category moving forward. I say this because, from 2011 through 2016, it has fallen every single year, dropping from 73.2% of sales in 2011 to where it is today.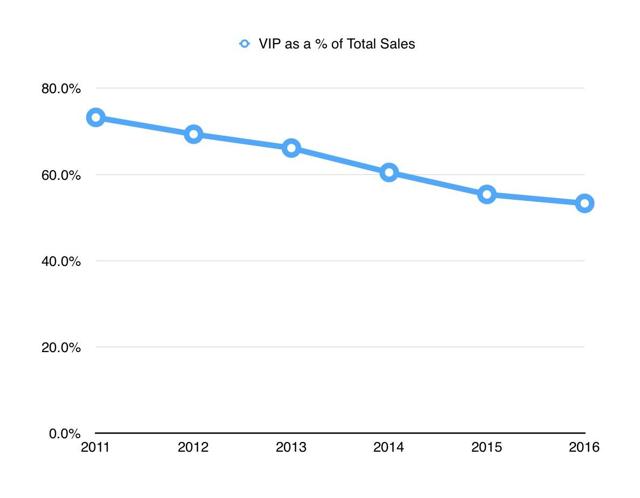 *Created by Author
Having said that, there's a difference between being wary and bearish. If I saw a trend that showed such a marked decline over an extended period of time, I would put money on that trend continuing downward if I had no other information, but recent data reported by Forbes, which they got from J.P. Morgan (NYSE:JPM), suggests that there may, possibly, be a light at the end of the tunnel for companies that rely on VIP exposure. According to J.P. Morgan's estimates, VIP Baccarat revenue in Macau grew by 19% in February and this number likely increased to 27% in March. Due to tough regulations in China that make it difficult to siphon money from the mainland into Macau, it's hard to tell if this is correct and, if so, how long it will last, but if the trend is on the verge of reversing then that could add further fuel to the Macau gambling machine.
Now, you would expect that, perhaps, there would be some additional variation outside of VIP Baccarat. After all, in a market that has seen tough times since 2014 when the slide in revenue began, wouldn't it be expected to see, even as the market recovers, some laggards? Interestingly, with two exceptions, this is not the case. In the graph below, you can see that every major category (I excluded everything where annual revenue was under 1 billion patacas except for Roulette, which saw sales of 984 million patacas in 2016 and I excluded non-VIP Baccarat) grew relative to the year before. Stud Poker managed a decline of 5.2% year-over-year and Slot Machines dropped 3.1% compared to 2016.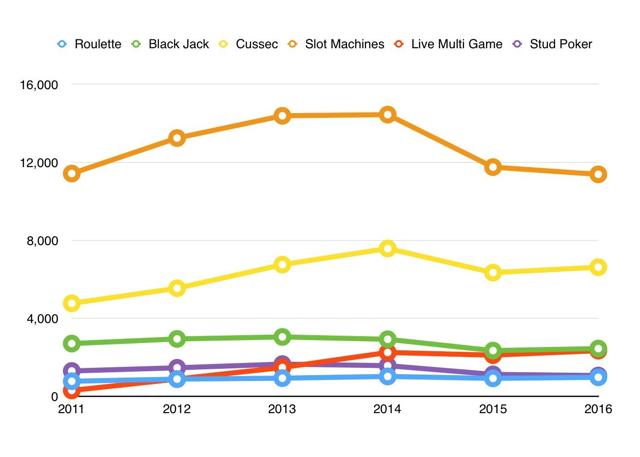 *Created by Author
I cannot speak for Stud Poker because I cannot find a reason why it would decline, but Slot Machines revenue was likely limited by the fact that the number of units in Macau at the end of last year was 13,826, down 5.2% compared to the 14,578 units seen a year earlier. On a percentage basis, the big mover higher was Live Multi Games, which grew 10.8%, and in terms of an absolute move higher, the most significant category was Cussec, which grew by 279 million patacas.
Takeaway
Based on the data provided, it seems as though investors who are and have remained bullish in the region these past several months have yet another reason to rejoice. Data from last year suggests that, even though some areas have improved, there are some problems that need to be sorted out. However, the recent uptick in revenue, which easily topped the 12% to 16% growth range analysts forecasted for March, points to a scenario where a bullish case for the operators in this space could be growing. For now, I have not invested in any of the firms in this space and I probably will not until I see China's housing bubble subside (or until after it pops if it doesn't subside), but this continued strong growth is forcing me to keep a more watchful eye on this space moving forward.
Disclosure: I/we have no positions in any stocks mentioned, and no plans to initiate any positions within the next 72 hours. I wrote this article myself, and it expresses my own opinions. I am not receiving compensation for it (other than from Seeking Alpha). I have no business relationship with any company whose stock is mentioned in this article.