For the month of March, my pension assets managed a small gain of 0.07%. That is obviously nothing to brag about but that small gain did allow one of my two investment objectives to be met in the month of March. This article will review my investment strategy, review my results for the last 12 months, review the past month's investment results, and finally will decide on my investment allocation for the month of April.
My investment strategy has two parts. The first part is to use monthly charts and long term exponential moving averages to determine if a buy signal is in place. I use the six month and the ten month moving average pair to determine if I should buy or sell one of the four ETFs I am allowed to invest in in my pension plan. Those four ETFs are SPY, IWM, EFA, and AGG. When the six month moving average crosses above the ten month moving average a buy signal is given. When this happens the moving averages are in what I call bullish alignment. Chart 1 below shows that bullish alignments can result in long term bullish moves. Examples for this include the entries made in 2003 and in 2009. Both of those moving average crossovers resulted in sustained long term moves for the SP 500 index. Those are the moves I am looking for when I am investing my pension assets.
Sell signals are when the six month moving average crosses below the 10 month moving average. When this happens the moving averages are in bearish alignment. In the past, bearish alignments resulted in major market declines. See 2000 and 2008 for examples in Chart 1 below.
There are two drawbacks to my moving average crossover system. The first drawback is that my crossover system lags the market. It is designed to catch major long term moves, but it is not designed to sell at the top and invest at the bottom. It is designed to capture the middle of the market move.
The second drawback is that my crossover system is prone to whipsaws. These are false signals that cause an investor to buy high and then sell low. Again see Chart 1 below for two examples of whipsaws.
Chart 1 - Long Term SP 500 Monthly Chart with 6/10 EMAs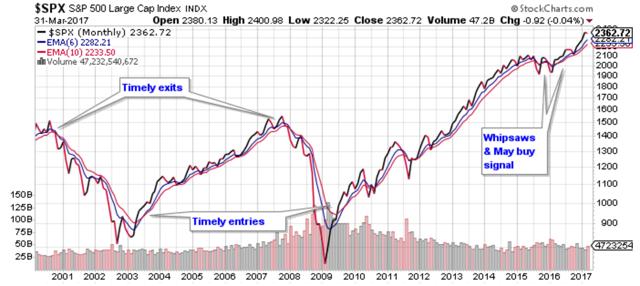 The second part of my investment strategy is to use relative strength charts to allocate my pension assets. Essentially my investment goals are twofold. The first goal is capital preservation. I want to invest only when a buy signal is given because that enhances the chances of making money. When a sell signal happens I move my assets to cash in order to preserve my capital. My second goal it to beat the returns of SP 500. That is where the relative strength charts come into play. If an ETF is in bullish alignment I can invest in that ETF. However, I only want to allocate money into that ETF if it is outperforming the SP 500 index.
So how did my investment strategy perform over the last 12 months? See Table 1 below.
Table 1 - Last 12 Months Results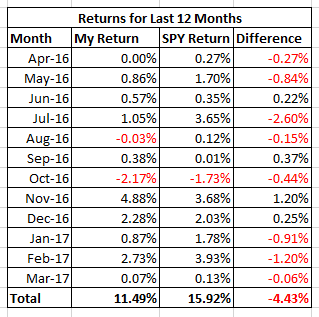 As Table 1 shows I did preserve capital, but I underperformed the SP 500 index as represented by SPY. Researching my results for this article I realized that for too long I had too much capital allocated to cash. It wasn't until late 2016 that I had no allocation to cash in my pension assets. I think that, more than anything else, contributed to my underperformance to the SP 500 index.
Table 2 below shows my results for the month of March. The big winner for March was international stocks as represented by EFA. I had no money allocated to EFA, but that may change for next month.
Table 2 - March Results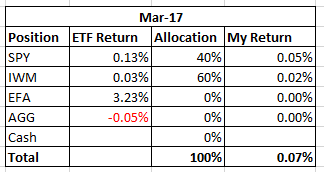 The charts below show how the four ETFs are presently aligned. There is no buy signal for AGG.
Chart 2 - AGG Monthly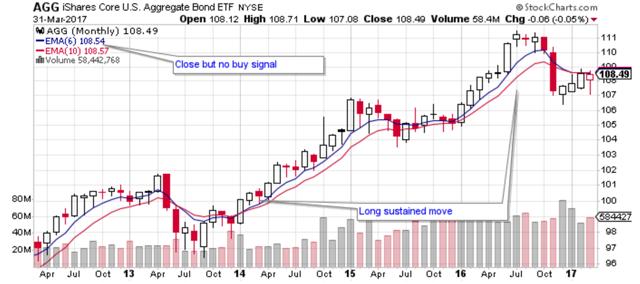 Chart 4 shows that EFA is in bullish alignment.
Chart 4 - EFA Monthly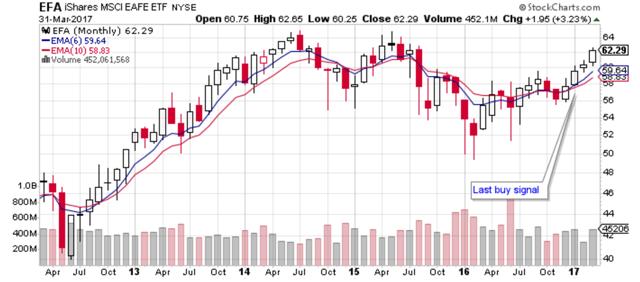 Chart 5 below shows the relative strength chart of EFA compared to SPY. The chart shows that EFA has drastically underperformed SPY for the past several years. The downward trending black line shows that EFA just hasn't done as well as SPY over the long term.
Chart 5 - EFA:SPY Long term monthly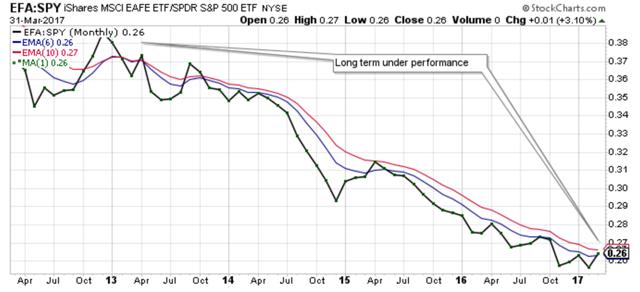 However, Chart 6 shows that there may be a new trend emerging in this ratio between EFA and SPY.
Chart 6 - EFA:SPY Relative Strength Close Up View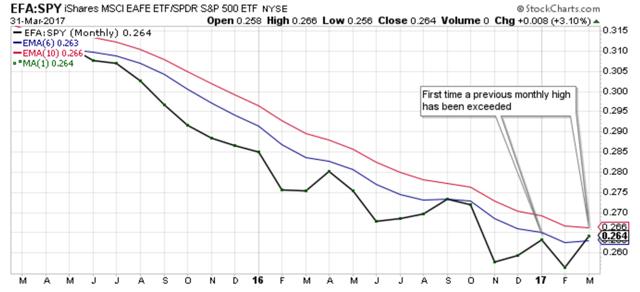 The fact that the previous high of January was recently taken out is encouraging to me. It may signal a new trend and therefore I will allocate some money to EFA in April.
Chart 7 below shows that IWM remains in bullish alignment.
Chart 7 - IWM Monthly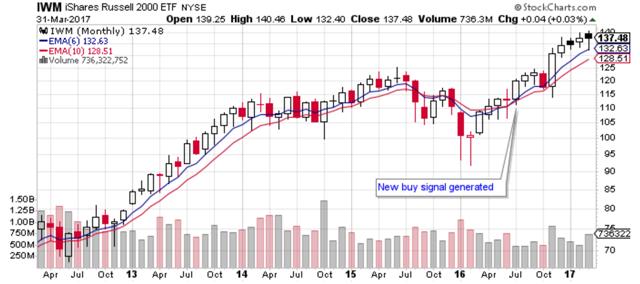 Chart 8 shows that IWM has recently underperformed SPY over the past few months. The longer term outperformance of IWM over SPY since the beginning of 2016 encourages me to continue to allocate a greater portion of my assets to IWM.
Chart 8 - IWM:SPY Monthly Relative Strength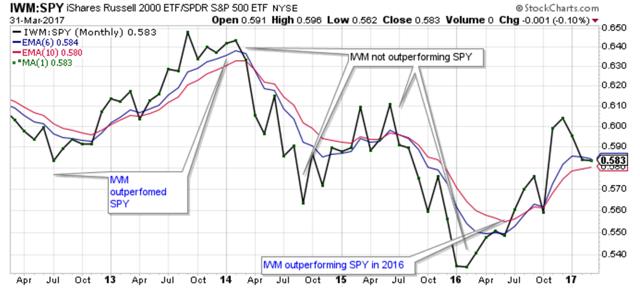 Chart 9 shows that SPY remains in bullish alignment.
Chart 9 - SPY Monthly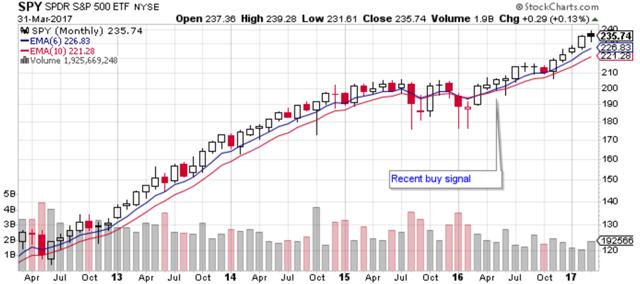 So with three of the four ETFs being in bullish alignment and EFA showing some signs of gaining strength over SPY I will make some changes to my pension assets for April.
In summary, my strategy is to use a monthly moving average crossover system and relative strength charts to manage the money in my pension account. My two goals for managing my pension assets are capital preservation and to outperform the SP 500 index. I have preserved my capital which is good, but I have underperformed the SP 500 index. Upon review I feel my underperformance is due to having too much money allocated to cash. For the past several months I have not held cash, but for too long I had money in AGG. Now all of the equity ETFs show to be in bullish alignment. I just have to trust my system and try to allocate my capital appropriately. My allocation for April will be 20% allocated to EFA, 35% to SPY, and 45% to IWM.
Disclosure: I am/we are long EFA, IWM, SPY.
I wrote this article myself, and it expresses my own opinions. I am not receiving compensation for it (other than from Seeking Alpha). I have no business relationship with any company whose stock is mentioned in this article.