Last April I presented a mock portfolio with a 4% yield to show that an income portfolio could still be built in an expensive market.
Nearly a year later, the market continues to trade near all-time highs, leaving some investors once again wondering if the time is right to put more cash into investments.
This article will take a look back at those picks to see what they are worth today, and also see how much income they are producing. It will also present a new dividend growth portfolio yielding 4% at today's prices.
Review Of Results
Last year's theoretical portfolio contained 25 stocks from 9 sectors of the market. It invested a lump sum amount of $250,175.36 into the 25 positions at a roughly equal weighting. These stocks provided an initial yield of 4.13% and a dividend income of $10,343.32.
Here is the spreadsheet screenshot for that portfolio: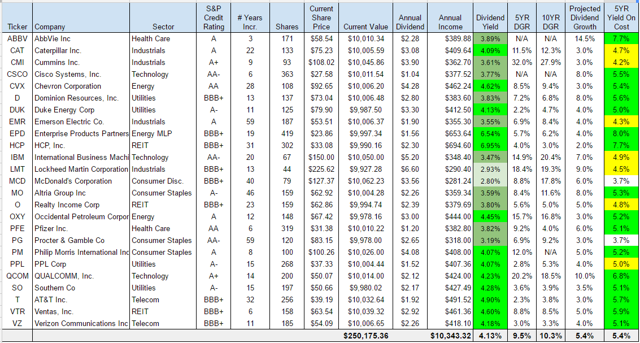 I have copied that spreadsheet and updated the annual dividend numbers to show the projected payouts going forward. I also added the Quality Care Capital Properties (NYSE:QCP) shares that were spun off from HCP, Inc. (NYSE:HCP).
Here is how those positions stand as of the March 31st market close: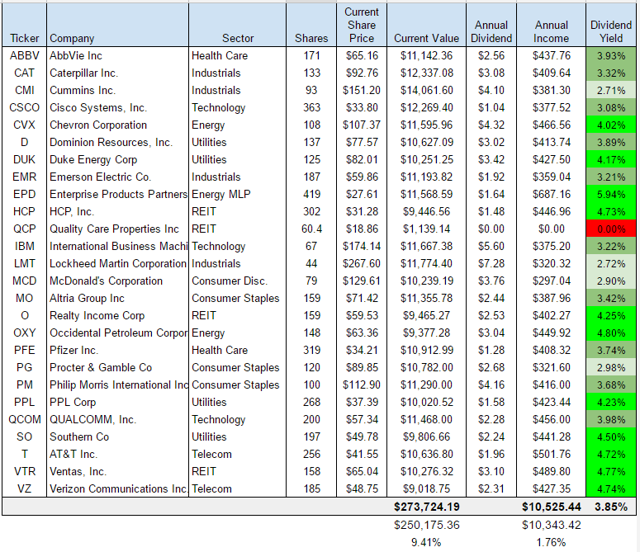 The portfolio saw a 9.41% increase in value along with a 1.76% increase in dividend income. This income increase was seen despite a $249.44 drop in income by HCP, Inc. when it spun off Quality Care Properties and then declared a lowered dividend rate.
This drives home the necessity of having a diversified portfolio with a sufficient number of holdings, as it allows others to pick up the slack when a company or two hits a rough patch.
Overall I think the portfolio performed pretty well, as it provided a dividend yield well above the market rate, while also producing significant capital gains on top of it.
This was done despite buying all-in at a time when the market was hitting all-time highs. Had an investor waited for a market correction to buy, he or she would have missed out on nearly 15% in total returns; and would likely STILL be sitting and waiting for a pullback.
Doing It All Over Again
Seeing how well that portfolio turned out is great, but that isn't much help to someone looking to build a portfolio today. So, being one who enjoys putting portfolio spreadsheets together, I thought I would give it another try and build a new 4% yielding portfolio at current prices.
Here are the 18 companies selected:
| | | | |
| --- | --- | --- | --- |
| Ticker | Company Name | Sector | S&P Credit Rating |
| (NYSE:TGT) | Target Corporation | Consumer Disc. | A |
| (NYSE:VFC) | VF Corp | Consumer Disc. | A |
| (NYSE:KO) | The Coca-Cola Co | Consumer Staples | AA- |
| (NYSE:PM) | Philip Morris International Inc. | Consumer Staples | A |
| (NYSE:CVX) | Chevron Corporation | Energy | AA- |
| (NYSE:OXY) | Occidental Petroleum Corporation | Energy | A |
| (NYSE:ABBV) | AbbVie Inc | Healthcare | A- |
| (NYSE:PFE) | Pfizer Inc. | Healthcare | AA |
| (NYSE:BA) | Boeing Co | Industrial | A |
| (NYSE:GE) | General Electric Company | Industrial | AA- |
| (NASDAQ:QCOM) | QUALCOMM, Inc. | Technology | A+ |
| (NASDAQ:CSCO) | Cisco Systems, Inc. | Technology | AA- |
| (NYSE:DUK) | Duke Energy Corp | Utility | A- |
| (NYSE:SO) | Southern Co | Utility | A- |
| (NYSE:T) | AT&T Inc. | Telcomm | BBB+ |
| (NYSE:VZ) | Verizon Communications Inc. | Telcomm | BBB+ |
| (NYSE:O) | Realty Income Corp | REIT | BBB+ |
| (NYSE:VTR) | Ventas, Inc. | REIT | BBB+ |
These companies were selected based on yield and financial strength. Valuation wasn't considered, although companies that are grossly overvalued would have difficulty making the list since their corresponding dividend yield likely wouldn't be high enough to make the cut.
With the exception of General Electric, all of the companies listed are members of David Fish's U.S. Dividend Champions "CCC" List. GE froze its dividend during its reorganization and spinoff of its finance arm, so it is no longer on the list. However, it did announce a 4.35% dividend increase in December, and provided guidance for a 45-50% payout ratio going forward, so I expect to be on the list again down the road.
Looking at the portfolio composition, I have picked two stocks each from nine different sectors, all of which are rated BBB+ or better from S&P.
13 of the 18 selections are holdovers from last year's picks, with General Electric, Target, V.F. Corp., Coke, and Boeing being new to the list.
Here is an expanded look at the portfolio, along with historical dividend growth rates from the CCC List. I have also included the 52-week highs and lows, and the price differential from 52-week highs.

An equal weighted portfolio comes in at exactly a 4% yield at closing prices of March 31st. Looking at the historical information, the companies have an average dividend growth streak of 19 years, with an 11.7% dividend growth rate over the last 5 years and 8.7% over the last decade.
Yield is nice, but growth is important as well when building a portfolio. Here is my quick take on dividend growth expectations for the next 5 years, and the future yield on cost based on those growth rates: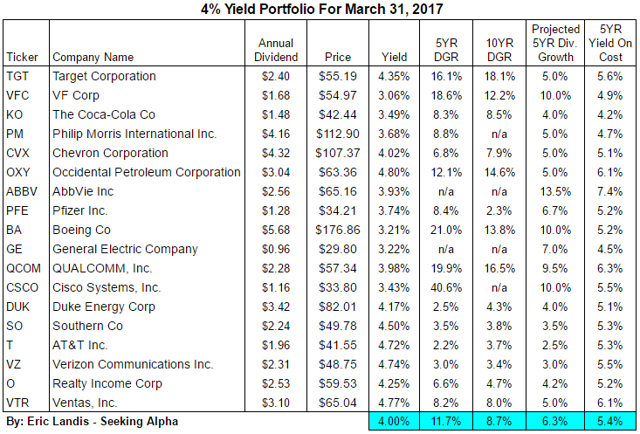 Overall, I am predicting a 6.3% annual dividend growth rate, which provides a future yield on cost of 5.4% after 5 years. This number may not seem impressive, but it would be a roughly 35% increase over the current dividends provided. That growth isn't too shabby for an income-based portfolio!
I believe the growth estimates are fairly conservative, as the 6.3% average is well below the 5 and 10 year historical numbers. This is mainly due to pessimistic views on the oil & gas, staples, discretionary, and REIT companies. Should business conditions improve in those sector, there could be upside to some of the estimates.
Conclusion
With all the craziness going on in politics in the United States and around the world, it can be easy to make excuses not to invest in the market. Yes, the market is near all-time highs, and yes there is uncertainty, but the fact is there is always uncertainty in the market.
What I said in closing a year ago remains the same today:
I won't argue with those who say the market is expensive right now. Certain sectors like utilities and consumer staples have reached valuation levels that do cause some concern. Yet, even with these elevated prices, there are still ways to build a portfolio than can meet your income needs.

I believe the above portfolio provides a nice mix of quality companies that should be able to continue growing their dividend payouts into the future. Certainly some are in stronger positions than others, and should crude oil prices not recover, companies like Chevron and Occidental could eventually see their payouts at risk.

However, proper diversification and weighting of positions can mitigate this risk, and for those who disagree with me that crude will rebound, can simply remove those from consideration to sleep well at night. I hope this sample portfolio can provide some ideas for income investors, and help alleviate some concerns regarding recent market volatility.
If you would like to receive notifications when my future articles are published, I kindly ask you to click the "follow" button next to my name at the top of the page. Additionally, you can follow my investment blog at DGIfortheDIY.com.
Disclosure: I am/we are long ABBV, BA, CVX, GE, KO, O, OXY, PM, QCOM, T, TGT, VFC.
I wrote this article myself, and it expresses my own opinions. I am not receiving compensation for it (other than from Seeking Alpha). I have no business relationship with any company whose stock is mentioned in this article.
Additional disclosure: I am a Civil Engineer by trade and am not a professional investment adviser or financial analyst. This article is not an endorsement for the stocks mentioned. Please perform your own due diligence before you decide to trade any securities or other products.