Introduction
This article is my 48th installment in a segment called "Buy on the Drop?" in which I choose a stock that recently experienced a large decrease in price and give a recommendation on whether investors should "Buy on the Drop" or not. The recommendations are Sell, Hold, Speculative Buy, Buy and Strong Buy.
Palo Alto Gets Crushed
Palo Alto Networks (NYSE:PANW) investors should be used to big drops after earnings by now, but the more than 20% decline in trading back at the end of February was still eyebrow-raising. It has been one month since that drop and the stock remains stagnant. The collapse came after the company's Q2 2017 earnings report failed to impress investors as revenue came in below consensus estimates, EPS barely beat, and guidance for Q3 was below expectations:
Looking at PANW's price chart, one might notice that, while this drop is especially precipitous, the stock is no stranger to extreme volatility. A new 52-week low has recently been set and I'm sure investors have many questions regarding Palo Alto's future operating results and valuation. I cannot answer these questions definitively, but I will provide my opinion on why I think PANW is a Strong Buy at its current price level. But first, a quick summary of the earnings report.
Palo Alto reported revenue of $422.6 million, which represents year-over-year ("YoY") growth of 26%, but missed consensus estimates by $7 million, and reported EPS of $0.63, which beat consensus estimates by 1 cent and was 23 cents higher than Q2 2016 EPS. These numbers were fine and current quarter results are very rarely the reasons for post-earnings selloffs, so let's turn our attention to guidance and other likely reasons for the 24% drop.
Palo Alto guided for Q3 2017 revenue of between $406 million and $416 million, which is well below consensus estimates of $454 million, and EPS of between $0.54 and $0.56, also a far cry from the expected $0.70 per share. If one was surprised by this miss and the subsequent drop, then perhaps one missed some of PANW's past earnings history. Namely, the stock has fallen more than 10% after 3 of the last 4 earnings reports due to, for the most part, the same reason: weak guidance and growth concerns.
In the past, PANW has taken these beatings and then staged a sharp, rapid recovery. Refer to the price chart above for the most recent entry into this boom and bust pattern, which began on November 21st. However, this time appears to be different. We've seen a massive drop, but no recovery. In the past, the market appears to have been content to chalk the lackluster guidance up to a one-off miss or a short period of weakness, but now investors appear to be legitimately worried. Is the growth narrative in jeopardy?
I wrote an article on PANW last September and concluded that the company was one of the top companies, if not the top company, in the cybersecurity space. That piece can be found here. I would like to re-perform some of the analysis I did in that article and see how the results have changed.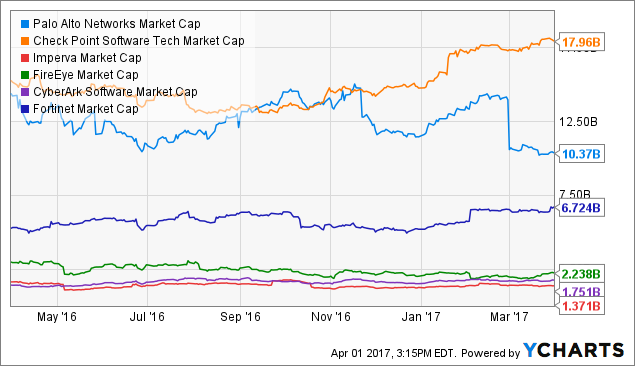 PANW Market Cap data by YCharts
As we can see from a market capitalization perspective, Palo Alto is well behind Check Point (NASDAQ:CHKP) for the top spot in the cybersecurity space. Since my previous article on this topic, PANW has lot $3 billion in market cap while CHKP has gained $4 billion or so, which has led to a fairly massive gap in valuation between the two. Let's take a look at other metrics and see if that valuation is justified.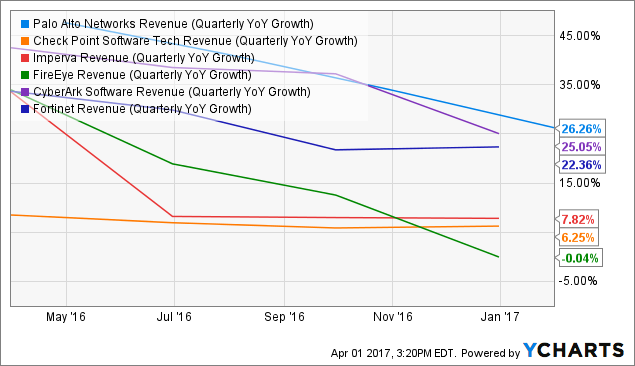 PANW Revenue (Quarterly YoY Growth) data by YCharts
As we can see as a general trend, growth is cooling off in the cybersecurity space. This is a result of more companies entering the fray, more competitive pricing, and most companies switching to the software-as-a-service ("SaaS") model, which basically results in lower revenues and higher margins. Also of note, Palo Alto reported 26% year-over-year ("YoY") growth for its most recent quarter, but guidance indicates YoY growth of only about 19% for the current quarter. So what's the takeaway from the above chart?
In my opinion, the important takeaway for investors is that, while Palo Alto's growth is slowing, it is still far better than market leader Check Point (and others), and it is still fairly high growth considering the company's current size and revenue base. One concern I do have is the current rate of YoY revenue decline. In Q3 2015, Palo Alto reported 55% YoY growth, which fell to 48% in Q3 2016, and should fall to around 20% in Q3 2017.
I think the company's current growth numbers are adequate to sustain a $10 billion valuation, but this will not be true for long if the accelerating decline in growth continues. Will the decline in growth begin to slow now that it is nearing 20% YoY, or will it continue to drop precipitously? I think that will be the key issue the market will weigh going forward with PANW.
My analysis from here will assume that Palo Alto's growth numbers will stabilize into a steady decline into the single digits over the next few years. This is the most common pattern for growth companies, and Palo Alto has a large and steadily growing customer base that will continue to provide incremental revenue gains into the future.
With this assumption in mind, I think comparing PANW with CHKP will give a good idea of where the former should be valued. CHKP is a good benchmark to measure against because it is the market leader, it has stable YoY growth numbers (which I think reflects Palo Alto's future), and it is profitable and therefore more easily valued.
Right off the bat, I think PANW is significantly undervalued when you consider CHKP's current valuation. Palo Alto has a significant edge in the growth category, while Check Point has a narrow, unsustainable lead on the top line with a more sizeable lead on profitability. Let's take a brief look at top line results and see where these two companies differ: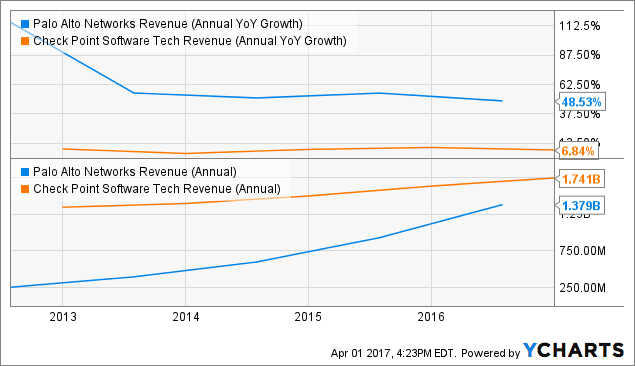 PANW Revenue (Annual YoY Growth) data by YCharts
As we've discussed, Palo Alto's top line growth is sure to come down from the 48% YoY annual growth displayed in the top chart, but the disparity is still significant. We won't see Palo Alto's YoY growth numbers fall into the single digits for at least a couple of years in my opinion, and the second chart above clearly shows the impact the growth numbers are having on total revenue.
I expect Palo Alto to take over the annual revenue crown in the cybersecurity space sometime in 2018 (barring some unforeseen events), which is important when looking at the valuation gap between these two companies. Is Check Point worth $7.5 billion more than a company that will have higher annual revenues in a few quarters?
The advantages Check Point boasts over Palo Alto are primarily related to the bottom line. The former is more profitable, and has much lower costs, and therefore higher margins:
PANW Gross Profit Margin (Annual) data by YCharts
Check Point has the upper hand, and a substantial one at that, in margins, profits, and cash flow. Of note, these numbers are in GAAP. The margin disparity becomes even more apparent as one moves down the financial statement with a 40% profit margin for Check Point and Palo Alto still unprofitable according to GAAP. Palo Alto has been picking it up in the cash flow department, which is important, but still has a long ways to go in terms of profitability.
I think the following two charts are vital to understanding the difference between Palo Alto and Check Point.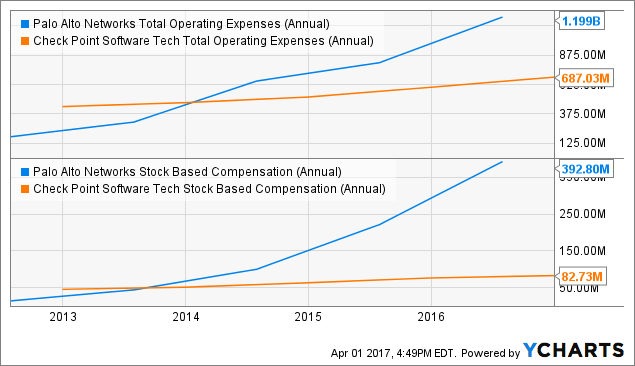 PANW Total Operating Expenses (Annual) data by YCharts
The trends here are similar in that they're both reflections of the same general strategy by Palo Alto: spend-to-grow. Operating expenses at the company are ballooning significantly in order to sustain growth, and stock-based compensation ("SBC") is similarly increasing to retain top talent and incentivize employees. We can see the growth of these two expense categories at Check Point are much more modest, which is indicative of a company that feels it is already well-established and need not diminish its profitability in order to grow business further.
Which strategy is optimal depends on many factors including the specific industry in question, what competitors are doing, and how much more market share is left for the taking. In my opinion, Palo Alto's strategy is the one more likely to pay off in the long term. The cybersecurity industry still has plenty of market share up for grabs for those willing to spend for it, and ample SBC is, in my mind, a necessity for any company trying to compete for top talent in the industry.
Taking all this into account, I think Palo Alto will begin to move into the mold of Check Point as time goes on. However, the former's current growth trajectory gives it a higher ceiling in my opinion. Check Point is the safe play, Palo Alto is the potential high-reward play. The post-earnings selloff is likely an acknowledgement by the market that Palo Alto's valuation had gotten ahead of itself, and there are still questions regarding growth that need to be hashed out before PANW can keep trucking higher reliably.
Because Check Point is my valuation benchmark, I think it is important to note that I do think the company is fairly valued at $18 billion, with upside likely as well. With that in mind, I think PANW has significant upside potential at just a $10.5 billion valuation. The company's solid, albeit gradually declining, growth is still close to the top of the industry, I like the spend-to-grow and heavy SBC strategy being undertaken by management, and I think the market has priced in a sharper slowdown in growth than is likely to occur. I rate Palo Alto a Strong Buy on the drop.
If you want to stay up-to-date on my articles, you can "Follow" me by clicking "Follow" at the top of this page or by going to my author page. You can read about my previous installment discussing GameStop (NYSE:GME) here.
Thanks for reading!
Disclosure: I/we have no positions in any stocks mentioned, and no plans to initiate any positions within the next 72 hours.
I wrote this article myself, and it expresses my own opinions. I am not receiving compensation for it (other than from Seeking Alpha). I have no business relationship with any company whose stock is mentioned in this article.