In a recent article, I took up the fact that the ongoing discourse between Realty Income (NYSE:O) longs and shorts had become somewhat of an emotional train wreck. The fact that such a simple stock could bring about such fervor is certainly curious to those of us not prone to overly-impassioned or knee-jerk responses.
Still, the tenor and various opinions on this stock are rather telling.
Telling because not everyone invests or necessarily sees every equity the same way. And telling because we find ourselves at a unique - perhaps even dangerous to some - crossroads in terms of the macroeconomic backdrop and forward outlook.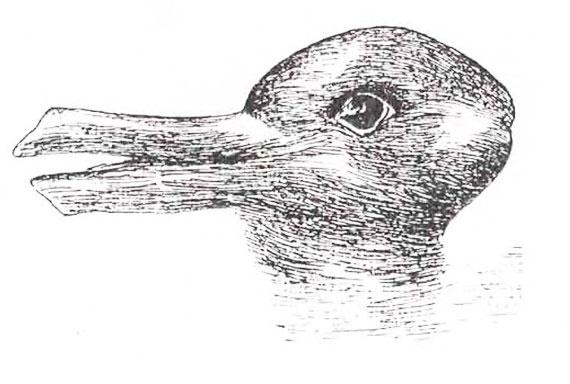 Do you see the rabbit or do you see the duck?
REITs In The Crosshairs
While real estate is usually equated with people-occupied "buildings," the new era of REITs brings about a much more liberal view. The industry has become a microcosm of the increasing complex domestic economy: properties designed for the production side, the profit-center side, and sides like forestry and communications infrastructure that weren't really considered several decades ago.
Drill down into specific economic spaces like healthcare, and you'll find a variety of property types, with mixes of holdings, management styles, and revenue side nuance.
You'll also find polar cash flow valuations dependent upon current or predicted economic trends. For instance, right now, you'll see most mall-related REITs under some sort of multiple pressure, while data center REITs are being priced with a much better future in mind.
Given their bond-like recurring income, REITs, for better or worse, have become somewhat of a fixed income market proxy, with many commentators predicting doomsday for the group as a whole in a rising rate environment.
The reality of the matter is that it is dead wrong to unilaterally characterize the entire group's sensitivity to interest rates as negative. Proper analysis will see some REITs as more exposed than others. The exposure is generally three-pronged. The first predicated by the REIT's ability to reset lease rates and control general NOI. The second by the look of the company's balance sheet. Lastly, by the waxing or waning attractiveness of REIT yield relative to other options.
Thus, comparing a NNN REIT with longer-term lease lock-ins and fairly predictable NOI (Realty Income) to a self-storage or hotel REIT that re-prices its product on a more frequent basis is your veritable apples to oranges endeavor. Same could be said of a capital stack comparison between EdR (NYSE:EDR), a collegiate housing REIT, and New Senior (NYSE:SNR), a later-life landlord. While they both provide apartment style living, their balance sheets and valuations are as optically polar as the ages of the tenants they cater to.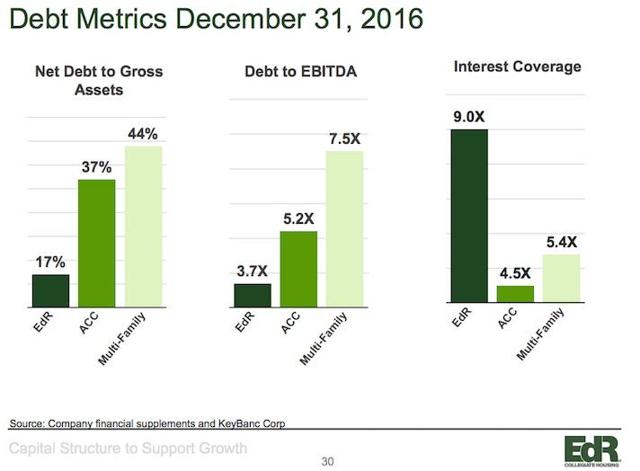 EdR's conservative debt situation
Strategy: Don't Board Up, But Don't Pretend There's No Storm
I continue to see the Fed's eyes as bigger than the economy's ability to digest sequential interest rate hikes. While it appears there may be a light at the end of the ZIRP tunnel, I'm not sure that I'd go on a panic selling binge either. The Fed's latest dovish salvo combined with the bond market's continuing yield erosion is dampening Trump-related euphoria.
Triple net REITs are selling 15-25% less than they were about 9 months ago. While it's arguable whether this is an optimal buy opportunity, it's a heck of a lot better than having chased them around the time of Brexit last June. STORE Capital (NYSE:STOR) at an almost 5% yield at 13-14X AFFO, growing upper-single digits, is a very decent deal in my book.
Another somewhat more aggressive, yet similarly AFFO-valued NNN idea would be MGM Growth Properties (NYSE:MGP), which is yielding almost 100bps more than STORE. While you might think of this as merely a play on Vegas hotels, the company should be seen more generally as a participant in the growth of regional entertainment venues. This would coattail the 'experiences vs. possessions' theme that continues to drive discretionary consumer spending.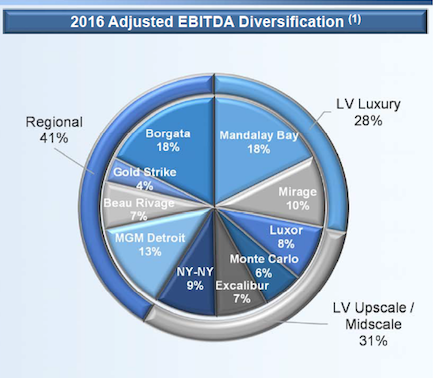 Source: MGP Presentation
With 40% of EBITDA coming outside Vegas, MGP also holds ROFO to the recently opened MGM National Harbor (D.C.) and to the Springfield, Mass. project set to welcome guests sometime late next year.
Elsewhere, I continue to like the secular theme of data center REITs, with my big bet there being DuPont Fabros (NYSE:DFT). Similarly, self-storage vendors, while seeing a level of growth moderation, and selective multi-family landlords, look like good plays. Those seeking alpha should consider Jernigan (NYSE:JCAP) and National Storage Affiliates (NYSE:NSA), as well as Camden Property (NYSE:CPT) in multi-family dwelling.
More conservative suggestions would be Digital Realty (NYSE:DLR) in data centers, Public Storage (NYSE:PSA) or Extra Space (NYSE:EXR) in self-storage, and Mid-America Apartment Communities Inc. (NYSE:MAA) in multi-family.
A big near-term loser outside of those directly affected by interest rates has been the retail/mall names. The well-known but now publicly articulated "going concern" issues at Sears (NASDAQ:SHLD), Penney's (NYSE:JCP), etc. combined with Amazon's (NASDAQ:AMZN) propagation into consumer psyche is creating more brick and mortar concerns. Just like 20 years ago, however, the reports of impending across-the-board mall deaths are greatly exaggerated. There is reason for concern amongst the weaker players, however.
Still, I'd opine the knee jerk has provided opportunity to buy/add Simon (NYSE:SPG), Macerich (NYSE:MAC), and Taubman (NYSE:TCO), the noted Trifecta of the A-mall world. Even bigger losers have been Washington Prime (NYSE:WPG) and CBL & Assoc. (NYSE:CBL), both of which now trade for double-digit yields. While I think both will survive, that's not a trade I would be willing to bet a really large farm on!
Conclusion
The increasing importance of real estate as an asset class can be attested to by last year's addition of REITs and REOCs as their own grouping within GICS. Unfortunately, the sector seems to be misunderstood by unsophisticated types that typically paint a generalized, and typically false, existential parallel to the bond market.
While there may indeed exist a parallel of bond sorts with some REITs more so than others, investors are wise to pinpoint trees through short-term forest noise. The diversity here produces outperformers and laggards through multiple economic and interest rate cycles, just like any other equity sector.
Also, like any other sector, it may have its share of predictive fear mongers and perma-bulls. The reality of future performance, however, as is typically the case with stocks as a whole, sits somewhere between the two polarized camps.
Today's heightened valuations and rate volatility are cause for increased scrutiny and due diligence on the part of REIT investors. But it shouldn't cause them to fall prey to knee-jerk decisions of either bearish or bullish ilk.
If you enjoyed this article, please "Follow" me to receive dashboard and real-time notification when I publish an article related to dividend stocks, new off-the-beaten-path dividend ideas, bonds, CEFs, interest rates, REITS and the current and forward macroeconomic environment.
Disclosure: I am/we are long DFT, EDR, JCAP, MAA, MGP, NSA, SNR, STOR, WPG.
I wrote this article myself, and it expresses my own opinions. I am not receiving compensation for it (other than from Seeking Alpha). I have no business relationship with any company whose stock is mentioned in this article.
Additional disclosure: Disclaimer: The above should not be considered or construed as individualized or specific investment advice. Do your own research and consult a professional, if necessary, before making investment decisions.