Summary
I normally write about closed-end funds and other income producing assets but decided to take a detour into the "macro" picture. I've been collecting some statistics for the past few years regarding the US economy but a fascinating (and sad) Bloomberg article finally provided the motivation to put an article together. The data presents a snapshot of an economy that is struggling, especially for younger Americans.
My goal here is relatively selfish. There is opportunity available even during the worst times, and the data below may point to a changing social landscape which can impact your investments. Perhaps it can even help us form new investment theses.
Making Less Than Their Older Siblings
The article that prompted this entire piece was one from Bloomberg analyzing data from Georgetown University.
Wages for college graduates in 2014/2015 are actually lower than those from 2009/2010!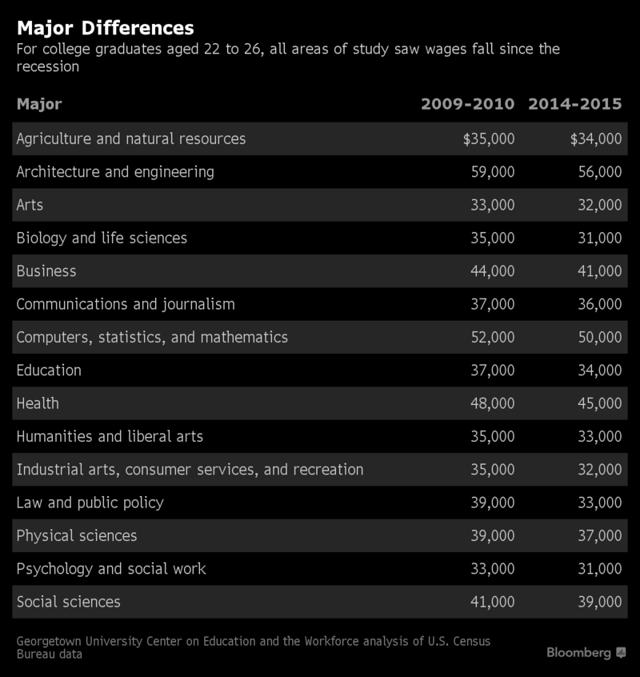 (Source: Bloomberg)
All areas of study have seen a drop, even STEM fields like engineering. A college degree was once a ticket to the middle class but spending four years of your life to make $30-something thousand per year doesn't seem like a valuable trade anymore.
Many students even graduate with loan debt. Combine low (and falling) wages with debt repayment and the subsequent sections begin to make more sense.
Low Marriage and Fertility Rates
This section covers some social issues I don't see being discussed very often on Seeking Alpha. However, they do help us paint a larger economic picture.
The Gallup survey below shows 59% of Millennials have never been married: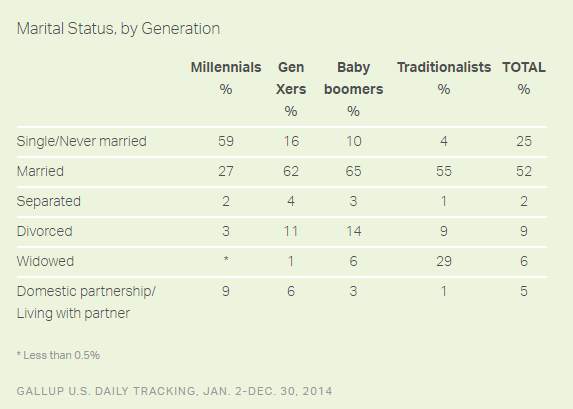 (Source: Gallup)
Even more insightful is how this compares to previous generations: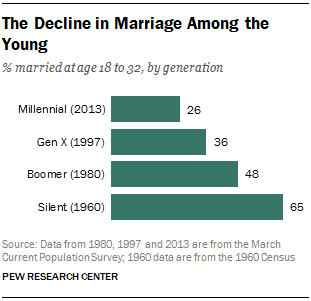 (Source: Pew)
Shifting attention to the US fertility rate, we see it is currently the lowest since records began in 1909.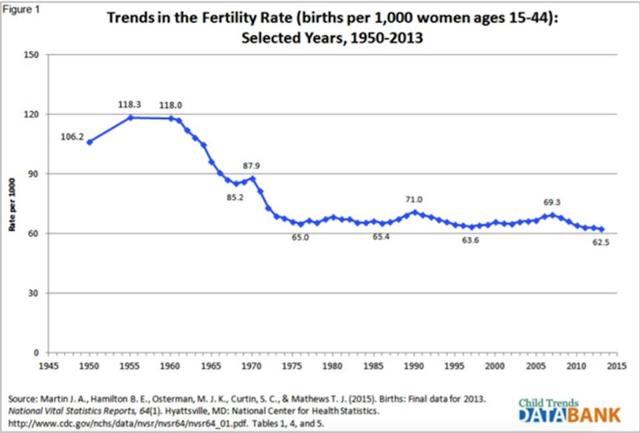 (Source: Forbes)
Less marriages and children can shift consumption patterns over time. Perhaps it's a contrived example but would you make long-term investments in companies dependent on the wedding industry?
If less children are being born, do you invest in toy companies or consumer staples dependent on baby products?
Nation of Renters
Another recent Bloomberg article shows how the majority of America's largest 100 cities are majority renter.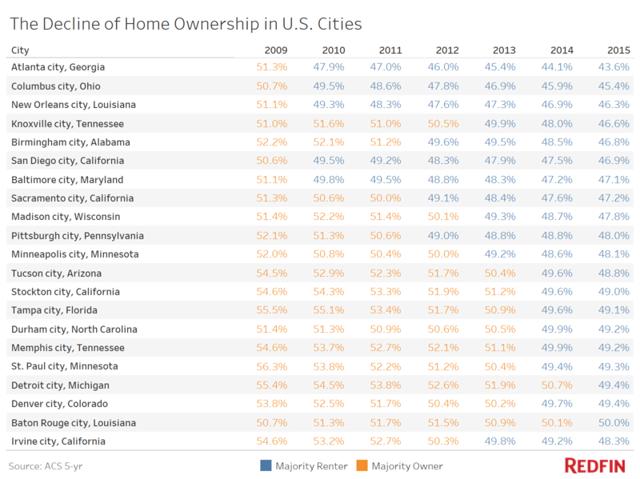 (Source: Bloomberg)
There is a structural shift happening here and I don't believe it is temporary. Stagnant wages, combined with low marriage and fertility rates, are leading the shift to Renter Nation.
Amusingly, the Bloomberg article suggests a "shortage" is responsible for the shift. I think it has more to do with housing prices being back at record highs: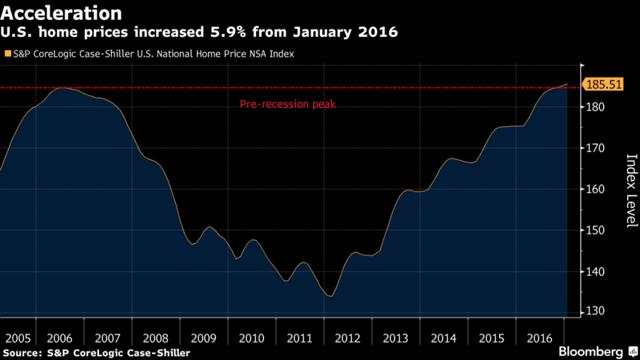 (Source: Bloomberg)
Record housing prices are most likely due to low rates combined with large players scooping up single family homes in various rental schemes.
Conclusion
How do you make sense of this data? On one hand, you have a younger American generation that is struggling financially, getting married at lower rates, having less children, and choosing to rent. On the other, you have record high housing and equity markets pricing.
I believe you are seeing a strange merger of the structural social changes mentioned and low interest rates. Asset prices are decoupled from economic fundamentals due to low rates driving prices of almost every asset class.
How do you invest for this scenario? The most obvious is the rental market will remain strong going forward. I will talk about some apartment REITs I favor in future articles.
However, I do believe there are other ways to take advantage of the trends discussed here that I have not identified. I am not a short seller and prefer income opportunities. Perhaps the Seeking Alpha comment section can assist?
Disclosure: I/we have no positions in any stocks mentioned, and no plans to initiate any positions within the next 72 hours.
I wrote this article myself, and it expresses my own opinions. I am not receiving compensation for it (other than from Seeking Alpha). I have no business relationship with any company whose stock is mentioned in this article.