Chesapeake Energy (NASDAQ:CHK) has had an impressive few days of trading, but the stock is still well below its 2016 highs. Down double digits to start the year, it just experienced a death cross, and bears may be looking to extend the downtrend in upcoming trading. However, crude oil and natural gas are gaining pricing strength, and Chesapeake is both scaling production in its key resource plays and maintaining low breakevens. I fully expect to see stronger earnings reports from this company this year, and I expect the stock to end Q2 2017 on an uptrend.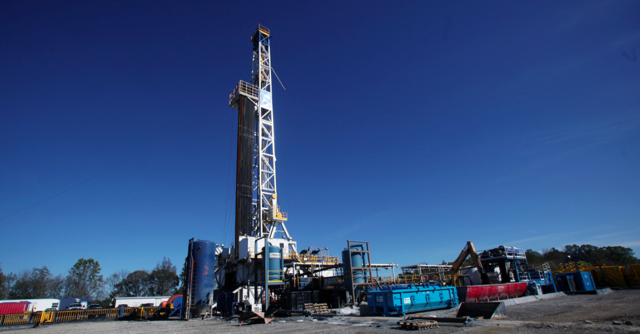 Source: Cleveland
2017 Performance Is Inadequate
Investors who were keen on taking a position in CHK at the start of this year were betting on two things: a recovery in commodity prices and a stabilization of Chesapeake's capital structure. The latter has seen great progress, and the company is in a substantially better position than it was at this time last year. However, the stock has been lagging, and that's a cause for concern.
Shares are down over 15% YTD. However, stronger support has been established as two Chesapeake Energy directors bought $12.4 million worth of shares at the beginning of March, for an average price of $5.24. There's now very clear, defined support at $5.00 because of this insider buying. On a recent downtrend in CHK, spanning from September to early November 2016, the support level was $5.25, so it should be noted that this new support is lower. However, in light of this insider buying, I expect the downside in the stock to be 15.5% if it were to fall to $5.
The stock is trading just shy of $6 at the moment. The 50-DMA and 200-DMA just crossed in a bearish manner (death cross), and while that could set a bearish tone for trading over the next couple of weeks, we'll see how the pricing strength in commodities plays out considering crude rallied 7% last week. If CHK can start to take out higher resistance levels this month and push towards $7, then the momentum will be in favor of the bulls, despite a reading of 60 on the RSI right now indicating the stock is nearly overbought.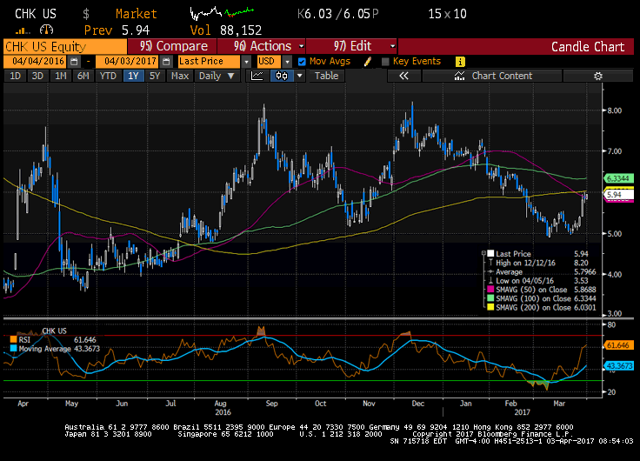 Source: Bloomberg
Investors can't be so quick to forget that this is a long-term game. While there are always opportunities for short-term profits by trend-following, investing for the long term is the safer approach with this stock. Chesapeake Energy has seen a tough last two years, but is working to recover. So, I'll take on the long-term perspective thesis from two angles. First, CHK itself is still trading incredibly low relative to historical pricing. This is a stock that used to well above $20 just a few years ago, as seen in the chart below. There's minimal reason to believe that over the medium term, it can't trade up to that level. Furthermore, if commodity prices see strength in the rest of 2017, it may not be unreasonable that the stock ends up trading in the range of $10-12/share.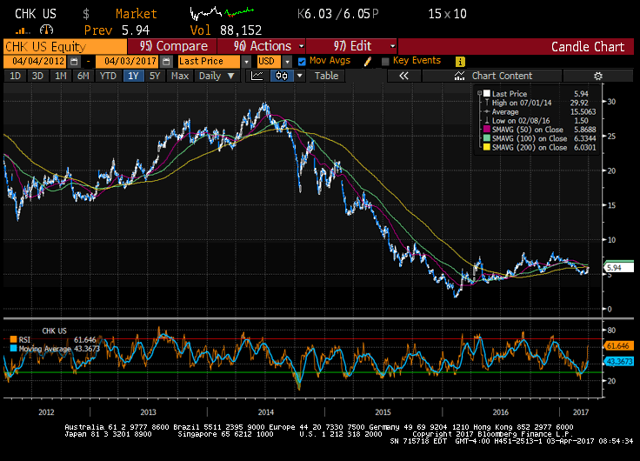 Source: Bloomberg
As a caveat, the company has sacrificed production growth over the last two years because of the downturn and it becoming unprofitable to keep producing certain wells. Divestments are helping to retain the highest ROR wells, and production will start to see consistent quarterly increases given how the company is managing its key resource plays. By the end of next year, we should see most of the production losses incurred due to the downturn be replaced. Natural gas production fell 2% YOY, NGL production fell 13% YOY, and crude oil production fell 20% YOY (although this is weighted up by the Mid-Continent divestment). Making up that lost ground is a catalyst in and of itself, allowing earnings potential to be significantly higher.
This company is also focused on placing several catalysts on-line over varied time horizons in order to keep production growth high. This comes in the form of optimizing drilling practices, expanding the number of wells, taking on more rigs, and developing more of its core acreage. For example, at Sussex in the Powder River Basin, the first oil from multi-well pads will flow in Q3 2017. Elsewhere in the Powder River Basin, the Mowry and Parkman locations are key seeing completions around mid-year. Chesapeake's Powder River Basin assets are 90% undeveloped, which, in my opinion, is a substantial long-term opportunity for the company. With low breakevens across the crude oil and natural gas operations, it's going to be much easier for the company to scale production and retain high margins as commodity prices recover.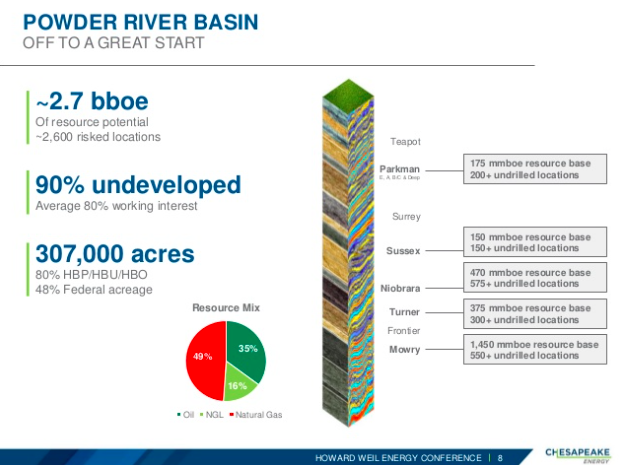 Source: Investor Presentation
Commodity Weakness For Longer?
CHK became considerably cheaper as crude oil broke below $50 barrel at the start of March, due to large builds in American inventories. Quite simply, the builds in these inventories were offsetting the efficacy of the supply cuts from OPEC. However, insider buying helped the stock rally to close out the first quarter, and I believe it sets a strong precedent for an uptrend in Q2. Additionally, natural gas has been on a small uptrend for the last month or so, helping to push the stock out of its 2017 lows. There's still a lot of ground to make up, since the stock is down 15% YTD, but that can change in a matter of sessions if crude oil continues to trade above $50/barrel and natural gas edges higher as well.
While the OPEC cuts help to an extent, the inventory builds more than offset the strength of those cuts, so we really do need to see withdrawals in crude inventories in order to see strength in Chesapeake. Natural gas storages have actually been coming down, currently sitting at 2.05 Tcf, still above the five-year average but well below the five-year maximum, showing substantial progress YOY. This company needs both commodities to have stable inventory levels, or pricing strength in those commodities will not be seen. That, in turn, will have a negative effect on CHK share price and will continue to weigh on the stock until it is resolved.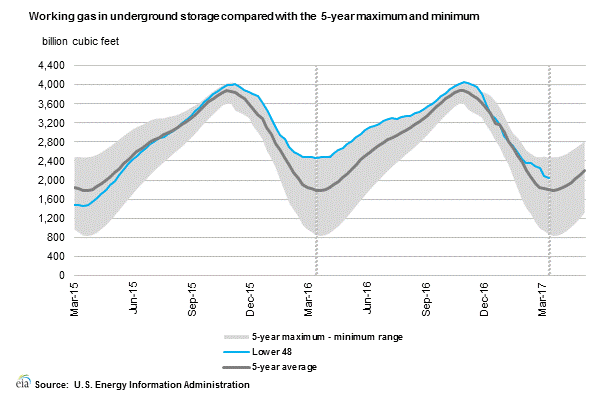 Source: EIA
Even if commodities do stay lower for longer such that they don't break above $60/barrel on the WTI for crude oil or $4/MMBtu on the Henry Hub for natural gas in 2017, Chesapeake is starting to be able to afford to wait. Let's take a look at its various breakevens for its key resource plays. In the Powder River Basin, the breakeven is $35-45/barrel. The company has a smaller profit margin there relative to the current WTI pricing, but is still profitable. In the Eagle Ford, the breakeven is sub-$40/barrel on robust production utilizing six rigs. In its Mid-Continent play utilizing four rigs, there's also a sub-$40/breakeven. So, crude oil would essentially have to plummet 20% for this company to be unprofitable in its drilling activities right now.
Moving forward to natural gas, Chesapeake has an average breakeven of $2.13/MMBtu. That's ridiculously low, and in order for the company to have unprofitable natural gas operations, the Henry Hub would have to trade down to levels not seen since June 2016. That would be nearly a 33% decline from the current level. Thus, I believe the downside is minimal on the stock, considering the YTD downtrend it has already incurred and the positive outlook for production and Chesapeake's balance sheet. Additionally, the company is well hedged against any further weakness in commodity prices, as seen below.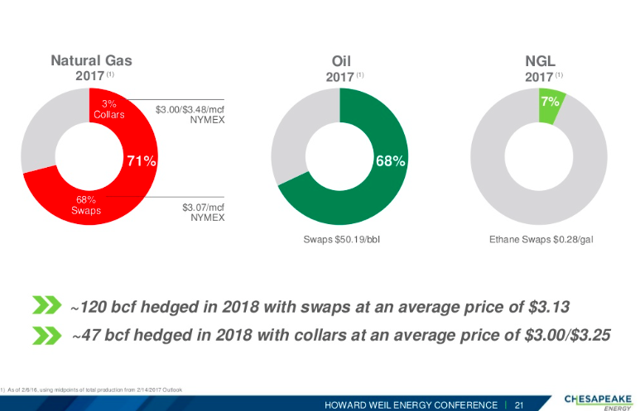 Source: Investor Relations
Conclusion
With lowered breakevens and ample diversification across resource plays, the company's operation is in a solid position to see material long-term growth. While the trends in this stock change frequently and short-term traders can make profits accordingly, a timeline of one year or greater will help investors to achieve their expected return with a lower level of risk. Early last week, a Wunderlich analyst upgraded the stock to a $10 price target. I agree, and believe this stock has plenty of potential to reach that level within the next twelve months.